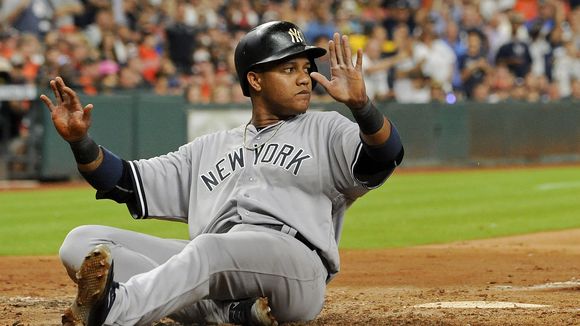 4:54pm: After the game, Joe Girardi told reporters Castro felt a "pop" in his hamstring, which is never good. He's going to return to New York for tests.
3:51pm: Castro does indeed have a right hamstring strain, the Yankees announced. He's heading for further tests. Here's the play:
3:01pm
: Starlin Castro left this afternoon's game with an apparent right hamstring injury. He ripped a double into the gap in the fifth inning, then pulled up lame between first and second. Castro grabbed at his hamstring, so there's no doubt that's what's aching. He was removed from the game immediately. Didn't even lobby to stay in.
Ronald Torreyes came in to replace Starlin on the bases, and he and Rob Refsnyder would be the obvious candidates to take over at second. It's worth noting veteran utility infielder Donovan Solano had a tremendous season in Triple-A, and with Scranton's season over, he could be a short-term option. Creating 40-man roster space wouldn't be tough.
The Yankees have not yet released an update by Castro, so stay tuned. This one seems like standard "hamstring strain and heading for an MRI" stuff. We'll see. At this point, even a minor strain could end Castro's season. That sucks.