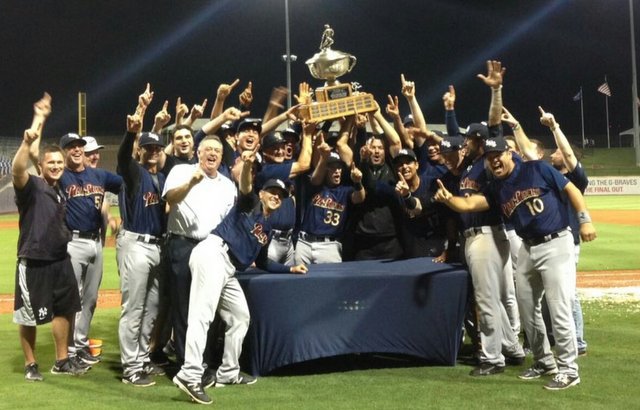 Good news: RHP James Kaprielian (elbow) faced hitters today for the first time as part of his throwing program, according to his Twitter feed. He's been out since April with a flexor tendon strain. The Yankees hoping Kaprielian will be able to pitch in the Arizona Fall League next month, and if he's already facing hitters, that just might happen.
Triple-A Scranton (3-0 win over Gwinnett) they've won the best-of-five International League Championship Series in four games to claim the Governor's Cup … Shane Hennigan has video of the final out … it's their first IL title since 2008 … pretty amazing they still won a title after losing their four best hitters (Aaron Judge, Tyler Austin, Gary Sanchez, Rob Refsnyder), best starter (Chad Green), and best reliever (Jonathan Holder) to the MLB team … they'll now play either Oklahoma City or El Paso in the winner-take-all Triple-A National Championship Game next Tuesday in Memphis
LF Mark Payton: 3-5, 1 3B, 2 RBI, 2 K — replaced Mason Williams and they didn't miss a beat
RF Clint Frazier: 2-3, 1 RBI, 1 BB, 1 K — drove in the insurance run they never needed
3B Donovan Solano: 0-4, 1 K, 1 E (throwing)
1B Chris Parmelee: 0-3, 1 BB, 3 K, 1 CS
C Kyle Higashioka: 0-4, 2 K
CF Jake Cave: 1-3, 1 R, 1 BB, 1 K, 1 SB — he went 4-for-13 (.308) with a homer in the series and was named MVP
2B Cito Culver: 0-2, 2 BB, 2 K
LHP Daniel Camarena: 5.1 IP, 5 H, 0 R, 0 ER, 1 BB, 4 K, 1 WP, 8/1 GB/FB — 60 of 87 pitches were strikes (69%) … that was his first start in almost two full weeks, but he wasn't rusty at all
RHP Johnny Barbato: 0.2 IP, zeroes, 1 K, 1/0 GB/FB — seven of nine pitches were strikes
LHP Tyler Webb: 2 IP, zeroes, 2 K, 2/0 GB/FB — 20 of 26 pitches were strikes (77%)
RHP Gio Gallegos: 1 IP, zeroes, 2 K, 0/1 GB/FB — seven of nine pitches were strikes … fitting he gets the final out … he's been awesome all season
Double-A Trenton (2-1 loss to Akron) they were swept in the best-of-five Championship Series
SS Tyler Wade: 0-4, 2 K — went 5-for-28 (.179) in the postseason
CF Dustin Fowler: 0-4, 1 K — went 1-for-11 (.091) in the Championship Series
3B Miguel Andujar: 1-4, 1 K
DH Mike Ford: 0-3, 1 K
RF Billy McKinney: 0-3, 1 E (fielding) — had a really good postseason overall
1B Dante Bichette Jr.: 0-2, 1 BB
2B Abi Avelino: 0-3 — went 0-for-16 in the postseason
LHP Justus Sheffield: 4.1 IP, 2 H, 1 R, 1 ER, 4 BB, 5 K, 4/3 GB/FB — 45 of 83 pitches were strikes (54%) … finishes the season with a 3.36 ERA and a 137/59 K/BB in 134 total innings, postseason included
RHP Anthony Swarzak: 0.2 IP, 1 H, 1 R, 1 ER, 0 BB, 1 K, 0/1 GB/FB — eight of 12 pitches were strikes … rehab assignment gives him a chance to ruin another team's postseason hopes
RHP J.P. Feyereisen: 1.1 IP, 1 H, 0 R, 0 ER, 1 BB, 3 K — 14 of 21 pitches were strikes … 12/4 K/BB in eight postseason innings
High-A Tampa lost the Florida State League Championship Series while both Low-A Charleston and Short Season Staten Island lost their first round postseason matchup. Their seasons are over.
The season is over for Rookie Pulaski, Rookie GCL Yanks East, and Rookie GCL Yanks West. None of the three teams qualified for the postseason.
Because the Triple-A and Double-A postseason is over, that's the end of the DotF for the season. It'll be back for the Triple-A Championship Game on Tuesday, otherwise that's it. We'll do weekly updates on the Arizona Fall League and winter ball action as usual, but that's still a few weeks away. Thanks for reading this season, folks!