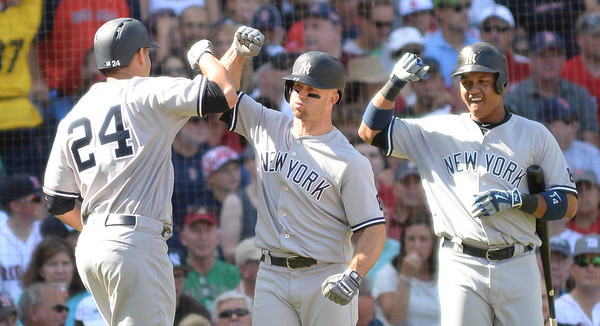 The last week has been a disaster for the Yankees. I don't think that's an overstatement. They won seven straight to climb to within one (one!) game of a wildcard spot last week, but since then the Yankees have lost six of seven, including each of their last four games. More than a few of those games were winnable too. Brutal.
The math says the Yankees are still alive in the postseason race and that's cool. We still have reason to watch. The fact of the matter is their rotation isn't good enough, the lineup isn't deep enough, and the middle relief isn't reliable enough. We've known that since April. Last week sure was fun though, right? Here's the Red Sox's lineup and here's the Triple-A Scranton I mean Yankees' lineup:
LF Brett Gardner
3B Ronald Torreyes
DH Gary Sanchez
1B Billy Butler
SS Didi Gregorius
C Brian McCann
2B Donovan Solano
CF Mason Williams
RF Rob Refsnyder
LHP CC Sabathia
Now, the bad news: the forecast stinks tonight. The internet tells me it's supposed to start raining around 9pm ET in Boston and keep raining until tomorrow afternoon. Hopefully that's wrong and they can get the game in tonight. Having to squeeze in a makeup game at some point would stink. Anyway, tonight's game is scheduled to begin at 8pm ET and you can watch on ESPN. Enjoy.
Injury Updates: Starlin Castro (hamstring) as a Grade I strain and Jacoby Ellsbury (knee) has a bone bruise, the Yankees announced. They'll remain in New York for treatment and join the Yankees in Tampa on Tuesday. The team says Ellsbury is day-to-day. They didn't give a timetable for Castro. There's only two weeks left in the season, so there's a decent chance he's done for the year. Sucks … Chase Headley has some back tightness, which is why he's on the bench.
Roster Moves: Solano has been called from Triple-A Scranton, obviously. He's in the lineup. He had a fantastic season for the International League champion RailRiders. Chad Green was transferred to the 60-day DL to clear a 40-man roster spot for Solano … Anthony Swarzak (shoulder) was activated off the 15-day DL. Try to contain your excitement.