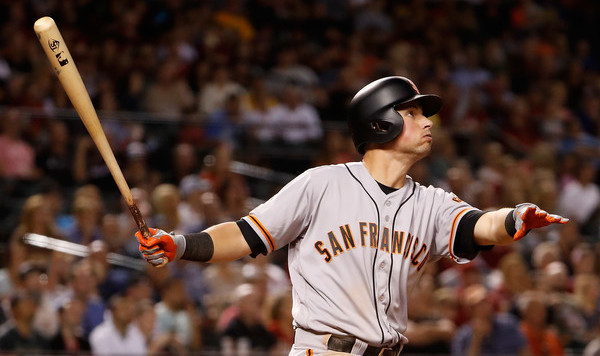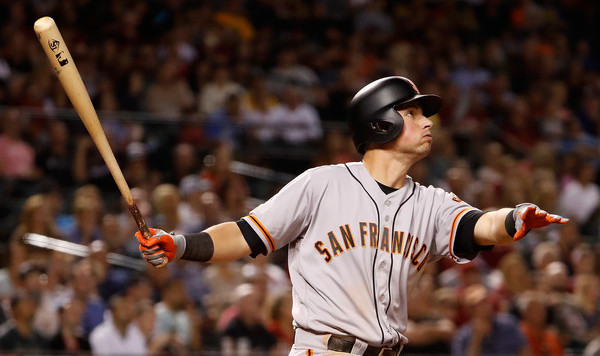 According to Jon Heyman, the Yankees asked the Giants for second baseman Joe Panik during trade talks prior to the August 1st deadline. San Francisco was said to have interest in both Andrew Miller and Michael Pineda, and I assume Aroldis Chapman as well. The Yankees reportedly did not view them as a good trade partner given their thin farm system though. Heyman indicates the Bombers wanted Panik for Miller.
Panik, 25, is a semi-local kid from Hopewell Junction in Upstate New York. He went to St. John's. He's hitting a weak .240/.317/.380 (89 wRC+) with a career high ten home runs in 505 plate appearances around a concussion this season. Last year he hit .312/.378/.455 (136 wRC) around a back injury. Panik was called up midway through the 2014 season and was the Giants' starting second baseman during their most recent World Series run. There's a lot to digest here, so let's break it down.
1. I really like the idea of targeting Panik. It goes without saying a quality young middle infielder is a very valuable asset. Beyond that, I like going after Panik because he's exactly the kid of offensive player the Yankees don't have. He's an extreme contact hitter — his 9.1% strikeout rate is the lowest in baseball — who also draws a healthy amount of walks (9.7%), so his plate discipline is a big plus. Panik is also an all-fields hitter (2016 spray chart via Baseball Savant) …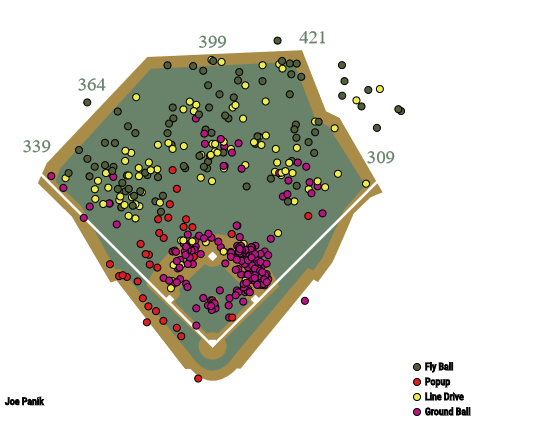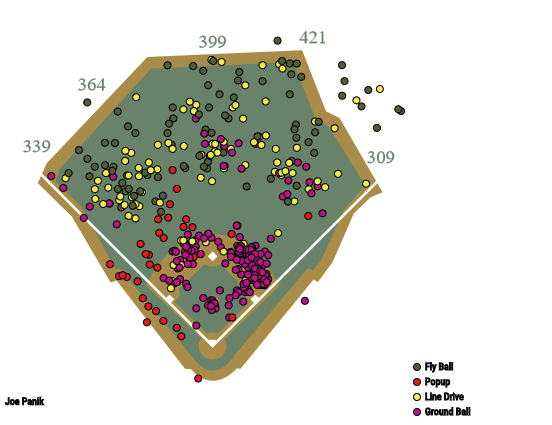 … with a very small platoon split. It's almost negligible, really. He's a career .279/.345/.414 (112 wRC+) hitter against righties and a career .289/.343/.376 (104 wRC+) hitter against lefties. Less power, but the average and on-base ability there. Add in above average defense and strong baserunning, and you've got a very nice all-around player. Not a star, but a solid player who fits the classic two-hole hitter profile perfectly.
The Yankees have spent the last few years targeting dead pull lefty hitters who can take advantage of the short porch and I totally understand why, but it hasn't really worked. It's led to a very one-dimensional and easy-to-defend offense. Targeting some (note: not only) players like Panik should be a goal going forward. Batting average over power, plus a willingness to take a walk. Let any power boost from the short porch come naturally.
(The Yankees kinda tried this when the signed Jacoby Ellsbury, though Ellsbury was already over 30 and didn't walk nearly as much as Panik. Prime-aged players, please and thank you.)
2. Whither Castro? Panik was drafted as a shortstop but he's a pure second baseman now, and the Yankees already have a second baseman in Starlin Castro. How would the two have co-existed? There are a lot of ways to solve this problem (trade, platoon, etc.) and I think the long-term plan would have been Panik at second and Castro at third. I don't think this means the Yankees are ready to move on from Starlin. Not at all.
Remember, the Yankees originally planned to have Castro play some third base this season. That plan got put on hold because he needed more work at second than I think they realized — he only moved there late last season, after all — so they had him focus on that position in Spring Training. With a full season at second under his belt, Castro would ostensibly be better able to work out at third next year. He wouldn't need the reps at second.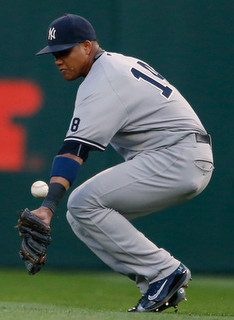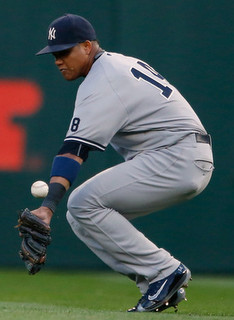 Starlin's developing power — his 21 homers are five more than his previous career high, though a lot of that is Yankee Stadium (15 at home, six on the road) — allows him to profile better at third, and I think he'd be a better defender there than at second. He seems to get himself in trouble when he has time to make a play. I think the idea behind getting Panik was moving Castro to third long-term.
What happens with Chase Headley in that scenario? An offseason trade seems obvious — they made him available at the deadline, remember — though keeping him as a backup plan at third (and first?) wouldn't have been a terrible idea. This is one of those "get a good player and figure it out later" situations. Same goes with playing time in the second half. The Yankees figured to be out of the race. Just get the talent and sort it all out once necessary.
3. Was it a one-for-one trade, or something bigger? Long before the trade deadline I was hoping the Yankees would get one truly top prospect for Chapman, and one top prospect plus a few decent secondary pieces for Miller. The Yankees got much more than that. The bullpen market has been insane over the last ten months or so, starting with the Ken Giles trade over the winter. Teams are paying top dollar for elite relievers.
So, with that in mind, was the offer Miller-for-Panik straight up? Or Miller for Panik plus stuff? Or Miller plus stuff for Panik? Or maybe something even bigger than that. It's two and a half years of an elite reliever and four and a half years of a good middle infielder. My guess is talks never advanced all that far, so the exact framework was never discussed. Something like this:
"Hi, we'd like Andrew Miller."
"Okay, but your system kinda stinks, so we want Joe Panik in return."
"Not surprising. Lots of team have asked about him. We can't do that though. We'll get Will Smith from the Brewers instead."
"So wanna get jiggy wit it?"
"Stop it, Brian."
"In West Philadelphia born and raised…
/click
Getting Panik straight up for Miller would have been pretty darn good, I think. Then again, I never thought the Yankees would get two top 100 prospects and more for Miller, so what do I know. Somehow nothing would have surprised me, not a straight one-for-one deal and not one side kicking in more. This would have been a complicated one.
4. The Giants did trade a starting infielder. The idea of a team trading their starting second baseman for a reliever in the middle of a postseason race seems crazy, but remember, the Giants did trade their starting third baseman. Matt Duffy went to the Rays in the Matt Moore trade. San Francisco picked up Eduardo Nunez a few days earlier and was able to plug him in at third. They could have traded Panik, kept Duffy, and used Nunez at second.
It's not quite that simple, of course. Duffy was on the DL at the time, so the Giants weren't actually subtracting him from their lineup when they made the trade. Also, trading Panik and keeping Duffy would have meant finding another way to solve the rotation problem. Trading Panik for Miller and Duffy for Moore seems like a non-option. How could a contender trade half their starting infield, especially when both guys are young?
The Giants were obviously not completely opposed to trading a building block infielder to address their roster needs. The Duffy trade shows that. The fact talks with the Yankees about Panik didn't go very far suggests they're much higher on him going forward, which makes sense. Duffy's power outburst last season was really unexpected, plus top prospect Christian Arroyo is likely headed for third base long-term. They have Duffy's replacement already.
With San Francisco's farm system short on high-end talent, the Yankees were smart to ask for a big league player in Miller talks, and Panik was the guy to target. The Brandons (Belt and Crawford) are going nowhere and there's reason to believe Duffy isn't quite as good as he was last year. Panik's concussion explains his down year, but the fact he's shown more power this year with maintaining his elite strike zone control is a promising sign. This would have been a fascinating deal.