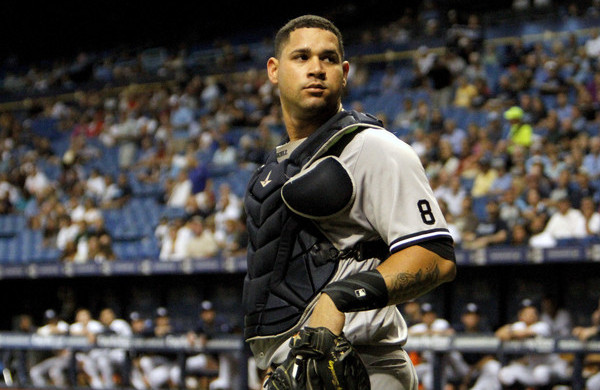 Two nights ago the Yankees snapped their five-game losing streak thanks to yet another clutch home run by Gary Sanchez. His three-run shot broke a 2-2 tie in the seventh inning. Then, last night, he added two more home runs to raise his season batting to .337/.410/.747 (203 wRC+). He's hit 19 home runs in 43 games since being called up following the trade deadline. That is pretty, pretty good.
There is no question Sanchez has emerged as a cornerstone player for the Yankees. That was always the hope, but I don't think anyone expected it to happen this quickly. Especially at catcher. Usually it takes those guys some time to find their bearings at the big league level just because there's so much to take in defensively. They have to learn the pitching staff and the hitters around the league in addition to their offensive responsibilities.
By all accounts Sanchez has handled the defensive side of the game well. He seems to be a little passed ball/wild pitch prone, but that's not all that unusual for a young catcher. There's every reason to believe Sanchez can handle the defensive side of the position. My question is this: is Sanchez most valuable long-term at catcher? I mean, yes, of course he is. Catcher is the most difficult position to fill. But is his bat too valuable to tie to such a demanding position?
The idea behind taking Sanchez out from behind the plate — and just to be clear, I'm not endorsing this, I'm just asking the question for discussion purposes — is avoiding the wear-and-tear of catching and getting his bat in the lineup more often. Sanchez has been in the starting lineup for each of the last 35 games either as the catcher or DH, and that can't last long-term. Like every other catcher, he'll need regular days off to get through a 162-game season. A few things to consider:
1. This would not be unprecedented. The best example of moving a great hitter out from behind the plate is Bryce Harper. He was a catcher as an amateur, but as soon as he was drafted, the Nationals moved him to the outfield. Didn't even give him a catch to catch in pro ball. They didn't want to put Harper through the rigors of catching because his bat was going to be so valuable.
Harper's the best example but he's not the only example. Paul Konerko and Joey Votto were catchers. So were Josh Donaldson and Wil Myers. Neil Walker, Pablo Sandoval, Justin Morneau, Jayson Werth, Josh Willingham … they were all catchers at one point and not all of them were moved because they couldn't handle it defensively. Walker, Myers, and Sandoval in particular were moved largely to get their bats in the lineup more often.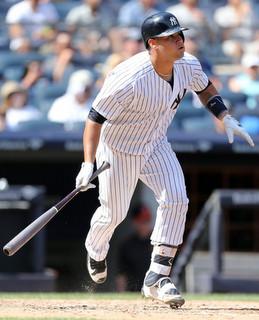 2. It could help his offense. First and foremost, not getting beat up behind the plate can help Sanchez remain more productive deeper into the season, if not allow him to reach new offensive heights. Secondly, shedding the defensive responsibilities of catching and focusing on offense can help too. Donaldson is a pretty good example. His bat didn't take off until he moved to third base.
Donaldson, who moved to third because the Athletics had no one to play the position after Scott Sizemore tore up his knee in Spring Training 2012, has said moving out from behind the plate helped his offensive game. Without having to worry about working with pitchers and studying hitter scouting reports and all that, he was able to work on his offense. Extra swings in the cage, more time studying pitchers on video, all that stuff. That could really help.
3. Where would he play? This is the big question. First base and DH seem like the only possibilities. I love the guy, but Sanchez is not the same kind of athlete as Harper and Donaldson. He's more Morneau and Konerko, if you catch my drift. That's fine though. The Yankees have a long-term opening at first base at the moment. We're hoping Greg Bird can fill it, but who knows coming off shoulder surgery. Even then, DH is still a possibility for Sanchez.
Should the Yankees move him, Sanchez would have to learn first base on the fly. There's no sending him down to work on things now. Not at this point. That may not be much of a problem though. Sanchez could serve as the DH four times a week and play first the other two or three days. Ease him into it, you know? Having a guy learn a new position on the fly like that can be tough, but the Yankees wouldn't have another option.
4. They'd still be set behind the plate. The Yankees could move Sanchez to another position and still have a quality catcher thanks to Brian McCann. Even at this point of his career, McCann's a good hitter for the position, and he's a more than capable starter. Austin Romine would be able to stick around as the backup as well, or, if you prefer, the Yankees could give Kyle Higashioka a try. Point is, Sanchez isn't the only starting catcher on the roster. The Bombers have another quality backstop in McCann.
* * *
The history of the Yankees is loaded with great hitting catchers. You can go back to Bill Dickey and Yogi Berra. Elston Howard. Thurman Munson. Jorge Posada. Sanchez looks very much like the next in a long line of great Yankees catchers, and man, having a great hitting catcher is such an advantage. The average catcher is hitting .241/.310/.389 (86 wRC+) this year. Compare that to what Sanchez can do.
I don't think the Yankees will move Sanchez out from behind the plate and I don't want them to either. He's an asset defensively. Maybe if he were a better athlete and a move to the outfield or third base — golly, imagine his arm at third — was a legitimate possibility, it would be worth considering. But if the only alternative is first base or DH, then don't bother. Enjoy the great hitting catcher and don't worry about saving the wear-and-tear.