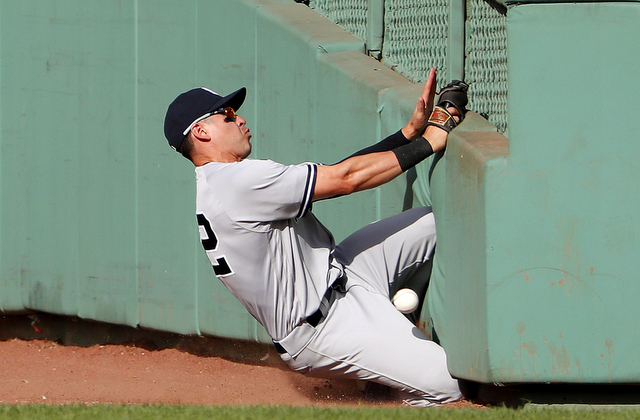 Jacoby Ellsbury left this afternoon's game with a right knee injury, the Yankees announced. He hurt himself crashing into the wall trying to make a catch in the seventh inning. Ellsbury stayed in initially, but he was removed after the inning. He's heading for tests. Here's the play:
At this point even a minor injury could end Ellsbury's season. The Yankees are already without Aaron Hicks (hamstring) and Aaron Judge (quad), so they're running short on outfielders. They could end up with Mason Williams in center and Rob Refsnyder in right full-time the rest of the way.
The Yankees lost Starlin Castro to a hamstring injury earlier in the game, so they lost two regulars in the span of four innings or so. That would hurt more if the team hadn't bombed out of the postseason race this week. The exact nature of Ellsbury's injury is unknown, but we'll find out soon enough.