I somehow managed to answer 17 questions this week. Don't know how that happened. Some of the answers are kinda long too. So monster mailbag this week. Yeah. As always, the RABmailbag (at) gmail (dot) com email address is the place to send us anything. (Also, I'm way behind on guest post submissions. I'll get to them soon.)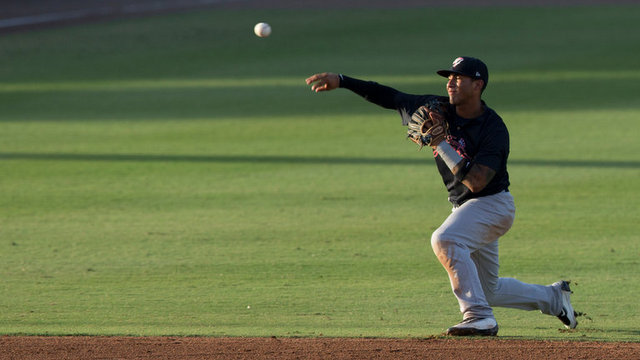 Brian asks: Could you see the Yankees moving Gleyber Torres to 3rd base? It has worked out well for the Orioles with Machado and also Bregman is doing well in that role for the Astros. Since Headley is average at best, we could trade him as we bring up Torres for 3rd and have a solid group of young infielders for several years.
Definitely possible, especially with Didi Gregorius establishing himself as a rock solid big league shortstop. Torres fits the typical third base offensive profile better than Jorge Mateo, and I also think he's the more fundamentally sound defender. Not that Mateo is bad in the field, but Torres is more sure-handed and reliable. Mateo has a knack for being a little too flashy. Torres won't wow you in the field. He just makes plays.
Shortstops are typically the best athletes on the field and that makes them the best candidates to move to other positions. Sliding over to second or third is a fairly common move, but we've also seen shortstops move to the outfield. Billy Hamilton did it, and in a roundabout way Mookie Betts did it to. (He was drafted as a shortstop, then moved to second, then to center, then to right.) There's no reason to think Torres couldn't play third. He has the tools. I don't think the Yankees should move him just yet, but if they determine in the future that's the best way to get him into the lineup, then move him over. I think Torres would pick up the hot corner quickly.
Mark asks: Any worry of a strike or lock out this off season? Or is everyone rolling in the deep, that no matter how the cba turns out, everyone is a winner?
I'm not worried about a work stoppage and there's no indication the two sides have reached a sticking point in Collective Bargaining Agreement negotiations. MLB is insanely healthy right now. Everyone is making a ton of money and everyone involved knows the best thing for business is to keep it going. A work stoppage would do a lot of unnecessary harm. Commissioner Rob Manfred told reporters at the owners' meetings a few weeks ago that talks were progressing and he expects a deal to be reached. I fully expect the two sides to have a new deal in place this offseason. Not worried at all. MLB and MLBPA have too much to lose.
Sam asks (short version): Are you happy with instant replay? What causes the MLB offices to not overturn calls that are seemingly obvious?
The folks in MLB's central review office need clear and convincing evidence to overturn a call on the field. A lot of plays that look like they should be overturned aren't because the replays are deemed inconclusive. That's the best answer I can give. We've all seen plays where there appears to be obvious grounds to overturn the call, but it doesn't happen for whatever reason. I can't explain those.
As for the replay system in general, I am happy with it, though there are ways it can be improved. I'd like to see them speed up the process somehow. Is there a reason the crew chief can't keep a direct line cell phone in his pocket and call the review crew that way rather than go over for the headsets? Just spitballing here. The other thing I don't like about replay are the ticky-tack reviews on a player who might have popped up off the base for a fraction of a second after a slide. Like this:
Yes, it's important to get the calls right. Ultimately that is why the replay system is in place. Calls like that are not the reason replay was implemented though. That's an unintended consequence. I'm not sure how you could eliminate those, but plays like that are by far my least favorite aspect of replay.
Joseph asks: In light of the team's recent success and playoff run attempt, would you undo any of the trades made before the deadline this year?  (I wouldn't, feel like we need to store as many assets as possible to trade for at least one top of the rotation starter eventually, although I do miss Miller every day).
I don't think so. The only one you would even consider taking back is the Andrew Miller trade because he is under contract another two years, and the Yankees could have always traded him for a monster package somewhere down the line. There's no doubt the Yankees would be a better team right now with Miller and Aroldis Chapman, but they were smart to take a big picture view at the deadline. They had to. The franchise was desperate for an infusion of young talent. That the Yankees managed to claw their way back into relevance in the postseason race is all gravy in my opinion.
Andrew asks: With Sanchez having the month he's having, possible extension candidate?  Great arm behind plate, crazy advanced hitter.  Something along the lines of Longoria's deal from a few years ago enough to get it done?
It might be a little too early for this. Generally speaking, yes, Sanchez is the kind of young player you'd look to lock up long-term, especially given his position. The kid just had what might legitimately be the best month of his entire career though. His leverage is at an all-time high. Waiting until the offseason, or even next offseason, might not be the worst idea.
Just for fun, here are some players who signed long-term extensions with less than a half-a-season of service time (via MLBTR's Extension Tracker):
Jonathan Singleton: Five years, $10M with three club options ($35M max)
Salvador Perez: Five years, $7M with three club options ($26.75M max)
Evan Longoria: Six years, $17.5M with three club options ($44M max)
The Longoria deal seems most relevant to Sanchez. They were both high profile prospects who received big signing bonuses as amateurs, so they already had some financial security. Perez received a $65,000 bonus as an amateur and jumped at the guaranteed money. Singleton received a $200,000 bonus out of the draft and he actually signed his extension with the Astros as a minor leaguer. They only called him up after he agreed to the deal.
If the Yankees were to wait and sign Sanchez to an extension after next season, contract benchmarks based on players with similar service time would include Christian Yelich (seven years, $49.75M), Jedd Gyorko (five years, $35M), Yan Gomes (six years, $23M), Starlin Marte (six years, $31M), and Anthony Rizzo (seven years, $41M). What do you think, worth the wait? Putting the Longoria extension in front of him this coming offseason is worth a try, I'd say.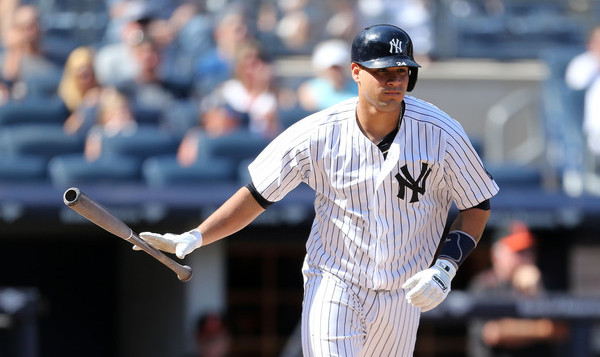 Jerry asks: I've looked at MLB.com's scouting report on Gary Sanchez and his hit tool is only rated 45. Is his hit tool really below average because it certainly doesn't look like it?
MLB.com gives him a 45 hit tool and they're probably the low man on him. I've seen other publications (Baseball America, Keith Law, etc.) say they believe Sanchez can be a .270-.280 hitter in the big leagues, which is closer to a 55-60 hit tool on the 20-80 scale. A 50 is average and these days non-pitchers are hitting .259 collectively. Sanchez sure looks advanced for a hitter, right? He knows the strike zone and seems willing to go the other way. Based on everything I've seen and read over the years, I think a 50 hit tool is the minimum here. Anything less seems really light.
Frank asks: I have noticed that SP Will Carter has an amazing ratio of 36 ground outs to every 10 fly outs in AA Trenton. He pitches to a 4.42 ERA but I was wondering how much the quality of the minor league infields, as well as, minor league infield defense has played a part in his high ERA? Also do you think there would be a significant improvement should he pitch in the majors, given these factors?
Oh yes, that stuff absolutely plays a role in a pitcher's ERA. Minor league fields are well groomed but not nearly as well as Major League fields, so there are bad hops and things like that. Minor league teams just don't have the resources to care for them as well as MLB teams. Also, as talented as players like Mateo and Tyler Wade are, they're still minor leaguers and they're going to make mistakes on defense. It's part of the learning process. Carter has a heavy mid-90s sinker and a 67.8% ground ball rate in the minors. Put him on a Major League field in front of a Major League defense, and his ground ball ability will be a real asset.
Adam asks: I counted 10 definites (Jansen, Trumbo, Ramos, Encarnacion, Napoli, Walker, Prado, Desmond, Cespedes, Bautista) and 3 strong maybes (Saunders, Fister, Lind) to receive the QO.  Is there anyone obvious that I am missing? and will this be the lowest amount of QO's given since inception of the rule? Thanks
I think you're being a wee bit generous with the qualifying offers. Adam Lind is essentially a DH and he's hitting .230/.267/.429 (85 wRC+) this season. The qualifying offer is expected to be $16.7M this offseason. Put that in front of Lind and he'd take it in a heartbeat. I can't see Mike Napoli getting the QO either, even as good as he's been. He has a chronic condition in both of his hips. Neil Walker's recent back surgery might take him out of the running too.
Adam is missing three QO candidates, in my opinion: Justin Turner, Matt Wieters, and Dexter Fowler. Turner and Fowler are no-brainers right now. Wieters is a bit more up in the air because he hasn't had a great season, but still, quality catchers are hard to find. That gives us ten definites (Turner, Fowler, Kenley Jansen, Mark Trumbo, Wilson Ramos, Edwin Encarnacion, Martin Prado, Ian Desmond, Yoenis Cespedes, Jose Bautista) and four maybes (Wieters, Walker, Michael Saunders, Doug Fister).
Last year's free agent class was ridiculously good and a whopping 20 players received the QO. That is by far a record. Only nine received it during the 2012-13 offseason, then 13 in 2013-14, and 12 in 2014-15. Looks like we're heading for another 12-13 or so this year. I guess we could consider that a "normal" offseason at this point. I would be surprised if the Yankees forfeited a draft pick to sign one of those potential QO players this winter.
Eric asks: Do the Yankees sign a LH Reliever such as Boone Logan or Brett Cecil? Even if the Yankees bring back Chapman, he's the closer so they would seem to be without any LH reliever options?
Outside of Miller, who was a special case because he is so much more than a left-on-left matchup guy, the Yankees have not had much luck signing free agent lefty relievers in recent years. Both Damaso Marte and Pedro Feliciano blew up on them (we'll always have the 2009 World Series, Damaso!), and Matt Thornton was mediocre at best. The Yankees dumped him on a trade waiver claim four months into a two-year contract.
The list of non-Chapman free agent lefty relievers this coming offseason includes Logan, Cecil, Thornton, Mike Dunn, Javier Lopez, Marc Rzepczynski, and Travis Wood. Dunn has had some arm problems this year, otherwise he'd interest me the most out of those guys. Wood is more than a lefty specialist. He can go full innings if necessary, so he'd probably be my top target.
The Yankees have Chasen Shreve, James Pazos, Richard Bleier, and Tommy Layne on the 40-man roster right now. Dietrich Enns and/or Tyler Webb could be added this winter to avoid Rule 5 Draft exposure. I think the Yankees will stay in-house for lefty middle relievers. (By the way, I think the odds of them signing Chapman are, like, 85%.)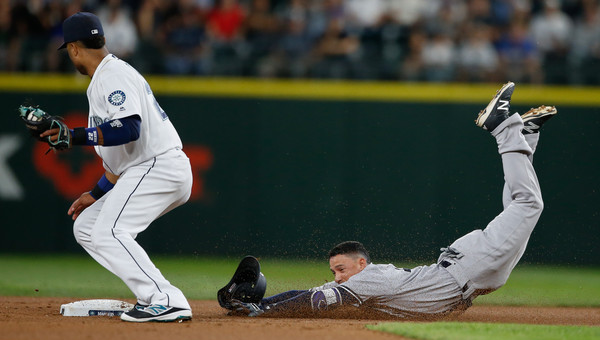 Quintin asks: Torreyes is undersized and has no power, but has been fairly productive when given the chance to play. Could he be a starter for a contending team, or is he just a utility player?
I liked the Ronald Torreyes pickup and wrote that a few times before the season. I think he's a really good utility infielder, someone who won't kill you if you're forced to play him everyday for two weeks while someone is on the DL, but not a guy you want to run out there for 150 games a season. I know Torreyes was insanely hot last week, but remember, he was hitting .218/.274/.308 (54 wRC+) as recently as August 18th. His hot week pushed that up to .298/.348/.452 (115 wRC+).
Torreyes is still only 23 — he's two months older than Greg Bird and three months older than Gary Sanchez — and he's a contact machine, which makes him prone to these ridiculous BABIP fueled hot streaks. He did it in April and he did it again last week. Torreyes has no power, but he gets the bat on the ball, he plays solid defense, and he's a high-energy player who is a very popular teammate. I'm wrong about players all the time, so if Torreyes becomes an everyday player at some point, great. I see him as a really nice utility guy, someone who can be on a championship team's bench.
Michael asks: Mike- with seven teams vying for the two WC spots separated by only 3.5 games (as of 8/30) can you please explain the tiebreaker system should it come to that.
I am #TeamChaos and would love to see a three or four-team tie for a wildcard spot one of these years. A two-team tie is simple. The two teams just play a Game 163 and the winner is the second wildcard team. This happened in 2013, when the Rangers and Rays tied for the second wildcard spot. Tampa beat Texas in Game 163 and then beat the Indians in the wildcard game.
For a three-team tiebreaker, the three clubs are designated Team A, B, and C based on a ton of criteria. Head-to-head records, intra-division records, all sorts of stuff. Team A plays Team B, then the winner plays Team C. The winner of that game gets the wildcard spot and advances to the postseason. You want to be Team C in that scenario. You one get to play fewer one winner-take-all tiebreaker game.
A four-team tiebreaker is boringly straight forward. The four teams are designated Team A, B, C, and D through all that messy criteria, then Team A plays Team B and Team C plays Team D. The two winners meet, and the winner of that game then advances to the postseason as the second wildcard team. MLB has all the tiebreaker scenarios worked out. Here are all the gory details.
George asks: Thoughts about the possibility of not having a "clubhouse leader" or "veteran presence" next year, especially if they trade McCann? I remember reports about how huge Miller was, and going back even Jeter and Posada. CC seems like a great model for the pitching staff (owning up to mistakes, overcoming addiction,…), but the position players don't seem to have a go to guy especially after ARod's jettison.
I do think this is something the Yankees take seriously. Based on everything I've read and heard, CC Sabathia is the leader of the pitching staff and Brett Gardner and Brian McCann are essentially co-captains in the clubhouse. They're the leadership guys. Sabathia is almost certainly going to be around next year. Gardner and McCann could be traded though and that will leave a leadership void. Mark Teixeira will be gone too.
Ultimately, I think you have to focus on talent and put the best players on the field, and hope the leadership core develops. Back in the day the sabermetric credo was that intangibles didn't matter, or that they didn't have nearly as much impact as everyone believed. I agree that intangibles and leadership should not be the tippy top priority, but it's silly to say they don't matter. They obviously do. I don't think the Yankees would hesitate to trade Gardner and/or McCann for clubhouse reasons, but I do think the leadership void is something they'd look to address.
Ross asks: I noticed that when Ben Gamel got traded, he was immediately put in 15th place for the Mariners top 30 on MLB.com.  Gamel was 24th on Yankee list.  Orozco was 19th on the Mariners list and Stephen Tarpley was #17 for the and Tito Polo was #27 for the Pirates and with Gamel's top 30 spot, none of those three cracked the Yankee top 30 (Freicer Perez took the new 30 spot).  Is their depth that crazy deep or did MLB.com mess up not putting any of those guys top-30?
No, MLB.com didn't screw up. The Yankees have that much depth in their farm system right now. The deadline trades added 12 (12!) legitimate prospects to the system, a system that was on the rise this season as it is. The Yankees have some high-end talent at the top of the farm system (Clint Frazier, Gleyber Torres, etc.) but they also have a ton of guys who project to be average-ish big league players. Guys like Thairo Estrada and Donny Sands have really nice skill sets and they can't sniff the top 30 right now (in my opinion). Overlooked pitchers like Will Carter and Caleb Smith have a chance to contribute at the MLB level too. The depth in the system right now is just absurd. I've never seen it better.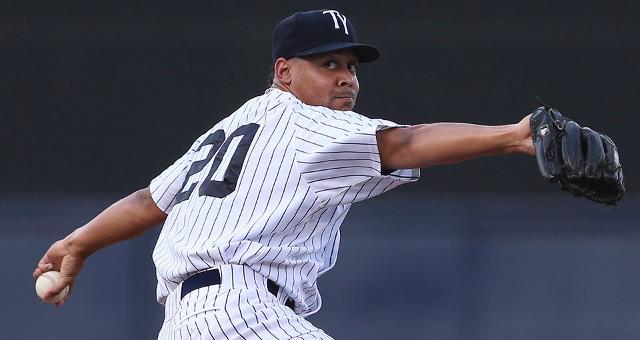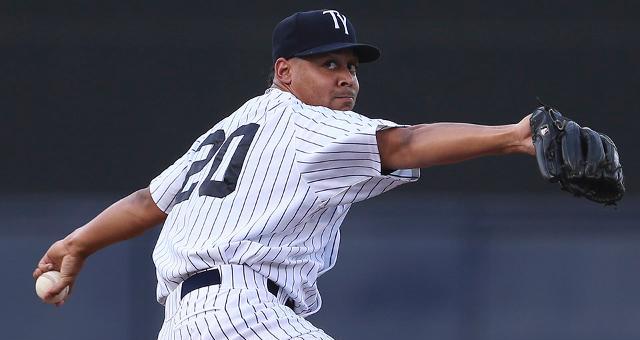 Michael asks: Think we could see Justus Sheffield as early as sometime in 2017? What about Kaprielian?
I wouldn't completely rule it out, but I do think 2017 is unlikely for both guys. Sheffield is just now getting to Double-A, and he figures to start next season at that level too. The Yankees are probably going to take it very easy with James Kaprielian given his elbow injury. I doubt they'll rush him up the ladder next season. The fact neither of these guys is on the 40-man roster works against them too. I'd call late 2017 a slight possibility for both Sheffield and Kaprielian with early-to-mid-2018 more likely.
Nick asks: Would sending Severino to the AFL be an option?  Let him get a few extra innings and work on his changeup there.
I don't think so. The Arizona Fall League is not the best place to send a young starter to work on things. It's a very hitter friendly league. There's no reason Luis Severino couldn't go to the Arizona Fall League, he doesn't exceed the service time limit, but it's usually not a place for top young pitchers. Not unless they missed significant time with injury. Winter ball could be more likely for Severino, and even that I think is a long shot. They might send him home after the big league season and let him recharge the batteries, then come to Spring Training ready to work next year.
Luke asks: Where is Slade Heathcott these days?
Heathcott signed with the White Sox a few weeks after being released by the Yankees. He's hit .227/.373/.330 (109 wRC+) with a 26.1% strikeout rate in 32 games for their Triple-A affiliate, and MLB.com does not rank Slade among the top 30 prospects in a weak ChiSox farm system. I don't know what Chicago's 40-man roster situation is, but they'll have to add Heathcott after the season to prevent him from becoming a minor league free agent.
Travis asks: Considering the almost identical stat lines between Taylor Widener's 2016 debut and Chance Adams's 2015 debut, do you think the Yankees may try to convert Widener to a starter for 2017? I know he has had some injury concerns the last year or so, but I wasnt sure to what extent.
Widener was the Yankees' 12th round pick out of South Carolina this season, and he has a 0.52 ERA (1.61 FIP) with 52 strikeouts and 6 walks in 34.1 pro innings. That's a 43.0% strikeout rate and a 5.0% walk rate. Widener did have some injuries in college, most notably ulnar nerve transposition surgery last fall. He's also had some back and knee problems over the years. The nerve injury is serious stuff, but he seems to be over it.
I suspect we're going to hear a lot of "this guy might be the next Chance Adams" going forward, but it's unfair to put that on anyone. What Adams did this year is like 95th percentile outcome stuff. Best case scenario. Widener has a mid-90s fastball and a hard slider, though he lacks a changeup, and that's why most project him as a reliever. It's worth noting the Yankees have him working 3-4 innings stints, so perhaps they're considering him for a starting role. Widener could be in for the Jonathan Holder plan. Try him as a starter for a year, and if they don't like what they see, stick him back in the bullpen.