Against all odds, the Yankees remain in the postseason race with less than three weeks to go in the regular season. They lost yesterday, but prior to that they won seven straight and 13 of their previous 17 games. The Yankees are two games back of the second wildcard spot and FanGraphs puts their postseason odds at 13.5%. They were 2.3% eight days ago.
As well as the Yankees have played recently, with seemingly a different player stepping up each night, they're going to need to be even better over the final 20 games to sneak into the postseason. The schedule only gets more difficult from here on out. New York's best chance to make the playoffs involves continuing their current play and getting some more from a few players on the roster. Here are five things I think need to happen to maximize the team's postseason chances.
Gregorius snaps out of his slump
Didi Gregorius has been, rather easily, the Yankees' best all-around position player this season. His 17 home runs are nearly double his previous career high (nine last year), and he's still making a lot of contact and playing strong defense. I was skeptical when the Yankees acquired Didi because I didn't believe in his bat. Boy was I wrong.
As good as Gregorius has been this season, he's been slumping hard this month, going 3-for-34 (.088) with eight strikeouts and zero unintentional walks in September. Slumps happen, but with Didi it seems like fatigue might be a factor as well. His bat looks a little slow, and even in the field there's been some moments when his first step wasn't as quick as usual.
A day off could do Gregorius some good — the Yankees are ten games into a 17 games in 17 days stretch — though it is tough to get him out of the lineup given what he does defensively. We all love Ronald Torreyes, but he's no Didi. No one is expecting Gregorius to hit five homers in a ten-game span like he did in late-June/early-July. The Yankees do need more offense from him than they've been getting this month, however.
Gardner and Ellsbury stay hot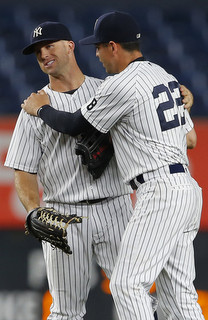 Overall, both Brett Gardner and Jacoby Ellsbury have had disappointing seasons atop the lineup for the Yankees. Gardner's power has disappeared, and up until recently, Ellsbury wasn't getting on base all that much. Disappointing middle of the order veterans like Mark Teixeira and Alex Rodriguez are the main reason the Yankees have had a below-average offense this year. The two guys at the top of the lineup aren't without fault though.
Not coincidentally, the team's recent strong play coincides with both Ellsbury and Gardner getting hot. Ellsbury has gone 9-for-27 (.333) with two homers, four walks, and only one strikeout during this recent 7-1 stretch while Gardner is 10-for-26 (.385). Their combined on-base percentage is .417. During the 13-5 stretch, Ellsbury has hit .311/.394/.541 and Gardner has hit .317/.386/.350.
Gardner's power still hasn't resurfaced, but he has been hitting for average and getting on base the last three weeks. Ditto Ellsbury. The Yankees look like an entirely different team when these two are hot at the same time. We've seen it at various points the last three seasons. Gardner and Ellsbury continuing to set the table like they have been the last few weeks is essential to getting the Yankees into the postseason.
Betances and Clippard be automatic
At this point Joe Girardi's bullpen pecking order is clear: Dellin Betances is the closer (duh) and Tyler Clippard is the eighth inning guy. For a little while after the trade deadline Clippard was the seventh inning guy, but he and Adam Warren have flipped spots, which is for the best. Warren is better able to go multiple innings, which means Girardi won't hesitate to use him to put out fires in the sixth inning, if necessary.
The Yankees seem to play nothing but close games these days — eight of their last 13 wins have come by no more than three runs and seven have come by no more than two runs — and that doesn't figure to change, which means Betances and Clippard are going to have to be perfect in the last two innings, meaning protect every lead. The Yankees can't afford to led late leads slip away and the two righties are the last line of defense out of the bullpen. When they're handed a lead, it has to hold up.
Pineda becomes a reliable second starter
Right now the Yankees have a bonafide ace in Masahiro Tanaka and four other guys in the rotation who don't make you feel all that comfortable. Maybe comfortable isn't the right word. They're just unpredictable from start to start. CC Sabathia is in the twilight of his career, Bryan Mitchell and Luis Cessa are just kids, and Michael Pineda is one of the most enigmatic pitchers in all of baseball.
Pineda is also one of the most talented pitchers in baseball — it's good to be 6-foot-7 with a mid-90s cutter and a wipeout slider — and I think he has the best chance to emerge as a second reliable starter these last three weeks. The problem is Pineda has given Girardi no real reason to trust him. We all saw Girardi pull Pineda one out short of qualifying for the win with a five-run lead the other night.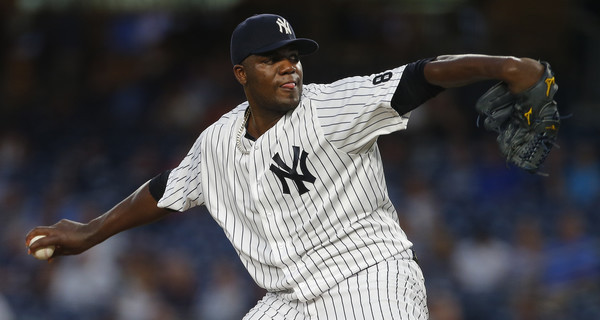 As bad as the offense has been for long stretches of time this season, it seems more likely the rotation will be the Yankees' downfall these final few weeks. Ivan Nova's been traded and both Nathan Eovaldi and Chad Green got hurt, meaning the Yankees have no choice but to rely on two rookies and a fading Sabathia. Pineda is young and he's in what should be the prime of his career. He's the club's best hope for second solid starter.
One of the kids contributes from the bottom of the lineup
The Yankees committed to their youth movement last month and the kids have really improved the team, not only on the field, but in the dugout. The Yankees seem more energetic than they have been in years. It's fun to watch. Gary Sanchez has been a monster who is rightfully hitting in the middle of the lineup. Tyler Austin and Aaron Judge, two other rookies, have had a tougher go of it. Here are their MLB numbers:
Austin: .224/.274/.414 (81 wRC+), 3 HR, 6.5 BB%, 35.5 K% in 62 plate appearances
Judge: .177/.258/.316 (53 wRC+), 3 HR, 9.0 BB%, 43.8 K% in 89 plate appearances
Both have shown signs of coming around of late, especially Austin, but the fact remains both have been negatives at the plate since being called up. (Judge has at least improved the right field defense.) If the Yankees were well out of the race like many expected them to be this month, running both kids out there everyday would be no big deal. The experience is the most important thing.
The Yankees need impact to get the postseason though, and it would be a huge help if either Austin or Judge started to figure things out and contribute from the bottom of the lineup. It would be cool if both did it, but let's not get greedy. One of the two getting locked in would lengthen the lineup and make the offense that much dangerous. The kids are a big reason the Yankees are remotely close to a playoff spot right now, and if they're going to sneak into the postseason, rookies like Austin and Judge will have to be a driving force.