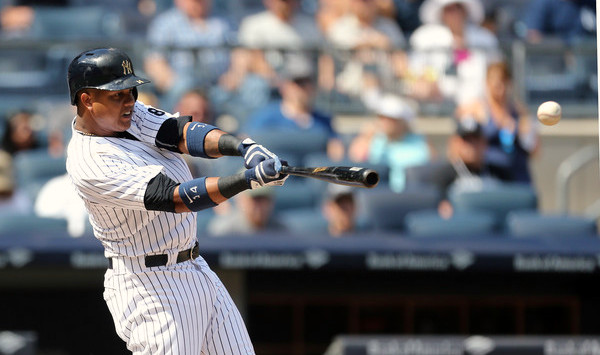 Three years ago the Yankees made a decision to prioritize defense over offense in the outfield. They spent big to sign Jacoby Ellsbury, then a few months later they committed a market value extension to Brett Gardner. Yeah, they also brought in Carlos Beltran to play right field, but the other two outfield spots were occupied to players known more for their gloves and legs than their bats.
Fast forward to today, and things have played out pretty much exactly as expected. Ellsbury and Gardner have declined offensively as they get further into their 30s, meaning their defense is that much more important. Neither is the defender they were three or four years ago either, though I do think both are still comfortably above-average. As planned, it's defense over offense.
The Ellsbury and Gardner contracts made it clear the Yankees were going to have to get power from their infield, because two of the three starting outfielders weren't going to hit many balls over the fence. (Ironically enough, Gardner's power spiked and his 33 homers from 2014-15 were 29th among all outfielders.) That is even more true today, as Ellsbury and Gardner have declined.
Infielders with power — especially middle infielders — can be hard to find, but the Yankees have managed to do it. Didi Gregorius joined the 20-home run club Tuesday night, about three weeks after Starlin Castro did the same thing. The Astros (Jose Altuve, Carlos Correa), Mets (Asdrubal Cabrera, Neil Walker), Nationals (Danny Espinosa, Daniel Murphy), and Rays (Logan Forsythe, Brad Miller) are the only other teams to get 20+ homers from both middle infielders in 2016.
A year ago Didi and Castro combined for 20 homers total — Gregorius hit nine and Castro hit eleven with the Cubs — and now they are able to put up those numbers individually. Sure, Yankee Stadium definitely helps, but these guys are both 26 as well, and entering what should be the best years of their careers. A power spike at this age isn't uncommon. Also, I'm pretty sure the ball is juiced, so let's check this out quick:
Castro: 57 ISO+ in 2015, 81 ISO+ in 2016
Gregorius: 50 ISO+ in 2015, 76 ISO+ in 2016
ISO+ is the same basic idea as OPS+. It's the player's ISO relative to the league ISO with a park factor applied — I used the handedness park factors at StatCorner — where 100 is league average. Anything lower is below-average and anything higher is below-average.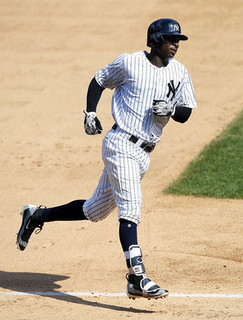 Adjusting for ballpark and the the increase in power around the league, Castro and Gregorius are still below-average power hitters this season. But! Compared to last season, they've both made improvements. Castro essentially went from 57% of the league average power output to 81%. Gregorius jumped from 50% to 76%. There's real development behind their power. It's not all Yankee Stadium and juiced baseballs.
In addition to the middle infield, the Yankees are also getting a ton of power from their catchers. In fact, they have two catchers with 19+ homers. Again: two catchers with 19+ homers! That's pretty awesome. The team's biggest power sources — catcher and middle infield — are positions not normally associated with power, which is a big positive. Going forward, having Gregorius and Castro up the middle with Gary Sanchez behind the plate will be very nice in terms of dinger expectancy.
The problem this season has been the lack of power from other positions. We knew Gardner and Ellsbury weren't going to hit many home runs, but the Yankees have gotten very little from first base and DH, the two most premium power positions. When it's all said and done, the Yankees will (probably) miss the postseason this year not because Dellin Betances blew some saves or Chase Headley had a bad April. It's because Mark Teixeira and Alex Rodriguez were complete non-factors.
Hopefully young players like Greg Bird and Aaron Judge can help provide some more pop going forward. Right now the Yankees are getting their power from the middle infield and behind the plate, which is a good building block. It's also necessary because Gardner and Ellsbury aren't the hitters they once were, and when you have two defense-first players in the outfield, the offense has to come from somewhere else. The Yankees are starting to get that production from elsewhere.