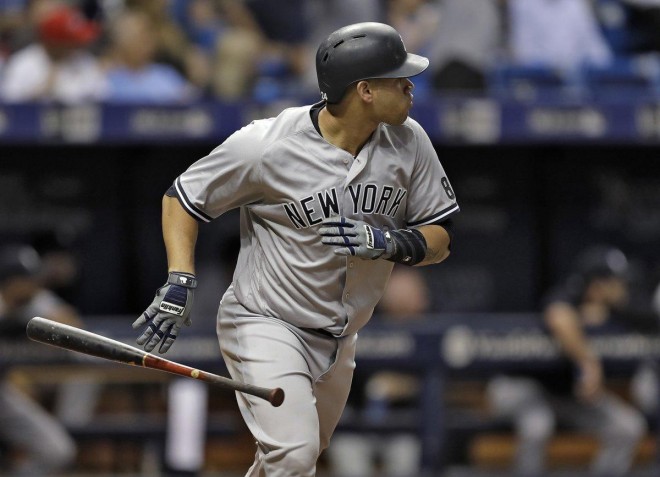 Gary For President
Fueled by the heroics of Gary Sanchez and a dominant outing by the enigmatic Michael Pineda in the series opener on Tuesday night, the desperate Yankees kept their faint postseason hopes alive for at least one more day.
Sanchez delivered the biggest blow in the seventh inning, when he pounced on a first-pitch slider and hammered it 437 feet over the left-center field wall for a tie-breaking, three-run homer that put the Yankees ahead 5-2. It was the 17th time he's gone deep in his big-league career, and the first time (of many, hopefully) he's homered to give the Yankees a lead in the seventh inning or later.
Sanchez wasn't the only star of the game, of course, as Pineda pitched a gem and made sure the Yankees had a chance to record their 42nd comeback win of the season. He had absolutely filthy stuff, striking out 11 of the 22 batters he faced, including 10 of them swinging.
Pineda increased his strikeout total to 195, and a whopping 175 of them (89.7 percent) are of the swinging variety. Among all pitchers with at least 125 Ks this season, Pineda has the highest percentage of swinging strikeouts in the majors.
Pineda was yanked by Joe Girardi after Brad Miller singled with one out in the sixth inning, producing this Yankeemetric that perhaps best defines his tantalizing — and frustrating — talent: Pineda's 11 strikeouts against the Rays are the most ever by a Yankee pitcher in an outing of of 5 1/3 innings or fewer.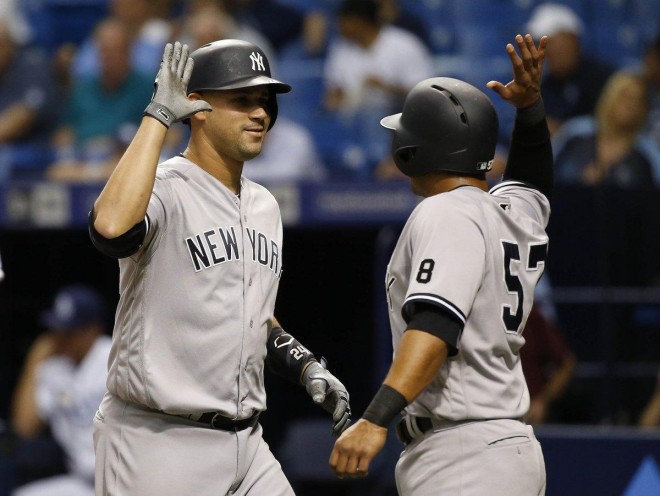 LOL, Gary Sanchez
This is Gary Sanchez's world, and we're just living in it. Yup, the Sanch-ino (Thanks John Sterling!) did it again.
Sanchez continued to re-write baseball history at an incredible and frenetic pace, going deep twice while driving in a career-high five runs in the 11-5 win. He truly is must-see television as fans have a chance to witness something every time he comes to the plate.
On Wednesday, Sanchez clobbered his 18th and 19th home runs, becoming the fastest player ever to reach those marks. No other major-leaguer had even hit 19 homers in their first 50 career games (Wally Berger had the previous record with 19 in 51 games), and Sanchez compiled that number in a mere 45 games.
He made his mark on the franchise record books, too, becoming the first rookie in Yankees history to homer in four straight games. This was also the third time he'd hit two homers in a game, making the 23-year-old Sanchez the youngest Yankee with three multi-homer games in a season since Bobby Murcer in 1969.
There are so many ways to quantify his ridiculous home run pace and put his Superman-like slugging into perspective. Here's another one (all data per Statcast):
Through Wednesday, one of every 6.5 balls that he put into play turned into a home run, and roughly one of every 18 pitches he swung at went over the fences! Both of those rates were by far the best among all players with at least 10 homers this season. #YoSoyGary
It's a good thing that Sanchez is a human highlight reel, or else this game would have been decided by Masahiro Tanaka's inexplicable four-homer meltdown in the third inning. Although he settled down after that blip, Tanaka still joined this illustrious list of Yankees to give up a quartet of longballs in a single inning: Chase Wright (2007), Randy Johnson (2005), Scott Sanderson (1992) and Catfish Hunter (1977).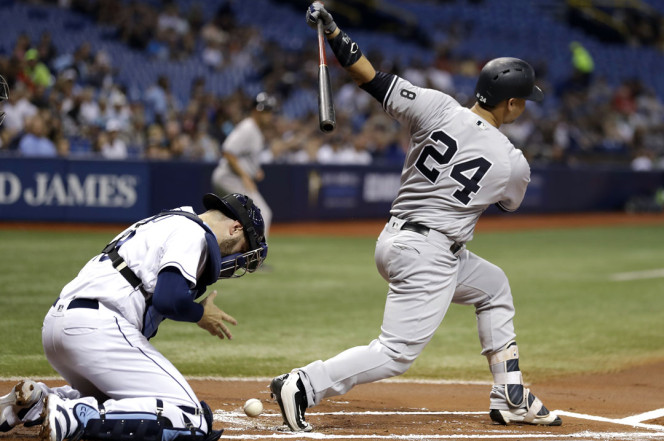 "We need to win 11 out of 10"
That quote above is from Brett Gardner following the Yankees 2-0 loss to the Rays on Thursday night, and pretty much sums up the daunting task ahead of the Yankees in the final week of the season. Do you believe in miracles? Because that's what it might take for this team to avoid making tee times for October.
For the 417th time this season (approximately) the Yankees failed to close out a series sweep, getting blanked by the Rays as their near-impossible trek towards a postseason berth became even more improbable.
The Yankees and Rays played six series this season; in four of them the Yankees had a chance to win every game in the series, and four times they lost the final game to come up empty in the sweep opportunity. #Sigh
The Yankees season-long problem of coming up empty in scoring situations reared its ugly head once again, with the Yankees going 0-for-8 with runners in scoring position while stranding 11 baserunners. This is the 17th time this year they've left at least 11 men on base in a game; last year, it happened only 12 times.
This was also their 73rd loss of the season, meaning the Yankees will fail to win 90 games for fourth year in a row. That's their longest stretch of sub-90-win campaigns (excluding strike-shortened seasons) since the dark days of the late 1980s and 90s, when they didn't reach the magical 90-win mark from 1987-1993.