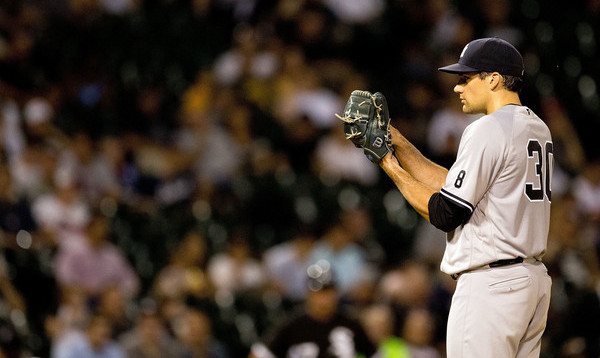 A little more than one month ago, right-hander Nathan Eovaldi made what could very well be the final start of his Yankees career. Eovaldi tore his flexor tendon and ulnar collateral ligament during a start against the Red Sox on August 10th, and soon thereafter underwent surgery to repair both. He's going to miss all of next season.
"It's been a slow (rehab) process," said Eovaldi to Fred Kerber. "I've been doing everything I've been told … My arm's just getting better, healthy again. We're looking at 2018. But you can never tell with rehabs. If you get setback, it could be a while. If everything goes good, you could be ahead of schedule and then you're in control."
The timing of the injury ensures the Yankees will non-tender Eovaldi this offseason. He's due to become a free agent after next year, and there's no sense in paying him $7M+ to rehab in 2017 only to lose him to free agency after the season. The business side of the game can be cruel. Eovaldi's going to be injured and unemployed in a few weeks.
The Yankees have a history of signing injured pitchers and patiently nursing them back to health (Jon Lieber, David Aardsma, Matt Daley, Andrew Bailey, etc.), and it stands to reason they could look to do the same with Eovaldi. If that's the plan, they've yet to speak to him about it.
"Nothing yet," said Eovaldi to Brendan Kuty when asked whether the team has spoken to him about his future. "It's kind of out of my control. There's nothing I can do about it. My main goal is just to focus on recovery and getting healthy, whenever it is."
The going rate for an injured pitcher these days seems to be a two-year contract in the $8M range. Kris Medlen signed a two-year deal worth $8.5M with the Royals last year, when he was rehabbing from his second Tommy John surgery. Mike Minor inked a two-year, $7.25M off shoulder surgery this past offseason, also with the Royals.
Neither the Medlen nor the Minor deal has paid off for the Royals, so while they set the market for Eovaldi, they're also cautionary tales. The second Tommy John procedure is much riskier than the first, and given the torn flexor tendon, it wouldn't be too surprising if Eovaldi's rehab carries over into early 2018 as well. This is a big deal.
Between the Yankees having gobs of money and the expectation that pitching will be hard to come by the next year or two, bringing Eovaldi back on a two-year deal makes sense for the Yankees. They can afford to take the risk. Even if Eovaldi has to move to the bullpen full-time, it'd be worth it. I'd be surprised if the team didn't at least explore re-signing him after the season.