This team still has a little magic left, huh? The Yankees brawled and bat-flipped their way to a dramatic 7-5 win over the Blue Jays in their final road game of the season Monday night. That was satisfying win. Very, very satisfying.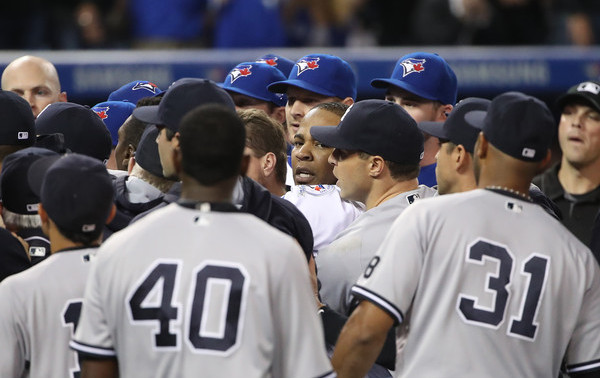 Too Big For Their Britches
The Blue Jays tried to play schoolyard bully Monday night. It all started in the second inning, after J.A. Happ threw at Chase Headley not once, but twice. That was in retaliation for Luis Severino, who has had crummy control pretty much all season, hitting Josh Donaldson in his elbow guard with a pitch. Severino walked two later in the inning, including Russell Martin with the bases loaded.
Happ threw at Headley twice. The first pitch missed behind his legs, and the second got him right in the hip. Home plate umpire Todd Tichenor finally realized what was happening and warned both benches. Joe Girardi came out of the dugout and argued Happ should have been ejected because hey, he threw at Headley twice, but no luck. Tichenor ejected Girardi and the benches cleared, albeit briefly. Even by baseball standards, that brawl was nothing.
That wasn't the end of it. In the top of the second, Severino came out and stood up for his teammate. His first pitch of the inning was behind Justin Smoak's legs, and his second was in Smoak's calf. Tichenor ejected Severino after the second pitch, but by then all hell was breaking loose. Smoak started to walk about towards the mound and Severino basically told him to bring it on. Here's the video:
CC Sabathia stormed out of his dugout on his one good knee and was right in the middle of the fracas locking up with Donaldson. You can't see it in that clip, but YES showed another replay angle later in the game where Sabathia was basically laughing in Donaldson's face. Possibly at his stupid haircut. Martin tried to get at Gary Sanchez, but other folks intervened.
So, after all of that, the Yankees were down their manager, their starter, their bench coach, and their pitching coaching. Robbie Thomson and Larry Rothschild were ejected in addition to Severino. Girardi had been tossed an inning earlier. No one on the Blue Jays was ejected, hilariously. With the manager, bench coach, and pitching coach all ejected, third base coach Joe Espada took over as acting manager. Bullpen coach Mike Harkey came in to act as pitching coach. And the game was still tied 1-1.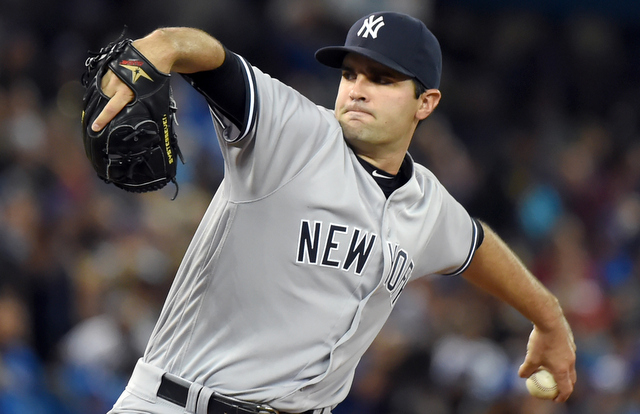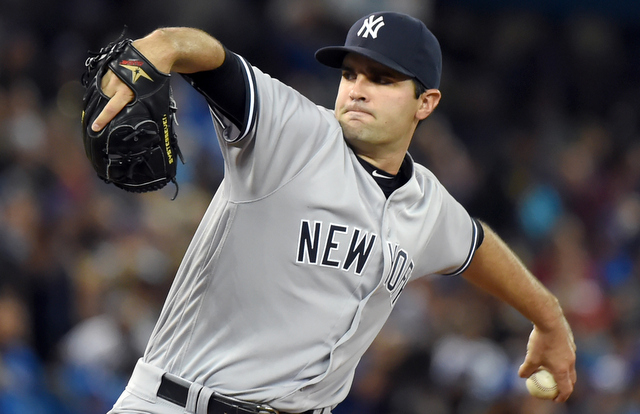 Bullpen on Parade
The Yankees scored a quick first inning run when Sanchez drove in Brett Gardner on a ground ball. Happ threw Gardner's leadoff chopper away and the ball sailed down the line and into foul territory, allowing Gardner to get all the way to third. The Blue Jays tied the game in the bottom of the first when Severino walked Martin with the bases loaded. Groan.
Once Severino was ejected, Espada turned the game over to all the extra arms in the bullpen, and you know what? They did pretty damn good. Jonathan Holder, James Pazos, Kirby Yates, Richard Bleier, and Adam Warren held the Blue Jays to two runs in seven innings. Both runs were charged to Holder. What more could you want from those guys? Yates, Bleier, and Warren in particular were the game's unsung heroes. They combined for five scoreless frames.
The bullpen gave the offense a chance to get back into the game. The Blue Jays held a 3-1 after seven innings, and the Yankees were able to get a run back in the top of the eighth. Gardner doubled and Jacoby Ellsbury drove him in with a single to cut the deficit to 3-2. The middle innings were not good. We all love the idea of a benches clearing brawl firing up the offense, but lol nope. The Yankees did a bunch of nothing against Happ until that eighth inning.
"I was just letting him know that he blew the save"
With his team leading by one run, Blue Jays skipper John Gibbons turned to setup man Jason Grilli in the ninth inning because closer Roberto Osuna was unavailable due to his recent workload. Headley, the first batter Grilli faced, hit a rocket down the first base line that Edwin Encarnacion went to his knees to play. They were playing no doubles defense and they took a double away from Headley. For shame.
The hard contact was a good sign though. On the very next pitch, Mark Teixeira hammered a get-me-over fastball out to right field for a game-tying solo home run. Teixeira enjoyed the hell out of that homer. Check out the stare down and the bat flip: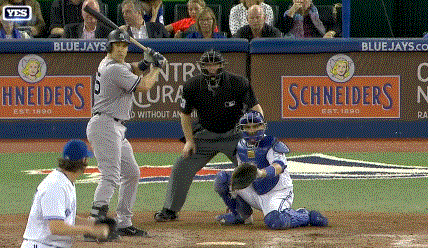 "I was just letting him know that he blew the save," said Teixeira after the game when asked about the bat flip. Awesome. Just awesome. Teixeira can be pretty bad ass when he wants too.
That home run only tied the game, however. The Yankees were going to have to muster another run if they wanted to win, and with the way things have been going of late, scoring another run was going to be a tall order. Luckily Grilli was still throwing batting practice. He gave up a single to Didi Gregorius, then hung the hell out of a breaking ball to Aaron Hicks, who hit the team's second no-doubt homer of the inning. The two-run shot gave the Yankees a 5-3 lead.
Unlike Teixeira, who's earned the right do pretty much whatever the hell he wants in this league, Hicks did not admire his homer or flip his bat. He simply dropped the bat to the ground, clapped loudly, and started his trot. To the action footage: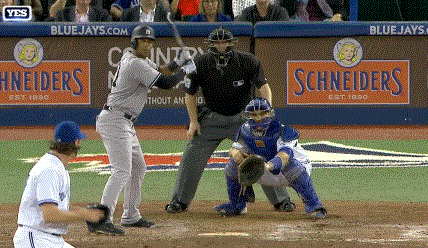 Love it. The Yankees need a little more swagger. The Blue Jays got tough earlier in the game and tried to push the Yankees around, and although it took a few innings, the Yankees pushed right back with some demoralizing ninth inning home runs. They homered and they pimped the hell out of 'em too. I want more of this.
Another Eventful Ninth Inning
Dellin Betances is officially broken. Probably not permanently, but Betances has a history of letting his mechanics fall out of whack, and that's happening right now. He took over in the ninth inning with a four-run lead — the Yankees tacked on two more runs after the Hicks homer on a double (Donovan Solano), a walk (Gardner), a single (Ellsbury), and a sac fly (Sanchez) — and immediately loaded the bases with no outs.
That rally was built like most rallies against Betances. He walked the leadoff man, made an error on a push bunt, and walked another batter. Nothing hard hit and a bunch of uncomfortable batters keeping the bat on their shoulders. Ineffectively wild, I'd say. Betances threw eleven pitches and only three were strikes. That is: bad. Dellin has to go back to lab and get his delivery back in sync. As long as he's healthy, I think he'll be just fine.
Well anyway, the bases weren't just loaded with no outs, they were loaded for Donaldson and Encarnacion. Who do you call on in that situation? The lefty specialist, of course. Tommy Layne came in and had to get three outs before allowing four runs. Sounds easy, except the tying run was already at the plate and two right-handed hitters with 78 homers between then were due up. No problem, right?
Layne first got Donaldson to fly out harmlessly to right field — the runner on third, Smoak, never even thought about going home on Hicks' arm — but he walked Encarnacion to force in a run. Now the tying run was on base. You know what? Getting through those two guys allowing just one run seems like a good outcome in that situation. Both of those dudes could have tied the game with one swing.
Pinch-hitter Dioner Navarro was up next — Jose Bautista was lifted for a defensive replacement earlier — and he lifted a weak fly ball to right that dropped just in front of a sliding Hicks to score a run. Should have been caught. I'm not sure what happened there. Either way, the score was now 7-5 and the bases were still loaded with one out. And, naturally, Layne fell behind Martin in the count 3-1. That's when he made this heroic play: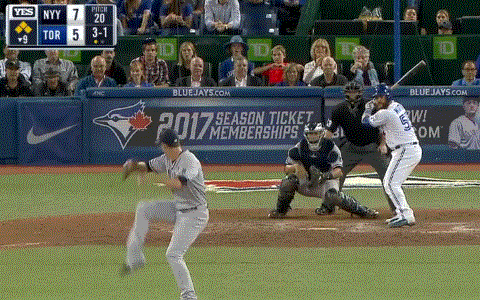 What an unbelievable play. Layne scooped the weak tapper back in front of the plate, got around Sanchez, then dove to get the force out at home, all in one motion. That little weak tapper had trouble written all over it. Visions of Layne and Sanchez colliding, or a throw to first sailing into right field flashed before my eyes. It looked bad. Instead, Layne got the out, incredibly.
That left the bases loaded with two outs, and it brought Troy Tulowitzki to the plate. Last year we watched Tulo and Andrew Miller lock up in an epic 12-pitch battle with the game on the line. Layne is no Andrew Miller, but it was the same situation. Game on the line and Tulo at the plate. Layne jumped ahead in the count 0-2, then got Tulowitzki to swing at a pitch down here (via Brooks Baseball) …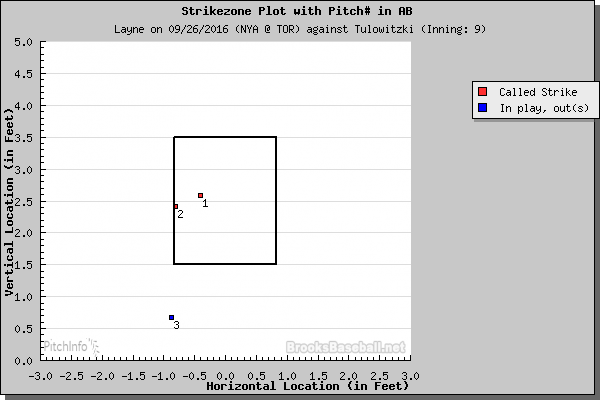 … and lift a fly ball into foul territory down the left field line. Gardner hustled over — I mean really hustled, he was running full speed — and made a great sliding catch to end the game near the wall. Second time this year Gardner made a great game-ending catch to avoid disaster against the Blue Jays while a generic white guy reliever was on the mound trying to bail out Betances. Thank goodness they don't play Toronto anymore. What a hectic ninth inning, both the top and bottom.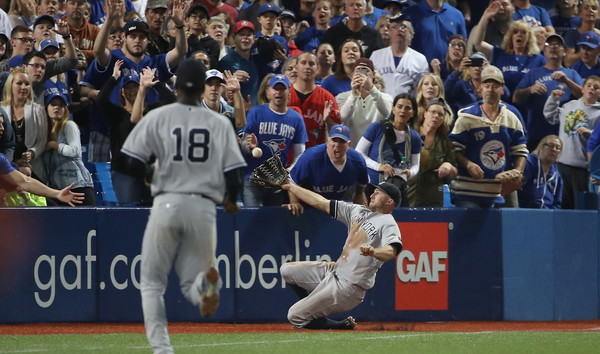 Leftovers
The Yankees somehow had eleven hits, which seems wrong. Gardner had three while Ellsbury and Teixeira had two each. Headley, Gregorius, Hicks, and Solano had one each. The Yankees drew only two walks (Gardner and Ellsbury) but they also struck out only two three times (Sanchez, Brian McCann, Teixeira). They sent 40 batters to the plate and 35 put the ball in the play. That's pretty good.
Welcome back, Starlin Castro. He returned from his hamstring injury to pinch-hit for Ronald Torreyes in the eighth. Castro hit a long fly ball to right field that would have been a home run in Yankee Stadium. Solano then took over at second base in the next inning. Castro has only been cleared to hit so far. No fielding.
After all the ejections, Harkey went to the dugout to serve as the pitching coach, and Tyler Clippard took over as bullpen coach. I guess because he's the most veteran player out there? All he had to do was pick up the phone and wave his hat when the reliever was ready. Pretty funny.
Speaking of the ejections, Severino is definitely getting suspended. Throwing at a guy (twice) after benches have been warned doesn't go unpunished. MLB could hand down a quick six-game suspension tomorrow and end his season. We'll see. A suspension is definitely coming though.
And finally, the Orioles had an off-day and the Tigers lost, so the O's have a two-game lead over Detroit for the second wildcard spot. The Yankees are five games back with six to play. Their tragic number is two. Ain't dead yet!
Box Score, WPA Graph & Standings
Head over to ESPN for the box score and updated standings, and MLB.com for the video highlights. We have Bullpen Workload and Announcer Standings pages too. Here's a win probability graph that finally craters in the Yankees' favor for once:

Source: FanGraphs
Up Next
No more road games this season. They're all done. The Yankees are heading back to the Bronx for a season-ending six-game homestand. First up: the Red Sox. Luis Cessa and David Price are the scheduled starters for Tuesday night's opener. RAB Tickets can get you in the door for that game, or any of the other five games left this season.