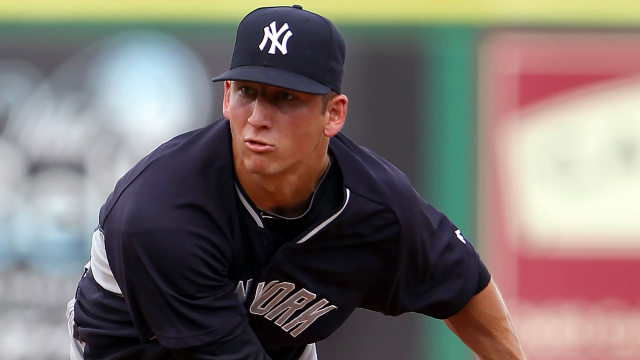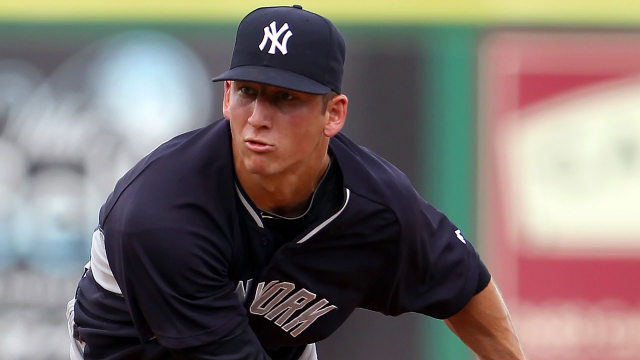 Wednesday: Well, so much for that. Kaprielian has been removed from the Scottsdale roster, according to MLB Pipeline. Jack Curry says Kaprielian hasn't suffered a setback. He was added to the AzFL roster prematurely. If Kaprielian completes his rehab work in Instructional League, he'll pitch in the AzFL.
Monday: Right-hander James Kaprielian has been added to the Scottsdale Scorpions roster, according to the Arizona Fall League transactions page. The Yankees had one open pitching spot and were reportedly hoping to use it on Kaprielian, who has missed almost the entire season with an flexor tendon strain.
"I'm pretty happy and excited with the progression we've made," he said to Brendan Kuty last week. "We've obviously taken our time with this and tried to deal with it smart. The Yankees have done a really good job with handling me and the process and I feel good with where I'm at."
Kaprielian, 22, threw a two-inning simulated game last Tuesday and was scheduled throw again yesterday, according to Erik Boland. The plan was to have him make an Instructional League start this week if yesterday's throwing session went as planned. The fact Kaprielian has been added to the AzFL roster indicates everything is going well. The Yankees wouldn't add him to the roster if there any doubt about his health.
The Yankees selected Kaprielian with their first round pick (16th overall) in last year's draft. He experienced a pretty significant velocity spike last year, going from 88-91 mph as a sophomore at UCLA to 92-93 mph by the end of his junior year, then 94-96 mph by the end of his first pro season. Kaprielian was reportedly up to 97-99 mph this spring. Unfortunately, big velocity spikes are followed by elbow woes more often than not, it seems.
In three starts with High-A Tampa this season Kaprielian had a 1.50 ERA (2.03 FIP) in 18 innings. He was dominant, as expected. Coming into the season the hope was Kaprielian would tear through High-A and Double-A, reach Triple-A in the second half, and possibly make his MLB debut in September. Obviously those plans had to be put on hold by the injury. The good news is he's healthy now and going to the AzFL.
Kaprielian will join Greg Bird (shoulder surgery) as rehabbing Yankees in the AzFL. Tyler Wade, Gleyber Torres, Miguel Andujar, Josh Roeder, J.P. Feyereisen, and Dillon Tate are going as well. Yankees' prospects will be on a team with Angels, Giants, Phillies, and Mets prospects. The AzFL season begins October 11th.