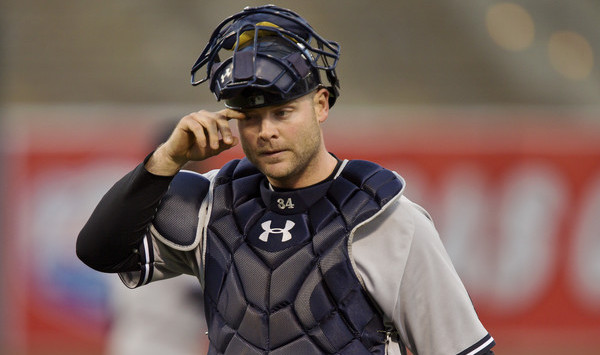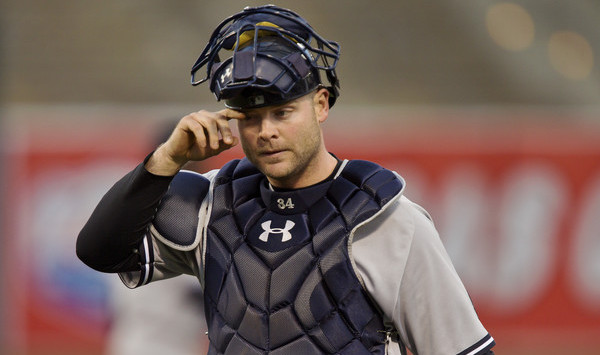 I can't imagine the 2016 season was easy for Brian McCann. He had a good year statistically, hitting .242/.335/.413 (103 wRC+) with 20 home runs, but he also lost his starting catching job to Gary Sanchez. McCann had been a full-time big league catcher since he was 21, then bam, he was the full-time DH. That couldn't have been an easy pill to swallow.
To McCann's credit, he never complained about his playing time, and in fact he went out of his way to praise Sanchez. That's not surprising. By all accounts McCann is a good dude and a leader in the clubhouse. He knows what's up. He saw Carlos Beltran get traded away and Alex Rodriguez get cut loose. McCann knows the Yankees are going young and Sanchez is the future behind the plate.
"Listen. Gary is the starting catcher here. He's going to be that for a long, long time," said McCann to Chad Jennings at the end of the season. "Just have to kind of see where my role fits in; see where everything fits … I hope I'm back. I'm not sure how it's all going to play out, but the future is extremely bright here. … I love it here. I love everything about it. Bright future. And I hope I'm a part of it."
The Yankees listed to trade offers for McCann at the deadline and Buster Olney (subs. req'd) says the expectation is the team is "far more likely" to move their erstwhile catcher than keep him for next season. The free agent catching market is thin, especially following Wilson Ramos' knee injury, and the Yankees have a chance to take advantage, the same way they took advantage of the bullpen market at the trade deadline.
Brian Cashman made it clear during his end-of-season press conference that he values McCann highly. I believe a) that is completely true, and b) Cashman was making sure not to tip his hand going into the offseason. Having two starting caliber catchers sure is a nice luxury, especially when they hit from opposite sides of the plate. At the same time, the Yankees are going young, and McCann doesn't fit.
One other thing to keep in mind: the option year in McCann's contract. Right now it's a $15M club option for 2019 with no buyout. McCann can turn it into a player option by meeting the following criteria:
Rack up 1,000 plate appearances from 2017-18;
Play 90 games at catcher in 2018;
Do not end 2018 on the DL.
McCann has to meet all of that criteria to turn the club option into a vesting option. It's not one of the three like CC Sabathia's vesting option. It's all three. With Sanchez entrenched as the new No. 1 catcher, McCann's going to have a hard time meeting that playing time criteria with the Yankees. The option could make him more receptive to waiving his no-trade clause.
Then again, maybe McCann doesn't care about the option. He's signed over $110M worth of contracts in his career. His priority may be winning a World Series, and with young talent the Yankees have coming up, McCann may see New York as his best chance to win a ring. At least compared to other possible landing spots, like the Braves or Astros. He genuinely seems to like New York too.
I've said this before and I'll say it again: I think keeping McCann makes a lot of sense. He can mentor Sanchez, provide left-handed pop, and serve as one heck of a Plan B behind the plate. I like Austin Romine and Kyle Higashioka. They're no McCann though. That said, if a trade comes up that makes sense, preferably something involving a young pitcher, then go for it. There's always a point where the price is right.
For now, the Yankees are in the driver's seat. They don't have to trade McCann. The free agent catching market stinks and the Yankees are in position to let the trade market come to them. The same was true at the deadline with Andrew Miller and Aroldis Chapman. The Yankees controlled the market and got themselves big returns. With any luck, the McCann trade market will play out the same way.