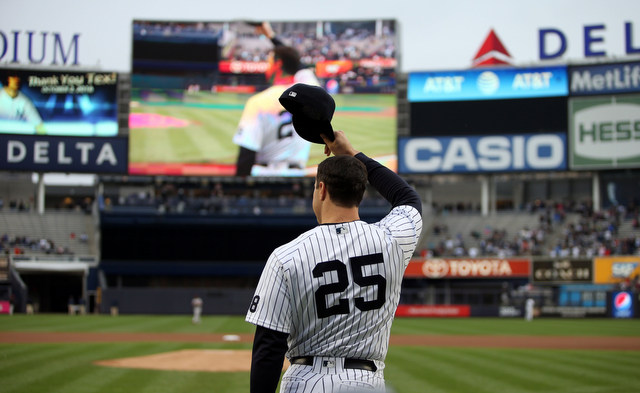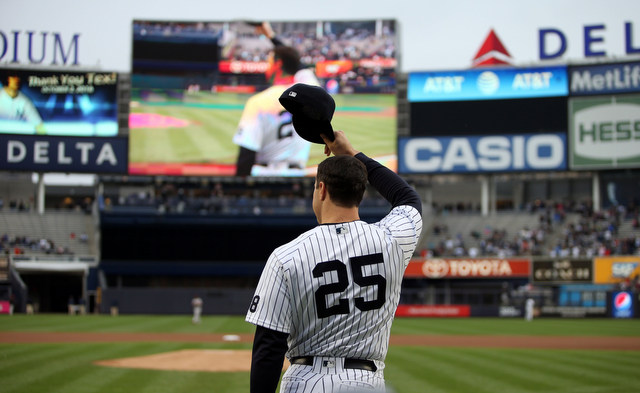 Last year, the Yankees qualified for the postseason thanks largely to Mark Teixeira's resurgent season. He rebounded from brutal second half in 2014 to hit .255/.357/.548 (143 wRC+) with 31 home runs in 111 games in 2015. Unfortunately, a foul ball to the leg ended Teixeira's season in August. He suffered a small fracture in his shin and had to be shut down.
Greg Bird filled in capably for Teixeira down the stretch, but once Bird went down with his shoulder surgery in February, the Yankees were going to have to lean on Teixeira even more this year. Their backup plan at first base — and DH, for that matter — was gone. The Yankees needed Teixeira to stay on the field and provide power from the middle of the lineup. Neither of those things happened.
Getting Old Fast
Teixeira has a reputation for being a slow starter, and since he was coming off a serious lower body injury, it wasn't completely unexpected when he started the 2016 season poorly. The Yankees took it easy on him during Spring Training following the leg injury, understandably so. And because he's a veteran, no one really thought twice about his poor Grapefruit League numbers. We've seen him struggle in the spring only to come out of the gate strong during the regular season before. Teixeira knows what he has to do to get ready. No big deal.
The sad thing is Teixeira hit .224/.352/.355 (98 wRC+) with three home runs in April and it was his best month as a full-time player this year. It wasn't until the Yankees reduced his playing time and went young in the second half that Teixeira again started to contribute with the bat. Check out his offense this summer: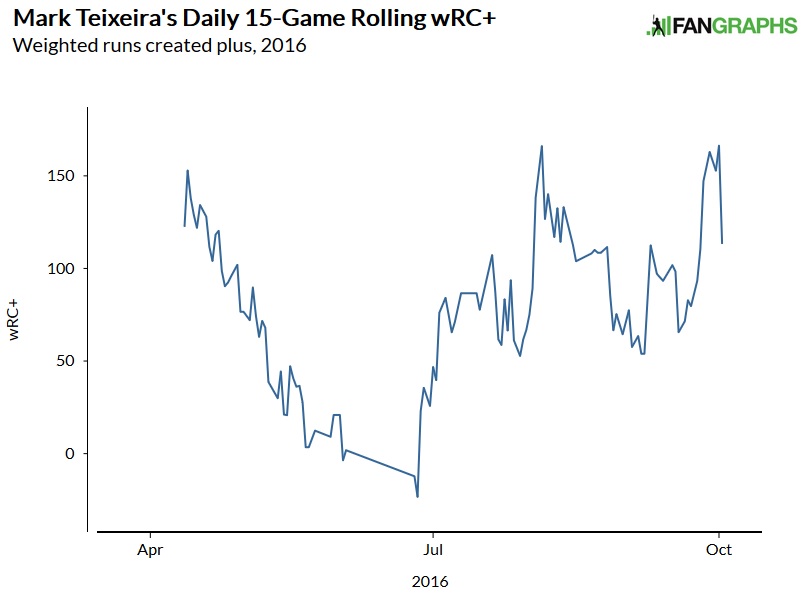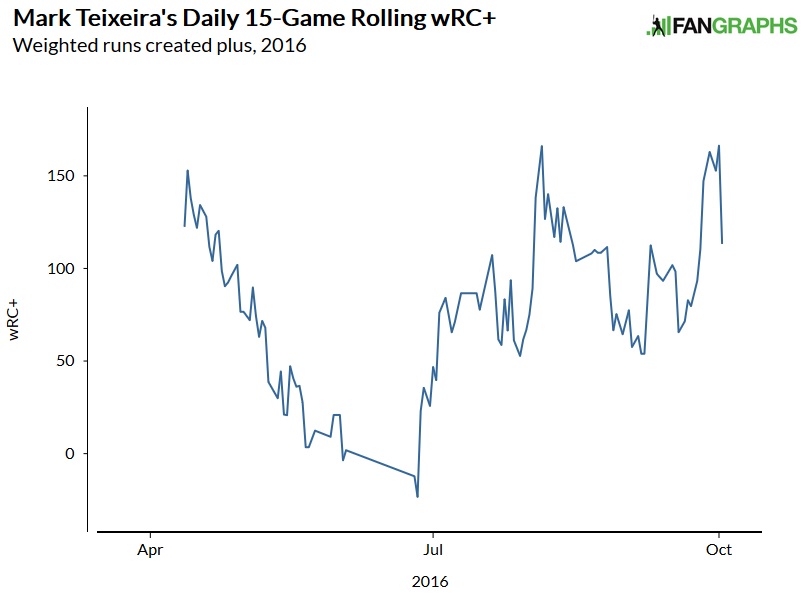 Teixeira bottomed out at .176/.271/.259 (46 wRC+) on June 25th. That was the day he returned from the knee injury that sent him to the disabled list for three weeks. Two years ago we saw Alfonso Soriano go from hitting like an MVP candidate in the second half one year to being totally unplayable the next. Skills erode with age and it can happen very fast. Add injuries to the mix and they could erode even quicker.
The Yankees continued to play Teixeira at first base on an everyday basis until mid-August, when Tyler Austin was called up. Teixeira's offense did improve slightly, but on the day Austin was recalled, he was still hitting .201/.289/.337 (70 wRC+) with 10 home runs in 332 plate appearances. Alex Rodriguez was released that day as the Yankees cut ties with an unproductive veteran. It wasn't unreasonable to think Teixeira may face a similar fate.
Neck & Knee Problems
The last few years of Teixeira's career have been hampered by injuries. It hasn't been one thing either. This wasn't David Ortiz with his chronic foot/ankle problems. Teixeira seemed to have a new injury every year. In 2012 it was a sore left wrist and a calf problem. In 2013 it was right wrist surgery. In 2014 it was hamstring trouble. Last year it was the shin fracture.
This season Teixeira was bothered by nagging neck and knee problems. He missed several games with neck spasms in May and they were far more serious than anyone let on. Teixeira's pregame preparation for much of the season involved two hours of treatment on the neck (massage, acupuncture, heat, etc.) just to get ready for that day's game. The neck never did send him to the disabled list, but it sidelined him for a few days throughout the season, and it bothered him all year.
The knee injury did send Teixeira to the disabled list, however. He missed three weeks with torn cartilage in his right knee in June, and rather than undergo season-ending surgery, he opted for treatment and rehab. After returning, the knee limited Teixeira from time to time — he was never a quick runner anyway, so we barely noticed it on the bases — but he played through it.
"We don't really know what to expect," said Teixeira when he came back from the disabled list. "We're going to do a couple more shots over the All-Star break, and if we need another round at the end of the season we can. But it's really just to keep it from locking up … I'm going to keep my fingers crossed obviously. I'm hoping for the best, expecting to have a good second half and be productive like I've always been. That's the goal."
The Farewell Tour
The good second half never came. Sure, Teixeira's performance did improve after the All-Star break, but not enough to be a difference-maker. The hope coming into the season was Teixeira would play well enough to earn a qualifying offer after the season, but that didn't happen. Not close. Any thoughts of re-signing him to serve as Bird's caddy following shoulder surgery were crushed too.
On August 5th, a few days after the Yankees ostensibly threw in the towel on the season by trading their most productive veterans for prospects at the trade deadline, Teixeira announced he planned to retire after the season. His body was no longer up for the grind of the 162-game season.
"As the season went on, I just realized that my body couldn't do it anymore," said Teixeira. "If I'm going to grind through seasons not being healthy, I'd rather be home with my family. I'd rather do something else. I miss my kids way too much to be in a training room in Detroit rather than being at their dance recital or their school play."
Teixeira said he was willing to do whatever the Yankees needed the rest of the season. He was very unselfish about it. The team reduced his playing time drastically in August and September — at one point Teixeira started only 21 games in a 40-game span — and Teixeira worked behind the scenes with Austin and Rob Refsnyder at first base. That's what the Yankees needed from him and that's what he did.
BLOWN SAVE
The start of September went about as poorly as possible for Teixeira. He went 5-for-35 (.143) in his first 15 games of the month, dragging his season batting line down to .197/.289/.343 (71 wRC+). Austin wasn't playing well either, and with the Yankees still hanging around the wildcard race, Girardi stuck with the veteran Teixeira, who he knew was at least going to play good defense.
On September 26th, Teixeira rewarded his manager's faith by clubbing a game-tying home run off Jason Grilli in the ninth inning. He flipped his bat too. Teixeira never flips his bat. It was the final road game of his career and likely the final road at-bat of his career, and he enjoyed the crap out of it, especially after the benches cleared (twice) earlier in the game.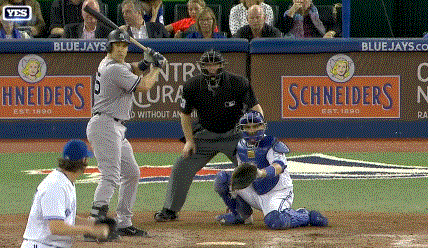 The YES Network cameras caught Teixeira yelling "Blown save!" at Grilli from the dugout too. "I was like, 'Oh, sorry, the ball went a long way.' I was just letting him know that he blew the save," said Teixeira after the game. Awesome. Just awesome.
Had that been the final homer of Teixeira's career, it would have been pretty great. A game-tying ninth inning homer against a mouthy division rival in a game where the benches cleared twice and the Yankees went on to win in dramatic fashion? Hard to top that. And yet, Teixeira managed to do it.
Two days after the homer against Grilli, Teixeira hit a walk-off grand slam against Joe Kelly and the Red Sox with New York's season on the line. A loss that night would have officially eliminated the Yankees from postseason contention. They were able to stave off eliminate for another day thanks to Teixeira's heroics. It was the biggest hit of the season.
"A base-hit ties the game. I'm telling the truth, I'm trying to hit a line drive up the middle because I've had success off (Kelly) thinking up the middle because I know he's got a good curveball," said Teixeira after the game. "You don't want a walk-scrapper in an 8-0 game to be your last (homer). You want a walk-off grand slam against the Red Sox. I'll still be trying to hit in the next four games, but if it just happens to be my last one, it'll be pretty special."
The walk-off grand slam was indeed the Teixeira's final home run of his career. He played sparingly the next few days, and prior to Game 162, the Yankees honored Teixeira with a quick but thoughtful pregame ceremony.
Girardi removed Teixeira from the final game of the season with one out in the seventh inning so he could get one last ovation as he walked off the field. And just like that, his career and eight years in pinstripes were over.
Teixeira hit .204/.292/.362 (76 wRC+) with 15 homers in 438 plate appearances this season and was basically a shell of his former self. He retires as a career .268/.360/.509 (127 wRC+) hitter with 409 home runs, fifth most ever by a switch-hitter, and as a career .248/.343/.479 (120 wRC+) hitter with 206 homers, +18.3 fWAR, and +20.6 bWAR with the Yankees. On top of the offense, he was phenomenal defensively. Just outstanding at first base.
In his eight years in New York, Teixeira had one MVP caliber season and a few other very good years. He also helped the team to their most recent World Series championship, so that's cool. Teixeira played hard and was funny in a dad humor sorta way. It was a good eight years.
Outlook for 2017
For Teixeira? Who knows. At his retirement press conference he talked about non-baseball business interests and continuing to work with the Harlem RBI program. Teixeira also indicated he has interest in coaching but not full-time. Seems like he'd rather be a guest instructor. Someone who pops in at Spring Training and Instructional League. That sorta thing.
Because he's good for a laugh and can be very insightful when talking about baseball, it wouldn't surprise me if Teixeira winds up broadcasting at some point. Maybe not next year, but down the road. Also, he totally seems like the kind of guy who will show up to Old Timers' Day soon. Like next year. And absolutely love it. The Yankees need to figure out first base long-term — hopefully Bird makes this easy — and now Teixeira has to figure out what he's going to do during life after baseball.