Now that the 2016 season is complete and the dust has settled, it's time to begin our annual season review series. This year was a complicated one. That's for sure.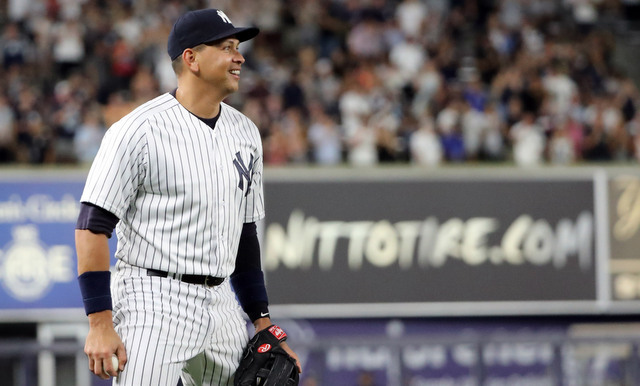 A year ago at this time, Alex Rodriguez had just wrapped up a memorable comeback season, one that earned him an MVP vote (!) and an unquestioned place in the middle of the 2016 lineup. Thirty-three homers and a 130 wRC+ will do that. No, he couldn't play the field anymore, but A-Rod could still hit, and that was awfully cool. At least for those of us who remain unabashed fans of dingers and fun.
Fast forward to today, and the Alex Rodriguez era in New York is over. He didn't even make it through the 2016 season. Skills can erode quickly in this game, even with all-time greats like A-Rod. I still remember the day the Yankees acquired Rodriguez in that trade with the Rangers. It's one of my most vivid memories as a baseball fan. Hard to believe it's all over now, isn't it?
An April to Forget
For a veteran player like A-Rod, Spring Training performance is pretty meaningless. Guys like him know exactly what they have to do to prepare for the regular season. They use their spring at-bats to work on things — track the ball, go the other way, whatever — because they know their spot in the lineup is secure. Alex hit .245/.302/.306 with one home run in 18 Grapefruit League games and I don't think anyone blinked an eye.
Once the regular season started, it took A-Rod more than a month to get off the interstate. He went 12-for-65 (.185) with 19 strikeouts in his first 18 games, though the four home runs were nice. Rodriguez did start to show some signs of life three weeks into the regular season, when he went 6-for-14 (.429) with three home runs in a four-game span at the end of April. See? Everything was fine. Just a slow start for the veteran.
That little hot streak came to an abrupt end on May 3rd, when Alex pulled his hamstring running out a ground ball. That sent him to the disabled list for a little more than three weeks and opened up the DH spot for Carlos Beltran.
At the time of the injury, A-Rod as hitting .194/.275/.444 (90 wRC+) with five home runs in 80 plate appearances. The Yankees were 8-16 at the time because they were completely unable to generate any consistent offense. Rodriguez, who had spent most of the season hitting in the middle of the order up to that point, was a big part of the problem.
The Beginning of the End
Alex returned from his hamstring injury on May 26th and went 0-for-4 with two strikeouts. There were a lot of hitless games after that. In fact, Rodriguez went 1-for-16 (.063) with nine strikeouts in his first four games back from the injury. It was bad. Bad bad bad. Average fastballs were chewing him up, and because he had to start his bat early to handle good velocity, breaking balls were fooling him consistently. Yuck.
Joe Girardi, who has always been patient with his veterans, kept running A-Rod out there. An early-June hot streak (12-for-34, .353) didn't last very long; Alex closed the month in a 9-for-40 (.225) rut. Come the end of June, with his batting line sitting at .219/.257/.382 (66 wRC+), Rodriguez's lack of production became too much to bear. He sat three straight games from July 1-3 because the Yankees were in San Diego, and when they returned to AL parks, A-Rod remained on the bench.
Including that series against the Padres, A-Rod started only one of the team's final ten games of the first half. Beltran was getting regular DH at-bats with Aaron Hicks and Rob Refsnyder splitting time in right field. They gave the Yankees a better chance to win at that point. We all came into the season hoping Alex would again be a middle of the force. Instead, he was a liability.
The End of the Road
To Girardi's credit, he gave A-Rod one last chance to show he belonged in the lineup. Rodriguez started seven of the first eight games after the All-Star break, and in those seven games he went 2-for-23 (.087). So much for that. Those seven games were Alex's last hurrah. His last attempt at a hurrah, really. He started only one of the next 17 games. One of the next 17! The Yankees were playing with a 24-man roster, essentially.
Beltran was traded at the deadline, and rather than put A-Rod back into the lineup at DH, the Yankees called up Gary Sanchez and gave him Beltran's at-bats. The Yankees were pretty much out of the race at this point, and I figured they would suck it up and bench Alex until rosters expanded on September 1st, when it would be easier to carry the dead roster spot. They could then reevaluate things in the offseason.
The Yankees did not do that. Instead, they called a press conference on September 7th. That could only mean one thing: A-Rod's career was coming to an end. Was he retiring? Did the Yankees release him? Was he getting suspended again? The mechanics were unclear. But it was over. We all knew it. That Sunday morning, A-Rod and the Yankees announced he would be released the following Friday, after one last game at home.
"I'm at peace with the organization's decision," said A-Rod, making it clear this was not his call. To the team's credit, they handled this as graciously as possible. The Yankees could have simply released Alex and been done with him. Instead, they gave him that final home game and a chance to say goodbye to the fans. And vice versa. Lots of people still love A-Rod.
The farewell tour was short and not sweet. Girardi kept Rodriguez on the bench following his retirement press conference. He did play one final road game, fittingly at Fenway Park, where he played his first career game. Many fans, myself included, were pretty bummed A-Rod was not playing that final week. The Yankees weren't going anywhere at the time and these were our last days with Alex. We wanted to see him play! Alas.
Goodbye, Al
August 12th. The date of A-Rod's final game with the Yankees. He was in the lineup, batting third as the DH. The Yankees were playing the Rays, the same team they played in A-Rod's first game in pinstripes. The night started with a pregame ceremony that was so perfectly awkward. It literally rained on A-Rod's parade.
Amazing. Only A-Rod. The Bleacher Creatures gave Alex an extra long (and extra loud) Roll Call in the first inning, and several Yankees wore high socks to honor Rodriguez, including Chase Headley, the guy who replaced A-Rod at third base two years ago. Yankee Stadium was never louder this season than it was that night.
Given his recent lack of production, there was a chance Rodriguez's final game would be ugly, especially against a strikeout pitcher like Chris Archer. Alex instead went out with a bang, lining a run-scoring double into the right-center field gap to give the Yankees their first run of the night.
The double was the final hit of A-Rod's career. He grounded out, struck out, and grounded out in his next three at-bats to close out the game. Alex went 1-for-4 with a double against the (Devil) Rays in his first game with the Yankees and 1-for-4 with a double against the Rays in his last game with the Yankees. Baseball.
With the Yankees staked to a three-run lead, Girardi gave A-Rod one last goodbye moment by sending him out to play third base in the ninth inning. The Yankees Stadium crowd went wild.
It had been 447 days since Rodriguez last played the field. At one point he was one of the best defensive shortstops in the league, and early in his time with the Yankees he was one of the better fielding third basemen as well. Now, at age 41, he was playing one last inning at third base. It wasn't even a full inning. A-Rod came out of the game after one out. It was his idea.
"I'm very grateful that Joe gave me the opportunity to play third for one out. I was actually excited," he said after the game. "I was also stressed because once Joe made me the full-time DH, I retired my cup. So then I was very stressed. I screamed to [Dellin Betances] — the same thing Cal Ripken screamed to Roger Clemens in the All-Star Game in 2001, when we switched, he said, 'Strike him out Roger' — and I said exactly the same thing."
Following the final out, A-Rod went back out onto the field to wave goodbye to the fans one last time. He walked over to third base, scooped up some dirt, stuffed it in his pocket, then descended into the clubhouse. His playing career was over, four home runs shy of becoming the fourth player in history with 700 home runs.
"It's going to be tough to top that. That's a memory that I will own forever," said A-Rod after the game. "With all the things that I've been through, and to have an ending like tonight, I don't know what else a man can ask for. I'm extremely thankful for everything the Steinbrenners — and especially the fans — did for me tonight."
Outlook for 2017
As planned, A-Rod was released the following day — that opened a roster spot for Aaron Judge — and he finished the season with a .200/.247/.351 (56 wRC+) batting line and nine home runs in 243 plate appearances. The Yankees still owe him the balance of his contract, so they're keeping him aboard as a special advisor. He'll primarily work with prospects in the minors, and Alex has already spent time in Instructional League working with players.
Despite being a special advisor, Rodriguez is free to sign with another team, though he did seem to close the door on that following his final game. Also, teams aren't exactly interested in a 41-year-old DH who can't hit anymore. Maybe someone will sign him. I seriously doubt it. For now, A-Rod is going to his analyst work on FOX — he's awesome, by the way — and continue working with the team's prospects. Love him or hate him, the Yankees were never boring during A-Rod's time in pinstripes. This truly is the end of an era.