The end of CC Sabathia's contract has not been pretty and I'm not sure any of us are surprised. The Yankees went into the contract — and the contract extension following 2011, at that — knowing they were paying for the great years up front and would have to live with the ugly years at the back-end. Sabathia pitched very well from 2009-12 before all the wear and tear began to take their toll.
We've spent the last few years hoping. Hoping Sabathia would figure out how to pitch with diminished stuff and hoping he'd regain some effectiveness. He didn't have to be an ace anymore. But league average would have been nice. Heck, it would have been an upgrade. Sabathia had a 4.81 ERA (4.40 FIP) in 424.1 innings from 2013-15, after all. We came into this season hoping again. This time, those hopes and prayers didn't go for naught.
The Spring Competition
The Yankees hold competitions in Spring Training every year and most of them are rigged. Some are legitimate, but they're usually for bench or bullpen spots. Rarely do the Yankees leave a rotation spot or a regular lineup spot up for grabs in camp. That's why it was a little tough to believe them when they said Sabathia would have to compete for a rotation spot in camp. It was Sabathia vs. Ivan Nova.
Early during Grapefruit League play, Nova thoroughly out-pitched Sabathia. He allowed two runs in his first three spring starts and nine innings. Sabathia allowed ten runs in 7.1 innings in his first three starts. The Yankees insisted it was a true competition, and Nova was in the lead. Then he allowed ten runs in his next two starts and nine innings while Sabathia finished well, and that was that.
Even if this was a true competition, I'm sure the Yankees wanted Sabathia to win. They wanted nothing more than to see Sabathia grab a rotation spot and run with it. They were paying him a ton of money for things he's done in the past, and they badly hoped he would contribute something this year. Sabathia finished the spring strong while Nova hit a bump in the road, so the veteran southpaw got the job.
"There was a lot of discussion," said Joe Girardi at the end of camp. "A lot of it came down to CC's September last year. He's been there so many times. As I said, the decision that sometimes you make in April is not necessarily what happens in May. And I gotta tell you: it was really hard and it was not a decision that we were trying to prolong or not try to inform the players."
Re-Emergence of the Ace
The Yankees did indeed slot Sabathia in as their fifth starter to open the regular season, and his first start was … okay. Not great, not terrible. Just okay. He allowed three runs on four hits and four walks in six innings against the Tigers. By fifth starter standards, that was okay. The rest of April was not. Sabathia allowed 12 runs on 25 hits and eleven walks in his first four starts and 21.1 innings. He struck out 15. That's a 5.06 ERA (4.04 FIP).
The calls to remove Sabathia from the rotation — if not outright release him in the final guaranteed year of his contract — grew louder with each passing start. The problem was Michael Pineda and Luis Severino. They were much worse than Sabathia — Pineda had a 6.33 ERA (5.29 FIP) in April, Severino a 6.86 ERA (3.71 FIP) — so he was, at best (worst?), third in line to be removed from the rotation.
It's a good thing the Yankees didn't remove Sabathia from the rotation following his dreadful April, because over the next month and a half, he was an absolute monster. I'm talking six runs allowed (four earned) total in his next seven starts and 44 innings. He allowed zero earned runs in four of those seven starts. Sabathia's best start came June 10th, when he chucked seven scoreless against the Tigers.
Following the dreadful April, Sabathia was sitting on a 2.20 ERA (3.30 FIP) through eleven starts and 65.1 innings on June 21st. There was All-Star Game talk, Comeback Player of the Year talk, Cy Young talk, all of that stuff. Sabathia emerged as the Yankees' second best starter in the season's first three months or so. He wasn't the CC of old, but he chewed up innings and was very effective. It was awesome. Just awesome.
The Step Back to Reality
The regression monster came for Sabathia in late-June. All that success in May and early June was built around an unsustainably low home run rate. Sabathia had a 0.28 HR/9 (3.1 HR/FB%) in those first eleven starts and 65.1 innings and there was no chance that would last. Not in Yankee Stadium and not with the ball suddenly flying out of the park this year.
Sabathia allowed one home run on June 22nd, one on June 28th, two on July 4th, then nine total from July 9th through August 17th. A picture graph is worth a thousand words: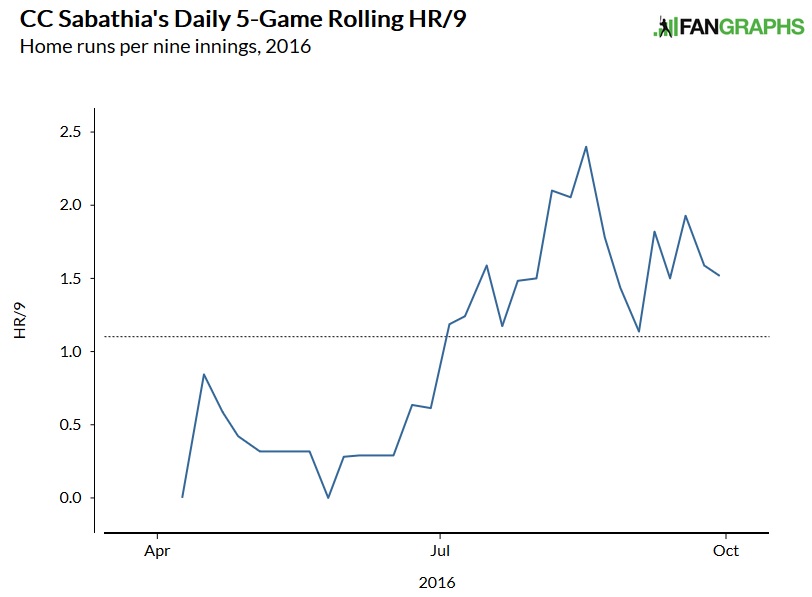 Yup. The home runs came and they came in bunches. From June 22nd through August 17th, a two-month stretch of games, Sabathia pitched to a 6.78 ERA (5.33 FIP) in eleven starts and 65 innings. He also allowed 13 home runs, which works out to a 1.80 HR/9 (18.8 HR/FB%). Remember that 2.20 ERA (3.30 FIP) on June 21st? It ballooned to 4.49 ERA (4.31 FIP) by August 17th. That was not fun.
The Strong Finish
Given the last few years, it was easy to think Sabathia's strong start to the season was basically a low home run rate fluke. He didn't pitch well at all from 2013-15, and what we saw from late-June through mid-August was more of the same. Those eleven good starts to open 2016 were the outlier. Sabathia had come back to Earth and would limp to the finish line as he had the previous three years.
That didn't happen though. Sabathia finished the season quite strong. He allowed no more than one earned run in five of his final eight starts and pitched to a 2.37 ERA (4.20 FIP) overall. The ball was still leaving the yard (1.28 HR/9 and 17.1 HR/FB%) but that was going to happen given his home ballpark. The Yankees were fighting for their postseason lives and Sabathia gave them some huge outings, like when he threw seven shutout innings in Toronto on September 25th.
Of course, the Yankees lost that game because the offense never scored, but you can't blame that on Sabathia. His season can be divided into three parts: eleven good starts, eleven bad starts, then eight good starts. That's … pretty good? I'll take what I am arbitrarily classifying as 22 good starts out of 30 total starts from late-career Sabathia any day of the week.
All told, Sabathia finished the 2016 season with a 3.91 ERA (4.28 FIP) in those 30 starts and 179.2 innings. That's his lowest ERA since 2012 and his lowest FIP since 2013. He did it with an average strikeout rate (19.8%) and a good ground ball rate (50.1%), which is a pretty good recipe for success. Sabathia did walk a few too many (8.5%) and his home run rate finished at 1.10 HR/9 (12.6 HR/FB%), which is pretty normal.
I don't think many will disagree with me when I say Sabathia's rebound and spurts of excellence were one of the best parts of the 2016 season. This dude pitched his heart out for the Yankees for a lot of years, even when he wasn't doing so well. There was never any question about his desire to win and commitment to the team. It was tough to watch him struggle these last few years, and it was awesome to see him have success again. How could you not love this guy?
The New CC Sabathia
This past season, we did not see the same Sabathia we saw from 2009-15. He made some changes over the last year, some of them rather significant, and they could explain his newfound success. Three stand out.
1. The new knee brace. Sabathia's right knee is a wreck. He's said it's bone-on-bone at this point because all those years of his massive 6-foot-6, 300 lb. frame coming down on the knee, his landing knee, have taken their toll. Sabathia has had multiple surgeries, and for most of last season he pitched with a sleeve on his knee. It wasn't much at all. He used it because it was comfortable.
Late last season Sabathia switched to a clunkier knee brace that provided more stability. His performance improved immediately and he continued to wear it this season. Everything in baseball starts from the ground up, even pitching. Pitching with a compromised lower half ain't easy. Sabathia can now land more comfortably with the knee brace, and of course that's going to help his performance. Imagine pitching through pain in your landing knee all the time.
2. The new cutter. This is a pretty big deal. Right-handed hitters absolutely annihilated Sabathia last season. They had a .304/.363/.502 (.370 wOBA) batting line against him. That's close to MVP caliber. Sabathia needed something to neutralize righties, and his solution was a cutter. A cutter he actually threw. He's messed around with the pitch in the past, but this year he stuck to it.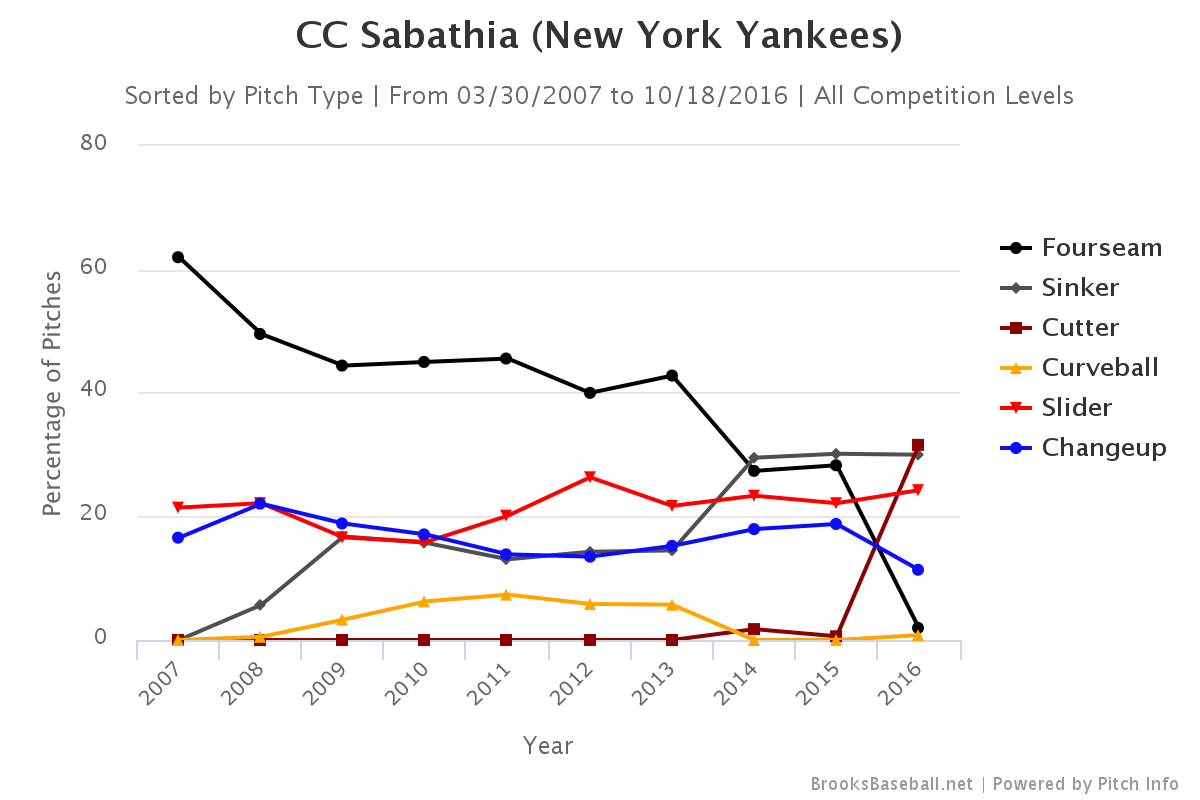 Sabathia effectively replaced his straight four-seam fastball with a cutter. That little cutting action is often the difference between getting squared up and missing the barrel. Sabathia busted righties inside with the cutter all season, and the result was a .258/.325/.400 (.316 wOBA) batting line against. That's not great, but it sure is a heck of a lot better than what he did against righties last season.
"I'm obviously throwing different pitches," said Sabathia in August. "I throw the cutter, I throw the two-seamer. So, yeah, I'm a different pitcher than I was three, four years ago. It's obviously helped that I'm healthy. I have more choices. I can use my changeup, I can throw the backdoor slider, my cutter, obviously. I'm more well-equipped with what I have now."
3. His sobriety. At the very end of last season Sabathia left the Yankees and checked himself into rehab. Little did we know he had been battling alcoholism for years. Sabathia finally decided to do something about it and that's great. Far too many people are afraid to ask for help. Sabathia did it despite the inevitable scrutiny that comes with being a Yankee, and yes, he was absolutely scrutinized.
It's impossible to know how much Sabathia's sobriety affected his on-field performance, but I have a hard time believing the impact is negligible. He's in a better place mentally and emotionally, and physically too. How is that not going to translate on the field in some way? I don't think Sabathia's sobriety explains his newfound effectiveness entirely — the cutter and knee brace are important too — but I definitely believe it's a factor.
Outlook for 2017
Sabathia stayed healthy this season — well, aside from a little groin issue in May — so his $25M option for next season vested. He'll be back next year, and you know what? That's not a bad thing. Expensive, sure, but this version of Sabathia provides some nice rotation stability. The Yankees need some of that. Given the weak free agent class, having the big lefty back in 2017 will be nice. So Hal Steinbrenner's wallet will be a little lighter. Boohoo.
Right after the season Sabathia had a "routine" cleanup procedure on his troublesome right knee that was planned weeks in advance. Everything went well and he's expected to be ready in plenty of time for Spring Training. The new cutter and knee brace (and sobriety) give me reason believe Sabathia can again be effective next season. There are tangible explanations why he pitched well this summer. That's better than the wishcasting we did last the few years, that's for sure.