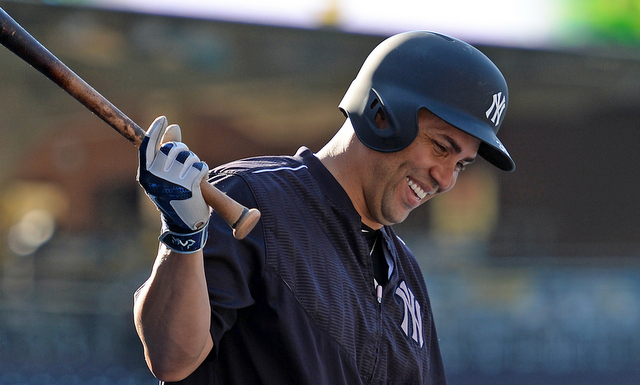 Last season was an interesting one for Carlos Beltran. Early in year two of his three-year contract, Beltran looked completely done. Like done done. He hit .162/.216/.265 (22 wRC+) last April and everyone wanted him to go away. Then Beltran rebounded to hit .295/.357/.505 (135 wRC+) the rest of the season. We all wanted him gone in April, then we couldn't get enough of him from May through October.
The Yankees hoped Beltran could put together a complete season in 2016, with offensive excellence from start to finish. It would benefit everyone. Beltran would help the Yankees win and he'd also put himself in great position heading into free agency. You never really know with 39-year-old players though. We saw Alfonso Soriano lose it in the blink of the eye a few years ago. Mark Teixeira and Alex Rodriguez did the same this year. Beltran was the exception.
The All-Star First Half
Beltran's post-May success last year did indeed carry over into 2016. Boy did it ever. His April was a bit slow again — he hit .253/.276/.434 (85 wRC+) in the season's first month — but not as slow as last April, thankfully. And sadly, even with that slow first few weeks, Beltran was still arguably New York's best hitter in April. The offense was not so good early on. Yeah.
From the start of May through the end of July, Beltran was a man possessed, hitting .319/.363/.580 (149 wRC+) with 18 home runs in 71 games and exactly 300 plate appearances. That's after hitting 19 home runs in 133 games last year. Beltran hit his 19th home run in Game 71 this year. Crazy. At one point spanning May 24th to June 22nd, he hit ten homers in 25 games. That is pretty incredible.
The biggest of those home runs was a go-ahead three-run home run in the eighth inning against the Angels on June 6th. The Yankees had lost eight of their previous 12 games and they weren't scoring many runs. They were waiting for that big blow, and Beltran provided it. The Yankees went on to win that game as well as their next four.
Beltran was so good with the Yankees this season that he was selected to the All-Star Game. That's what happens when you hit .299/.338/.550 (135 wRC+) with 19 home runs in the first half. Beltran was tenth in the AL in homers and seventh in slugging percentage prior to the All-Star break. He was legitimately one of the best power hitters in the game in the first half. Who saw that coming?
Believe it or not, this was Beltran's first All-Star Game selection as an AL player. He never once made it with the Royals. That's pretty wild. Beltran played briefly in the All-Star Game — he played two innings in right field and flew out in his only at-bat — and that was a-okay with me. The Yankees needed Beltran to have any shot of getting back into the postseason. Let him rest during the All-Star break.
The Final Weeks in New York
The Yankees never did get back into the race in July. They went 8-8 in 16 July games after the All-Star break, so they continued to tread water. It wasn't Beltran's fault. He hit .328/.373/.525 (134 wRC+) with three home runs in those 16 games. Beltran continued to be the team's best hitter, and it still wasn't good enough to get them back into the race. They were 5.5 games back of a postseason spot at the All-Star break and 5.5 games back at the end of July.
Aroldis Chapman was traded away on July 25th, a full week before the deadline. That was a pretty good indication Beltran would be dealt as well. He was in his contract year like Chapman, and with the Yankees unable to gain any ground in the postseason race, trading Beltran for prospects was a better move than keeping him for some half-baked attempt of contention. Yeah, they could have made him the qualifying offer and gotten a draft pick after the season, but I didn't love that idea.
As expected, pretty much every contender had some interest in Beltran prior to the trade deadline. He was the best middle of the order hitter available, there was no long-term commitment, and he's a veteran guy who has thrived in big moments. Teams were willing to overlook the defensive issues to get the big switch-hitting bat. The Rangers, Astros, Indians, and even the Red Sox reportedly checked in on Beltran. I'm sure others made the phone call too.
The Yankees ultimately worked out a deal with the Rangers, and a few hours before the August 1st deadline, Beltran was sent to Texas for three pitching prospects, the most notable of which was right-hander Dillon Tate, the fourth overall pick in the 2015 draft. The first place Rangers got their middle of the order bat and the Yankees got some lower level pitching depth, and were able to buy low on a kid with some high upside.
Now, the Yankees wound up making a bit of a run in the second half, at one point creeping to within one game of a postseason spot, and boy, it sure would have been nice having Beltran and Gary Sanchez hitting back-to-back those final few weeks. The Yankees made the right move though. They got more in return for Beltran than a dinky little supplemental first round pick, plus they cleared playing time for Aaron Judge. It was a smart, sensible trade.
Nine Weeks in Texas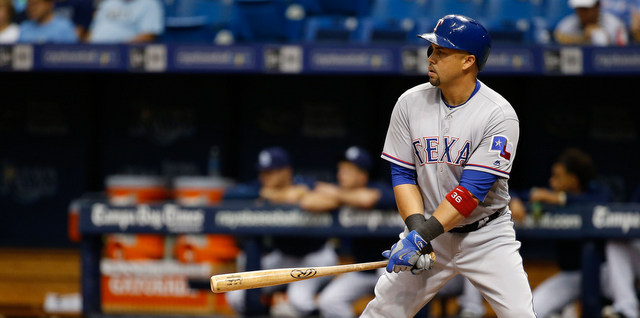 After hitting .304/.344/.546 (135 wRC+) with 22 home runs in 99 games with the Yankees, Beltran went on to hit .280/.325/.451 (103 wRC+) with seven home runs in 52 games with the Rangers. He then went 2-for-11 (.182) with two singles and a walk in the team's three-game loss to the Blue Jays in the ALDS. Beltran wasn't bad with the Rangers — though average offense with his defense is a net negative — but he didn't have huge impact either.
So far the Yankees have gotten nothing out of this trade other than an open roster spot, and that was to be expected. The three pitchers they acquired are all in Single-A. They're in the process of trying to rebuild Tate, and the others, Nick Green and Erik Swanson, aren't top prospects. You won't see them on any top 30 Yankees prospects lists in the coming weeks because the system is deep, but they're solid depth arms. The Yankees did what they had to do at the deadline, and that was sell high on a rental veteran with no real future with the team.
Outlook for 2017
While talking to reporters after the trade, Beltran said he wants to continue playing and he'd love to return to the Yankees. He's wanted to play here for a long time and I'm sure he wishes his two and a half years in pinstripes could have gone better for the team overall. Of course, Beltran also told Rangers reporters after the season that he'd love to continue playing in Texas, so who knows. It might have just been lip service.
The Yankees do have an opening at DH with A-Rod gone, so re-signing Beltran wouldn't be the worst move in the world. It would certainly be more affordable than spending big on someone like Edwin Encarnacion. At the same time, the Yankees have plenty of young players who can rotate through the DH spot, plus there's Brian McCann as well. Beltran won't cost a draft pick — the trade made him ineligible for the qualifying offer — which is a plus.
I'm sure we'll hear the Yankees connected to Beltran at some point this offseason because we seem to hear about the Yankees being connected to every player throughout the winter. It does make some sense to bring him back. It really depends on what happens with McCann, and what the Yankees want to do with their young players. Are they so committed to playing them that they don't even want to tie up DH at-bats with a veteran? It's possible.