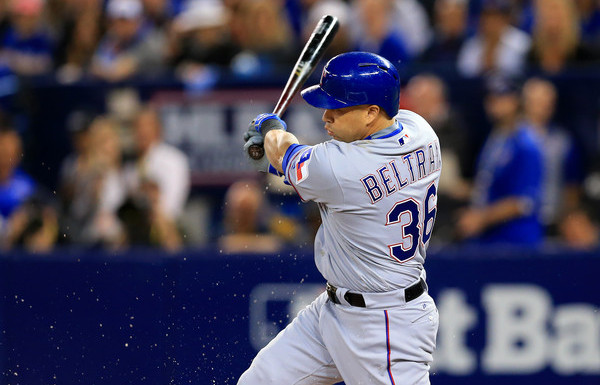 There are, at most, ten more baseball games left this season. It could be as few as six. That stinks. The offseason is fun in it's own way, but nothing is better than actual games. That's why we all watch. Anyway, make sure you check out MLBTR's Offseason Outlook: New York Yankees post. Nice little rundown of what could happen this winter. Here are some other news and notes.
Blue Jays had interest in Beltran
The Blue Jays had interest in Carlos Beltran prior to the trade deadline, reports Gerry Fraley. Toronto skipper John Gibbons confirmed the club considered a run at Beltran this summer. "Beltran was a guy we even talked about. We saw him over the years with the Yankees and what a great hitter he was, a clutch type performer," said Gibbons prior to the start of the ALDS.
The Red Sox also reportedly tried to acquire Beltran prior to the deadline, and just like with Boston, it's unclear whether the Yankees would have actually gone through with an intra-division trade with the Blue Jays. Toronto's farm system is not nearly as good as the Red Sox's, though I'm sure the two sides could have found a match if they really set their mind to it. The Blue Jays scored eight runs in the five-game ALCS — five of the eight came in Game Four — and they clearly needed another bat. Beltran would have been able to help. No doubt.
MLB pushing for international draft
To no surprise whatsoever, MLB is pushing for an international draft as part of Collective Bargaining Agreement negotiations with MLBPA, reports Buster Olney. MLB has wanted an international draft for years now — it's a way to keep costs down for owners, that's the only goal here — but the union has yet to give in. I wonder if this will be the year though. Here are some more details from Olney:
Under the terms of MLB's initial concept, the new international draft system would start in March of 2018, with a 10-round draft held over two days. As the new structure evolved, with terms grandfathered into the process, the minimum age for draft-eligible players would be 18 years old by 2021 … As part of baseball's proposal, MLB would operate facilities in the Dominican Republic, where international draft prospects would be invited to live to develop their skills and education before becoming eligible.
Two things. One, those kids are going to have to wait two more years to get their payday, no matter how large or small it may be. That sucks. Right now they can sign at 16. Under this proposal they have to wait until they're 18. And two, this is yet another incentive for teams to be bad. Bad clubs already get the largest draft bonus pools and protected picks. Now they'll get access to the top international talent without worrying about other clubs offering more money.
This proposal — thankfully that's all this is right now, a proposal — is great for the teams and owners. They'll save money and also get two extra years to evaluate these kids before deciding whether to sign to them. It stinks for the players, who have to wait to get paid and risk having their skills erode before they can cash in. You have no idea how many kids sign at 16 only to then fill out physically and lose the electric athleticism that got them paid. An international draft is inevitable. Hopefully MLBPA doesn't relent this CBA and we get a few more years of true free agency.
Qualifying offer system could change with CBA
The qualifying offer system may also be revamped with the new CBA, reports Joel Sherman. The QO isn't going away, but the MLB and the MLBPA may make it so players can not receive the QO in consecutive years. That means the Orioles wouldn't be able to get a draft pick for Matt Wieters this offseason since they gave him the QO last offseason, which he accepted. Something like that.
I can't imagine MLB and MLBPA will ever completely severe ties between the draft and free agency — they don't want rich teams to have access to the best free agents and first round talent — so this might be the next best thing. If this proposal goes through, you might see some more players sign one-year contracts so they can go back out on the market with no draft pick attached. I think most guys will look to grab the largest payday as soon as possible though. Being set for life financial is pretty cool, I hear.