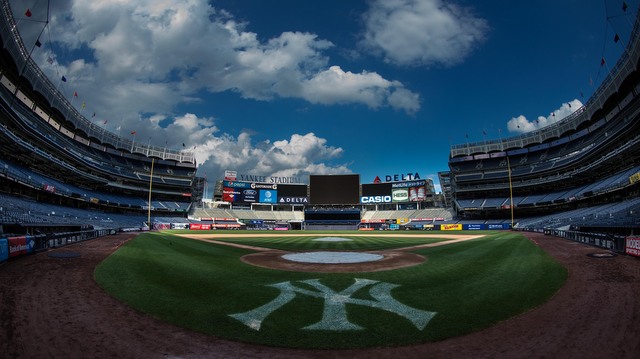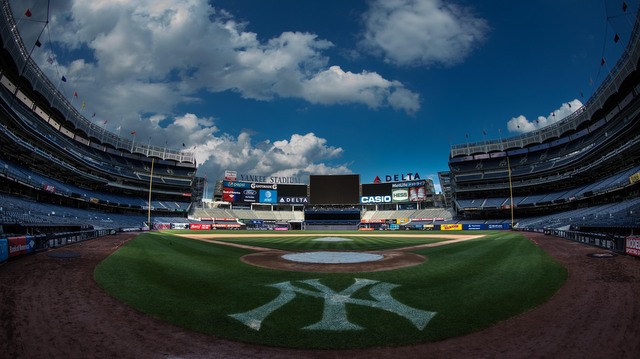 Yesterday afternoon, the Yankees announced extensive upgrades designed to make Yankee Stadium more fan friendly. There will be seven new social gathering spaces, a kids zone, and "dynamic food and beverage areas." Construction will begin this week and the renovations are expected to be done in time for next season.
"We have listened to our fans and ticketholders and their top requests were for more family-friendly and socially-oriented spaces at Yankee Stadium," said Hal Steinbrenner in a statement. "Yankees fans will now have many more dedicated areas for spending time with Guests who have tickets in other sections of the Stadium, allowing all Guests to be able to enjoy the game from multiple vantage points while having unique food and drink options available to them."
Among the new additions will be "Budweiser Party Decks" in Sections 311 and 328, where folks can meet and hang out, and the "AT&T Sports Lounge" in Section 134, where "televisions tuned to the Yankees broadcast and other live sporting events will provide a sports-bar atmosphere on the Stadium's main outdoor concourse in left field." I don't know about you, but I always go to the ballpark to get that sports bar atmosphere. Anyway, here's more on the two biggest changes.
The Batter's Eye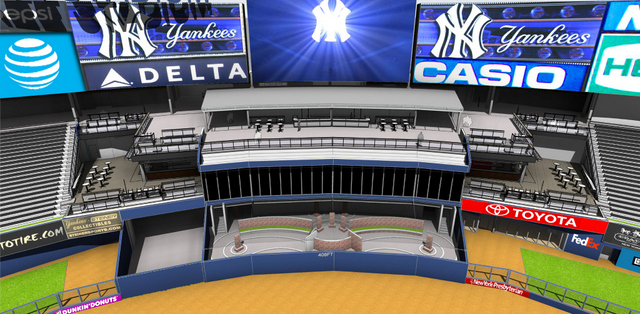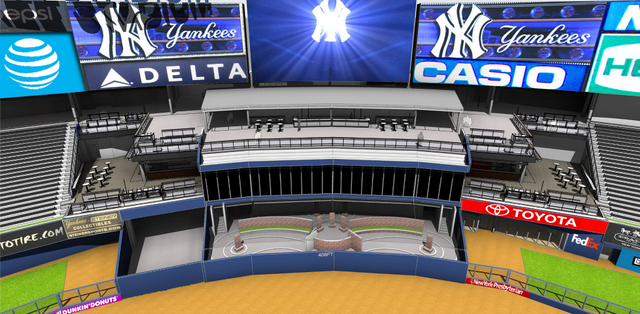 So center field is getting a massive facelift. The deck on top of the Mohegan Sun Sports Bar will be expanded to 3,500 square feet, and there are new left and right field "Bullpen Landings." They'll feature specialty food and drink options. You can see the rendering above. That looks really different!
To make all that possible, the Yankees are removing 2,100 seats total, most of which currently have obstructed views in the bleachers. Did you ever sit in the seats directly adjacent to the Mohegan Sun Sports Bar? You can only see half the field. Those are being ripped out and replaced with those bullpen landings.
Adding these social spaces seems like a pretty cool idea. It'll be nice to have some new places to hang out at the ballpark. Two drawbacks though. One, with those 2,100 seats being ripped out, some folks are going to lose their season tickets, and that sucks. I assume the Yankees will give them a chance to buy seats elsewhere, but your seats are your seats. They're your home away from home, you know?
And two, this new area gives fans another reason to leave their seats*. There's nothing uglier than an empty ballpark, and with these new spots to hang out, there will be fewer butts in the seats. This isn't really a problem — some folks go to watch a ballgame, others go to hang out with pals — because people will still be at the ballpark, but it might be an aesthetics issue. We'll see.
* The Yankees say all these new sections will be accessible to everyone in the ballpark, regardless of your ticketed seat. You can buy a cheap bleacher ticket and hang out in that "AT&T Sports Lounge" all game.
Sunrun Kids Clubhouse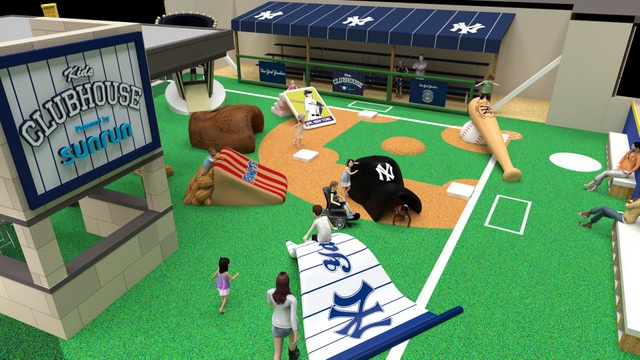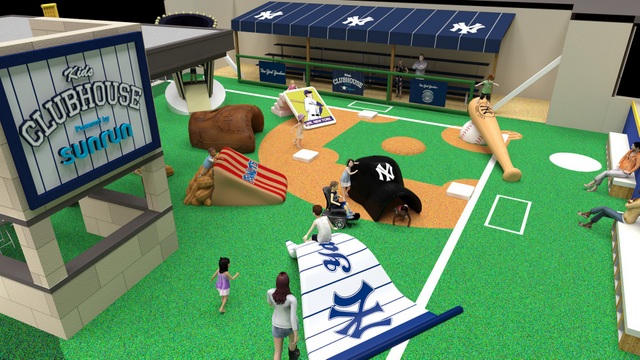 The kids area will include a mini-baseball field with a soft artificial surface and all sorts of baseball-themed playground equipment. It'll be located on the 300 level in right field, and it seems some of those 2,100 seats will be removed from this area. In addition to the playground, there's going to be a shaded section to sit, interactive exhibits, and a private space for nursing mothers.
"We want our youngest fans to feel as if Yankee Stadium is an extension of their local park or backyard," said Steinbrenner in a statement. "The Sunrun Kids Clubhouse is designed to nurture their love for experiencing games in person, while providing parents the resources they need to keep their children entertained prior to and during the game."
This is a really great idea. There was absolutely nothing kid friendly in the ballpark from 2009-16. I don't have any kids, but I can't imagine getting the young ones to sit through nine innings is easy. Now there's a place for parents to take their children for some more age appropriate fun. I love baseball! Six-year-olds probably don't though. Now they have something to do in the park.
* * *
There are still two aspects of Yankee Stadium that need to be fixed. First and foremost, the security lines outside. MLB (unnecessarily?) requires metal detectors at all entrances for security reasons, so there's nothing the Yankees can do about that. They can improve the process though. The lines outside are long and move slowly. There's a reason the ballpark is a ghost town in the first inning and filled up in the fourth. Too many people miss the first pitch.
Secondly, Monument Park. I hate that it's hidden in center field like that. I wish it were on full display somewhere, like it was at the old Yankee Stadium. Show off that history, yo! I'm not sure how the Yankees could fix this — maybe create a two-tier bullpen in right field instead of the party deck, and put Monument Park in what is now the left field bullpen? — but man, I do hate that you can't see Monument Park at all.
Kudos to the Yankees for trying to make the Yankee Stadium experience more entertaining, especially for kids. Yankee Stadium has gotten kinda stale in recent years. Maybe stale isn't the right word, but the novelty has worn off. Adding some new social spots and a kids section mean there are new places to explore and hang out. That's neat. I'm looking forward to checking out these new upgrades next year.