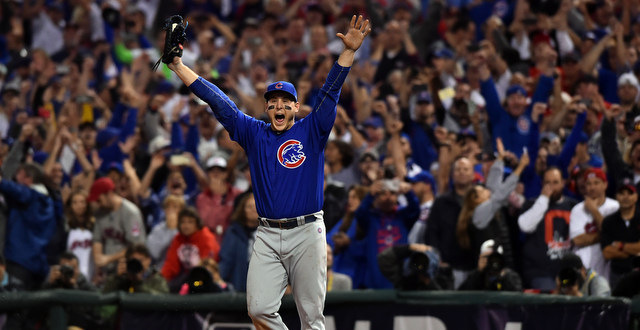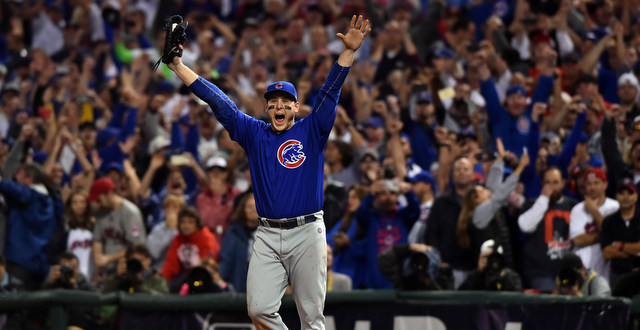 Wednesday night, in one of the best postseason games you'll ever see, the Chicago Cubs won the 2016 World Series with a thrilling 8-7 win over the Indians in ten innings (box score). Admit it, you thought Cleveland was going to win after Rajai Davis clubbed that dramatic game-tying home run off Aroldis Chapman in the eighth inning. I know I did.
Rather than fold like so many other Cubs teams over the last 108 years, this team kept the Tribe at bay the rest of the game and won in the tenth inning. There was a quick rain delay after the ninth too. Here's the final out:
Chapman is, by far, the biggest connection between the 2016 Cubs and the Yankees. New York traded him to Chicago at the deadline for Adam Warren and three prospects, including top prospect Gleyber Torres. I'm fairly certain Warren will get a World Series ring out this. Good for him.
Also, assistant hitting coach Eric Hinske spent a few months with the Yankees back in 2009, and catching coach Mike Borzello was in New York a very long time. He was the team's bullpen coach all through the Joe Torre years. Borzello won rings with the Yankees in 1996, 1998, 1999, and 2000. Now he has a 2016 ring too.
Congrats to the Cubbies and their long-suffering fans. And congrats to the Indians too. They had one hell of a year. No Michael Brantley, no Carlos Carrasco, and the Indians still pushed the best team in baseball to extra innings in Game Seven of the World Series. Nothing to be ashamed of there. And now … the offseason.