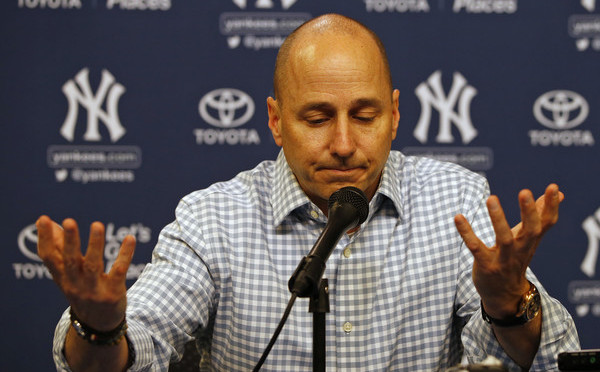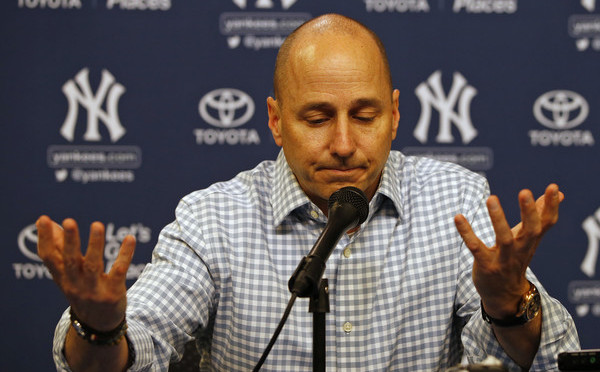 According to the countdown in our sidebar, we are three months and three days away from pitchers and catchers reporting to Spring Training. That's an awfully long way away. Between now and then the Yankees and the other 29 teams will remake their rosters, in some cases drastically so, all with an eye on winning the 2017 World Series. Well, except for the rebuilding teams. They're looking ahead to 2018 and 2019.
The Yankees need offensive help in the short-term and pitching help in the long-term. It's a weird spot. The offense was so very bad this past season, even with Gary Sanchez going bonkers for two months, but the Yankees also have some talented young hitters either in the big leagues or on the cusp. The same is not true for the pitching staff. Almost all the team's best pitchers can leave next offseason. That is … bad.
Because the offseason is still very young, I figure it's a good time to put together a fantasyland offseason plan. These are the moves I'd make this offseason if I were running the Yankees. Trades, free agent signings, the works. After all, I once built a team that went 146-16 in MLB: The Show, so I know what I'm talking about. Building a title contender is not as hard as they make it out to be.
In all seriousness, this exercise is for fun. We all love to rosterbate, right? Right. I encourage you to bookmark this post for future mocking purposes. It'll look silliest 2-3 years down the line. It's worth the wait, I promise. So, without further ado, here is the Official RAB 2016-17 Offseason Plan. Enjoy.
Arbitration
Not the most exciting place to start, but the arbitration process is easy enough, plus it's part of the offseason, so we might as well begin here. The Yankees have nine arbitration-eligible players this offseason. Here are the nine and the salaries I'd pay them:
Michael Pineda: Five years, $65M with a $16M club option ($2M buyout)
Didi Gregorius: Five years, $42.5M with a $13M club option ($1M buyout)
Dellin Betances: $4M
Adam Warren: $2.3M
Aaron Hicks: $1.4M
Tommy Layne: $1.2M
Austin Romine: $900,000
Dustin Ackley: Non-tender
Nathan Eovaldi: Non-tender
Easy stuff first: Warren, Hicks, Layne, and Romine are all at their MLBTR projected salaries. I have Betances a bit above his $3.4M projected salary because, frankly, the projection seems too low to me. That $4M salary is on par with what first year arbitration-eligible relievers Jeurys Familia ($4.1M), Cody Allen ($4.15M), and Hector Rondon ($4.2M) received last offseason. Dellin doesn't have the same saves total as those guys, but he's been better at pretty much everything else.
Now for the extensions. Historically, when a player signs long-term the year before free agency, he gets paid like a free agent. That's why Stephen Strasburg got seven years and $175M earlier this year. That's free agent money for a player of that caliber. Pineda is a year away from free agency, and in this market, I think he'd get $13M a year as a free agent. That's Ubaldo Jimenez/Matt Garza money.
Keep in mind Pineda was not a huge bonus guy as an amateur. The Mariners signed him for $35,000 back in the day. To date, Pineda has made $8.4M as a big leaguer, which is a very nice chunk of change, but it's not a massive payday. This guy has major shoulder surgery in his recent past too. Between the small amateur bonus and scary arm injury, Pineda might jump at the guaranteed extension and forego free agent next year.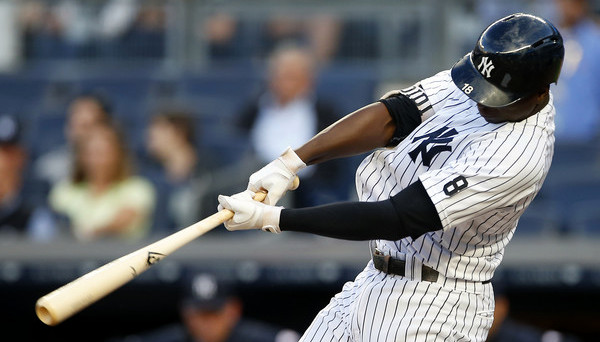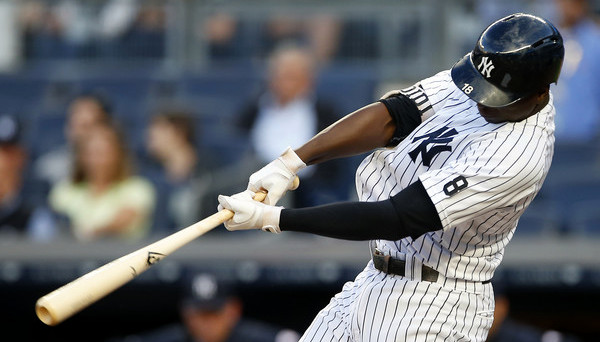 As for Gregorius, his deal is essentially Dee Gordon's five-year, $50M contract adjusted down for the lack of All-Star Game selections, stolen base titles, and batting title. Gordon signed his deal at the same service time level as Gregorius though, so that's the model I'm following. I worry I may be light — the proposed deal is $8.5M annually and MLBTR projects Didi to get $5.1M through arbitration next year, so yeah — but I'll stick with it for now.
In Pineda's case, signing him long-term is about retaining pitching at a reasonable rate at a time when the cost to acquire pitching is anything but reasonable. If nothing else, the extension makes him more valuable as a trade chip. With Gregorius, signing him long-term is about keeping a very valuable player at a hard-to-fill position. Shortstops with good defense and 20-homer pop are hard to come by. That five-year deal would buy out two of Didi's free agent years.
Ackley and Eovaldi are obvious non-tender candidates. MLBTR projects a $7.5M salary for Eovaldi next year and there's no way you can pay that to guy you know is going to a) miss the entire 2017 season rehabbing from his second Tommy John surgery, and b) become a free agent next offseason. It would be money for nothing. Ackley missed most of the season following shoulder surgery, and even when healthy, he wasn't very good. MLBTR projects a $3.2M salary in 2017. Nope.
Rule 5 Draft Protection
The Yankees got a head start on their Rule 5 Draft protection by adding Aaron Judge and Ben Heller to the 40-man roster, and calling them up in the second half. Tyler Austin, Kyle Higashioka, and Domingo German were all added to the 40-man roster as well. Those three guys would have become minor league free agents, not just been Rule 5 Draft eligible.
Even after those moves, the Yankees still have more than a few quality prospects up for the Rule 5 Draft this winter, and I'm not sure how in the world they're going to navigate the 40-man roster. The deadline to add Rule 5 Draft eligible players to the 40-man roster is next Friday, November 18th, so it's coming up soon. It's not weeks away. It's right around the corner. Here's who I would protect:
Add to 40-man roster: Domingo Acevedo, Miguel Andujar, Dietrich Enns, Jorge Mateo.
Leave exposed to Rule 5 Draft: Jake Cave, Cale Coshow, Rashad Crawford, Gio Gallegos, Ronald Herrera, Brady Lail, Mark Montgomery, Tito Polo, Stephen Tarpley, Luis Torrens, Tyler Webb.
Mateo and Andujar are easy calls to protect as two of the best prospects in the farm system. Acevedo is still pretty raw, but dudes with triple-digit gas always get popped in the Rule 5 Draft, and I don't want to risk losing him. I don't think Enns is as good as his minor league numbers indicate, but he has three pitches and can locate, so he's a cheap lefty option for the rotation or bullpen. That guy is worth keeping around.
Cave was selected in the Rule 5 Draft last year, which means if he gets selected again and doesn't stick, he can elect free agency rather than return to the Yankees. You have to leave him exposed with the understanding you're probably going to lose him forever. So it goes. Torrens is the best prospect in that "leave exposed" group, but the kid is a 20-year-old catcher who missed a year and a half following shoulder surgery, and has never played above Low-A. Even if he gets picked, Torrens is coming back.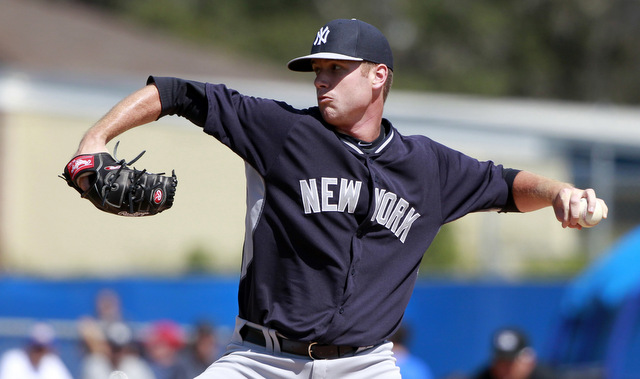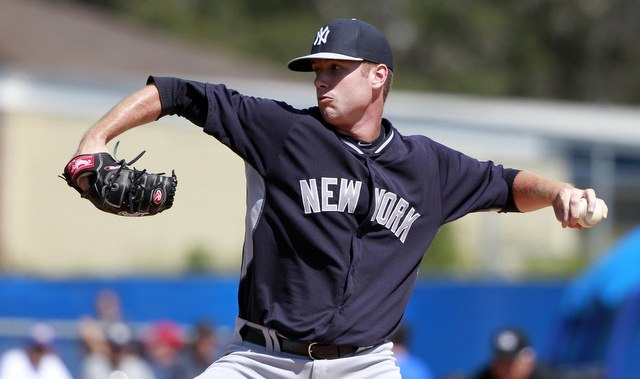 Gallegos and Webb, two relievers with pretty good Triple-A numbers, are most likely to be selected in the Rule 5 Draft. Webb especially, because he's a lefty. My decision came down to either Enns or Webb, and I'll keep the guy who can start. Easy call for me there. Tarpley might get popped too as a lefty with good velocity. The Yankees have a really deep farm system right now — Jim Callis says it's the deepest in baseball — and the downside is having to leave useful players exposed to the Rule 5 Draft. What can you do?
To clear the necessary 40-man space (four spots), I am releasing Eovaldi and Ackley ahead of the non-tender deadline, and outrighting Richard Bleier and James Pazos off the 40-man roster. The non-tender deadline is December 2nd, and releasing Eovaldi and Ackley ahead of that has no real consequences. In fact, it does them a favor, because it gives them more time to hook on with another team. I don't see Bleier or Pazos as having any real value aside from being up-and-down arms. Meh.
Free Agents
Alright, now comes the fun stuff. We're going to have to make some payroll assumptions here. Since taking the reins, Hal Steinbrenner has consistently pumped whatever money has come off the books back into the team. I don't think that will be the case this offseason though. He clearly wants to get under the luxury tax threshold soon, and the best chance to do that it next year, when CC Sabathia and Alex Rodriguez are off the books. Maybe Masahiro Tanaka too.
The Yankees started this past season with a $226M payroll and ended it around $214M after shedding salary at the trade deadline. Unloading Aroldis Chapman, Andrew Miller, Carlos Beltran, and Ivan Nova freed up some cash. We don't know what the luxury tax threshold will be next season. I imagine it'll be around $200M. The Yankees won't be able to drag payroll down that far without some serious trade action, and I'll be surprised if that happens.
I'm going to assume Steinbrenner gives the green light to open next season with a $215M payroll. That sound okay? It's right around where they finished this past season. Then, once Sabathia and A-Rod come off the books next winter, they'll focus on getting under the luxury tax. Okay, so with that in mind, here are my free agent signings. I wish I could wait to see the non-tenders, but alas:
Mark Melancon: Four years, $50M.
Brad Ziegler: Two years, $18M.
Steve Pearce: Two years, $10M
Brett Anderson: One year, $4M with another $6M in incentives based on innings.
This isn't a great free agent class, so I'm not going to go wild and pay mediocre players huge dollars just because there's no one else to spent it on. I said earlier this week I'm warming up to the idea of signing Rich Hill, but with the free agent pitching class so light, I think the projection everyone has been throwing out there (three years, $50M) is going to end up light. I'm steering clear at a higher price.
Melancon is my big signing. The Yankees are said to be in on the top free agent relievers and I'm cool with that. A dominant bullpen is a necessity for contention nowadays. I'm going against the grain and signing Melancon over Chapman and Kenley Jansen for a few reasons. One, he figures to come substantially cheaper, perhaps at 60% of the guaranteed money. Two, he won't cost a draft pick. And three, there's no off-the-field baggage. See? Nice and easy.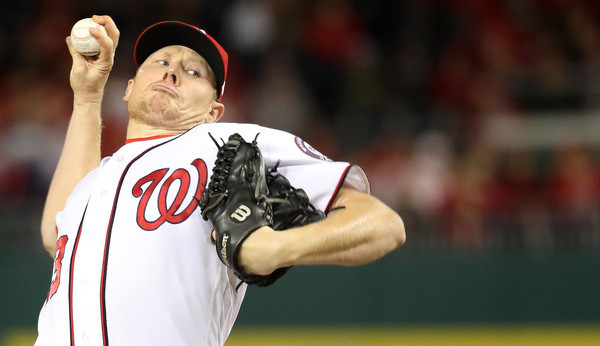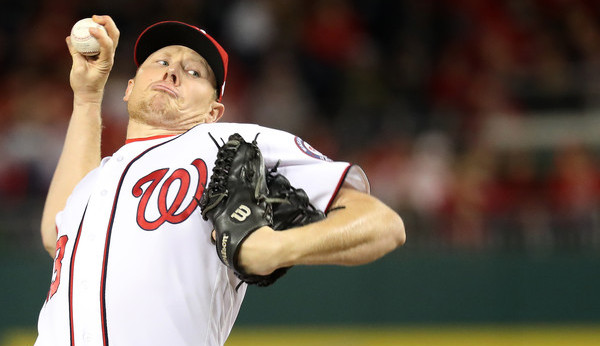 Rather than commit an ungodly amount of money to Chapman or Jansen, I'll spread it around and sign Melancon and Ziegler. Ziegler just turned 37 last month, but the guy remains very durable and very effective. He's appeared in at least 64 games in each of the last eight seasons, and this past summer he had a 2.25 ERA (3.10 FIP) with a 20.1% strikeout rate and a 63.3% ground ball rate, which are in line with his career norms.
Another thing about Ziegler: he has a small platoon split. He pulls it off by throwing a changeup from his unusual arm slot. Eno Sarris wrote about it two years ago. You don't see many submariner pitchers throwing changeups, but Ziegler does and has for years now. I'm guessing the Yankees would have to pay him handsomely to forego a potential closer or setup job elsewhere. In New York, he'd be at best third on the bullpen depth chart behind Melancon and Betances.
Pearce would do a lot of things for the Yankees. He'd give them some nice depth at first base in case Greg Bird needs more time in the minors following shoulder surgery and/or Tyler Austin can't hack it. Pearce would also be corner outfield depth and another DH option. He can even play second and third bases in an emergency (but only in an emergency). The guy has hit .266/.348/.485 (129 wRC+) over the last four years and offers some positional flexibility. There's a place for him on my roster.
As for Anderson, I'm going to take the "acquire a few risky starters and hope it works out" approach. He missed most of last season following back surgery, but he was healthy late in the year, and he'll have a full offseason to strengthen up. Anderson is still only 28, and he's an extremely ground ball heavy left-hander, which would fit well in Yankee Stadium. In 2015, his lone full healthy season with the Dodgers, the guy had a 66.3% ground ball rate. It's 58.2% for his career. That'll play.
Trades
Free agent signings are fun in their own way, but for my money, nothing beats a good ol' fashioned trade. There are so many different roster ramifications for multiple teams. With free agents, there's only money involved, and that's kinda lame. Trades are a challenge. I'm betting these guys I'm giving up won't help me win as much as the players I'm getting from the other team. I love it.
The Yankees have been pretty active on the trade market the last few years, and with the free agent class looking so thin, I'm guessing the same will be true this offseason. In real life, I mean. In my hypothetical offseason plan, I'm going to make a few trades, but not a crazy amount. Let's get to them.
Jorge Mateo, Luis Severino, Dustin Fowler, and Rob Refsnyder to the Athletics for Sonny Gray.
Brett Gardner to the Cardinals for Jaime Garcia.
Austin Romine to the Phillies for Phil Klein.
Nick Goody to the Pirates for Max Moroff.
First things first: Yes, I am keeping Brian McCann. I think he's way more valuable to the Yankees on their roster as a part-time catcher/part-time DH than anything he could realistically fetch in a trade. He's the perfect guy to mentor Gary Sanchez, and hey, if Sanchez falls on his face next year like Severino did this year, it'll sure be nice to have McCann around. Quality lefty hitting catcher: worth keeping. Now for the actual trades.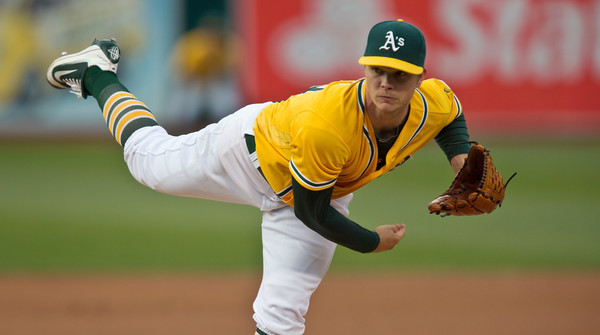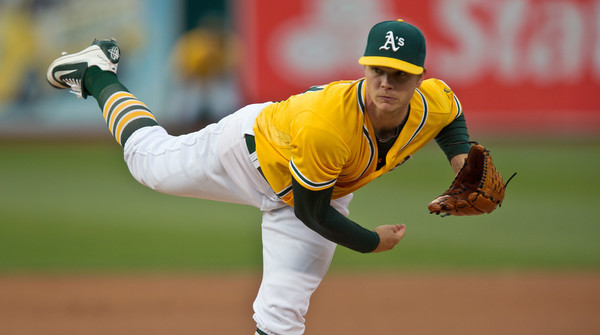 1. The Gray Trade. The Athletics have made more than a few truly baffling trades in recent years and I'm banking on them doing it again with Gray. He was a Cy Young candidate a year ago, but in 2016, the 27-year-old had a 5.69 ERA (4.67 FIP) in 117 innings around back trouble and a forearm muscle issue. His value is down but I don't think the A's are going to move him unless they get a big return.
That package qualifies as a "big return" in my opinion, though maybe I'm just a raging homer. Mateo is a top shortstop prospect, Severino is an MLB ready young pitcher with a lot of upside, Fowler is a dynamic center field prospect slated to open 2017 in Triple-A, and Refsnyder … well, Refsnyder just seems like one of those random players the A's seem to acquire in every trade they make.
Would the A's make that trade? Nah, probably not. Then again, they did make that Josh Donaldson trade. And the Addison Russell trade. And they swapped Drew Pomeranz for Yonder Alonso, so maybe. They're getting two really good prospects, the highest upside young starter the Yankees have to offer, and a useful player in Refsnyder. It's about time the Yankees benefit from one of those wonky Oakland trades, isn't it?
Gray is under team control as an arbitration-eligible player through 2019. MLBTR projects a $3.7M salary next year, which seems a little low to me, but let's go with it. At his best, Gray is a command pitcher who throws five pitches and gets a lot of weak contact. He's basically the opposite of the Yankees' non-Tanaka starters. And he's a Grade-A competitor too. Dude is fearless on the mound. You might not get the best version of Gray. He might be broken forever. I'm taking the chance.
2. Gardner for Jaime. The Yankees are stuck having to trade Gardner, even after dealing Fowler for Gray. They have way too many young outfielders who are either MLB ready or close to it. There's Hicks and Judge, plus Austin and Mason Williams, and Clint Frazier isn't far away either. I'd much rather trade away Jacoby Ellsbury, but that's not happening. Gardner it is.
The Cardinals are one of the few teams with excess pitching. There was even some talk they would decline Garcia's $12M option and let him walk as a free agent. The 30-year-old had a 4.67 ERA (4.49 FIP) in 171.2 innings this past season, though he's only a year removed from a 2.43 ERA (3.00 FIP) in 129.2 innings. That's the guy you hope you get in 2017, and if you do, you can make Jaime the qualifying offer next winter. Assuming the qualifying offer still exists, of course.
St. Louis is in need of a true center fielder and leadoff hitter. They played Randal Grichuk in center most of the time this year and that just won't work. He's a corner outfielder. The Cardinals are also going to move Matt Carpenter down in the lineup with Matt Holliday no longer around, so they need a table-setter. Gardner solves both problems. It's a surplus for surplus trade. The pitching needy Yankees trade a surplus outfielder to the outfield needy Cardinals for a surplus pitcher. See? Beautiful.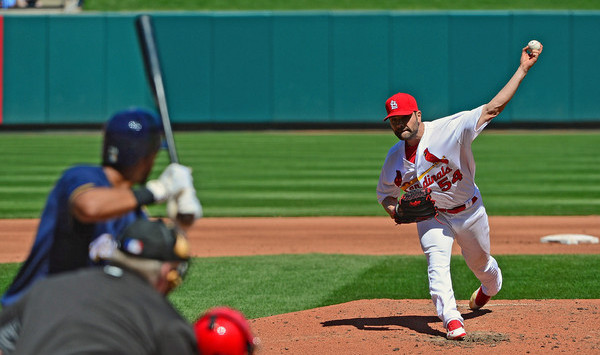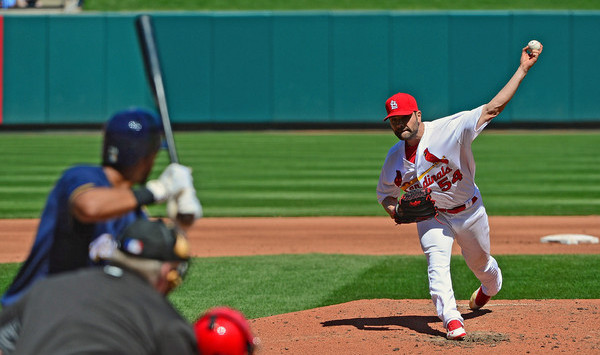 The money is essentially a wash next season. Garcia will make $12M in 2016 while Gardner will take home $12.5M. Gardner is also under contract for $11.5M in 2018, so the Yankees would be shedding some future payroll as well. The Cardinals take on a little extra cash in exchange for the Yankees taking on a pitcher with an extremely ugly injury history. The Cardinals get their center fielder and leadoff hitter, the Yankees get a rental starter.
3. Bye Bye Romine. With Sanchez and McCann entrenched at the big league level and Higashioka waiting in Triple-A, there's no more room at the inn for Romine. The Phillies need a backup behind Cameron Rupp until top prospect Jorge Alfaro is ready, and Romine will do the job just fine. Klein is basically the pitcher version of Romine. A fringe roster guy who is pretty replaceable. He has an option left and can be stashed in Triple-A. Added bonus: Klein is 6-foot-7. The Yankees love their tall pitchers.
4. The obligatory Pirates trade. I felt the need to include a trade with the Pirates for posterity. Pittsburgh needs bullpen help, particularly from the right side, so they get the bat-missing Goody. They'll probably turn him into Wade Davis 2.0 or something. Moroff is a 23-year-old light-hitting Triple-A utility infielder. The Yankees will need some Triple-A infield help next year, especially with Refsnyder gone, and Moroff fits the bill. Boring trade is boring.
Okay, now we need to figure out the 40-man roster. The 40-man was full after we finished protecting all the Rule 5 Draft players. The Gray trade clears up two spots; it's three 40-man players (Mateo, Severino, Refsnyder) for one 40-man player (Gray). The other three trades are all straight one-for-one, 40-man guy for 40-man guy, so they don't help us any. So, with two spots open and four free agent signings, we still need to clear two more 40-man spots.
To do this, I'm non-tendering the injured Jacob Lindgren and re-signing him to a minor league contract. He's rehabbing from Tommy John surgery and will miss the entire 2017 season. The Yankees pulled the non-tender and re-sign trick with Slade Heathcott and Vicente Campos two years ago, and again with Domingo German last year. It allows them to get the player off the 40-man roster without exposing him to waivers.
To clear the other spot, I'm just going to designate the recently acquired Joe Mantiply for assignment and outright him off the 40-man. If he gets claimed, he gets claimed. I'll live. The Yankees have enough lefty relief depth (Layne, Enns, Chasen Shreve) as far as I'm concerned. Mantiply won't make a big difference in that department anyway.
Minor League Contracts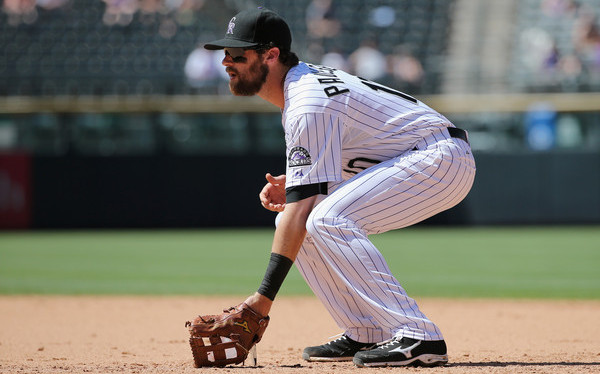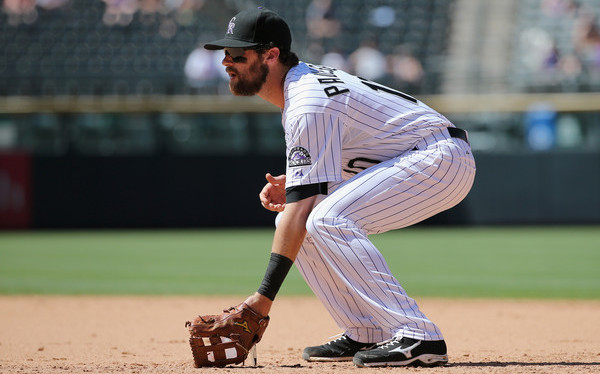 And finally, it's time to scoop up some depth players. A few items on the Triple-A shopping list: a scrap heap starter to soak up innings so the kids don't get overworked, a backup catcher, a third baseman, a first baseman/DH, a spare infielder, and a spare outfielder. These players will do just fine:
RHP Jason Berken: The former Oriole has spent the last few years bouncing around Triple-A. He has experience starting and relieving, and he hasn't thrown fewer than 100 innings since 2012.
C Eddy Rodriguez: Rodriguez has been the backup catcher at Triple-A Scranton the last two years, so why fix what isn't broken? He can't hit, but he's a top notch gloveman.
1B Ben Paulsen: Quintessential Quad-A lefty masher. Has some big league time with the Rockies, and as an added bonus, he can also play a little outfield.
3B Matt Dominguez: Dominguez was the 12th overall pick in the 2007 draft. He has some pop and is a truly great defender as well. If there's an injury, you could run Dominguez out at the hot corner for a month and get like +0.5 WAR out of him.
IF Zach Walters: Classic utility guy who can play anywhere. Infield, outfield, whatever. Also, Walters is a switch-hitter who knows how to take a walk, so he's not a total zero at the plate.
OF Ryan LaMarre: Speed guy capable of double-digit homers and steals … at the Triple-A level. The Yankees were connected to LaMarre prior to the 2010 draft. They might still like him.
Don't like my minor league pickups? Well, I don't know what to tell you. These guys are just filling out the Triple-A roster and are serving as third string depth. They get a chance in the big leagues when the starter and the backup get hurt. Minor league contracts with invitations to Spring Training. All of 'em.
Final Product
Okay, so after all of that, we're rolling into Spring Training with a full 40-man roster and a $210,113,525 payroll for luxury tax purposes. Here's my payroll worksheet. Reports indicate the minimum salary is expected to rise considerably with the upcoming Collective Bargaining Agreement, so I estimated the pre-arbitration guys at $700,000. That sound good? I dunno. The minimum salary this year was $507,500.
Earlier I assumed Hal Steinbrenner would okay a $215M Opening Day payroll and I came in below that, but we've got $6M in incentives floating around for Anderson. Hal has been pretty good about adding payroll in season. If Anderson stays healthy and pitches well enough to hit some of those incentives, I'm sure ownership will be okay paying a little more. Here's the projected 25-man Opening Day roster.
| Catchers | Infielders | Outfielders | Rotation | Bullpen |
| --- | --- | --- | --- | --- |
| Gary Sanchez | 1B Greg Bird | LF Aaron Hicks | Masahiro Tanaka | Mark Melancon |
| Brian McCann | 2B Starlin Castro | CF Jacoby Ellsbury | Sonny Gray | Dellin Betances |
| | SS Didi Gregorius | RF Aaron Judge | CC Sabathia | Brad Ziegler |
| | 3B Chase Headley | OF Mason Williams | Michael Pineda | Tyler Clippard |
| | IF Ronald Torreyes | UTIL Steve Pearce | Garcia/Anderson | Adam Warren |
| | 1B/OF Tyler Austin | | | Tommy Layne |
| | | | | Garcia/Anderson |
On 40-man roster in minors: Domingo Acevedo, Miguel Andujar, Johnny Barbato, Luis Cessa, Dietrich Enns, Domingo German, Chad Green, Ben Heller, Kyle Higashioka, Jonathan Holder, Phil Klein, Bryan Mitchell, Max Moroff, Nick Rumbelow (rehabbing from Tommy John surgery), Chasen Shreve.
That roster looks not awful on paper. Hooray for not awful! The kids are going to be important, obviously. Sanchez, Bird, Austin, Hicks, and Judge are going to be asked to do a lot offensively, and it might not happen. Such is life when you're a team in transition. A few more thoughts on that roster.
1. There aren't many spare position players. Twelve of the 15 extra players on the 40-man roster are pitchers. Andujar, Higashioka, and Moroff are the only position players. That's kind of a problem, especially since Andujar is an actual prospect on a development plan. He's not someone you can just call up to fill a need like Moroff. Guys like Barbato and Klein could be cast aside pretty easily should the Yankees need 40-man space for another position player, but heading into the season, the 40-man would be really pitching heavy. The minor league signees like Dominguez and Walters are of some importance here.
2. There's some uncertainty on that roster. Bird may need a few weeks worth of Triple-A at-bats after shoulder surgery, which would push Pearce and Austin into the first base mix and create a bench opening. Judge might strike out 157 times in Spring Training and play his way back to Scranton, which would leave right field wide open. Pearce and Williams would be the go-to options there, in that case. What if the Yankees decide the best plan for Austin and/or Williams is playing everyday in Triple-A instead of sitting on the big league bench? The lack of position player alternatives on the 40-man could create some problems if the young guys don't come through as hoped.
3. That's a lot of rotation depth in the minors, huh? The Triple-A Scranton rotation would be some combination of Cessa, Green, Mitchell, Enns, Jordan Montgomery, and Chance Adams. Maybe it's time to move Mitchell to the bullpen for good? Then again, chances are someone will get hurt in Spring Training, creating an opening somewhere. Garcia and Anderson aren't the most durable guys, remember. We spend all winter talking about the pitching depth, then before you know it Brian Gordon and Esmil Rogers are making spot starts. Baseball, man.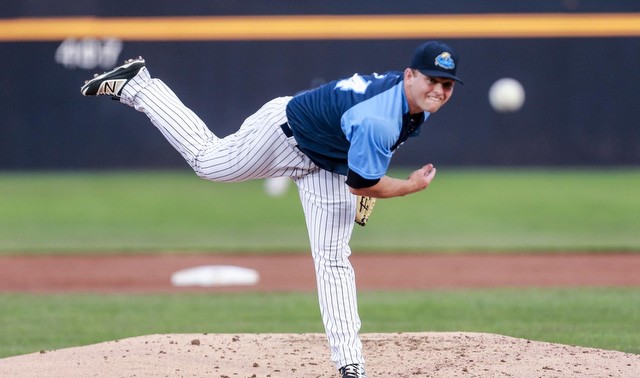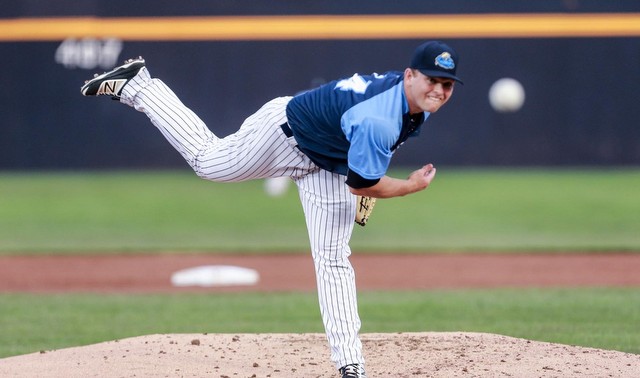 4. Two catchers might be a bit of a problem. Or at least it might be if the plan is to have McCann play DH regularly, and that is indeed the plan. You'd like to be able to pinch-run for Sanchez in the late innings of a close game and not lose the DH, you know? And if the starting catcher gets hurt, you have to lose the DH to fill-in behind the plate. Then again, how often does this actually happen? The "OMG you can't use the backup catcher!" fear is generally overblown. If this becomes a consistent problem, we can adjust the roster in-season.
5. What did the offseason accomplish? That's the key question. I laid out this wonderfully fun offseason plan, and how did it improve the Yankees going forward? A few ways. One, they added a potential top-of-the-rotation starter in Gray. He's the headliner. Two, they bolstered the bullpen with Melancon and Ziegler, and did it somewhat affordably. Three, they opened up playing time for youngsters by trading Gardner. Four, they brought in some rotation lottery tickets in Garcia and Anderson. If either work out, they could be trade chips, qualifying offer candidates, or even extension candidates. And five, they were able to get Pineda and Gregorius signed long-term. That's kind of a big deal, especially Didi.
Our official offseason plan is far from perfect — I'd really like a better lefty bench bat than Williams — but that's okay, it doesn't need to be. This was only for fun. Point is, the Yankees have the ability to make some significant moves this offseason. They have some cash to spend, enough that it won't derail the plan to get under the luxury tax threshold at some point soon, and they have the prospects to make some trades. I don't know if the Yankees can realistically do enough this winter to become no doubt World Series contenders in 2017. They can definitely take some steps to improve the future of the franchise though.