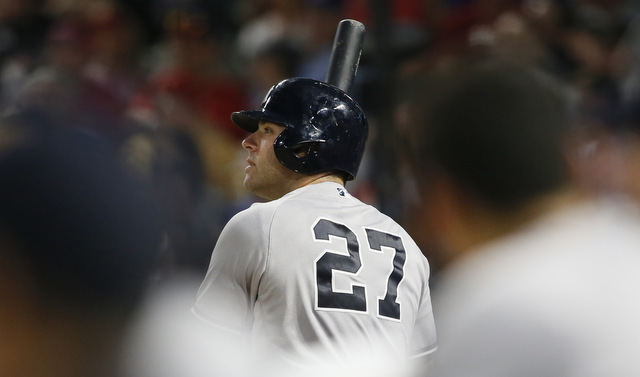 Because baseball is so competitive these days, a strong bench is imperative for success. You can't win with just eight or nine quality position players. Teams need good bench players capable of filling in without much of a drop off in production. That depth is often the difference between good teams and great teams. We see it every season.
As usual, the Yankees cycled through several different bench players this season due to injuries and ineffectiveness and whatnot. Two players remained on the bench all year though: Austin Romine and Ronald Torreyes. Neither was a lock to make the team out of Spring Training, and yet, they stayed on the big league roster all season. You really can't predict baseball, huh?
The Backup Catcher
A year ago Romine was barely on the big league radar. He was designated for assignment last Spring Training and slipped through waivers unclaimed, and when September 1st rolled around, he was among the first wave of call-ups only because Gary Sanchez's hamstring was barking. The year before Romine wasn't called up until Francisco Cervelli got hurt in mid-September.
The Yankees kept Romine on the 40-man roster all offseason and brought him to Spring Training as backup catcher competition for Sanchez this year. They didn't want to just hand the backup job to Sanchez. They wanted to make him work for it, and Romine (and I guess Carlos Corporan) was the alternative. Then a weird thing happened: Romine thoroughly outplayed Sanchez in Spring Training and won the backup job.
The combination of Romine outhitting Sanchez in camp (.289/.308/.474 vs. .091/.259/.136) and their roster statuses (Romine was out of options, Sanchez had one left) tipped the scales in Romine's favor. It's tough to think the Yankees made the wrong decision in hindsight too. Sanchez thrived in the second half after some more minor league seasoning and Romine turned in a decent year as the backup catcher.
As expected, Romine didn't play a whole lot early in the season. The Yankees stuck with Brian McCann because he was the clear cut starter, and also because they were really struggling to score runs early on and wanted their best players in the lineup as often as possible. Romine started only five of the team's first 22 games. His best month was May, when he went 12-for-37 (.324) with four doubles and a homer. That includes a 3-for-4 game with two doubles and two runs driven in against the Red Sox on May 7th.
Romine also went 3-for-4 and drove in two runs in a game against the Rays later in the month. His bat cooled down after that — Romine went 17-for-84 (.202) with three homers from June 1st through August 31st — before a nice little finish in late September. He had a pair of two-hit games within his final four starts. By then Sanchez had established himself as the starting catcher, so playing time was hard to come by.
All told, Romine hit .242/.269/.382 (68 wRC+) with three home runs in 176 total plate appearances this year, which stinks in general but is basically right on par with the league average backup catcher. He was surprisingly excellent with runners in scoring position, hitting .364/.354/.477 (111 wRC+) in those spots. I do love OBP > AVG batting lines. That's what three sac flies and one walk will do for you.
Defensively, the numbers don't match Romine's reputation. He only threw out 16.7% of basestealers — to be fair, it's a more respectable 22.2% if you remove Dellin Betances, who doesn't hold runners — and both StatCorner (-3.8) and Baseball Prospectus (-1.9) say he cost the Yankees runs with his pitch-framing. FRAA, which is BP's attempt at an all-encompassing catcher defense metric, rated Romine at -3.2 runs overall behind the plate.
It's tough to gauge backup catcher defense with the eye test because they play so sparingly, though Romine does seem like a classic Nichols Law catcher. He doesn't hit much, so his defensive reputation gets talked up. Romine will turn 28 later this month and he is what he is at this point. He's a decent enough backup option. Someone you can stash behind a starter like McCann or Sanchez, who will play as much as possible. Not someone you want to platoon or use as part of a two-catcher timeshare.
Romine filled in capably early in the season as the Yankees gave Sanchez those extra reps in Triple-A. It's hard to see how Austin fits into the team's long-term plans. Heck, he might not even make it through the offseason. Sanchez isn't going anywhere, I'd say the odds are against a McCann trade, plus Kyle Higashioka is being added to the 40-man roster. Romine had a decent enough season in 2016, yet his roster spot is not terribly secure.
The Backup Infielder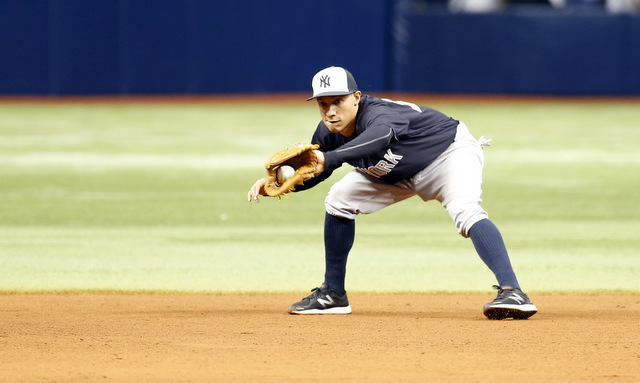 The last 18 months have been pretty hectic for Torreyes. The poor guy has changed organizations five times since last May. Here is his transactions log.
May 15th, 2015: Traded by Astros to Blue Jays for cash.
June 12th, 2015: Traded by Blue Jays to Dodgers for cash.
January 12th, 2016: Traded with Tyler Olson by Dodgers to Yankees for Rob Segedin.
January 25th, 2016: Claimed off waivers by Angels.
February 1st, 2016: Claimed off waivers by Yankees.
Astros to Blue Jays to Dodgers to Yankees to Angels to Yankees. Five transactions and four different teams. And yet, Torreyes remained on the big league roster all season in 2016. Usually guys who bounce around that much in a short period of time don't stick in the big leagues. Torreyes did.
Of course, Torreyes had to win a job in Spring Training first. He was up against Rob Refsnyder and Pete Kozma (and some others) for the backup infielder's job, and Torreyes won it because he hit well enough in camp and offered the most defensive versatility. Simply put, Torreyes could out-hit Kozma and out-defend Refsnyder, so he made the team out of Spring Training.
Baseball America ranked Torreyes as the No. 26 prospect in the Dodgers' farm system last offseason and we saw exactly what was in their scouting report this season:
Though he is 5-foot-7 with physical limitations, his bat control is terrific. He has a simple stroke, getting his body in position to create a swing that stays on plane through the hitting zone. That allows him to consistently find the barrel. He has a solid eye but doesn't draw a ton of walks, while his well below-average power limits his impact. An average runner, he's played at shortstop and third base, but his best fit is second, where he's a solid defender with an average arm.
That perfectly describes Torreyes. That's exactly him. Torreyes had an 11.9% strikeout rate and an 86.0% contact rate this season, both of which were far better than the league averages (21.1% and 78.1%). That contact ability allows him to go on ridiculous BABIP-fueled hot streaks. Torreyes went 8-for-17 (.471) with a double and a triple to start the season. He then went 14-for-26 (.538) with six doubles and a homer during an eight-game span in late-August.
With those insane hot streaks came long cold streaks as well. In fact, from May 1st through August 14th, an arbitrarily selected stretch of 95 team games, Torreyes hit .158/.238/.228 (25 wRC+) in 63 plate appearances. He didn't hit and he didn't play. I mean, 63 plate appearances in 95 games! And he was healthy and on the roster for all of them too. At one point Torreyes appeared in only six of 31 games.
Torreyes wasn't playing for a few reasons, most of which weren't hit fault. Chase Headley was very good after April, so it was tough to take him out of the lineup. Didi Gregorius was generally awesome all year, so it was tough to take him out of the lineup too. Starlin Castro had an insane hot streak to open the new season and that bought him a lot of rope. It was hard for Joe Girardi to take one of those guys out of the lineup with the Yankees needing wins.
Overall, Torreyes hit .258/.305/.374 (81 wRC+) this season, which is the most backup infielder batting line possible. I'm pretty sure every backup infielder is contractually obligated to hit .250-something/.300-something/.370-something. Ronnie also did the little things at the plate, like protect the runner on a steal attempt.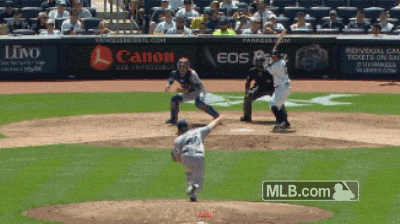 Torreyes didn't strike out (11.9%), didn't walk (6.0%), didn't hit for power (.116 ISO), and didn't steal bases (2-for-3). Only one of those things is a good thing. It's tough to rack up big stolen base totals as a reserve player, though Torreyes did steal 12+ bases a bunch of times in the minors. It would be cool if he ran more next year.
It's very easy to like Torreyes because he plays with a ton of energy and is short little guy. He and Gregorius had this thing where Didi would pick Torreyes up so he could high-five teammates after they hit home runs. It was pretty awesome.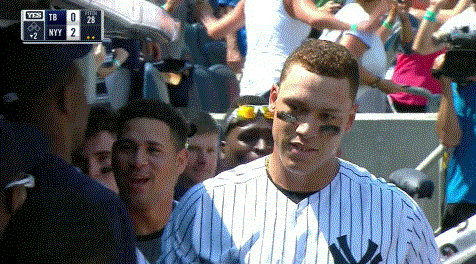 Torreyes is a classic underdog. He's a little guy who doesn't hit for power and has been in four different organizations in the last 18 months. You can't help but root for him, especially when you see him go on one of his insane hot streaks. He's a good bench player. That's what he is. There's not enough here to start — he'd have to start hitting for power or stealing a lot more bases, something like that — but Torreyes is a guy worth having on the bench.
I don't think you can ever say a bench player is locked into a roster spot on next year's team in November. Roles like this feature an awful lot of turnover. Torreyes is clearly the favorite to be the utility infielder again next season though. That's not a stretch. Refsnyder and others might get a crack at the job in camp, as they should. Competition is a good thing. Torreyes did a fine job as the backup infielder this past season and there's a chance he might stick around for a little while in that role.