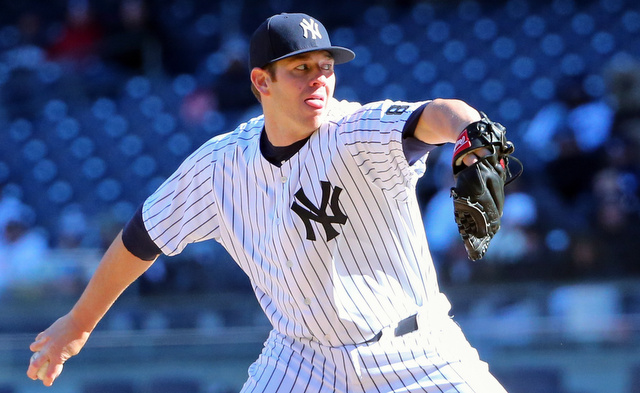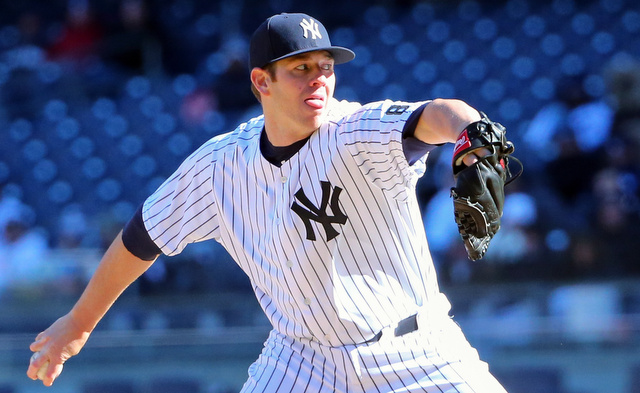 Like always, the Yankees spent a good portion of the 2016 season cycling through assorting homegrown relievers as their bullpen needs changed. They swapped guys out when a fresh arm was needed, or when someone wasn't performing well, or when there was an injury. Whatever. Every team does it. The Yankees aren't special or creative.
New York's bullpen shuttle was not quite as extreme this year as last year. Last season is felt like the Yankees were making a roster move every other day, usually because they were. Some injuries thinned out the shuttle relief crew this year, which meant other players got a chance to strut their stuff in the big leagues. Time to review the 2016 shuttle arms.
Johnny Barbato
I thought Barbato had a chance to be the rare shuttle reliever with staying power. He dominated in Spring Training, made the Opening Day roster, and put together a few good weeks before things came apart. The 24-year-old allowed one run and struck out ten in his first eight innings. He then allowed seven runs and struck out two in his next five innings. Yeah.
Barbato was sent down to Triple-A Scranton in mid-May and he spent almost the entire rest of the season there. His only other big league cameo came in early August, when the Yankees needed a fresh reliever. Barbato appeared in one game, faced four batters, didn't retire any of them, then was sent down. The Yankees didn't even give him a courtesy September call-up. Ouch.
Overall, Barbato had a 7.62 ERA (4.45 FIP) with a 26.4% strikeout rate in 13 big league innings and a 2.61 ERA (3.44 FIP) with a 24.1% strikeout rate in 48.1 Triple-A innings. General command was his issue. Barbato has a big fastball and two different breaking balls, but he left too many pitches over the middle. Not getting a September call-up suggests he may not be on the 40-man roster much longer.
Nick Goody
Goody was the primary shuttle reliever this past season, meaning he was the one who was called up most often and spent the most time in the big leagues. Four times he was called up. Once in April, once in July, once in August, and then once rosters expanded in September. He threw 29 innings for the Yankees overall.
Goody's best outing of the season came on May 13th in relief of an ineffective Luis Severino. The White Sox hammered Severino and he eventually left the game after 2.2 innings with a triceps issue. The 25-year-old Goody fired 3.1 scoreless innings in relief to spare the bullpen. Needed only 37 pitches too.
In those four big league stints Goody had a 4.66 ERA (5.28 FIP) with a 26.6% strikeout rate in 29 innings. He also allowed seven homers, which works out to 2.17 HR/9, so yeah. The long ball was a problem. Goody had a 1.93 ERA (2.91 FIP) with a ridiculous 34/4 K/BB in 23.1 Triple-A innings as well, and one one of those walks was intentional too. Hot damn.
The Yankees still have a minor league option for Goody next season, meaning they'll be able to send him up and down as many times as they want in 2017. It's possible he could be a 40-man roster casualty in the offseason, though I think there's enough guys below him on the depth chart for now. I like Goody the most among the shuttle arms, but until he can keep the ball in the park, his bat-missing slider won't be of much use.
Ben Heller
The Yankees added Heller to the shuttle relief crew at midseason. He was the third piece in the Andrew Miller trade with the Indians. Heller, 25, had a 1.73 ERA (2.86 FIP) with 29.3% strikeouts and 7.3% walks in 41.2 innings split between Double-A and Triple-A before the trade. A few tune-up appearances with Triple-A Scranton were made before the Yankees called Heller up in August.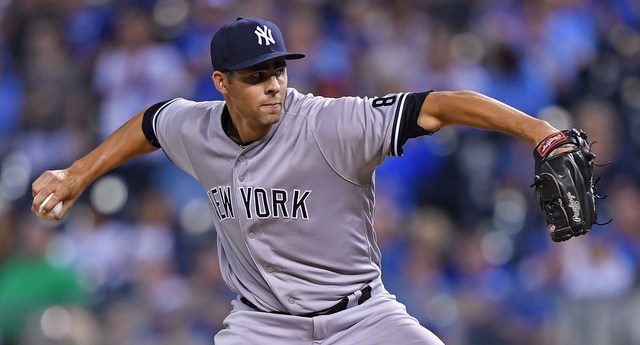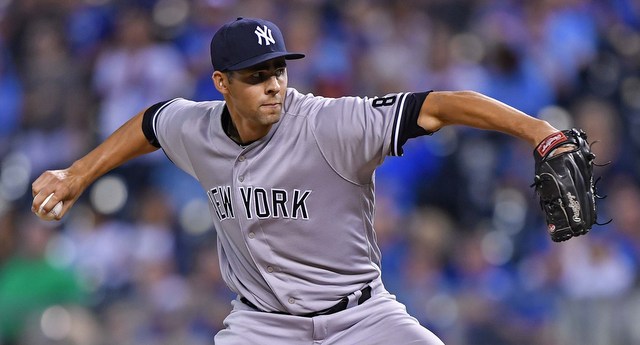 Unlike most other shuttle relievers, Joe Girardi and the Yankees have Heller a real shot at important innings. It didn't go so well, but they tried. He entered with the Yankees either tied or leading by one run in three of his first six appearances, and in those three appearances, he put four of nine batters on base. Heller completed a full inning once. The other two times he got one out and zero outs.
Force-feeding Heller high-leverage innings right away didn't work so well, so Girardi scaled back. His final four outings all came with the Yankees trailing by at least five. All told, Heller had a 6.43 ERA (9.57 FIP) in seven innings. He struck out six, walked four (one intentionally), and allowed three dingers. Also hit two batters and gave up eleven hits. It was a rude introduction to the big leagues.
Unlike a few others in this post, Heller's spot on the 40-man roster is safe this offseason — the Yankees might trade him, but he won't be dropped from the roster — and he'll come to Spring Training with a chance to win a bullpen job. Heller's fastball averaged 96.0 mph and topped out at 97.9 mph during his brief cameo, plus he showed a workable slider, so the tools are there. He's not the first reliever to struggle in his first seven MLB innings and he won't be the last.
Jonathan Holder
No reliever in minor league baseball had a better season than Holder in 2016. He shifted back to the bullpen after spending last season as a starter, and in 65.1 innings at three levels this year, the 23-year-old righty had a 1.65 ERA (1.30 ERA) with 101 strikeouts (42.4%) and seven walks (2.9%). Holder capped off his minor league season by striking out eleven in a row as part of a four-inning save to clinch a postseason berth for Triple-A Scranton.
That performance earned Holder a September call-up. It was a total knee-jerk reaction by the Yankees, who were hanging around the wildcard race. Brian Cashman said they made the move because Holder gave the Yankees the best chance to win, but Girardi's history suggested he was going to lean on his veteran relievers down the stretch, not the kids.
Sure enough, Holder's appearances were sporadic. He made eight appearances and only three times was the score separated by fewer than three runs. Holder entered one of those three games in the second inning, after Severino had been ejected for throwing at Justin Smoak, so it was hardly a high-leverage appearance. He allowed runs in four of his eight outings and was working mop-up duty by the end of the season. Womp womp.
Overall, the 2016 season was a phenomenal success for Holder, who climbed from High-A to the big leagues. Was the call-up a little shortsighted? Sure. The Yankees tied up a 40-man roster spot with a low-leverage reliever who was a year away from Rule 5 Draft eligibility. What's done is done though. Holder had a 5.40 ERA (4.95 FIP) in 8.1 big league innings, during which he struck out five and walked four. Like Heller, he'll come to camp with a chance to win an Opening Day bullpen job.
Conor Mullee
After three elbow surgeries and six and a half seasons in the minors, the 28-year-old Mullee finally reached the big leagues in 2016. He had a 1.42 ERA (2.02 FIP) in 19 minor league innings when the Yankees called him up for the first time. Mullee appeared in one game, walked three Diamondbacks and hit another while allowing a run in an inning on May 16th. Not the greatest debut. It happens.
Mullee went back to Triple-A and waited another month before getting his next call-up. This time he appeared in two games, striking out three and walking one in two scoreless and hitless innings. Much better. Unfortunately, his elbow started acting up again. Mullee felt some numbness in his fingers and was placed on the DL. He actually started a minor league rehab assignment in late July when the numbness returned.
Tests revealed a nerve issue near Mullee's elbow, and he soon underwent season-ending surgery. That bites. At least there was no structural damage this time. Mullee remained on the disabled list until November 2nd, when the Yankees tried to slip him through waivers and remove him from the 40-man roster. The Cubs claimed him instead. Mullee had been with New York since being their 24th round pick in 2010.
James Pazos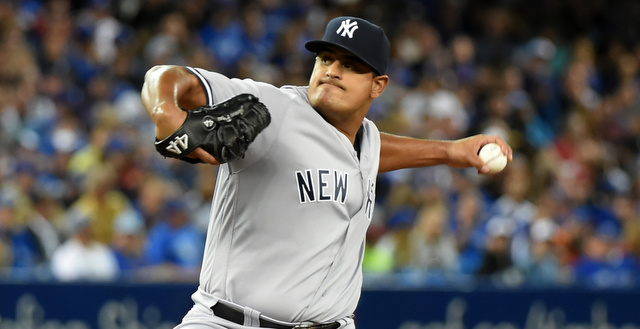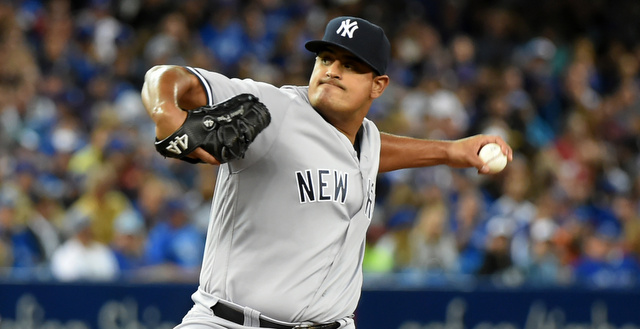 Pazos, 25, is the hardest throwing left-hander in the organization now that Miller and Aroldis Chapman have been traded away. His heater averaged 95.5 mph during his September call-up this year, which was actually up from 94.1 mph last year. That kind of velocity is hard to find on a lefty, even these days where every team seems to have guys who throw 95+ out of the bullpen.
An unknown injury sidelined Pazos from early June until late August in the minors, and around the injury he had a 2.32 ERA (2.50 FIP) with a 35.6% strikeout rate and a 15.2% walk rate in 31 minor league innings. The Yankees did not call him up right away once rosters expanded; Pazos had to wait until September 6th to join the MLB team. He appeared in eleven games with the Yankees and faced no more than two batters in eight of them. The Yankees were leading in three of his eleven appearances, twice by five runs.
Pazos had a 13.50 ERA (10.05 FIP) in his 3.1 innings with New York and lefties went 4-for-8 against him with one strikeout. That seems bad. The Yankees seem to like Pazos — I get it, he throws hard from the left side — and he has two option years remaining, so he figures to stick around for a little while as an up-and-down southpaw. I wouldn't rule him out coming to Spring Training with a chance to win a bullpen job.
Branden Pinder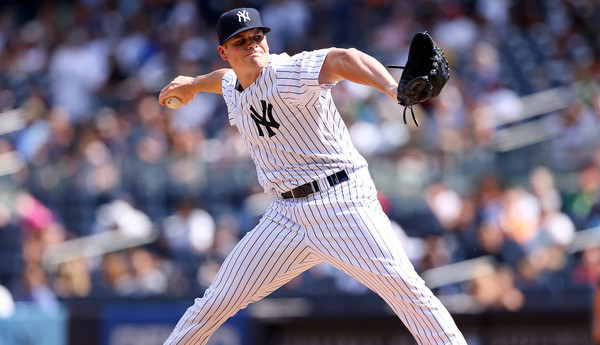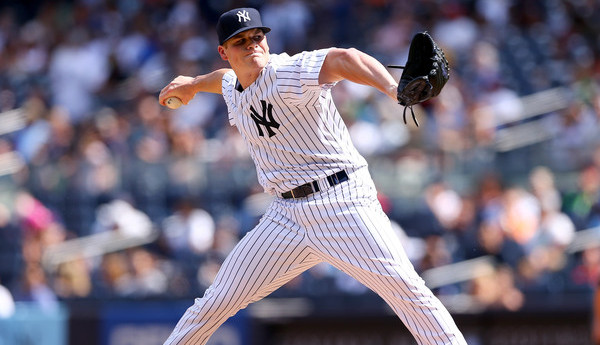 A year ago Pinder was the primary shuttle reliever, getting called up six (!) times throughout the season. At least once in every month. Wild. This year, his season lasted three appearances. Pinder didn't win a bullpen job in camp, so he went to Triple-A, appeared in two games, then got called up in mid-April. He pitched in one game with the Yankees and blew out his elbow. Pinder had Tommy John surgery on April 26th.
On the bright side, Pinder spent nearly the entire season on the Major League disabled list and collected big league salary and service time. Good for him. Poor Nick Rumbelow blew out his elbow in Triple-A and didn't have the same luxury. The Yankees designated Pinder — who is still in the middle of his rehab — for assignment when they claimed Joe Mantiply last week. Injured fringe relievers who are weeks away from their 28th birthday aren't exactly a hot commodity on waivers, so there's a pretty good chance Pinder will remain in the organization as a non-40-man roster player.