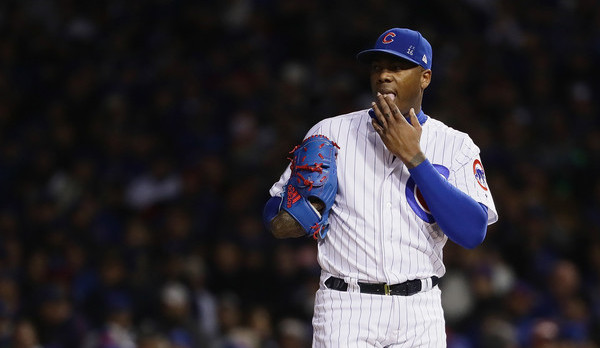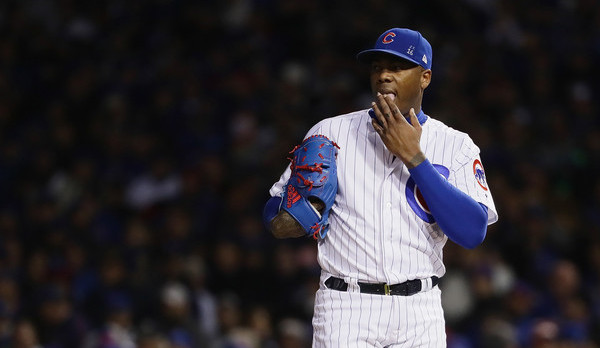 There are only nine days remaining until the current Collective Bargaining Agreement expires. MLB and the MLBPA insist they are optimistic a new deal will be reached and I continue to believe them because both sides have too much to lose with a work stoppage. Besides, they could agree to continue negotiating after December 1st while operating under the current rules. We'll see what happens. Here are some bits of news and notes.
Chapman would "love" to be a Yankee again
Apparently Aroldis Chapman's brief stint with the Yankees has left him wanting more. He would welcome the opportunity to wear pinstripes again. "I would love to be a Yankee again," said Chapman to Ray Negron. "This is business and the Yankees know that … They took a chance on me (during the legal trouble last year) and I will always be grateful."
The Yankees are reportedly in on all the big free agent relievers and I feel like a reunion with Chapman is inevitable. They know him and he won't cost a draft pick. Plus he's still pretty young (29 in February) and should have plenty of prime years left. I do wonder how Chapman will perform when he inevitably loses some velocity, but that's a question for another time. The Yankees want another elite reliever and Chapman is their top target.
Yankees to play first game of 2017
The Yankees are going to play the very first game of the 2017 season. ESPN released their Opening Day(s) broadcast schedule, and the Yankees and Rays are slated to open the season at 1pm ET on Sunday, April 2nd. The Giants and Diamondbacks will play the second game of the year at 4pm ET the same day. Here's the full ESPN broadcast schedule for the Opening Day festivities.
Two years ago the Yankees played the last first game of the season, if that makes sense. They were in Houston to open the season and didn't play until Tuesday night. The other 28 teams had all played at least one game by then. This year the opposite will be true. The Yankees and Rays will have all eyes on them that afternoon. There will be no other games at the same time.
Roster limit changes "likely" coming in 2017
According to Tyler Kepner and Ken Rosenthal, the upcoming CBA is "likely" to increase the roster size to 26 players. Also, there will be some sort of roster limit after September 1st. Teams would still be able to call up their 40-man roster, though they'd only be allowed to have 28 active players per game. The 28 players wouldn't change every day. Perhaps every series or something like that.
The 26-man roster essentially means every team will carry an extra reliever — the Yankees almost certainly will — which means more pitching changes and even slower pace of play. Sigh. As for the September roster limit, I hate it. I've long been a fan of September call-ups. Reward the kids and reward the teams with depth. Call them up, let them play. Give teams access to all those extra pitchers late in the season so they don't have to push fatigued arms any harder than they have to.
Roman Rodriguez leaves Yankees
Longtime bullpen catcher Roman Rodriguez has left the Yankees for a scouting position with the Angels, reports Mark Feinsand. He's the latest member of the organization to leave New York for Billy Eppler's Angels. Scout Eric Chavez (yes, that Eric Chavez) and manager of pro scouting Steve Martone were also hired away from the Yankees by Eppler. Probably some others too.
Rodriguez, 47, had been New York's bullpen catcher since 2003, which means he was the longest tenured member of the field staff. In addition to his bullpen catcher duties, Rodriguez also helped chart pitches and things like that. He also used to serve as an interpreter for Spanish speaking players when they spoke to reporters before the Yankees hired a full-time translator. For the first time in a long time, the Yankees need a new bullpen catcher.