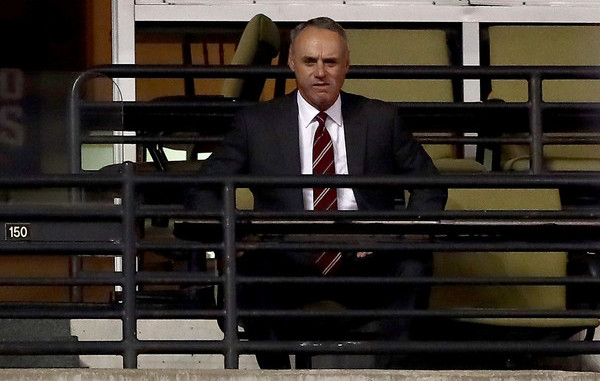 The current Collective Bargaining Agreement expires in 15 days. MLB and the MLBPA are hard at work negotiating a new deal and I'm sure they'll get it done in time. No one wants a work stoppage. There's too much money to be lost on both sides. Here are some big picture updates from around the league in the meantime.
MLB to standardize medical info
In the wake of Padres GM A.J. Preller's suspension, MLB will standardize the medical information teams must disclose during trade talks, reports Kyle Glaser. The Padres essentially hid medical info at the trade deadline. That's why Colin Rea was returned from the Marlins. He had a preexisting injury. There's also an issue with Drew Pomeranz's elbow the Red Sox didn't know about it. Zoinks.
"We've talked about medical records given the issues we had this season, and I think we're going to focus on trying to do even a better job of standardizing that process when clubs exchange records," said MLB chief legal officer Dan Halem to Glaser. "We're going to formalize it a little more and contemplate pushing for guidance in terms of what has to be in and what has to be out. Just make sure everybody has confidence in the system."
GMs were informed of the new standards during the GM Meetings last week. Halem told Glaser this has been in the works for a while and isn't a response to Preller's suspension. Hmmm. Either way, I'm kinda surprised it took this long for this to happen. There have been some other preexisting injury issues over the years — the Gary Majewski trade comes to mind — and this is in the best interest of the league. Better late than never, I suppose.
MLB considering strike zone changes
According to Jon Morosi, MLB is considering formal changes to the strike zone this offseason thanks to PitchFX and Statcast, which help foster more adherence to the rulebook. Jon Roegele's research has shown the strike zone has gotten bigger since 2009, mostly at the bottom of the zone near the knees. The pitches that are hardest to hit, basically. That's one of the reasons offense dipped in recent years.
I'm not sure what kind of changes MLB is considering — I guess something that lowers the top of the strike zone since no one calls the high strike anyway? — but I guess we'll find out. MLB umpires are the best umpires in the world, it's not like there's a secret group of elite umpires the league refuses to hire, but they're not perfect. Far from it. If PitchFX and Statcast and all that help create a more uniform strike zone that more accurately reflects the rulebook, then great.
Players protesting international draft
MLB hopes to implement an international draft in the near future, which would both push the signing age back from 16 to 18, and also cost players money by reducing their negotiating leverage. In response, amateur prospects in the Dominican Republic boycotted the league's showcase last month, according to Ben Badler. MLB then canceled the two-day showcase and forced the players to take random drug tests. This is fine.
Several current big leaguers who signed as international free agents back in the day have spoken out against an international draft. Gary Sanchez is one of them. Here's his video. Others like Edwin Encarnacion, Jose Reyes, Nelson Cruz, Carlos Santana, Miguel Sano, and Ivan Nova have posted similar videos too. I'm curious to see how this plays out. The MLBPA usually has no problem negotiating away the rights of amateurs, but with so many big leaguers speaking out, how can they ignore them?
Revenue sharing a key point in CBA talks
As MLB and the MLBPA negotiate the new CBA, a key item is the revenue sharing system, reports Susan Slusser. Specifically, teams that pay into revenue sharing (like the Yankees) want to make sure teams that receive revenue sharing are actually spending it. There's been concern small market teams are just pocketing a portion of their revenue sharing checks. The Marlins and Athletics have come under scrutiny, specifically.
"There is leeway to justify other expenditures (like scouting)," said an MLBPA official to Slusser. "But if a team shows no progress year after year and most of the revenue sharing spending is on non-Major League salaries, red flags go up. There are clubs that other clubs look at and say, 'What are they doing? Is this really the best use of our money?'"
The Yankees pump more money into revenue sharing than any other team — they paid over $90M in both 2014 and 2015 — so I'm sure they're one of the clubs curious to know where their money is going, as they should. Revenue sharing isn't going away. It's been around too long and it's working. The Indians and Royals just went to the World Series. More teams are in contention right now than ever before. But there's an obvious problem with small market clubs pocketing revenue sharing money. The Yankees and other big market teams have every right to be concerned.