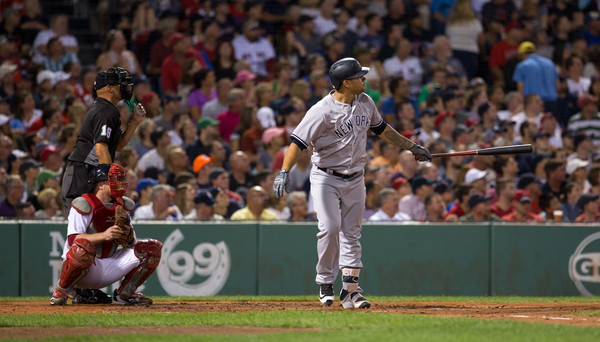 The world knows who Gary Sanchez is…and not just the baseball world. After his magnificent arrival in August, even the BBC got in on the action, profiling Sanchez's sudden dominance at the plate. His profile, already large in Yankee and prospect circles at he beginning of 2016, looms even more so now that he placed second in the AL Rookie of the Year voting behind Detroit's Michael Fulmer. AL pitchers are sure to have taken notice and will be determined to make 2017 a sophomore slump for Sanchez.
Regardless of how you do in your first real taste of the Majors, making adjustments is a part of making sure you go back for a second (and third, fourth, fifth…) bite; pitchers and coaches will always be looking to exploit weaknesses–real or perceived–and it's up to young hitters to beat them to the punch in that regard. With that in mind, let's take a look at what pitchers may do to adjust to Sanchez in his first full season as a big leaguer.
Below is a strike zone plot, courtesy of Brooks Baseball, detailing Sanchez's ISO against pitches in various parts of the zone.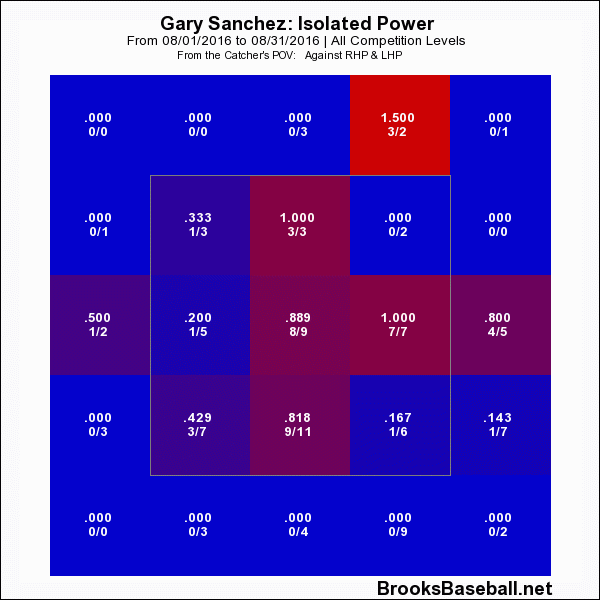 From that chart, it looks like when pitchers tried to tempt Sanchez with pitches on the outer half, he made them pay. Granted, pretty much every spot looks good; even the blue spots in the zone on the inner half have ISOs of .333; .200; and .429. Perhaps this means pitchers will be more reluctant to go outside against Sanchez, seeing that he has the ability to not only hit those pitches, but do so with authority. If they do go away, though, they need to do so out of the zone.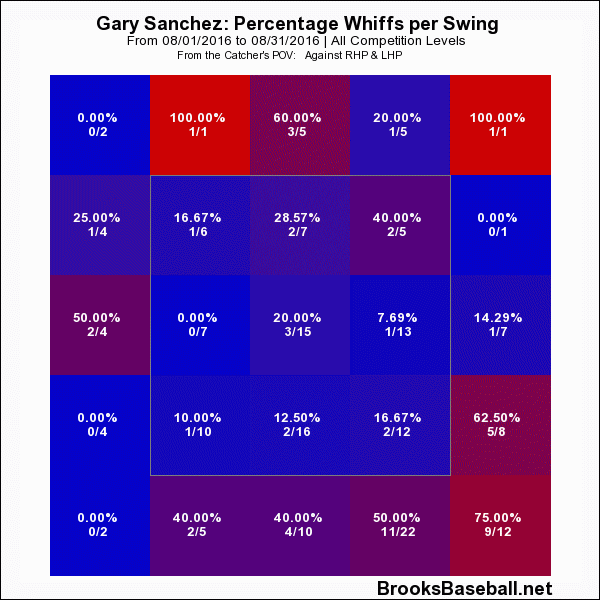 Those are Sanchez's whiff/swing numbers in various parts of the zone and it's clear to see where there's an issue: low and away. That's where pitchers got Sanchez to swing and miss at high clips in 2016 and you can be sure they're going to try to do that again; low and away is a winning spot for pitchers, regardless of the batter.
2016 showed us that Sanchez is capable of brilliance in a small stretch. Now, he'll need to prove his steadiness over the course of an entire season. Given his pedigree–and what he did last season–there's little reason to doubt him at this point. Baseball does happen, though, and ultimately we won't know until, well, we know. So long as Sanchez makes his adjustments, he'll be fine.