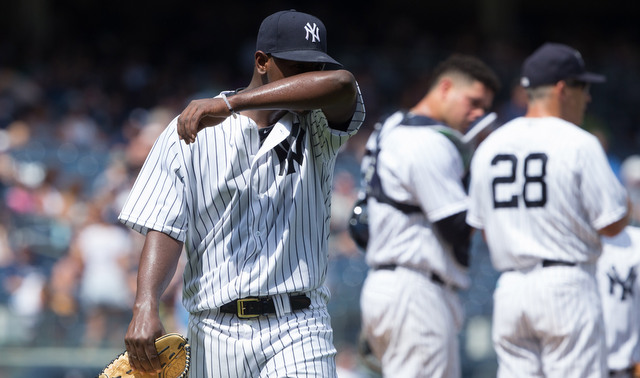 According to Andrew Marchand, Brian Cashman recently indicated the Yankees will continue to develop Luis Severino as a starting pitcher next year, even if it has to happen in the minors. "He still possesses all that upside and ceiling, but obviously he will have to re-prove that in 2017 to earn a spot in the rotation at the Major League level. If not, the expectation is that he would go to Triple-A," said the GM.
Severino, 22, was terrible as a starter and great as a reliever in 2016. He pitched to an 8.50 ERA (5.56 FIP) in 47.2 innings as a starter and a 0.39 ERA (2.29 FIP) in 23.1 innings as a reliever. Goodness. He was two totally different pitchers. Between big league stints, Severino had a 3.49 ERA (2.60 FIP) in 77.1 innings with Triple-A Scranton. Anyway, I have some thoughts on this and Severino's future in general.
1. Of course the Yankees shouldn't give up on him as a starter. Context: Luis Severino is ten days older than James Kaprielian. The Yankees would be foolish to give up on a guy this young and this talented as a starting pitcher based on 47.2 terrible starter innings (and 23.1 great relief innings) so early in his big league career. They're in transition mode and their No. 1 goal should be maximizing their young assets, and in Severino's case, that means continuing to let him develop as a starter.
Furthermore, the Yankees have basically no established starters under control beyond next season. CC Sabathia and Michael Pineda will be free agents next winter, and if Masahiro Tanaka doesn't opt-out, that means something went wrong in 2017, most likely an injury. The Yankees have a nice collection of young starters and Severino is among them, along with guys like Luis Cessa, Chad Green, Bryan Mitchell, Jordan Montgomery, and Chance Adams. I don't think many will argue with me saying Severino has the most upside of that group.
2. Severino needs to make up for lost development time. The Yankees probably wouldn't have made the postseason without Severino in 2015 — they finished only two games ahead of the Angels, the first non-wildcard team — and at the end of the day, getting into the playoffs is the name of the game. Get in and you have a chance to win the World Series. Severino helped them accomplish that goal in 2015.
At the same time, I don't think the Yankees did Severino any favors long-term by rushing him up through the minors. Look at his innings by level:
Rookie ball: 26.1 innings
Low-A: 85.1 innings
High-A: 23.1 innings (three during an injury rehab stint in 2016)
Double-A: 63 innings
Triple-A: 138.2 innings (77.1 innings after getting bombed in MLB early in 2016)
Severino was not some polished college arm fresh out of the draft. He was a teenager in full season ball and in Double-A by age 20. The statistical performance was excellent, no doubt about it, but there's more to life than minor league strikeout and walk rates. Severino's command has been pretty terrible in the big leagues, especially with his secondary pitches, and the Yankees didn't give him a whole lot of time to work on it in the minors. It's not a shock the kid has looked less than refined in the big leagues.
I get the temptation to stick Severino in the bullpen next year and help the Yankees win. They are still trying to do that, you know. The team didn't spend $13M on a DH and $86M on a closer to not win in 2017. Putting Severino in the bullpen almost certainly makes the 2017 Yankees a better team. The best long-term move is letting him start though, even if he's in Triple-A, because there are still plenty of things he can work on in games that don't count.
3. At worst, he can be a shutdown reliever. It's entirely possible Severino's long-term future lies in the bullpen. He might never locate his slider and/or changeup consistently enough to start, and, frankly, I don't have much faith in the Yankees turning him into a viable starting pitcher. It's not just the scars of the Joba Rules either. Their development track record is pretty bad.
But, if nothing else, I do feel pretty confident Severino can at least be a really good relief pitcher if the starting thing doesn't work out. He can dominate for an inning at a time by airing it out, even with less than stellar command. Many relievers do that, including a few in New York's bullpen. The bullpen should be the fallback plan though. Keep trying Severino as a starter, and if it's still not working in a few years, a relief role is a viable alternative.
4. What about a long relief role? If Severino doesn't make the rotation to start the season, a potential alternative to Triple-A is a long relief role. I don't mean a traditional mop-up guy who throws two or three innings in a blowout every two weeks. I mean a reliever who throws three or four innings every few days by design. Remember, the Yankees may have a bunch of kids at the back of the rotation, which means there figures to be plenty of short starts throughout the summer.
The upside of a long relief role is that Severino would still be helping the MLB team win, and he'd be giving the rest of the bullpen a regular day off. The downside is he might not get a chance to turn a lineup over multiple times. He might face 10-12 batters in a three-inning outing, so a few batters would see him twice, but that only helps him so much. Ideally, Severino would get a chance to go through the lineup three times as a starter in the minors. That won't happen in a long relief role, not unless we're talking extra innings or something. I don't love the long relief idea from a development standpoint, but it's an option.