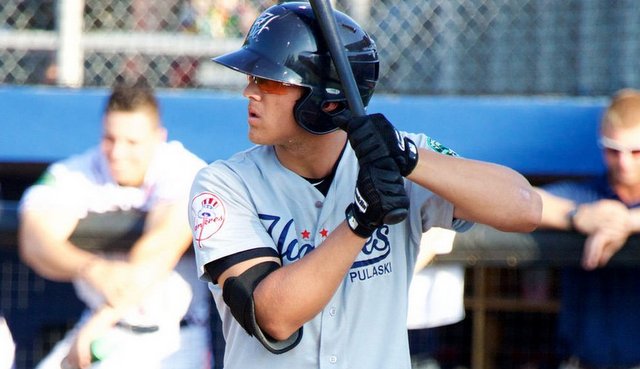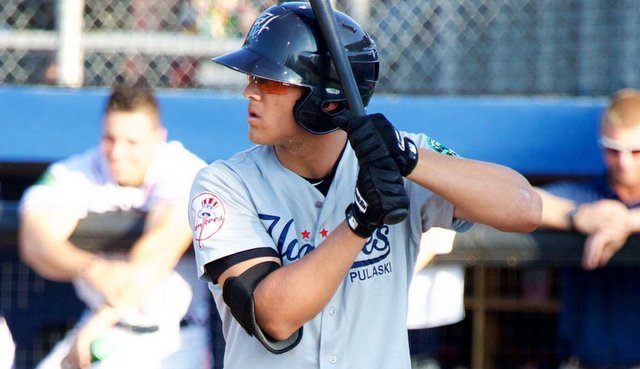 Blake Rutherford | OF
Background
Rutherford, 19, was born in Morristown, New Jersey, and he lived there until age two, when his family moved to Southern California. He played both baseball and football at Chaminade College Preparatory School in Simi Valley, and as a senior last spring, Rutherford hit .577 with 13 doubles and nine home runs in 27 games. He was invited to play in the Under Armour All-America Game in 2015 and spent two summers with Team USA's 18-and-under team, helping them win gold in Japan last year.
Rutherford has been on the radar as a prospect a very long time, so much so that he committed to UCLA following his freshman year of high school. Prior to the 2016 amateur draft, Rutherford was ranked as a top ten prospect in the draft class by Keith Law (6th), MLB.com (8th), and Baseball America (9th). The Yankees selected him with their first round pick, No. 18 overall, and maxed out their bonus pool to sign him to a well-above-slot $3,282,000 bonus.
"Blake's a guy that we've scouted for a long time, and we couldn't be happier with him falling to us," said scouting director Damon Oppenheimer after the draft. "He's hit at a high level, he can run, he's a really good defender in center field, and he's got power. He's got a chance to have all the tools to profile. The fact that he's performed on a big stage with Team USA, where he's been a quality performer, makes it really exciting for us."
Rutherford slipped out of the top ten for two reasons. One, his age. He turned 19 in May, which makes him older than most high school draftees. And two, he had big bonus demands, which isn't surprising because he was a projected top ten pick. There are rumors Rutherford had a pre-draft deal in place with the Mets, who held the 19th pick, but the Yankees grabbed him one pick earlier and met his asking price.
"Oh man, I don't think it's hit me yet. It will hit me soon," said Rutherford to Tony Ciniglio after the draft. "I grew up a Yankees fan. I loved the Yankees and the organization, I loved the people. It's an amazing legacy, and it's a pretty incredible situation."
Pro Debut
Following a quick tune-up stint in the rookie Gulf Coast League, the Yankees bumped Rutherford up to the rookie Pulaski Yankees so he could face a higher caliber of competition. Rutherford was the best player on the field pretty much every game, hitting .382/.440/.618 (186 wRC+) with seven doubles, four triples, and two homers in 25 games and 100 plate appearances with Pulaski. Add in the GCL stint and he hit .351/.415/.570 (171 wRC+) with three homers in 130 plate appearances in his pro debut earlier this year.
Rutherford's season ended prematurely due to a pair of minor injuries. He tweaked his knee running through first base on August 8th and missed Pulaski's next eleven games. Then, on August 24th, Rutherford hurt his hamstring running out a ground ball. Pulaski had already been eliminated from postseason contention and the regular season was ending in a week, so the Yankees played it safe and shut their first round pick down. Rutherford's knee and hamstring were healthy enough for him to participate in Instructional League in September.
Scouting Report
At 6-foot-3 and 195 lbs., Rutherford is well built with all sorts of physical projection. He's a left-handed hitter with good bat speed and a level swing that allows him to cover the entire plate. Rutherford's hit tool is highly regarded and he has a plan at the plate, plus he's already shown power in games. He projects as a classic No. 3 hitter. A guy who can hit for both average and power down the road. Here's some video:
There are two knocks on Rutherford's offensive game. One, he can sometimes get into a little mechanical funk at the plate and start stepping in the bucket. And two, his swing right now produces line drives more than anything, and there's some thought he won't reach his full power potential unless he learns how to get the ball in the air more often. It could be worse.
The offensive potential is what got Rutherford drafted in the first round, but he's not a bat-only prospect. He runs well and has good outfield instincts, which allow him to play center field. There are mixed reports on his arm; some say it's strong while others indicated it's below-average. They all agree it's not a top tier arm, so should Rutherford move out of center at some point, left field is the more likely destination than right.
Beyond the athletic ability, Rutherford draws rave reviews for his makeup — he helped out at a baseball league for kids with disabilities throughout high school, as Mike Persinger writes — and work ethic. A player who projects to hit for average and power, provide value on the bases and in the field, play with energy, and be a genuinely good dude off the field is a potential franchise cornerstone.
2017 Outlook
The Yankees have not been shy about sending prep draftees to full season ball the year after the draft and Rutherford figures to follow that path. Unlike, say, Gosuke Katoh and Dante Bichette Jr., Rutherford is more than ready for the assignment because he's a polished hitter, not just a guy with big rookie ball stats. He turns 20 in March and will be one of the youngest players in the Low-A South Atlantic League to open the 2017 season, assuming that's where the Yankees send him.
My Take
How could you not love Rutherford? There's very little not to like about him. He's a true four-tool player — his arm is the only thing that's lacking — and a good athlete with baseball smarts. His upside is significant and he could be a rare quick moving high school bat. Splitting next season between Low-A and High-A wouldn't completely shock me. Rutherford has that kind of ability.
The Yankees have a loaded farm system right now. They have several high-end prospects and a ton of depth, and Rutherford has as much long-term ceiling as anyone in the system. There's a good chance, maybe even a great chance, that at this time next year Rutherford will be the top prospect in the organization, even ahead of the totally awesome Gleyber Torres. It's been a long time since the Yankees landed a talent like Rutherford in the draft.