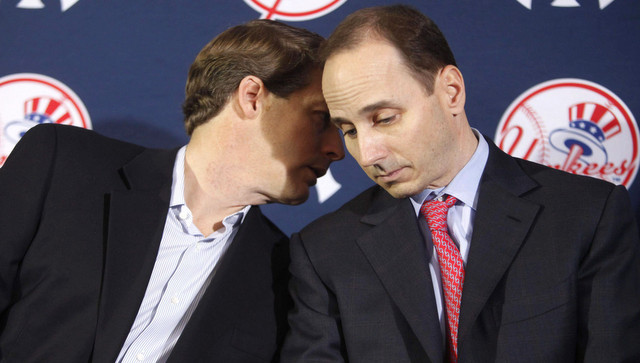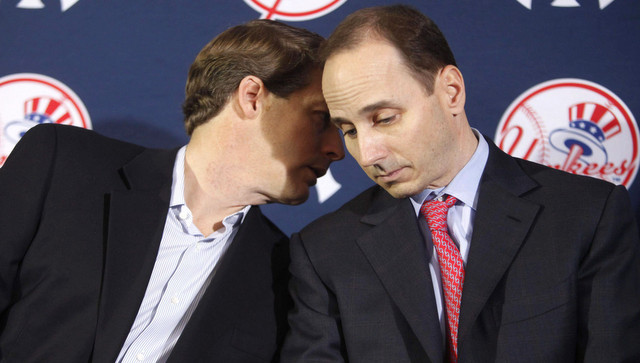 The Yankees are tapped out. Or at least that's what they're telling everyone right now. Both Joel Sherman and Jon Heyman say the Yankees are telling agents they need to clear salary before making any more moves this offseason. I estimated New York's luxury tax payroll for next season at roughly $214M, which is down from $243.8M in 2016.
Needless to say, reports like this will fuel the "Hal Steinbrenner is cheap!" narrative, which is ridiculous. Is it fair to say the Yankees should spend more given the little we know about their revenues? Yeah, I guess. But that doesn't make a franchise that has given away $325M over the last 14 years cheap. Anyway, I have some thoughts on these payroll reports.
1. This could all be posturing. What do we hear every offseason? Teams say they don't have money to spend and they don't want to trade young players. Same old story. The Yankees telling free agents they don't have money to spend could be more of the same. The team is trying to create some leverage during contract talks. What good could come out of saying "we have a lot of money to spend!" anyway?
2. The team's recent activity make this more believable. The key to any good fake rumor is making it believable. The Yankees want agents to believe they don't have much cash to spend? Well, trading Brian McCann for two Single-A prospects and salary relief supports that theory. So does shopping Brett Gardner and Chase Headley. And going young at three positions (catcher, first base, right field). Those moves are geared towards saving money.
Of course, the Yankees spent big to sign Aroldis Chapman this offseason, so there are reasons to be skeptical about their spending limitations. Matt Holliday wasn't cheap either in terms of annual salary. Even with those signings, Hal has made it very clear he wants to get under the luxury tax threshold soon, and almost every move the Yankees have made since July has been made with an eye on the 2018 payroll. The Yankees are out of money? It sounds silly, but it's also kinda believable.
3. If it is true, spending all that money on a closer makes even less sense. Now, if it is true the Yankees can't take on any more payroll, the Chapman signing looks even more questionable. I understand the signing, I do, I just don't think it was the best use of (apparently limited) resources at this point in time. Signing a closer for $17.2M a year is a move you make when you're ready to win right now, not a year or two down the line. Banking on a reliever aging well, even one as great as Chapman, is dubious at best. The fact that move could be hindering the Yankees' ability to make other moves is, dare I say, problematic.
4. The free agent class stinks anyway. The Yankees are going young wherever possible and that's cool, though there are still some obvious needs on the roster. Another veteran starter to soak up innings would be swell, as would a middle reliever or two. There's always room for another pitcher(s), especially on a young staff in which innings will need to be monitored.
The current free agent class really stinks though, and it's entirely possible that even if the Yankees had money to spend, they wouldn't be comfortable spending it on any of the available players. The apparent need to shed payroll before making another move might not actually be preventing the Yankees from doing anything right now. I'm sure they'd love to do something else, but it's not like there are a ton of high quality free agents out there waiting to be signed.