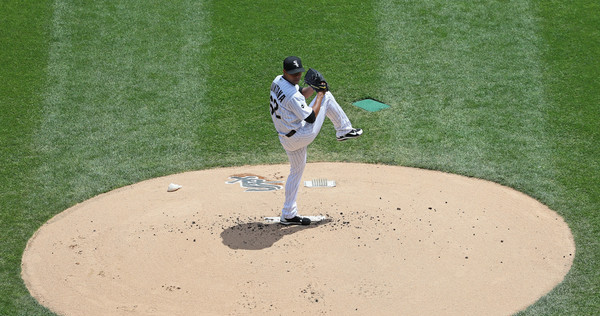 Yesterday afternoon, after days and weeks of rumors, the White Sox finally traded staff ace Chris Sale. He did not go to the Nationals, as long rumored. He instead went to the Red Sox for a four-prospect package that included infielder Yoan Moncada, arguably the best prospect in baseball. Pitchers of Sale's caliber do not get traded very often. That deal was the definition of a blockbuster.
With Sale gone, it stands to reason the White Sox will continue tearing things down and start a full blown rebuild. It would be completely silly to trade Sale for four non-MLB pieces only to keep everyone else. The ChiSox fire sale has just begun, I assume, which means left-hander Jose Quintana should be on the trade block as well. The former Yankees' farmhand may not be as good as Sale, but he's really good overall, and he's signed cheap too. The Yankees should have interest in Quintana and here's why.
Background
Might as well start here. Yes, Quintana was once in the Yankees' farm system. Before that he was actually in the Mets' farm system. The other New York team signed Quintana out of Colombia back in 2006. He spent a few seasons in their farm system, failed a performance-enhancing drug test, then got released. The Yankees scooped him up and he spent 2008-11 in their system. The 2011 season was his breakout year: 2.91 ERA (3.15 FIP) in 102 innings with High-A Tampa.
Quintana was eligible for minor league free agency following that breakout 2011 season. The Yankees opted not to add him to their 40-man roster, and a few weeks later the White Sox signed him to a guaranteed Major League contract. Can't blame Quintana for jumping at the 40-man roster spot. "We liked him. We didn't love him. He was a performer, but not someone with ceiling," said Brian Cashman to Mike Fitzpatrick this summer. D'oh!
"A very poised young man. Professional. He knew how to pitch and work both sides of the plate. Just a good-looking kid," said Joe Siers, the White Sox scout who recommended Quintana, to Scott Merkin two years ago. "To be honest, I didn't know he would be a No. 2 starter. I thought he had a chance to be a back-end, a fourth starter. I knew he was a guy who could get some innings. He commanded the ball and could pitch deep into games."
Recent Performance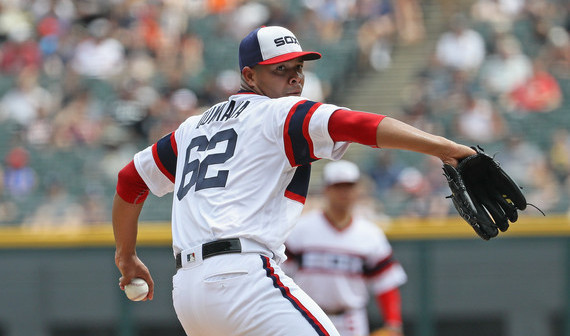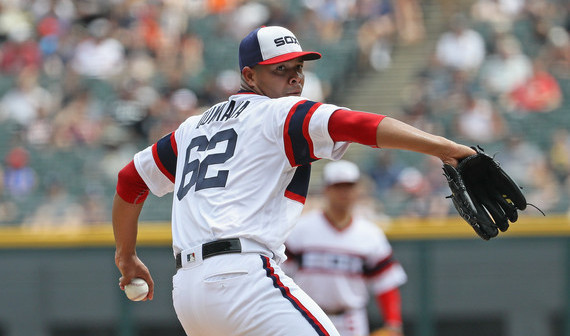 Quintana, 28 in January, has been one of the most reliable pitchers in baseball since joining the White Sox. Over the last four seasons he has a 3.35 ERA (3.34 FIP) — his worst full season is a 3.51 ERA (3.82 FIP) back in 2013 — while throwing no fewer than 200 innings in any given year. According to both bWAR and fWAR, Quintana has been the seventh most valuable pitcher in baseball since 2013. Yeah.
Unlike Sale, Quintana is not going to blow hitters away and rack up big strikeout numbers. He's not that type of pitcher. Quintana did have nice strikeout (21.6%) and walk (6.0%) numbers this summer — neither his ground ball (40.4%) nor home run (0.95 HR/9) rates were great — and he excels at keeping hitters off balance and generating weak contact. His average exit velocity on balls hit in the air these last two years is 89.6 mph, 11th lowest in baseball. So while Quintana's ground ball rate isn't stellar, he's not giving up loud contact in the air either.
We have over 800 innings of data telling us Quintana is a very good Major League pitcher, one who has had success in a hitter friendly home ballpark in the DH league. He's also done it despite having some shaky pitch-framers behind the plate. (Basically every catcher the White Sox have employed other than Tyler Flowers since 2013.) As long as he stays healthy, there is every reason to believe Quintana will be effective for the foreseeable future. Nothing is trending the wrong way.
Present Stuff
When Quintana first got to Chicago, longtime White Sox pitching coach Don Cooper helped him get to the next level by teaching him a cutter. Cooper has been teaching that cutter for decades now. Interestingly enough, Quintana has phased out the cut fastball and replaced it with a sinker over the last three seasons. He operates with a four-seamer, sinker, curveball, and changeup these days. From Brooks Baseball: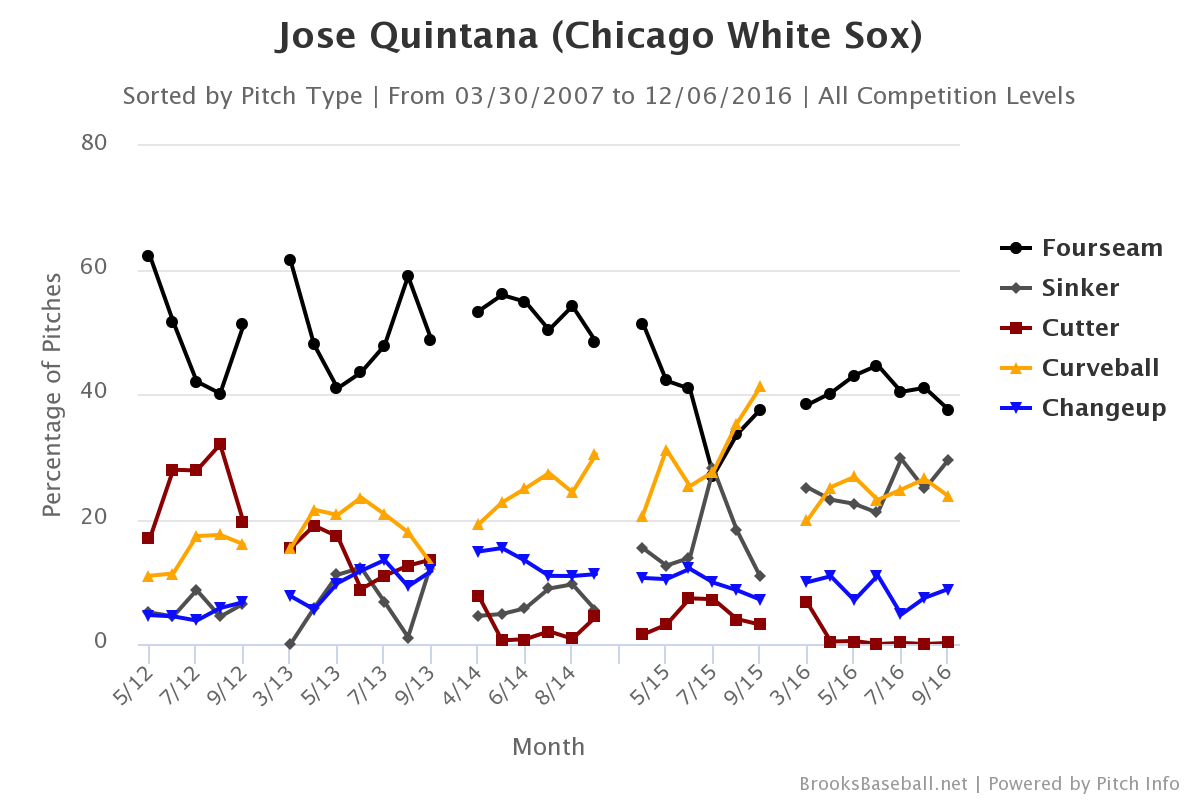 That's a really nice mix. Quintana uses three pitches each more than 20% of the time, and his changeup rate hangs around 10% as well. He's not a guy who leans on, say, his sinker and curveball, and uses the straight four-seamer and changeup as show-me pitches. Quintana is a true four-pitch pitcher, and he still has the cutter in his back pocket as well. Here's some gory math (MLB averages for left-handed pitchers in parenthesis):
| | Average Velocity | Swing-and-Miss Rate | Ground Ball Rate |
| --- | --- | --- | --- |
| Four-seamer | 92.6 (92.3) | 8.3% (6.9%) | 32.0% (37.9%) |
| Sinker | 92.5 (91.0) | 6.1% (5.4%) | 50.0% (49.5%) |
| Curveball | 78.0 (77.5) | 11.7% (11.1%) | 38.8% (48.7%) |
| Changeup | 86.7 (83.3) | 7.3% (14.9%) | 47.2% (47.8%) |
Those are 2016 numbers, the most recent season and the best indicator of who Quintana is right now. Again, nothing jumps out at you. The velocity is basically average to a tick above, there's no dominant swing-and-miss pitch, and there's no dominant ground ball pitch either. And yet, it works. Quintana's command is a huge part of his success. So is his deception. Check out his release points from this past season, via Brooks Baseball: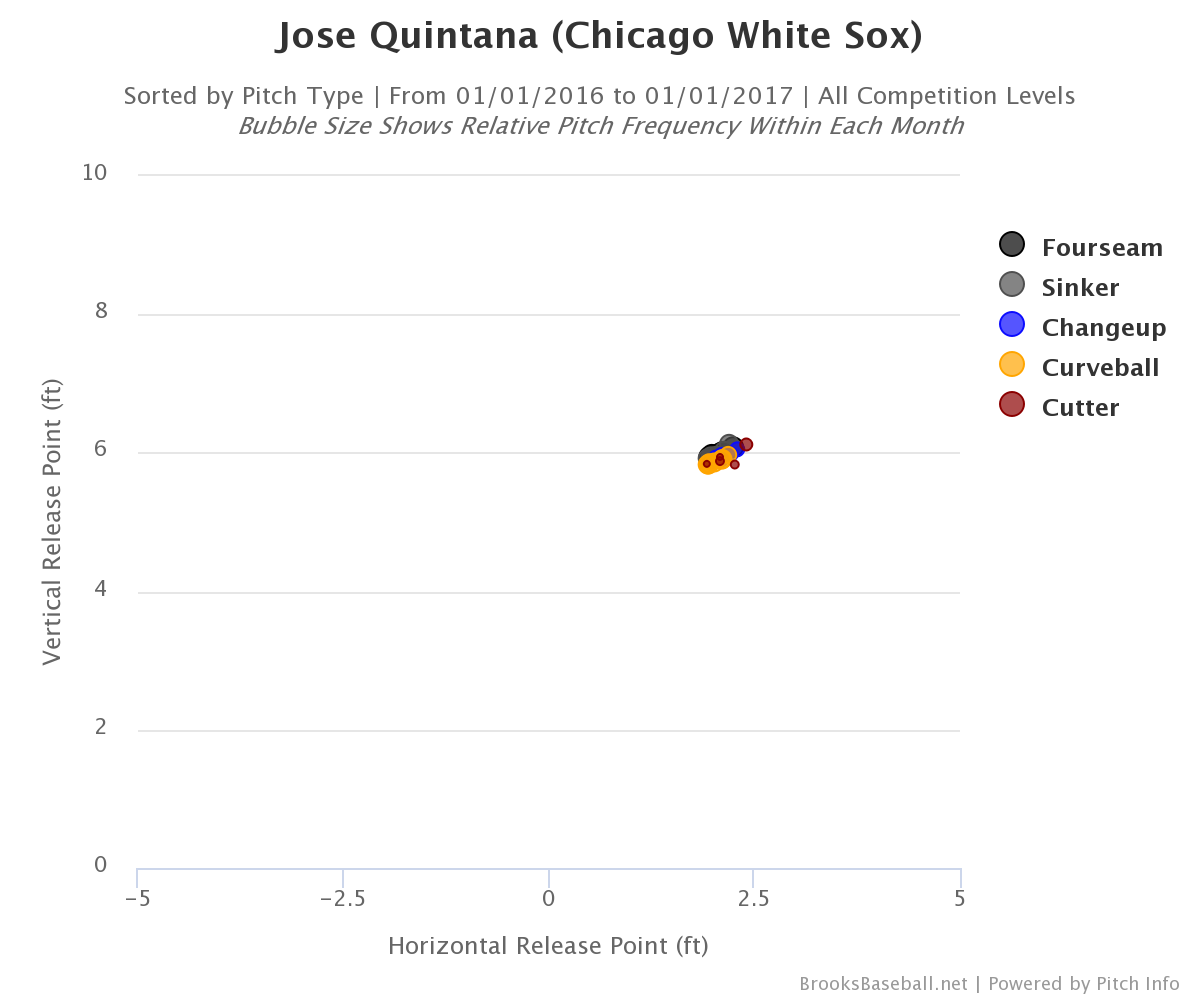 Everything is nice and tight together. It all overlaps. A lot of times you'll see the pitcher has a different release point for his breaking ball — usually slightly higher than the fastball for a curveball, and slightly lower for a slider — but not with Quintana. All five pitches come out from the same spot. By time the hitter can tell the pitches apart as they approach the plate, it's already too late. He's had to start his swing. Quintana's command and deception make up for his lack of overwhelming velocity and a dominant pitch. He makes it work.
Let's look at some video. Reading about pitches and staring at a pitch selection chart only does so much. Let's see Quintana in action. Here's a 2016 highlight video — reminder: everyone looks like an ace in a highlight video — in which we get to see all five pitches in action:
Beautiful. Nice fluid delivery, fastballs to both sides of the plate, a willingness to pitch inside, a curveball that looks like a strike until it drops out of the zone … it's easy to understand why Quintana is so successful. To quote my favorite cliche: he's a pitcher, not a thrower.
The Yankees seem to have a type. They like pitchers with big fastballs and wipeout breaking balls, and hey, that stuff is cool. Their most successful pitchers this past season, Masahiro Tanaka and CC Sabathia, are quite the opposite though. They succeeded with command and pitchability, which happen to be Quintana's two best traits. I would really like to see the Yankees get away from the huge stuff/bad command profile a bit, and Quintana would be a step in that direction.
Injury History
Easy: none. Quintana has never been on the disabled list or had any kind of noteworthy injury, Majors or minors. He had a start pushed back four days after taking a comebacker to the shin during Spring Training in 2013. That is the entirety of Quintana's injury history.
Contract Status
The White Sox smartly inked Quintana to a five-year contract extension three seasons ago. The deal guaranteed him a mere $21M, which is a pittance compared to what he could have made through arbitration given his success. Can't blame him for taking the guaranteed payday though. Anyway, here is the remainder of Quintana's contract:
2017: $6M
2018: $8.35M
2019: $10.5M club option ($1M buyout)
2020: $10.5M club option ($1M buyout)
Assuming the options are picked up — unless Quintana suffers a catastrophic injury or develops the yips, they will be exercised, for sure — Quintana is owed $35.35M over the next four seasons. These days No. 1 starters are getting north of $30M per season. Quintana is a borderline ace and he's owed roughly that through 2020. Pretty great contract, eh? Very luxury tax friendly given his production.
Trade Benchmarks
These are always tough to come up with but they are important. Our trade proposals suck, they really do, so it's good to provide some context. You're not going to get Quintana for the team's best prospect you don't like plus threes randos off the bottom of the 40-man roster, you know? Here are some pitchers recently traded when they were three or four years away from free agency, like Quintana.
Gio Gonzalez: One top 50-100 prospect (Derek Norris) and three top 15 org prospects (A.J. Cole, Brad Peacock, Tommy Milone).
Wade Miley: Two young arms with five years of control (Rubby De La Rosa, Allen Webster) and one top 30 org prospect (Raymel Flores).
Shelby Miller (four years of control): One year of an above-average big leaguer (Jason Heyward).
Shelby Miller (three years of control): One top 20 prospect (Dansby Swanson), one top 75 prospect (Aaron Blair), and five years of an average or better big leaguer (Ender Inciarte).
Chris Sale: One top five prospect (Yoan Moncada), one top 50 prospect (Michael Kopech), a top ten org prospect (Luis Basabe), and a top 30 org prospect (Victor Diaz).
I almost didn't include the second Shelby Miller trade because it was so ridiculous, but you know what? It happened and it changed the market. All of a sudden every team with a good young pitcher raised their asking price. I know I would have done the same.
Of the four pitchers (five trades) listed above, I think the one closest to Quintana would be Sale. I really do. It's four years of control vs. three years of control, but Quintana has been consistently above-average for four years running now. Gonzalez and Miley each had two good years at the time of their trades. Miller had two good years the second time he was traded. The difference in track record is pretty substantial.
Also, supply and demand, yo. The demand for pitching is high, as always, but the supply is very short. There are no good free agent starters left, and realistically, how many pitchers as good as Quintana are available in trades? There's Chris Archer and Sonny Gray, and that's about it. We could use the Gio trade or the Shelby trade as a benchmark, but ultimately, the marketplace is different. Quintana won't come cheap. I know that much.
So What About The Yankees?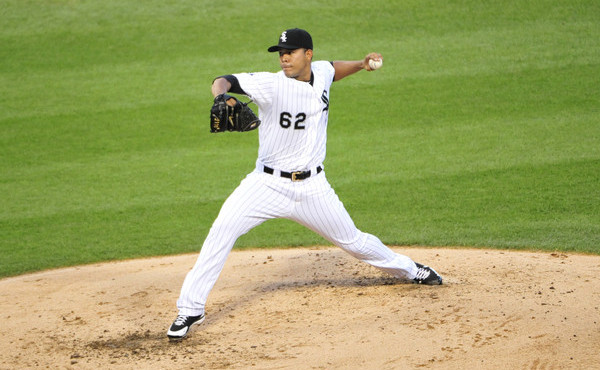 I don't think it will happen, but it needs to be said anyway: the Yankees can't let their history with Quintana get in the way of a potential deal. They screwed up five years ago. No doubt about it. They can't let their pride get in the way of a deal. The Yankees would get mocked for trading top prospects for a guy they gave away a few years ago, but whatever. Own it, move on, and improve the team.
Okay, so anyway the Yankees have both a need for a long-term rotation help and the prospect wherewithal to swing a trade for a pitcher like Quintana. He has yet to turn 28 and he comes with four years of contractual control, so when all those shiny prospects are ready to start winning big league games, Quintana figures to still be in the prime of his career. That's pretty cool. An over-30 star wouldn't jibe with this roster. But a 27-year-old? Oh sure.
Whether the Yankees should dip into that farm system to get Quintana is a valid question. He won't come cheap. The White Sox got two top 50 caliber prospects for Sale and I'm guessing they'll want the same — or something close to it — for Quintana, plus other stuff. The Yankees would be starting a package with, say, Clint Frazier and Jorge Mateo. Or Aaron Judge and James Kaprielian. Ouch.
Jon Heyman hears "nobody's sacred" with the White Sox, meaning they're ready to trade everyone following the Sale deal. Quintana really does make a lot of sense for the Yankees — I mean, pitchers this good make sense for every team — and that fourth year of control is huge. If the Yankees aren't a bonafide contender by year four, something has gone terribly wrong. Ideally you're semi-contending by year two, you know?
I don't have any problem with the Yankees trading good prospects for above-average big leaguers in their 20s with long-term control. It helps speed up the rebuilding transitioning process, at least in theory, and it allows them recoup value from prospects. Hanging on to every last prospect equals a lot of wasted opportunity. Some are most valuable as trade chips. Depending on the price, Quintana is maybe the best pitching target available to the Yankees this year, and I think they should pursue him pretty aggressively. Put that dynamite farm system to work.