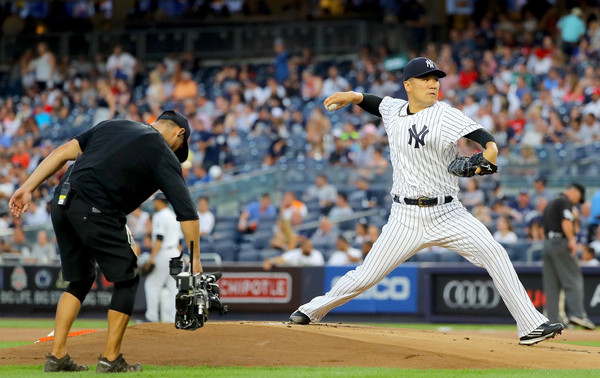 By any measure, Masahiro Tanaka is not just the best starting pitcher on the Yankees, he's one of the best starting pitchers in all of MLB. He's New York's best starter since CC Sabathia was in his prime, and their best right-handed starter since Mike Mussina was in his prime more than a decade ago. Tanaka turned 28 last month and is very much in what should be the best years of his career.
Looming next offseason is Tanaka's opt-out clause, which will allow him to forego the final three years and $67M left on his contract and test free agency. Given the market for pitching these days, opting out is a certainty as long as Tanaka is healthy. Jeff Samardzija led the league in hits, earned runs, and home runs allowed back in 2015 and still landed a five-year deal worth $90M. I mean, come on.
A few years ago the Yankees dealt with Sabathia's opt-out clause, which he leveraged into a contract extension. They added one guaranteed year to his original deal, plus a vesting option. The 2017 season is the vesting option year. Sabathia's extension has not worked out as hoped, but that doesn't mean you walk away from every pitcher with an opt-out. You have to consider these things on a case-by-case basis.
Signing Tanaka — again: one of the very best pitchers in all of baseball — to an extension has to be a consideration for the Yankees this offseason, before the opt-out comes into play. And before we go any further, let's list some key differences between Tanaka now and Sabathia at the time of his opt-out:
Age: Tanaka just turned 28 and will pitch all of next season at that age. Sabathia was 31 when he signed his extension and he turned 32 during the first season of the deal. Heck, Sabathia was as old as Tanaka is right now when he originally signed with the Yankees during the 2008-09 offseason. Pretty big difference in age, eh?
Body Type: I love Sabathia, but the dude is 6-foot-7 and somewhere around 300 lbs., and that massive frame has taken its toll on his right (landing) knee. Not too many pitchers that size have pitched as deep into their 30s as Sabathia. He's an outlier. Tanaka is far from it. We don't have to bank on Tanaka being an outlier with his frame, because baseball history is littered with pitchers who stand 6-foot-3 and 215 lbs.
Pitching Style: Sabathia at his peak was a pure power pitcher who dominated with a mid-90s fastball and a nasty slider. Tanaka is more of an artist. He doesn't operate with overpowering velocity. He outsmarts hitters by commanding an array of offspeed pitches. That command and feel for pitching will ostensibly allow Tanaka to age gracefully, a la Andy Pettitte.
But Mike, what about the elbow? Ah yes, the elbow. The elbow that hangs over every pitch Tanaka throws and every blog post written about him. Tanaka suffered a partially torn elbow ligament in 2014, successfully rehabbed the injury, and has pitched to a 3.26 ERA (3.72 FIP) in 353.2 innings since. Turns out the doctors knew what they were talking about. Tanaka didn't need Tommy John surgery. Weird.
Anyway, the fact Tanaka's elbow has held up in the two years since the injury doesn't mean the Yankees can simply ignore it when evaluating his long-term future. Health should play a pretty huge role in determining whether to sign a pitcher long-term. Three quick thoughts on the elbow:
1. The Yankees know Tanaka better than anyone. All we know about Tanaka's elbow is what the Yankees have chosen to tell us. They know his health and the status of the elbow ligament better than anyone. We could sit here and say extending a pitcher with a bum elbow would be crazy, but the Yankees and their doctors are looking over the medicals, and they may feel comfortable long-term. Truth be told, stick any 28-year-old pitcher in an MRI tube and you'll find something scary, including partial ligament tears. Many pitchers have them and don't even know it because they're asymptomatic.
2. There's some give and take here. Would the Yankees be taking a risk signing Tanaka to an extension because of the elbow? Of course. And that risk should be reflected in the contract, either in terms of fewer years or (most likely) fewer dollars. There should be some give and take on both sides. That doesn't mean Tanaka has to agree to a discount. He might say thanks but no thanks, I'll try my luck at free agency, and I wouldn't blame him one bit. But if he wants a big deal now, the Yankees will probably push for a slight discount given the elbow.
3. There are ways to build protection into the contract. A Lackey clause, specifically. When the Red Sox signed John Lackey to his five-year contract way back when, they included a clause in the deal that gave them a sixth year club option at the league minimum should Lackey have Tommy John surgery at some point during the life of the contract. He did and they picked up the option. Lackey had a preexisting ligament injury at the time of his signing and the league minimum option year was Boston's way to protect themselves. The Yankees could apply a Lackey clause to a Tanaka extension, and again, he doesn't have to accept it.
Alright, so after all of that, what will it take to sign Tanaka to an extension right now? I really have no idea what Tanaka and his agents will want. Ideally, the Yankees would tack something like two years and $50M on top of his current deal, but that essentially gives Tanaka and five-year deal worth $117M covering 2017-21. That's not much better than Samardzija money. Unless Tanaka is truly concerned about his elbow, I can't see him taking that. He'd beat that in free agency.
The Yankees might have to add something closer to three years and $90M to Tanaka's contract to get his attention. Top free agent starters are getting $30M a year now, remember. Zack Greinke, David Price, Clayton Kershaw, and Max Scherzer are all there right now. If the Red Sox approach Chris Sale or the Giants approach Madison Bumgarner about an extension, their annual salary demands will be begin with a three. That's the market now.
Adding three years and $90M to Tanaka's contract puts him at six years and $157M total from 2017-22. That's Cole Hamels (six years, $144M) and Jon Lester (six years, $155M) money. Seems much more reasonable to me. Let's call it six years and $160M total with a Lackey clause added at the end. That takes Tanaka through 2022 and his age 33 season if the elbow holds up. That's just young enough to land another nice contract, a la James Shields two years ago.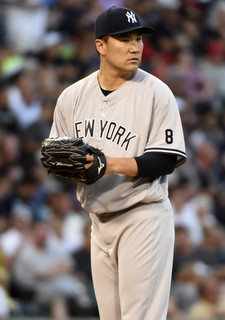 Now for the two big questions. One, why would Tanaka do this? Money, duh. He'd forego free agency for a large guarantee now. Tanaka would be trading his maximum earning potential, meaning a free agent bidding war, for the guaranteed cash upfront. Keep in mind Tanaka has already made a fortune playing baseball. The Yankees have paid him $66M the last three years, plus there's whatever he made in Japan. He's presumably comfortable enough financially that he can roll the dice in 2017 and shoot for the big free agent payday next winter. And if he gets hurt next year, he won't opt out and will still have $67M coming to him. It's a good spot to be in, that's for sure.
And two, why would the Yankees do this? To keep their ace and avoid a free agent bidding war. A bidding war is bad news. Next offseason's free agent pitching class looks much better than this year's at the moment — Jake Arrieta and Yu Darvish are both scheduled to hit the open market after next season — but that won't hurt Tanaka. Ace caliber starters are always in demand and teams will be lining up to pay him. Mark Melancon's market wasn't hurt by Aroldis Chapman and Kenley Jansen this winter, was it? Nope. Arrieta and Darvish won't take money away from Tanaka next offseason and vice versa.
The chances of Tanaka eclipsing five years and $138M — my proposed six-year, $160M deal minus the 2017 season — as a free agent next winter are pretty damn good, I think. The Yankees want to avoid that. They want to get out ahead of market and sign Tanaka without having to worry about the Dodgers or Nationals or whoever swooping in to sign him. Also, the Yankees are short on pitching beyond 2017. Extending Tanaka would help solve that problem.
This offseason is the best time to sign Tanaka to an extension because it's pretty much the only time to sign him to an extension. Sure, the two sides could negotiate a new deal during the season, but players usually try to avoid that. They like to focus on baseball and not contract talks once Spring Training begins. Maybe Tanaka is different. Maybe he's more than willing to talk contract during the 2017 season. Who knows.
Waiting until next offseason, right before the opt-out, gives Tanaka all the leverage. That's what happened with Sabathia years ago. The Yankees had their backs up against the wall because they didn't want Sabathia to actually use the opt-out and create a bidding war. Waiting until after next season would give Tanaka that same leverage. The Yankees at least have some leverage right now. There's less urgency. They don't have to sign him, after all.
I don't expect the Yankees to get serious about an extension with Tanaka this offseason. They seem too dug on in getting under the luxury tax threshold in the near future, and a big money contract would complicate that. Also, it's not really the club's M.O. to sign players to extensions. Brett Gardner is the only notable exception in the last eight or nine years. If the Yankees are going to go against the grain though, Tanaka's the kind of player you do it for.
Extension or no extension, Tanaka is the Yankees' best player and therefore most indispensable player. The pending opt-out makes 2017 a huge season for both Tanaka and the team. He wants to put himself in the best possible position going into free agency, and the Yankees want him to pitch well because it'll help them win. The better he pitches, the more likely he is to opt-out though. It's a Catch-22. An extension now would solve a lot of problems.