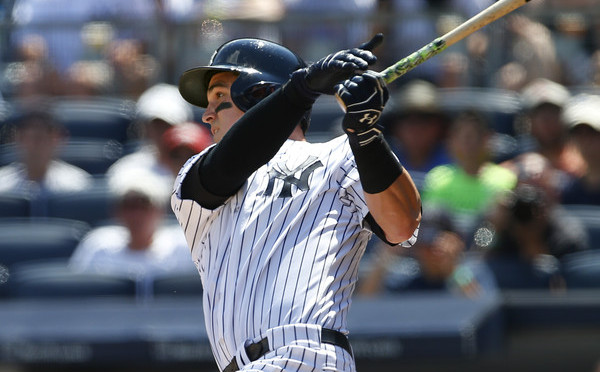 Hands down, my favorite moment of last season was Tyler Austin and Aaron Judge socking back-to-back home runs in their first career at-bats. (Gary Sanchez's two-month rampage was awesome, but not really a "moment.") The Yankees had just sold at the deadline and turned things over to the kids, and they provided instant gratification. That was such a fun afternoon.
As you know, both Austin and Judge slipped into slumps following their home runs because the big leagues are hard, especially when you're just getting your first taste. Judge hit a few more mammoth homers along the way but his slump basically lasted until he suffered a season-ending oblique injury on September 13th. That was pretty lame. The good news is Judge is healthy and working on things this winter.
Austin, on the other hand, came out of his slump in September and finished the season strong, which included a handful of clutch late-inning home runs. Overall, Austin hit .241/.300/.458 (102 wRC+) in his 90 plate appearances with the big league team last summer, which isn't too shabby for a kid getting his first taste of the show. Here's a fun graph showing how Austin reached that 102 wRC+ at season's end:
He started with a bang, slumped hard for a bit, then gradually climbed his way back to respectability, all in a relatively short period of time. Austin recently admitted to Brendan Kuty he was trying to hit a home run each time he went to the plate early on, which got him out of whack mechanically. After some work with hitting coaches Alan Cockrell and Marcus Thames, Austin got back on track and finished strong.
"My head was flying out, swinging at everything — in and out of the zone," said Austin to Kuty. "That's not me. That was just me trying to hit a home run every time up and trying to pull anything I could. When I'm right, I can hit the ball out of the park using all parts of the field."
We certainly saw that all fields power last season. Well, no, actually. That's not true. Austin hit five home runs and all five were to the opposite field at Yankee Stadium. It really was an impressive display of opposite field power. We've yet to see Austin pull the ball over the fence, though I suspect it's only a matter of time until that happens. The kid clearly has some power.
Austin was indeed swinging at everything early on — he went 3-for-31 with ten strikeouts immediately following the debut homer — before settling down and showing some semblance of plate discipline. Here are his in-zone and out-of-zone swing rates: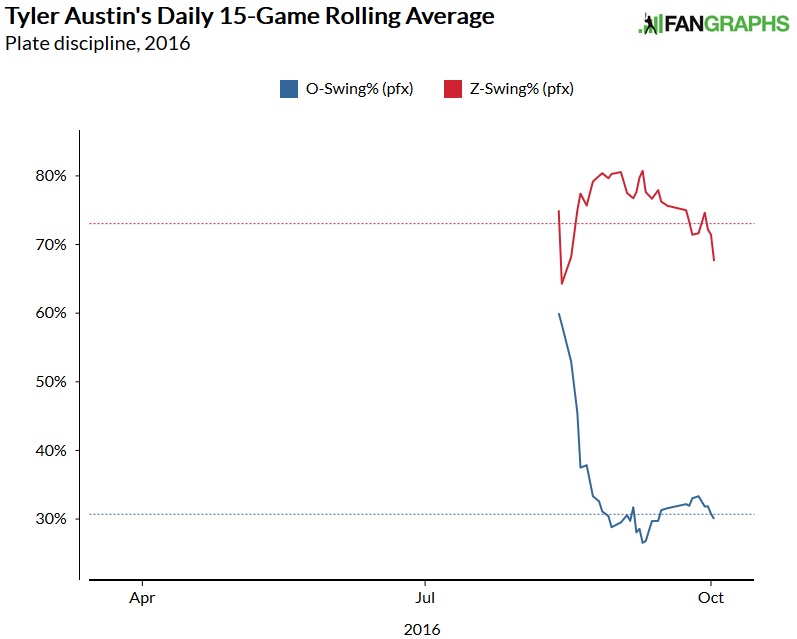 His out-of-zone swing rate (O-Swing%) was sky high at first before coming back down to Earth. Austin managed to finish the season with a 30.7% swing rate on pitches out of the strike zone, which is almost exactly league average (30.6%).
As for pitches in the strike zone, Austin's swing rate was a touch high for a bit before stabilizing. His overall 73.1% swing rate on pitches in the zone was quite a bit higher than the 63.9% average, though swinging at pitches in the zone isn't a bad thing. The next step is learning to tell a hittable pitch in the zone from one you should lay off, such as a changeup at the knees likely to generate weak contact.
Getting to the big leagues was not easy for Austin, who at one point was designated for assignment and went through waivers unclaimed. And let's not kid ourselves either, he's close to a bat only prospect. Austin is not a good gloveman at first and he's comfortably below average in right field. He'll have to hit and hit big to have big league value, and the fact he made a quick adjustment to stop chasing out of the zone bodes well going forward.
The Yankees insist the first base job is up for grabs and will not automatically go to Greg Bird, though I'm sure if you could get an honest out of Brian Cashman & Co., they'd say they want Bird to take the job and run with it. Austin could very well be Bird's platoon mate at first base while also seeing time in the outfield and at designated hitter. If he hits, they'll get him in the lineup somehow.
Austin had to basically turn his entire career around last season just to get back to Triple-A, nevermind reach the big leagues for the first time. And now that he's in the show and has had some level of success, he'll be given the opportunity to remain on the roster. This is hard part. Keeping the big league job. Austin's quick adjustments last year were nice to see, and he'll have to keep making them to be part of the Yankees going forward.