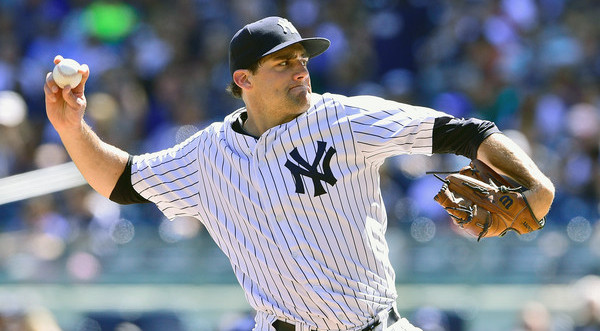 Thanks to his relatively new splitter, the 2016 season was supposed to be a breakout year for Nathan Eovaldi. Instead, he struggled to keep the ball in the park all summer — at one point the Yankees demoted him to the bullpen — then he blew out his elbow in mid-August. Eovaldi managed to tear the flexor tendon clean off the bone. Ouch. He also needed his second career Tommy John surgery.
The Yankees released Eovaldi after the season because, well, there was no reason to keep him around. He would have qualified for free agency after the 2017 season, so it's not like he would have remained under team control once healthy. The Yankees would have paid Eovaldi a hefty sum (projected $7.5M through arbitration) to rehab, only to have him hit free agency after the season. With 40-man roster space needed, releasing Eovaldi was a no-brainer.
The release doesn't automatically end the relationship between Eovaldi and the Yankees. In fact, earlier this week Brian Cashman told Brendan Kuty the Yankees have had discussed a possible reunion with Eovaldi's agent. From Kuty:
"Obviously, he's a free agent, and we've had some discussions with Nate Eovaldi about trying to find a solution that works for both sides. But he's still a free agent and there's competition for him. Other than the injury, you couldn't say enough about him. His makeup's off the charts. His work ethic was off the charts. He was a performer for us. But, unfortunately, injury hit. But he's on the free market, and he's weighing a lot of different decisions. Yes, I've talked to (Eovaldi's agent) Seth Levinson several times regarding him."

The elbow injury and subsequent surgery means Eovaldi is not a 2017 option. He won't help the Yankees or any other team this season. Whoever signs him will do so with an eye on 2018 and possibly beyond. Some quick thoughts on the Eovaldi situation:
1. Of course the Yankees should look to re-sign him. Pitching is a finite resource, there's only so much of it to go around, and the Yankees are lacking it. Both at the moment (depending on your faith in the kids) and in the future, beyond 2017, after CC Sabathia and Michael Pineda and possibly Masahiro Tanaka become free agents. Eovaldi is essentially a lottery ticket for the future. Buy him now and hope he pays off down the line. As long as the Yankees don't count on him for anything — "We don't have to worry about a fifth starter for 2018 because Eovaldi will be back." — it's an obvious move.
2. The Yankees have done stuff like this before. Over the years the Yankees have signed plenty of injured pitchers with the idea of having them contribute a year or two down the line. Jon Lieber is the most notable example. He had Tommy John surgery in August 2002, the Yankees signed him to a two-year deal in February 2003, rehabbed him that year, then got a solid 2014 season out of him. Worked out perfectly.
Of course, most other times it didn't work. Octavio Dotel didn't pan out. Neither did David Aardsma nor Andrew Bailey. Not Matt Daley either. Tommy John surgery is a significant risk. I know the procedure itself is relatively routine, but the rehab isn't. Sometimes guys take a while to get back to full strength, which was the case with Dotel. Sometimes they never get back to normal. That's what happened with Aardsma. The risk will inevitably be reflected in Eovaldi's contract.
3. Contract precedents exist. In each of the previous two offseasons, the Royals signed a pitcher who was rehabbing from a major arm surgery, so they're Eovaldi's contract benchmarks. The pitchers:
Kris Medlen: Signed a two-year deal worth $8.5M with a mutual option for a third year in December 2014. Medlen had his second career Tommy John surgery in March 2014 and returned to the mound in July 2015.
Mike Minor: Signed a two-year deal worth $7.25M with a mutual option for a third year in February 2016. Minor had shoulder surgery in May 2015 and made eight rehab starts in 2016 before being shut down.
Both contracts were backloaded — Medlen made $2M in year one and $5.5M in year two, Minor made $2M in year one and $4M in year two (the rest of the guaranteed money was tied up in the option buyouts) — which makes sense, because those two were rehabbing most of year one. An Eovaldi deal figures to be structured in the same way.
Of course, neither the Medlen nor the Minor contracts have worked out as hoped. Medlen had a 5.12 ERA (4.44 FIP) in 82.2 innings in his two years with Kansas City. Minor had a 5.74 ERA (5.52 FIP) in 42.1 minor league innings last year, and now we'll see what he does this coming season. That isn't to say they were bad signings by the Royals. They rolled the dice and weren't rewarded. Medlen and Minor are just a reminder of the risk involved.
Cashman indicated other teams are in the mix for Eovaldi — the Rays were connected to him at one point earlier this offseason — which kinda stinks, because he might chase after every last dollar. When you're only 26 and your elbow has already blown out twice, and your career earnings are under $10M, maxing out your next contract might not be a bad idea. The Yankees know Eovaldi and are apparently comfortable bringing him back. Hopefully that feeling is mutual and they work something out.