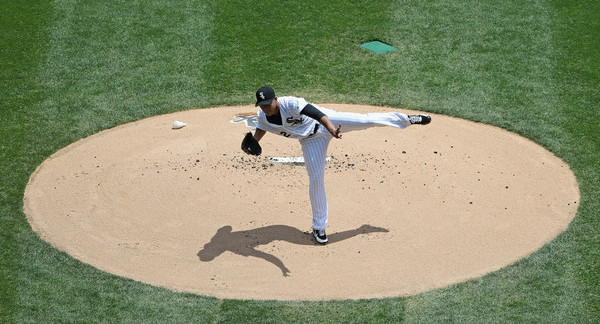 Seven weeks from today, the Yankees will open Grapefruit League play with a home game against the Phillies at the newly renovated George M. Steinbrenner Field in Tampa. Seven weeks sounds much closer than it actually is. Anyway, the Yankees still have some offseason business to handle. Here are the latest hot stove rumblings.
White Sox not budging on Quintana
Left-hander Jose Quintana is still with the White Sox and the team is not budging on their asking price, reports Ken Rosenthal. They want tippy top prospects. The Yankees are among the teams in the mix for Quintana, but Rosenthal says they're less inclined to deal their top prospects. Other clubs like the Astros and Pirates are more willing to go for it because they're closer to contention.
Early in the offseason Brian Cashman said he "would not recommend" the Yankees trade several top prospects for a high-end starter because they're not one piece away from contention and need to build a young core. That was the logic behind passing on Chris Sale and that's why they're not gung-ho about Quintana. Maybe the extra year of control changes things, but it doesn't seem so. That's too bad. I really like Quintana. He'd be a wonderful addition.
Yankees still seeking lefty reliever
According to Jon Heyman, the Yankees are among the teams still in the market for a left-handed reliever. They've been looking for a lefty bullpen arm basically all offseason, so Heyman's report isn't coming out of nowhere. At the moment, New York's lefty reliever depth chart looks like this:
Aroldis Chapman
Tommy Layne
Chasen Shreve
Richard Bleier
Dietrich Enns
Joe Mantiply
Jason Gurka
Maybe flip Shreve and Bleier, but that's it. Chapman is in his own little world as the closer — he won't be used in a matchup situation in the seventh inning, for example — so the depth chart really starts with Layne. I'm not 100% convinced the Yankees need another lefty, but, if they're determined to sign one, there are a few interesting free agents. Boone Logan and Jerry Blevins are the best of the lot.
Yankees not focusing on short-term additions
After signing Matt Holliday, the Yankees are not willing to deal prospects for short-term upgrades, said Cashman during a recent MLB Network interview (video link). "We're very protective of the work we've done thus far, and we don't want to do anything at the expense of a short-term gain. We want to make sure it's for long-term efforts as well. And as we've seen since last winter, the price of doing business trade-wise is extremely high," said the GM.
This kinda circles back to Quintana, who is under control through 2020 and qualifies as a long-term buy. Would the Yankees like to have him? Of course. But they're not willing to give up top prospects to get him. Chapman is now under control for five years (well, three because of the opt-out) but the Yankees only had to give up cash to get him. If they could get Quintana for just cash, they'd do it. Trading top prospects for anything short of an established young player with several years of cheap control was never going to happen this winter.