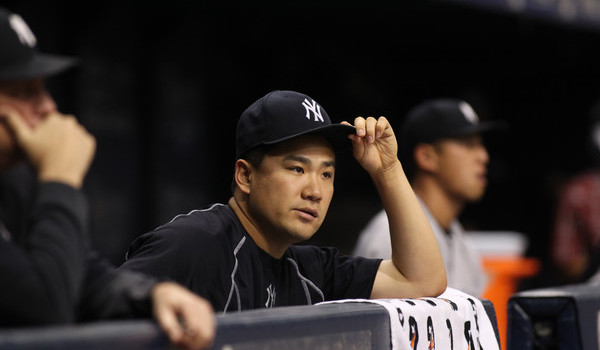 Five years ago the Yankees played the entire summer knowing their best starting pitcher could opt-out of his contract and leave as a free agent after the season. This coming season, they're going to do the exact same thing. Masahiro Tanaka's opt-out clause is going to loom over the 2017 season the same way CC Sabathia's loomed over the 2012 season.
The circumstances are different yet similar. The 2012 Yankees were expected to contend, and sure enough they won 95 games and went to the ALCS. The 2017 Yankees are kinda sorta in a rebuild, but they're still trying to win, so much so that they spent $13M on a designated hitter and a heck of a lot more on a closer this offseason. The 2012 and 2017 outlooks may be different, but ultimately, the Yankees are still fancying themselves contenders.
A few weeks ago I wrote the Yankees should explore an extension with Tanaka this offseason, and that remains my preference. Yeah, I know, the elbow!!!, blah blah blah, yadda yadda yadda, but Tanaka is several years younger now than Sabathia was when he signed his extension, and I think there's a pretty good chance Tanaka will age better than Sabathia given their body types and pitching styles. It's in the post. Go ready it.
Anyway, earlier this week Brian Cashman confirmed that no, the Yankees have not discussed exploring a contract extension with Tanaka this offseason. They haven't even discussed it internally, nevermind approach Tanaka's representatives about a deal. Mike Mazzeo has the quote:
"We have a significant contract with Masahiro Tanaka," Cashman said Tuesday night at the opening of Orangetheory Fitness in Manhattan. "Hopefully he has a great year, and then he'll have a decision to make. If he doesn't, then he won't. I think he pitched like a Cy Young award candidate last year, and I certainly hope he does so again this year. But at this point we've had no discussions internally to pursue any kind of extension."
It doesn't surprise me at all the Yankees have yet to discuss extending their staff ace. That's not really their style. The only three players they've extended before free agency over the last 10-15 years are Robinson Cano, Brett Gardner, and Sabathia, and Sabathia was literally minutes from opting out when he agreed to his extension. The Yankees waited until the last possible moment.
Assuming the Yankees don't reverse course and sign Tanaka to an extension, I see this playing out one of four ways:
Tanaka pitches well and doesn't opt-out. (Nope.)
Tanaka pitches poorly or gets hurt and still opts out. (Also nope.)
Tanaka pitches well and opts out.
Tanaka pitches poorly or gets hurt and doesn't opt-out.
I would be very surprised if Tanaka pitches poorly while being perfectly healthy this coming season. He's never not been really good when actually on the mound. Sure, the elbow might finally give or whatever, but as long as he's on the bump, history tells us he'll be effective. Health is a bigger variable than performance for me. As long as he stays healthy, he's opting out.
Under no circumstances can the Yankees go into the upcoming season planning to let Tanaka walk as a free agent next winter. If they try to re-sign him and fail because another team blows their offer out of the water, so be it. But if the plan is to play out the season with Tanaka, then let him walk because the elbow is just too much of a red flag, it would be complete madness. It would be so insane that I'm confident it won't happen.
Remember, under the terms of the new Collective Bargaining Agreement, the Yankees can only receive a draft pick after after the fourth round (after the fourth round!) for Tanaka or any other qualified free agent next offseason. You can't let Tanaka go for that. That pick has so little value. If the Yankees are wary about an extension — remember, they know Tanaka and his elbow better than anyone — then they have to be willing to trade him.
Think about it. The free agent class is so very weak right now. It was weak at the start of the free agency, and now that Rich Hill and Ivan Nova are off the board, the pickin's are slim. Jose Quintana is available and the asking price is high, which is scaring away some teams. Tanaka is not as valuable as Quintana because of his contract status and injury history, but the Yankees could still get a significant piece or two for him. No doubt.
The Astros stand out to me as the perfect trade partner. Houston has gone all-in this offseason and they're said to be in the mix for Quintana. They just don't want to give up the prospects Chicago is seeking. I get it. Tanaka would satisfy their need for a frontline starter and do so at a lower price, plus they have Brian McCann, the guy who has caught Tanaka the last three years. The learning curve would be much smaller. Those two know each other.
Either way, the sooner the Yankees make a decision about Tanaka's future, the better. Are they going to extend him? Great, then get down to business right now and try to avoid waiting until Tanaka has all the leverage like Sabathia did following his 2012 season. Are they unwilling to extend him? That's fine too, as long as the Yankees put him on the trade market right now. Waiting until the deadline is risky.