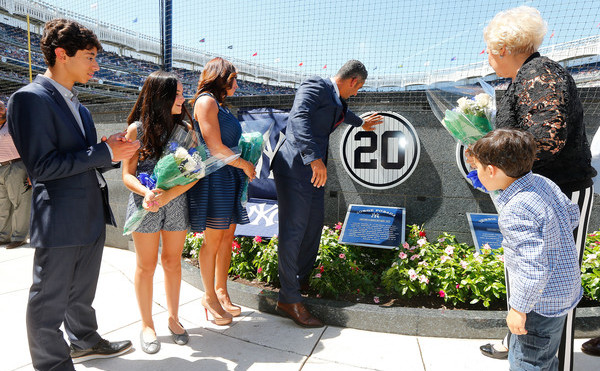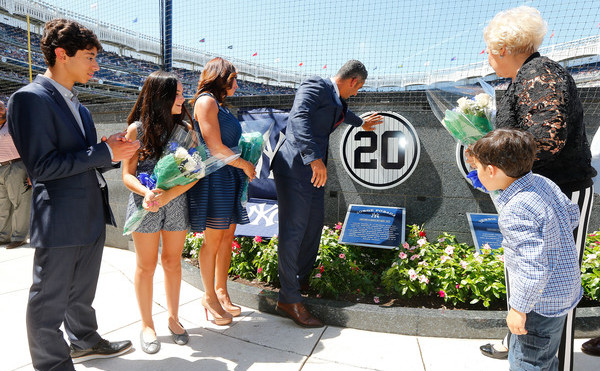 One week from today, the National Baseball Hall of Fame class of 2017 will be announced during a live MLB Network broadcast. At this point Tim Raines, who is on the ballot for the tenth and final time, seems to be a lock for induction, as does Jeff Bagwell. He's on the ballot for the seventh time. Trevor Hoffman, Vlad Guerrero, and Ivan Rodriguez are all on the bubble as well.
Among the 34 players on the ballot this year is Jorge Posada, the first member of the (groan) Core Four to be eligible for Hall of Fame induction. Mariano Rivera and Andy Pettitte hit the ballot in two years, Derek Jeter the year after that. Bernie Williams, the fifth member of the Core Four, was on the Hall of Fame ballot in both 2012 and 2013. He received 9.6% of the vote the first year and 3.3% the second year, which is why he dropped off.
Players need to appear on 75% of the submitted ballots to be elected into Cooperstown. They also need to receive at least 5% of the vote to remain on the ballot another year. Bernie didn't in 2013, so he dropped off. So it goes. Posada, it seems, is on a similar path. Current voting results indicate he's in real danger of slipping off the ballot in his first year of Hall of Fame eligibility.
According to the Hall of Fame public ballot tracker, which is the product of the hard work by man of the people Ryan Thibodaux, shows Posada has appeared on only 4.2% of the public Hall of Fame ballots as of this writing. He's already been mathematically eliminated from received the 75% necessary for induction this year, not that I expected him to get in anyway. Jorge is very much a borderline candidate. Borderline at best, really.
So far 185 ballots have been made public — those are from voters who posted their ballot on social media, in their newspaper, on a blog, whatever — while six others were sent to Thibodaux anonymously. That makes up roughly 44% of the voting body. Posada needs 14 more votes to clear the 5% threshold and remain on the ballot another year. We're still waiting on ballots from many New York voters, which could help Posada, though historically players have received less support from private ballots than public ballots. It's a long shot.
Now, I don't think it would be some kind of grave injustice if Posada doesn't make it into the Hall of Fame. Hardly. He's one of my all-time favorite players, but I recognize him as a borderline candidate. Posada was unquestionably one of the best catchers of his era and one of the best in Yankees history, though you have to squint your eyes a bit to really see his Hall of Fame case. It comes down to his offense, because Jorge wasn't a great (or even good) defender.
Among catchers with at least 5,000 career plate appearances, Posada is 12th all-time in OPS+ (121) and 14th all-time in wRC+ (123). He's ninth in OBP (.374) and eighth in SLG (.474). As a catcher only, meaning ignoring time as a DH and all that, Posada is seventh all-time in homers (246) and sixth in extra-base hits (599). He's also first in walks (818) and ninth in times in base (2,356). Posada hit .279/.380/.487 as a catcher. That's pretty awesome.
There's no question Posada, a career .273/.374/.474 (123 wRC+) hitter overall, was far better than the average catcher offensively. Far, far better. The question is whether the 12th or 14th or whatever best hitting catcher of all-time is worthy of being inducted into Cooperstown. For the vast majority of Hall of Fame voters this year, the answer has been no. Being part of four World Series titles teams (technically five, but Posada wasn't exactly a key component of the 1996 Yankees) hasn't helped his case much.
The fact the ballot is stuffed isn't helping matters either. Of the 191 ballots on Thibodaux's tracker, a whopping 110 voted for the maximum ten players. It's really easy to come up with about 12 players worthy of Hall of Fame votes this year, but there's only room on the ballot for ten, so inevitably a few deserving players get left out in the cold. Posada's an easy one to cast aside. Heck, if I had a ballot, I'm pretty sure Jorge wouldn't be among my "top" ten players, though I haven't put a ton of thought into it.
Posada's best shot at getting into the Hall of Fame was always going involve a long stint on the ballot with a gradual increase in support each year. Perhaps a Rich Lederer/Bert Blyleven, Jonah Keri/Tim Raines style campaign would have been necessary. The longer he stayed on the ballot, the more voters would consider him and realize how great he truly was. That was the plan. (As an added bonus, the longer the stayed on the ballot, the more unclogged it would get it.)
In all likelihood Posada is going to fall off the Hall of Fame ballot this year, his first year of eligibility. That stinks. At least Bernie stuck around for a second year. Posada is one of the greatest Yankees ever and no one will ever wear No. 20 in pinstripes again. Most players couldn't dream of having his career. Jorge seems destined to be overlooked as one of the greatest catchers in baseball history, which is kinda fitting I guess, because I always felt he was a bit underappreciated during his playing career.