Only five more weeks until the first Grapefruit League game. Almost there, folks. Anyway, we've got eleven questions in the mailbag this week. RABmailbag (at) gmail (dot) com is where you can send us any questions.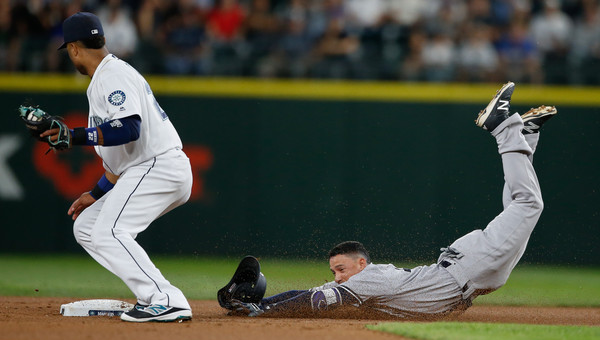 Michael asks: Injuries always happen. Seems like there are a few places we're vulnerable. What's your opinion of what will happen if injuries happen in spring training this year – a DL stint, not out for the season – to, Chase Headley, Gary Sanchez or more than one member of our three 'for-sure' starters in the rotation (seems like one always gets hurt)? (re; possible Sanchez injury, would Higashioka back up for a month?)
I think the Yankees would respond to any short-term injury — in this case, I'm thinking six weeks or less qualifies as short-term — by going with internal options. Long-term injuries are another matter. The Yankees might pounce and sign Luis Valbuena should Headley blow out his knee during an offseason workout, for example.
Since we're on the subject, let's lay out the Yankees' depth chart at each position and go four deep. This pretty much answers the "who would play if _________ gets hurt?" question. There's quite a bit of overlap at some positions.
| | Starter | Backup | Third String | Fourth String |
| --- | --- | --- | --- | --- |
| Catcher | Gary Sanchez | Austin Romine | Kyle Higashioka | Wilkin Castillo? |
| First Base | Greg Bird | Tyler Austin | Rob Refsnyder | Ji-Man Choi |
| Second Base | Starlin Castro | Ronald Torreyes | Ruben Tejada | Donovan Solano |
| Shortstop | Didi Gregorius | Ronald Torreyes | Ruben Tejada | Donovan Solano |
| Third Base | Chase Headley | Ronald Torreyes | Ruben Tejada | Donovan Solano |
| Left Field | Brett Gardner | Aaron Hicks | Tyler Austin | Rob Refsnyder |
| Center Field | Jacoby Ellsbury | Aaron Hicks | Brett Gardner* | Mason Williams |
| Right Field | Aaron Judge | Aaron Hicks | Tyler Austin | Rob Refsnyder |
* Last year Joe Girardi showed he'd prefer to keep Gardner in left field whenever possible, so if Ellsbury were to go down with an injury, I think Hicks would take over in center field.
I'm leaving out designated hitter because that's a unique position. Should Matt Holliday get hurt — or worse, play the outfield regularly — I think the Yankees would rotate players in and out at DH, with Austin and Hicks seeing increased playing time. Otherwise the depth chart is pretty straight forward until you get the fourth string, and I don't think anyone has a great fourth string option at any position.
As for the rotation, well, you just start going down the depth chart and calling up kids. There are the three veterans (Masahiro Tanaka, CC Sabathia, Michael Pineda), the four kids (Luis Severino, Luis Cessa, Bryan Mitchell, Chad Green), the two Triple-A top prospects (Jordan Montgomery, Chance Adams), and two Triple-A non-top prospects (Ronald Herrera, Dietrich Enns). I don't think the Yankees will put Adam Warren in their Opening Day rotation, but he's an option too. Whenever there's an injury to a starter, you just go right down the list and pick the next in line.
Chase asks: My question is a bit morbid, but does a Tanaka elbow pop early in the season completely change the season goals for the yanks. I think it makes a wildcard unattainable, which allows full attention on young player development and could signal a sell off of everything not nailed down. I guess the short version is Tanaka is the yanks MVP.
Yes, absolutely. Tanaka is the Yankees' best and most important player. Any realistic path to the 2017 postseason involves him having another ace-caliber season. Without that, it'll take a minor miracle for the Yankees to contend. So yes, if Tanaka's elbow gives out in Spring Training, it changes the season outlook dramatically. I can't speak for everyone, but my focus going into the season is on the kids anyway. Should Tanaka go down, I'm guessing more than a few folks will shift gears from "can they win?" to "let's see how the kids develop." Tanaka is far and away the team MVP. No doubt about it.
Sal asks: Domingo Acevedo gets a lot of the press, but what about Domingo German? Any news on him? He was old for his level, but decent results first 50 innings back from TJ.
German was the prospect the Yankees received in the ill-fated Nathan Eovaldi-Martin Prado trade. He blew out his elbow in Spring Training 2015, so it wasn't until June 2016 that he took the mound for the Yankees in an official game. German, 24, had a 3.29 ERA (3.82 FIP) with 19.6% strikeouts and 5.9% walks in 54.2 innings split between Low-A Charleston and High-A Tampa. Baseball America says he hit 100 mph with his fastball, so that's encouraging.
Last offseason the Yankees non-tendered German and re-signed him to a minor league contract while he rehabbed from his Tommy John surgery. They were impressed enough with what they saw in those 54.2 innings last season that they re-added him to the 40-man roster to prevent him from becoming a minor league free agent. German has two great pitches in his fastball and changeup, though his slider is a work in progress.
It's entirely possible German will never figure out a reliable breaking ball, and if that happens, he's likely headed for the bullpen full-time. He still has two minor league options remaining, so the Yankees can afford to be patient and let German work as a starter both this coming season and next. My guess is he'll start back with High-A Tampa and receive a quick promotion to Double-A Trenton. German is kind of a forgotten arm in the system. Kid can bring it.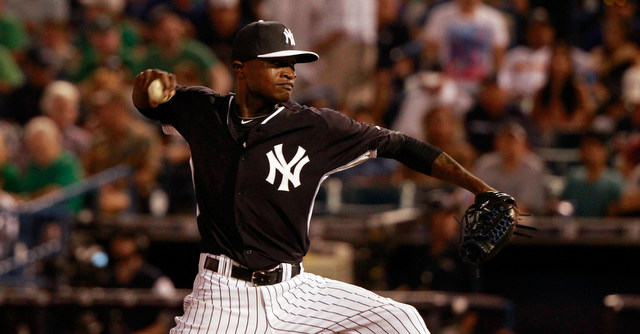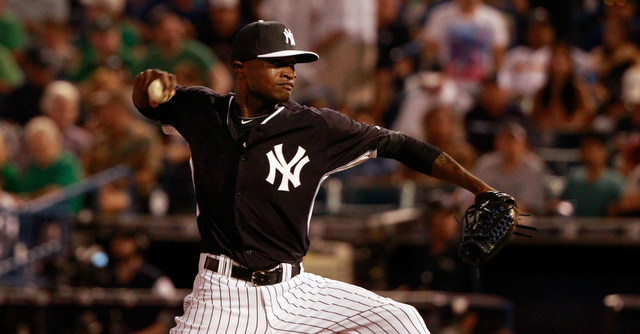 John asks: With the Yankee farm system being highly regarded these days it got me wondering about the success of other clubs with high ranking systems in the past. Do teams that have the best farm systems generally turn out to be winning teams? And how long does it historically take for a stacked farm system to pay dividends at the MLB level on a wins basis?
There have been several studies about this over the years — Sky Andrechek's is one of the best, though it's a bit old now (Matt Swartz did one too) — and they've almost all found top farm systems correlate extremely well to big league success in subsequent seasons. A great farm system doesn't guarantee success because there are other factors at play, like veterans on the roster and whatnot, but generally speaking, a top tier farm system bodes extremely well going forward. The top systems tend to have top prospects and depth, so the odds of producing several quality big leaguers are quite good. That frees up to money to do other things and improve the roster even more. Farm system rankings are completely subjective, remember. The consensus says the Yankees have one of the best systems in the game though, if not the best, which suggests they're in great shape moving forward.
Chip asks: Looking at the list of MLB Free Agents, who do you think could be this year's Eric Chavez? The once really good player who just randomly appears on the list of Yankees non-roster players at Spring Training. It can't be Ruben Tejada, because he was never really that good. I'm thinking someone like Ryan Howard or maybe CJ Wilson would qualify.
The first year the Yankees signed Chavez, he basically just showed up to camp. There were no rumors at all, and on the day position players reported to Spring Training, the team announced he was in camp as a non-roster player. It was a complete surprise. I remember thinking Jimmy Rollins would be that player last year, but then the White Sox signed him in late-February.
This year, if the Yankees pull a stealth signing like that, I think it'll be a pitcher. C.J. Wilson is a good candidate, though I think the Yankees would go after a healthy pitcher who could step on the mound right away. Wilson is coming off elbow and shoulder surgeries. I keep coming back to this name, but Jorge De La Rosa seems like the guy to me. The Yankees were connected to him numerous times over the years, and a veteran lefty used to pitching in a tough environment (Coors Field) seems like a solid bet for a minor league deal. Edwin Jackson, Chris Johnson, and (gasp!) Stephen Drew could be other candidates.
Ross asks: Given that Greg Bird might need more time to get his timing back, it had me wondering, how long would he need to be in the minors next season for the Yankees to get that year of service time back?
Bird picked up 53 days of service time in 2015 — and a full year of service time last year while on the big league disabled list, but that's besides the point — which means he'll need to spend about 65 days in the minors to delay free agency another year. Two months, basically. It might be worthwhile, you know. If Bird still looks rusty in Spring Training, sending him down until June to "buy back" the year the team lost to the injury last season wouldn't be a terrible idea. It gives Austin two months of regular at-bats in the big leagues and allows Bird to get back on track in a low-pressure environment.
The Yankees kept Severino in the minors just long enough to delay his free agency last year, though they had to send him down at midseason because he stunk. Bird is coming off an injury, and sending him down on Opening Day to regain his timing may be their only opportunity to send him to the minors. If he's healthy and rakes, they can't send him down. I mean, they could, but it would look fishy. The Yankees have the money to pay Bird when the time comes, so maybe this isn't a big deal. But, if he winds up in the minors again for whatever reason, 65 days is the magic number.
Michael asks: Gary Sanchez for Jose Quintana straight up. Who says no?
Both teams. I think the Yankees would sooner trade minor league prospects like Clint Frazier and Gleyber Torres than Sanchez, who plays an extremely valuable position and has had big league success, albeit in a limited sample. At the same time, the White Sox are not wrong to demand more for Quintana than just Sanchez. How much more? Well, that depends. But I don't think asking for more is unreasonable. I think both teams would pass on this one. The Yankees want to keep the high-end catcher and the White Sox want more than one player for by far the best available starting pitcher on the trade market.
Craig asks: How is it that the White Sox can get 2 top 20 pitching prospects for Adam Eaton? I like him as much as the next guy, but he doesn't seem like a game changer. I know Gardner is older and more expensive, but they seem like very comparable players. If we threw in money could we have landed even one of these guys for Brett Gardner?
Nah, Eaton is quite a bit better than Gardner. It's not just the age and production, it's the contract too. Here are their stats over the last two years (this makes Gardner look better and Eaton look worse):
| | PA | AVG/OBP/SLG | wRC+ | XBH | HR | SB-CS | fWAR | bWAR |
| --- | --- | --- | --- | --- | --- | --- | --- | --- |
| Eaton | 1,395 | .286/.362/.430 | 117 | 103 | 28 | 32-13 | +9.7 | +10.2 |
| Gardner | 1,290 | .260/.347/.381 | 102 | 80 | 23 | 36-9 | +5.1 | +6.7 |
Gardner turns 34 in August and is owed $23M over the next two seasons with a $12.5M club option for a third year. Eaton turned 28 last month and is owed $18.4M over the next three seasons with $9.5M and $10.5M club options for an additional two seasons. Pretty huge difference there, especially when you consider their on-field performance.
Personally, I think the White Sox did extremely well for Eaton, and I'm not a big Lucas Giolito fan. They sold as high as possible on Eaton — his WAR jumped last year because he moved to right field, and now that he's going back to center, his good but not great glove will cost him some — and turned him into three good arms. If the Yankees could have one of those young arms for Gardner, I'm sure they would have jumped all over it.
Paul asks: I asked a version of this in last week's chat. I keep hearing that the Yankees have a very deep farm, but I don't know how deep that is. There are 30 teams, and let's talk about each team's top 30 prospects. That's 900 total prospects. How many of the top 900 prospects in baseball are in the Yankees' system? Anything over 30 is good. Is it 35? 45?
I'm not sure I can answer this, though keep in mind the top 30 prospects in each system do not automatically equal the top 900 prospects in baseball. Right now players like Ben Heller and the Holders (Jonathan and Kyle) are just outside my top 30 Yankees prospects — that's subject to change before I post the final list, I always go through multiple iterations — but I'm certain they'd be in the top 30 for most other teams.
Look at the Angels, for example. MLB.com says Nate Smith, their fifth best prospect, has a ceiling of a fourth or fifth starter. That's their fifth best prospect. Smith might not crack New York's top 30. This is nothing more than a guess, but ballpark figure, I'd bet something like 50-55 of the top 900 prospects in baseball are Yankees right now. Maybe even a little more. The system is crazy deep with players who project to be average or better big leaguers, and those types of dudes are more valuable than they great credit for.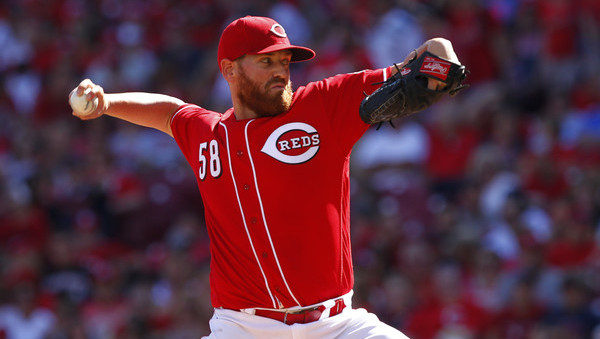 Joe asks: For months was hoping Yankees would pursue Straily from Cincinnati. Now he's been traded to Miami. What would've been a similar comp trade wise that cash could've put together? Thoughts on him as a pitcher?
I both can and can not believe the Marlins gave up that much — three of their top ten prospects, per MLB.com! — to get Dan Straily. Dan Straily! I can believe it because Miami always seems to pay big in trades. I can't believe it because, well, it's Dan Straily. He was bouncing around waivers last offseason.
Straily, who turned 28 last month and comes with four years of team control, had a fine season for the rebuilding Reds last year, pitching to a 3.76 ERA (4.88 FIP) in 191.1 innings. Look under the hood and you've got a pitcher who:
Averaged 89.2 mph with his fastball.
Walked 9.2% of batters faced last season and 9.3% in his career.
Doesn't keep the ball on the ground or in the park (32.0 GB% and 1.46 HR/9 in 2016).
That is not someone I would be looking to bring to Yankee Stadium and the AL East. If he were on waivers again, fine, scoop him up as depth. But trade three legitimate prospects for him? Not a chance. Luis Castillo and Austin Brice, the two best prospects going to Cincinnati, are on par with Acevedo and Heller, I'd say.
The goal should be finding the next Dan Straily via waivers or free agency or whatever, not trade actual prospects for the real Dan Straily. The Marlins have a history of doing that, paying big to acquire some other team's random older breakout player. It's too bad Miami has like no prospects left. The Yankees could hook them up with a shiny new Austin Romine or Ronald Torreyes or something.
Rich asks: To me, Tyler Austin looks like he is physically built and has the offensive profile to play third base. Do you think a) you could agree with that analysis and b) Girardi would give him some reps in the hot corner this spring if they're still not comfortable with Castro as the back up 3B?
He has the offensive profile for third base, for sure, but he can't play third. Teams, especially the Yankees, do not hesitate to move prospects to more valuable positions if they think the player can handle it. That's why Refsnyder was moved from right field to second base, and why Adams went from reliever to starter. Heck, they even tried Peter O'Brien at third base. If they think it's possible, they'll try it in the minors.
Austin did play some third base in the minors. Thirty-five total games, in fact, with 24 of the 35 coming back in 2011, when he was in rookie ball. He played three games at the hot corner in Triple-A last year because the roster was thinned out due to injuries and promotions, and they really didn't have anyone else. Austin doesn't have the defensive tools for third. His reactions aren't quick enough and his arm isn't accurate enough. The Yankees could stick Austin at third in an emergency, but as far as playing there regularly, it won't happen. He doesn't have the tools for it.