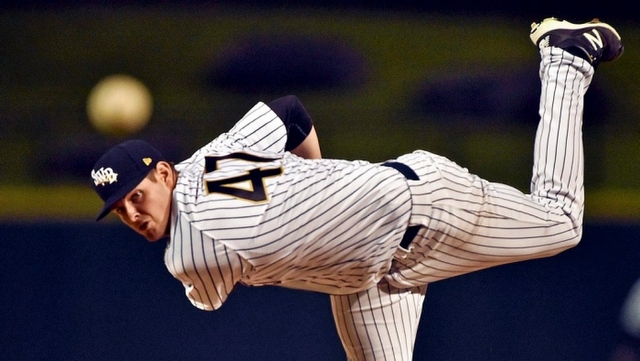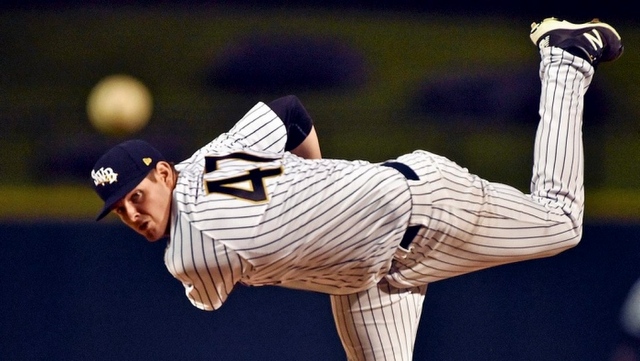 Jordan Montgomery | LHP
Background
Montgomery, who turned 24 last month, grew up in the relatively small town of Sumter, South Carolina, about 40 miles outside Columbia. He was a star at Sumter High School and was named 2011 Gatorade State Player of the Year after going 11-0 with a 0.38 ERA and 114 strikeouts in 74.1 innings as a senior. Montgomery tossed a seven-inning shutout in the state championship game that year.
Despite a stellar prep career, Baseball America did not rank Montgomery among their overall top 200 prospects or even their top 40 prospects in South Carolina prior to the 2011 draft. He went undrafted that year and instead followed through on his commitment to the University of South Carolina, where stepped right into the rotation and was teammates with former Yankees farmhand Tyler Webb.
As a first year player in 2012, Montgomery pitched to a 3.62 ERA in 74.2 innings spread across 13 starts and two relief appearances. He struck out 57 batters and walked only ten. That earned him a spot on the Freshman All-American Team. Montgomery threw eight scoreless innings against Arkansas to help put South Carolina in the College World Series Finals, where they lost to Rob Refsnyder's Arizona Wildcats.
The following season Montgomery emerged as the staff ace by throwing 79 innings of 1.48 ERA ball. He struck out 64 and walked 18. The Gamecocks did not advance to the College World Series in 2013, but Montgomery did keep their season temporarily alive by shutting out North Carolina in the Super Regionals. He allowed four hits in the game. Montgomery was named Gamecocks MVP and to the SEC Academic Honor Roll.
As a junior in 2014, Montgomery threw a collegiate career high 100 innings with a 3.42 ERA while striking out 95 and walking 29. He was again named to the SEC Academic Honor Roll. Baseball America ranked Montgomery as the fourth best 2014 draft prospect in South Carolina and the 120th best prospect in the draft class overall. The Yankees selected him in the fourth round (122nd overall) and signed him quickly for a full slot $424,000 bonus.
Pro Career
The Yankees took it easy on Montgomery after the draft and limited him to only 19 innings in his pro debut. He had a 3.79 ERA (2.30 FIP) with 20 strikeouts and six walks in those 19 innings split between the rookie Gulf Coast League and Short Season Staten Island. All told, Montgomery threw 119 innings in 2014.
The following season the Yankees assigned Montgomery to Low-A Charleston, but that didn't last very long. He was promoted to High-A Tampa after only nine starts, and he remained with Tampa the rest of the season. Montgomery had a combined 2.95 ERA (2.61 FIP) with 24.1% strikeouts and 6.6% walks in 134.1 innings at the two levels in 2015.
This past season Montgomery started at Double-A Trenton, where he remained most of the summer. It wasn't until early August that he was bumped up to Triple-A Scranton. He finished the year with a 2.19 ERA (2.91 FIP) with 22.7% strikeouts and 7.7% walks in 152 total innings. Montgomery set a RailRiders' record with a 29.2-inning scoreless streak, and he got the win in the Triple-A Championship Game over El Paso (Padres).
Scouting Report
Montgomery is a big dude at 6-foot-6 and 225 lbs., and he's been gradually adding velocity over the years. He sat in the mid-80s in high school, got up to 88-90 mph for most of his college career, then lived in the 90-92 mph range in pro ball in 2015. Last year his velocity climbed again, this time into the 93-95 mph range, and he held that velocity all season and deep into starts. How about that?
That 93-95 mph fastball is Montgomery's straight four-seamer. He also throws a sinker that is more of a low-90s offering, as well as a cutter right around 90 mph. His best pitch is a sinking changeup in the low-80s. Montgomery also has a quality curveball, so he's a true five-pitch pitcher. As you'll see in this video, he throws from an extreme over-the-top arm slot:
Montgomery is a good athlete and he repeats his delivery very well for someone his size. He has no problem filling the strike zone and the guy never misses a start. He's been healthy all throughout his amateur and pro career. The Yankees love that Montgomery has thrived in pressure games — SEC baseball is incredibly competitive — and that he's a very diligent worker.
2017 Outlook
The Yankees will surely bring Montgomery to big league camp as a non-roster invitee this spring, and while I would bet against him winning an Opening Day roster spot, it's all but guaranteed he'll make his MLB debut at some point this summer. Montgomery will return to Triple-A for the time being and continue to fine tune things until his time comes. It's important to note he is not on the 40-man roster yet, which could work against him. Others like Dietrich Enns and Ronald Herrera could get the call first.
Miscellany
I don't mean this as a slight, but I didn't think too much of Montgomery when he was first drafted. I thought maybe he could be a left-handed version of Adam Warren, a successful big program college starter who finds success as a big league swingman, but since then Montgomery has added a cutter and gained considerable velocity, improving his long-term outlook dramatically. He's gone from swingman candidate to no-doubt starter in his two full pro seasons. It's hard not to love that.
The only real concern I have about Montgomery is his arm slot, and whether it'll lead to a big platoon split because right-handed hitters get a good look at the ball. Right-hander Josh Collmenter has a similar arm slot and lefties have hit him pretty hard over the years. Montgomery was actually more effective against righties than lefties in the minors this year, though I wouldn't read too much into that. We'll just have to see how his arm slot plays in the show when the time comes. For now, Montgomery is a near MLB ready workhorse southpaw, and good gravy do the Yankees need one of those.