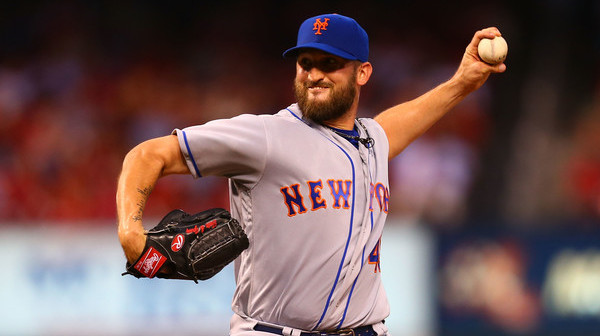 Things have been awful quiet around the Yankees since the Aroldis Chapman signing, which both makes sense and is kind of annoying. The club was never going to spend big for a free agent bat, and trading top prospects for an impact pitcher was always unlikely, meaning there isn't a whole lot going on at the moment. Tinker with the margins of the roster. That's about it.
A small army of cheap veteran starters remain on the free agent market, and with the Yankees set to rely on young pitchers in two of the five rotation spots, it wouldn't surprise me at all if they swooped in to sign one before free agency. Among those still looking for a job is former Mets southpaw Jon Niese, who turned 30 back in October. He's not the most exciting name out there, far from it, but is he a fit for the Yankees? Let's give him a look.
Injury History
This is the best place to start, I think. Niese's season came to an abrupt end on August 23rd last year, when he faced four batters in a spot start before being forced to exit with left knee pain. He had season-ending surgery to repair a torn meniscus the next day. After the injury, Niese told reporters he'd been pitching through knee pain since June, and it was bad enough that he needed the knee drained and a few cortisone shots along the way.
Aside from last season's knee injury — by all account Niese's rehab is going fine, and given the typical rehab timetable of a meniscus repair, he should be ready to go by now — Niese has dealt with on and off physical problems over the years. No arm surgeries, but not stuff you can easily ignore either:
2009: Missed two months with a torn right hamstring.
2010: Missed six weeks with a strained right hamstring.
2011: Missed a month with a right intercostal strain.
2012: Healthy!
2013: Missed nearly two months with a small rotator cuff tear. He only needed rest and rehab.
2014: Missed two weeks with elbow inflammation, then another two weeks with a shoulder strain later in the season.
2015: Healthy!
The hamstring woes were kinda fluky — he tore the hamstring running over to cover first base — and Niese has had no hammy problems since. The arm injuries in 2013 and 2014 are more concerning, even though they're a few years in the past now. Niese returned from the rotator cuff tear in 2013 and was marvelous (3.00 ERA and 3.11 FIP in 66 innings), so that's encouraging. His arm hasn't given him any trouble since 2014. Some scary stuff in there. No doubt.
Recent Performance
The Mets traded Niese to the Pirates for Neil Walker last offseason, then the Pirates traded him back to the Mets for Antonio Bastardo at the trade deadline. All told, he made 20 starts and nine relief appearances in 2016, and pitched to a 5.50 ERA (5.62 FIP) in 121 total innings. Yikes. HOWEVA, look at the breakdown:
| | IP | ERA | FIP | K% | BB% | GB% | HR/9 |
| --- | --- | --- | --- | --- | --- | --- | --- |
| First 12 starts | 71 | 3.93 | 5.10 | 15.8% | 7.7% | 55.0% | 1.52 |
| Last 17 games | 50 | 7.74 | 6.35 | 16.5% | 9.8% | 45.8% | 2.34 |
Remember all that stuff about pitching with knee pain since June and needing cortisone shots and all that? Guess when Niese made his 12th start. Yep. June. That 12th start was the end of a five-start stretch in which Niese allowed six runs total in 31 innings. He was great. Then, suddenly, he crashed and allowed 28 runs in his next six starts and 30.2 innings. Hmmm.
Now, we can't say anything definitive here, but it sure seems to me pitching through knee pain — it was Niese's left knee, his push-off knee — may have compromised Mr. Niese's performance. Call me crazy. His home runs were up all year — everyone's home runs were up in 2016 — and that's a red flag. Otherwise those first dozen starts were typical Niese. A below average rate of strikeouts, but plenty of grounders and not a ton of walks. That's Niese.
In 2015, his last healthy season, Niese managed a 4.13 ERA (4.41 FIP) with 14.7% strikeouts, 7.1% walks, 54.5% grounders, and 1.02 HR/9 in 176.2 innings. That's not great by any means, but it is serviceable. You could stick that dude in the back of your rotation and not sweat too much. That's the guy whatever team signs Niese will be hoping to get this coming season, when his knee is presumably healthy.
Present Stuff
Niese is a five-pitch pitcher who uses three fastballs (four-seamer, sinker, cutter), a curveball, and a changeup. He tinkered with a slider a few years back, but it didn't work, so he gave up on it. Niese has never been a hard-thrower — his average four-seamer velocity peaked at 91.8 mph back in 2011 — and these days his four-seamer and sinker sit right around 90 mph. Here's his 2016 game-by-game average velocity chart, via Brooks Baseball: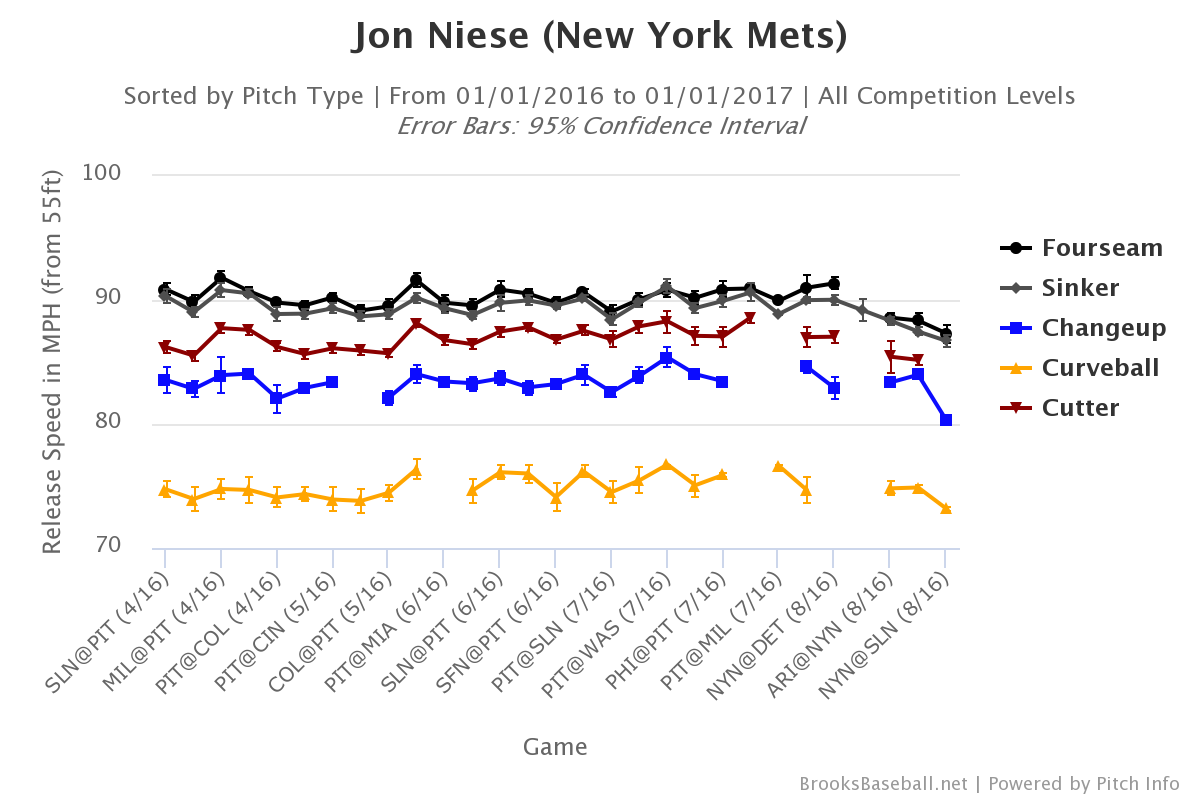 That dip at the end there screams "ow ow ow my push-off knee hurts so much." The Pirates moved Niese to the bullpen in July and his velocity never did spike. And even though his knee started bothering him in June, it never showed in velocity. If you'd have looked at that graph on August 1st, you wouldn't have been able to tell Niese was nursing a knee injury or had changed roles. His velocity held steady.
There's nothing too exciting about Niese. His curveball doesn't buckle knees and hitters won't be so far out in front of his changeup they'll break their bat on their back. He is what he is. A generic back-end starter who relies on ground balls and won't wow you with pure stuff. Here's some video:
That knee injury and the fact Niese pitched through it for several weeks is pretty much the only reason I wrote him up as a possible free agent target. I saw it as something that could explain his poor overall performance, and sure enough, the numbers kinda fit the timeline. How exactly did the knee injury affect Niese though? There's no dip in his velocity. Let's look at this four-seamer and sinker location, via
Baseball
Savant
: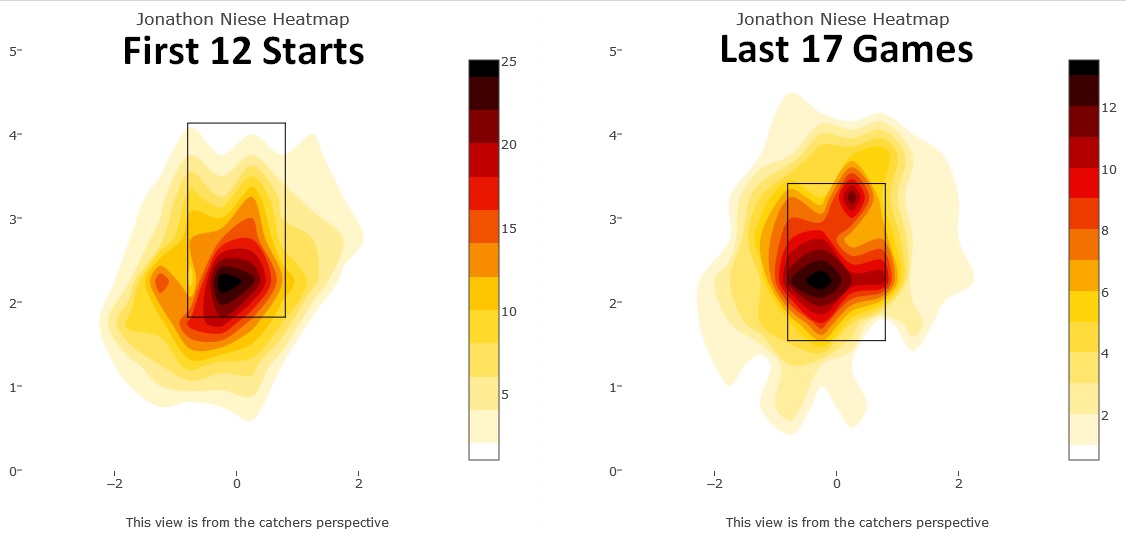 In his first dozen starts, Niese kept his fastballs down in the zone, which is what you'd expect from a guy who lives and dies by the ground ball. After that, ostensibly when his knee started barking, Niese was much more prone to leaving his fastball up in the zone. That right there can help explain why his performance declined so much. He was throwing more hittable pitches, and since he lacks premium velocity overall, hitters made him pay.
Contract Estimates
Niese did not appear on a single top 50 free agent list this offseason, not one, so we have no contract estimates. Generally speaking, reclamation project starters have been getting one-year deals in the $5M range over the last two or three years, and Niese fits there. The Mets declined his $10M option after the 2016 season, and I'm guessing they gauged the trade market to see if anyone wanted him at that price. When there was no interest, they cut him loose. One-year and $5M seems like a decent framework. Maybe he'll have to settle for a minor league contract.
Does He Fit The Yankees?
It ultimately depends on the price and health of his knee. It was a fairly routine procedure — Niese had the meniscus tear scoped like so many other athletes — and while you can never guarantee a return to full health, this is one of those surgeries with a high success rate. It's not like taking on a dude coming off Tommy John surgery. If he's healthy and the price is right, sure, sign him up as depth.
Keep in mind the Yankees have had interest in Niese in the past. They tried to get him from the Mets during the 2011 Winter Meetings, which was obviously a very long time ago. The Yankees liked the 25-year-old version of Niese back then. Do they like the 30-year-old version now? I'm guessing they like that he's a lefty who gets ground balls, that he's pitched in New York, and that he's shown the versatility to start or relieve. (Niese was in the bullpen during the 2015 postseason.)
The question is, as always, whether Niese wants to try to rebuild his career in Yankee Stadium, which is something very few pitchers seem willing to do. The Marlins have been connected to Niese several times this winter and they might be a more preferable destination as an NL team in a big ballpark. I'm a fan of adding pitching depth. I've said that a million times. Healthy Niese might be the best pitcher available right now. If he's open to coming to the Yankees, he'd be a fine low-cost pickup.