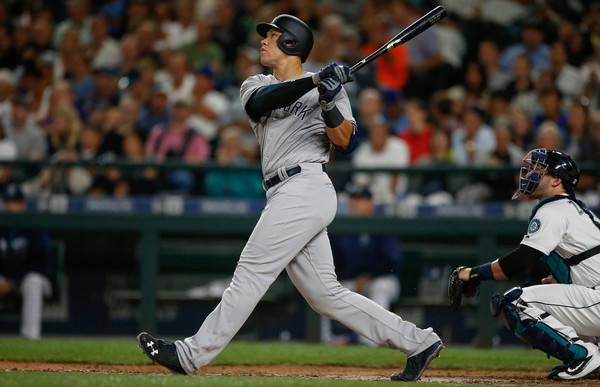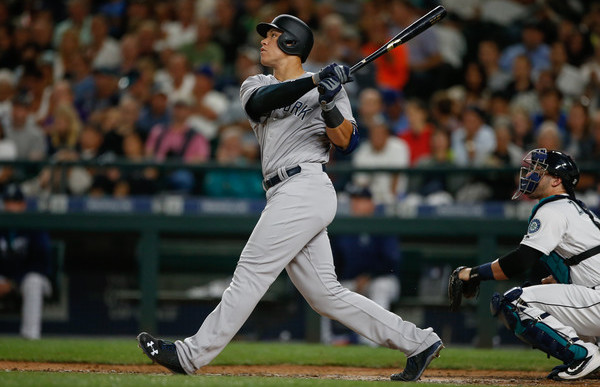 Know what's a fun game? Trying to figure out which young Yankees player you're most looking forward to seeing this coming season. The easy answer is Gary Sanchez and understandably so. He was incredible last year. But there's also Greg Bird, who we haven't seen in over a year. And Tyler Austin's opposite field power. We can't forget Aaron Judge either. He hit some jaw-dropping home runs in his brief 2016 cameo.
Along with those jaw-dropping homers came a whole bunch of strikeouts. Lots and lots of strikeouts. Forty-two in 95 plate appearances, to be exact. A total of 7,718 players have batted at least 90 times in a season this century, and Judge's 44.2% strikeout rate was third highest behind 2015 Joey Gallo (46.3%) and 2016 Madison Bumgarner (44.3%), so yeah. We knew the strikeouts were coming. We just hoped they wouldn't be that bad.
Of course, we're talking about 95 plate appearances here, and that's nothing. Jose Bautista struck out 40 times in 96 plate appearances (41.7%) in his MLB debut in 2004, and by 2006, his first full big league season, it was down to 23.5%. Javier Baez went from 41.5% strikeouts in 2014 to 24.0% strikeouts in 2016. Neither of those guys was 6-foot-7, but with a little hard work and patience, it is possible to cut the strikeouts down to a more manageable rate.
Last offseason Judge spent a bunch of time with the organization's hitting gurus working on various adjustments, and when he showed up to Spring Training, he had a brand new leg kick. I've used this GIF a bunch of times before and I might as well do it again. Spring Training 2015 is on the left and Spring Training 2016 is on the right: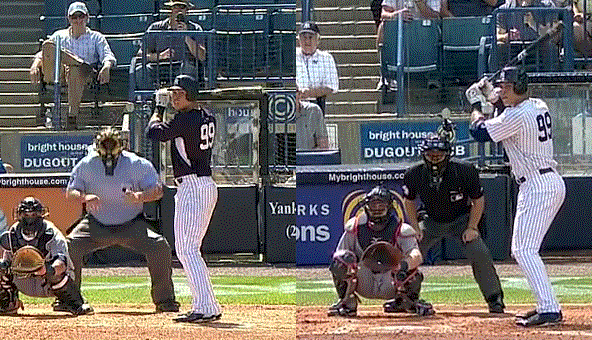 Judge had a much more pronounced leg kick last spring, and he also moved his hands down ever so slightly. The adjustments didn't stop there either. When Judge was called up in August, his hands were even lower, and the leg kick wasn't quite as big as it was in Spring Training. Check it out: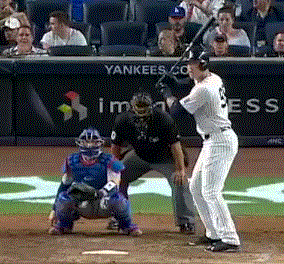 That ball cleared the visitor's bullpen and landed about five rows deep in the left field bleachers. I just thought I'd mention that. Here's the video if you're desperate for a baseball highlight.
Anyway, that's three versions of Judge in the span of 18 months. He added a leg kick, lowered his hands, reduced the leg kick, and lowered his hands some more. The adjustments are ongoing. Very rarely is there a magic fix. Do this one thing and everything will work out fine. It would be nice if that's how it worked, but nah.
Judge is again hard at work this offseason, making adjustments in an effort to cut down on his strikeouts and become a productive big leaguer. And again, the lower half is the primary focus. Brian Cashman said Judge has been working to remain "calm" and "balanced" with his legs this offseason.
"Aaron was just at Yankee Stadium about a week to ten days ago," said Cashman during a recent YES Network interview (video link). "(Hitting coach) Alan Cockrell was working with him on his lower half, and continuing the efforts and adjustments they started last year … The lower half is the final adjustment that they're working through — his front side and staying calm and trying to stay balanced — and so I think that'll help."
It sounds like — and I could be completely wrong here — the Yankees and Judge are still trying to find a leg kick that works. They tried the big one in Spring Training and obviously that didn't stick, because it was much shorter when he arrived in the big leagues. A leg kick is a timing mechanism, and if Judge improves his timing, it should help him cut down on the empty swings.
"He's a big kid. Strikeouts are going to be part of his game," added Cashman. "It's just limiting them. He can't have success and maintain a career at the big league level with that level of strikeouts. If we shave that off, we'll take the power trade-off he'll provide."
The question is not the adjustments themselves or Judge's effort level. He continues to put in the work and he's shown the aptitude to make adjustments in the past. The question is where should he make these adjustments? Do the Yankees live with the growing pains at the MLB level, or send Judge down to Triple-A, where development is the goal and winning is secondary?
I guess we can't answer that right now. The Yankees have more information than us, they know what's going on behind the scenes, so this isn't simply a case of watching some Spring Training at-bats and making a decision. Judge could rake in camp, but if the team doesn't think he's where he needs to be, they could send him down for a few weeks. It's not like they're short on outfielders. They can plug someone else in right field for the time being.
"His history in the last two years of promotion — at the Triple-A level and last year with us — was failure, adjustments, success," said Cashman. "He experienced some failure at the Major League level. That whole experience in the short sample will serve him well as he approaches 2017 … He's got options, so if he's not quite ready, he gets to go down there and finish himself off, and wait until he's ready."
I mentioned this in last week's mailbag, but Judge will be an interesting test case for the rebuild. How patient will fans be with him? And, more importantly, how patient will the Yankees be with him? We caught a glimpse of the potential reward last year. The balls hit off the top of the restaurant and over the bullpens. Judge is working to get to that level consistently, and the Yankees should remain patient and give him as much time as necessary, even if it means another stint in Triple-A.