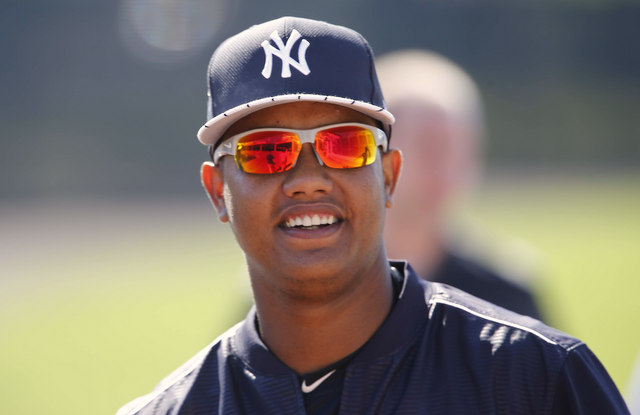 The first two years of the post-Robinson Cano era at second base were not pretty for the Yankees. Sitting through nearly 1,000 combined plate appearances of late-career Brian Roberts and Stephen Drew is not something I'd wish on any fan. Cano was the best second baseman in baseball at the time of his free agency, so by definition he was irreplaceable, though I don't think many of us were prepared for that big a drop-off.
Last year the Yankees brought in Starlin Castro, a player in his mid-20s with some MLB success under his belt and ostensibly his best years ahead of him, to man second base. His first season in New York was okay. Not great, not awful. Just okay. Starlin did set a new career high with 21 home runs, though his overall .270/.300/.433 (94 wRC+) batting line was right in line with his .280/.318/.408 (96 wRC+) career average. Blah.
The Cubs traded Castro last year essentially because they were tired of waiting for him to break out. They were ready to win and better players were available to them both internally (Javier Baez) and through free agency (Ben Zobrist), so they did something that usually draws ire from fans: they sold low on a talented young homegrown player. Things worked out pretty well for Chicago last year. Now the Yankees are hoping to get more from Starlin.
What, exactly, would a breakout season by Castro look like? He doesn't lack physical talent. That much is obvious. He did this yesterday, remember:
Castro is held back by extreme plate indiscipline — he's walked in 3.8% of his plate appearances the last two years (3.2% if you remove intentional walks) — so pretty much any sort of breakout would involve laying off pitches out of the zone. Improved discipline truly may be the only thing Castro needs to break out.
Last summer Castro swung at 37.5% of the pitches he saw out of the strike zone, the 17th highest rate among the 146 hitters with enough plate appearances to qualify for the batting title. That's up from 33.9% in 2015 and 30.4% in 2014. Not a great trend there, Starlin! And yet, I come to offer you four reasons Castro could break out in 2017. You may have to squint your eyes a little.
1. No more adjustment period. Castro grew up with the Cubs. They signed him as a 16-year-old out of the Dominican Republic in 2006 and he spent a decade in the organization. The Cubs were the only team Castro had known. Last year he came to New York and played in a new organization for the first time. New team, new coaches, new league, new city, new Spring Training site, the whole nine. That can be a lot to take in. This will be Castro's second year in pinstripes and presumably he'll be more comfortable this time around.
2. Castro is in what should be prime of his career. Starlin will turn 27 next month and that is the age when players are usually at their best. Once upon a time a player's prime lasted from ages 27-31, or thereabouts. Nowadays it's closer to 25-29. (Here are some aging curve studies.) Either way, 27-31 or 25-29, Castro is right smack in the middle of it. Age 27 is a pretty common age for a position player to have a career year. Every player is their own unique individual and there are exceptions to every rule. Generally speaking though, Starlin is at a good age for a baseball player. Big things tend to happen at 27.
3. Castro is making harder contact. The career high 21 home runs last season came with a steady increase in hard contact — an increase that started in the second half of 2015 — and a steady decrease in soft contact. Here are Starlin's last two years: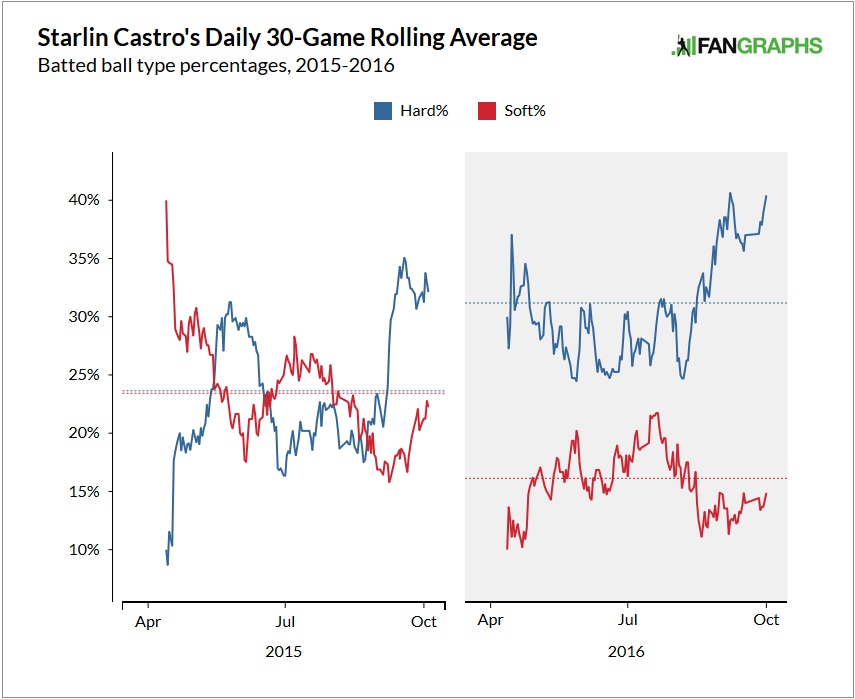 Hit the ball hard and good things tend to happen, especially when it comes with fewer ground balls. Castro's grounder rate dropped from a career high 54.1% to 49.1% last season. More hard hit balls in the air is a recipe for success. It's not a coincidence Starlin set a new career high in home runs last year given his increase in hard contract and decrease in ground balls. Some more progress in both departments, especially in cutting down on ground balls, would equal even more power going forward.
4. Castro has done some good things before. As recently as 2014, Castro hit .292/.339/.438 (117 wRC+) with 33 doubles and 14 home runs. We're not necessarily asking Starlin to achieve new offensive heights, though that would be cool. Just get back to where he was three seasons ago. This isn't like asking 37-year-old Matt Holliday to hit .340/.405/.607 (151 wRC+) like he did at age 26. Castro is a month away from his 27th birthday and that solid 2014 season is not so far in the rear-view mirror that hoping he can return to that level of production is unrealistic.
* * *
At his peak, a version of Castro with a little more plate discipline could probably hit somewhere close to .300/.340/.475. Maybe even a little higher with the batting average. I think the raw talent is there for him to do that. The Yankees owe Castro some decent money — $9M, $10M, and $11M in the next three seasons — and they have a lot of middle infield prospects on the way. If Starlin doesn't break out in 2017, the team figures to intensify their efforts to trade him.