We've got 16 questions in the mailbag this weekend. I didn't realize it was so many while I was writing it up. Send all your questions to RABmailbag (at) gmail (dot) com.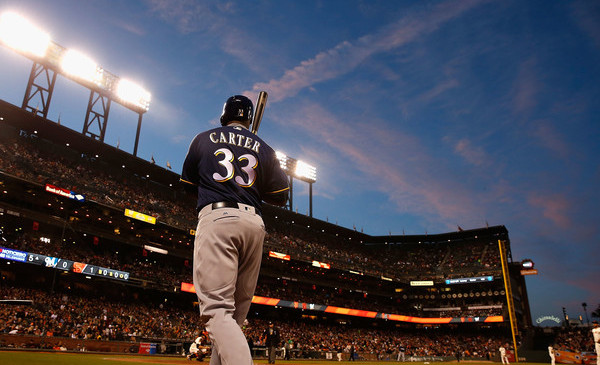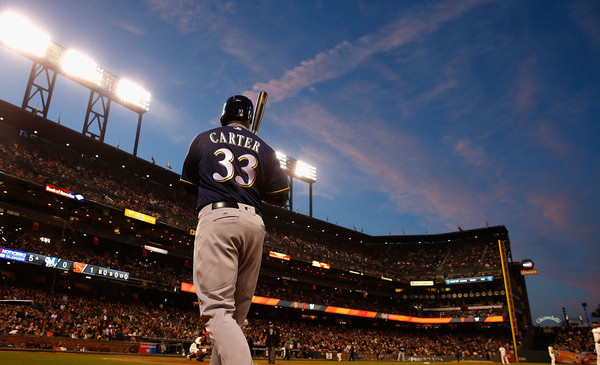 Steve asks: $3M/1 for Carter vs $37M/3 for Trumbo. Compare and contrast.
Mark Trumbo is a better player and hitter than Chris Carter, but he's not two years and $34M better. Some quick numbers:
Carter 2016: .222/.321/.499 (112 wRC+), 41 HR, 32.0 K%, 11.8 BB%, +0.9 fWAR
Trumbo 2016: .256/.316/.533 (123 wRC+), 47 HR, 25.5 K%, 7.6 BB%, +2.2 fWAR
Carter 2014-16: .218/.313/.477 (114 wRC+), 102 HR, 32.2 K%, 11.3 BB%, +3.3 fWAR
Trumbo 2014-16: .253/.309/.477 (110 wRC+), 83 HR, 24.8 K%, 7.3 BB%, +2.0 fWAR
Carter 2017 ZiPS: .211/.311/.484 (115 OPS+), 35 HR, 35.6 K%, 11.7 BB%, +1.2 WAR
Trumbo 2017 ZiPS: .251/.307/.491 (111 OPS+), 32 HR, 25.3 K%, 7.4 BB%, +1.4 WAR
Trumbo is going to hit for a considerably higher average, we're talking as much as 30-40 points, and I think those extra hits more than make up for the difference in walk rate. Walks are good. Hits are better. Carter is almost a full year younger, though it wouldn't surprise me if Trumbo came close to repeating his 2016 season in 2017. He's made some real improvements with his plate discipline over the years.
That said, give me Carter at one year and $3.5M over Trumbo at three years and $37M all day, every day. Especially since Trumbo was attached to draft pick compensation.
Matt asks: Aaron Judge, Chris Carter, Gary Sanchez, or the field: Who hits the longest HR for the Yankees this season? Who hit the longest out of that trio last year? (I would assume Carter, but I know the kids hit some moonshots themselves.)
Carter did have the longest home run of the three last season. He mashed this 465 foot bomb off former Yankee Wade LeBlanc in August:
That was easily the longest homer hit by those three last season. Carter also had the second longest at 449 feet. Aaron Judge's first career homer, the one of the top of the Mohegan Sun Sports Bar in center field, went 446 feet and was the third longest. Gary Sanchez's longest were a pair of 437 foot dingers.
The easy answer for the longest homer this coming season is Carter because the dude has so much power. I'll take Judge though. I bet he'll hit one over both bullpens at Camden Yards. How's that sound?
Dan asks: Do the signings of Holliday and Carter mean that Tyler Austin is probably not in the Yankees plans going forward?
I don't think so. Matt Holliday and Carter are on one-year contracts. Keep in mind that at this time last year, Austin was a complete non-factor. He had been dropped from the 40-man roster and no team bothered to claim him on waivers. It's entirely possible Austin has turned a new leaf and last season was the real him. I don't blame the Yankees for bringing in a little extra depth just in case though. Personally, I probably would have passed on Carter and given Austin the playing time, but I don't think it's an egregious move. (Also, we have no idea what's going with Greg Bird's shoulder, and I'm sure that factored into the decision to sign Carter.) Austin was always going to have to prove he belongs in the long-term plans. Nothing has changed.
Matthew asks: In basketball a lot of the talk these days is about height vs. wingspan, so a guy like Draymond Green can effectively play way bigger than he is due to a relatively large wingspan. Why don't we talk about this with pitchers? Like if a pitcher in your system is 5'10" but has a 6'4" wingspan wouldn't he essentially be releasing the ball at a similar spot to a taller guy? On top of that wouldn't having longer arms allow a guy to get more torque and therefore more velocity on his pitches?
That's interesting. This could be something that shows up in a pitcher's extension, right? How far away from the plate he releases the ball? Part of what makes Dellin Betances so hard to hit is not just the sheer quality of his stuff, but he's also so tall and his arms are so long that he's releasing the ball that much closer to the plate, which gives hitters even less time to react. There are no stats on extension as far as I know, which is also tied to stride length and would be an imperfect measure of the effect of wingspan, as far as I know.
It does stand to reason the guy with longer arms would generate more force on the ball since he's using a longer level, though there would also be more resistance from the air during his arm swing. I've never heard anyone talk about a pitcher's wingspan before, let alone do research to see what kind of benefits it offers. Perhaps the impact is negligible, or not large enough to justify seeking out pitchers with long arms. I wish I had a better answer, but this is definitely something I'd be interested in learning more about.
Geoffrey asks: What was Torreyes' story when he was a prospect? I know he's bounced around to a number of different teams in the last couple years, but he's still quite young, I believe 23 for all of last season, and as you pointed out, filled the backup infielder role admirably. Is this really as good as teams think he'll get though? No one really seemed to want him before the Yankees, but a 22/23 yr old infielder capable of hacking it in the big leagues, even just as a back up, doesn't seem like the kind of player a team should give up on.
Ronald Torreyes was never a top prospect but he was a legitimate prospect. Last offseason, in their 2016 Prospect Handbook, Baseball America ranked him as the 26th best prospect in a stacked Dodgers system. (The Prospect Handbook went to print before the trade.) Torreyes is pretty well traveled, and here is where Baseball America has ranked him in his various organizations over the years:

Never a top prospect, but a prospect nonetheless. Baseball America's scouting report last offseason dubbed Torreyes a future utility infielder. The year before, when he ranked 24th in the Astros system, their scouting report said he "profiles as a utilityman." Go back to 2011 and Baseball America's scouting report says "some scouts think he could handle the position as a utilityman."
Torreyes has profiled as a bench player for a long time, mostly because he has no power and doesn't walk a ton. He's a rock solid reserve player because he makes contact easily and can handle the three non-first base infield positions well. Torreyes is listed at 5-foot-10, but having stood next to the guy, there's no way that's correct. He's closer to 5-foot-7 or 5-foot-8. Unless he grows a few inches and adds more muscle, he's not going to hit for more power, so I don't see how he can improve his long-term outlook.
I'm not sure "teams gave up on Torreyes" is the best way to look at it. It seems like lots of teams wanted him, which is why every time he hit waivers, he was claimed. I mean, if you need to open a 40-man roster spot, isn't the prospect who projects to be a utility infielder usually among the first to get cut? That's usually how it works. Torreyes is a quality reserve infielder and there's nothing wrong with that. He'll make a heck of a living that way. I'm glad the Yankees have him.
Alex asks: Will the team have a problem finding enough innings for all of their SP Prospects, or is this something that usually works itself out, namely with injuries? If everyone stays healthy, are they more likely to go with six-man rotations, or opt for tandem starters?
Oh no. They won't have any problem finding innings. No no no. If, by some miracle there aren't enough innings, then the Yankees will probably be right in the thick of the AL East race. The Yankees will need all their pitchers and more throughout the season. That's just the way it goes. Hopefully everyone makes it through camp healthy and the pitching staffs are clogged at the upper levels of the minors on Opening Day. That would take care of itself before long. Having too many pitchers is not something I will ever worry about.
Paul asks: Love the prediction post on the SWB starting roster. How accurate was last year's prediction?
Here is last year's post and here is the 2016 Triple-A Opening Day roster. I cheated a bit and gave more of a broad overview of the pitching staff, so it's hard to say how accurate I was last year. I also took the easy way out and said the two catchers will come from this group of four players. I'm so lame. Four players I didn't mention in last year's post wound up on the Triple-A Scranton Opening Day roster: Tyler Cloyd, Diego Moreno, Chris Parmelee, and Deibinson Romero. Last year's post went up before Greg Bird's injury, so Parmelee wasn't even in the organization at the time. This year's post was a little more rigorous. We'll get a better idea of how accurate it was come April.
Frankee asks: Could Otani be signed with a say, a seven year contract, with the first three years fitting under new international hard cap, and then balloon payments years four through seven with a player opt out to make up for the salary hit he'd take on the front end?
Nope. Players subject to the international spending rules can only sign minor league contracts. He gets his bonus and a minor league deal. That's it. In theory, whichever team signs Otani could sign him to a massive long-term contract after his first big league season, though something tells me MLB would make a stink about that. The owners seem pretty dead set on suppressing salaries, and I'm guessing they'd want Otani to go through three pre-arbitration years like everyone else. That sets a precedent going forward.
Daniel asks: What, if anything, do you take away from the Yankees having Starlin Castro attending the recent events with some of the team's top prospects? Between the panel discussion, and the senior citizen kitchen, I've noticed him a couple times with the young guys.
I don't think it means anything. Chances are Castro was involved because he was available, that's all. Didi Gregorius was away at the time in New Zealand, where he was promoting baseball and holding camps for kids, that sort of thing. Had Gregorius not been on the other side of the world, I'm sure he would have been involved in the Winter Warm-Up too. CC Sabathia, Chase Headley, and Holliday were involved along with Castro. Does it mean anything that Betances wasn't involved? Probably not, despite his upcoming arbitration hearing. He's one of the most popular players on the team and someone the Yankees would want involved in the Warm-Up. Betances probably wasn't in town though. These things usually have as much to do with who is available at the time as who the team wants there.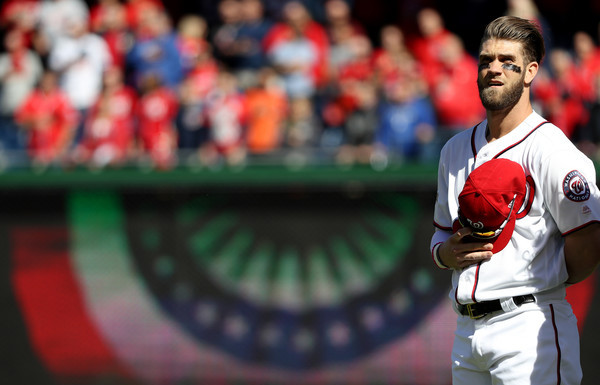 Miguel asks: What are your early predictions for AL MVP and NL MVP, and why?
Mike Trout and Bryce Harper, because they are the most talented players in each league. A boring answer? Yes. But they're both pretty strong bets. Trout managed to break through and win MVP last year despite being on a terrible team, and he did it in a year there was a trendy alternative on a contender (Mookie Betts). I hope that's a sign of things to come. Voters had gotten to the point where they were looking for reasons to not give him the MVP. Same with Clayton Kershaw and the NL Cy Young. He's so damn good and the obvious answer each year that it gets boring talking about it.
As for Harper, I think his down season — imagine hitting .243/.373/.441 (112 wRC+) at age 23 and having people call it down a season, but that's the standard Harper has set — has more to do with the nagging shoulder injury he reportedly played through most of the year. Here's a fun game: how high could you go before you say there's no way Harper could do that next year? .330/.470/.680? Maybe even .340/.480/.700? Remember, he hit .330/.460/.649 as a 22-year-old in 2015. There's no need to overthink things with preseason awards picks. Who is the most talented player in the league? That's who I'll take for MVP.
Chris asks: Any Eovaldi updates? Until he signs with someone, he has access Yankee facilities correct? Do they assist with his recovery at all?
No new updates on Nathan Eovaldi since we heard the Yankees had talked to him about a reunion. And yes, the Yankees have to assist him during his rehab. For rehab purposes, it's like he's still on the roster. He has access to the team facilities and all that. Eovaldi doesn't have to use them, he could rehab on his own, but the Yankees have to make their facilities available to him. That's true until he signs with a new team. I wouldn't be surprised if Eovaldi went unsigned all summer a la Greg Holland, especially since this is his second Tommy John surgery. Not too many of these "give this injured guy a two-year deal and hope he helps in a year" deals have worked out. Seems now teams are saying forget it, we'll wait until he's almost done rehabbing before getting involved.
Anthony asks: Assuming there is no trade market for Ellsbury and they have to pay him anyway, do you think he will eventually get the A-Rod treatment, i,e. benching –> release? Is there any other way to free up a spot for one of the young outfielders?
Not anytime soon. Not with four years left on his contract. Brian Cashman said the Yankees have talked about breaking up Brett Gardner and Jacoby Ellsbury atop the lineup, and while that sounds great, I can't help but feel it'll be Gardner who gets demoted to the bottom of the order. We'll see. If there was one or two years left on Ellsbury's contract, then maybe they'd be more open to reducing his playing time or even releasing him. He has four years left though. Four. They're going to spend the next two or three years trying to make him more productive, not reducing his role.
Anonymous asks: You've got a time machine that'll take you back a couple of months. A Deleon for Didi swap is up for discussion. Who hangs up first (assuming Didi agrees to a position change) Yankees or Dodgers?
Both teams, probably. The Dodgers wanted a right-handed batter at second base because they were so dreadful against lefties a year ago (.213/.290/.332!) and Didi Gregorius wouldn't have helped them. I mean, yeah, he had a great year against southpaws in 2016, but it's a little too early to dub him a lefty masher at this point. Also, I don't think the Yankees would take De Leon for their starting shortstop. De Leon comes with some real red flags (shoulder injury in 2016, average fastball, fly ball and home run prone, etc.) that seem to get ignored because because OMG Friedman is a genius!, but they're real red flags nonetheless. There are valid reasons to think De Leon is a terrible fit for Yankee Stadium and the AL East in general.
(How the heck does six years of De Leon for two years of Logan Forsythe get more hate than six years of Andrew Heaney for one year of Howie Kendrick? Heaney then > De Leon now.)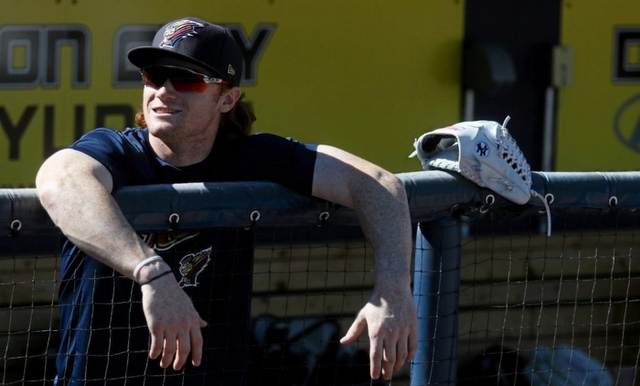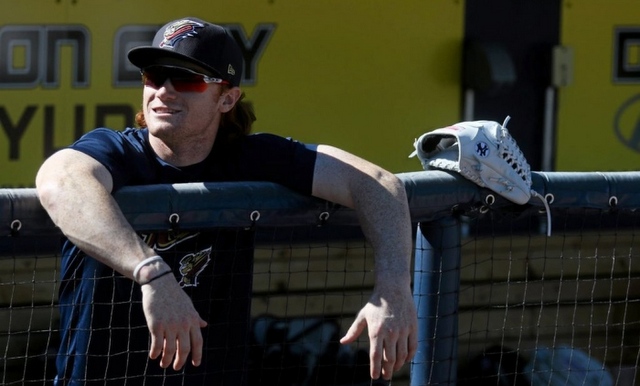 Adam asks: It's possible I'm making the connection simply because they seem like large personality outfielders, but does Clint Frazier remind you of a better defensive Nick Swisher?
Swisher was a pretty good defender during his prime, you know. There are definitely similarities in their games and Frazier turning into Swisher 2.0 would be a really good outcome. Swisher had his ups and down during his first full season in the show (105 wRC+), then from ages 25-31, he hit .258/.365/.471 (122 wRC+) overall and averaged 27 homers and +3.4 fWAR per season. That's really good! Frazier has the talent to hit for a higher average, though I'd be shocked if he drew as many walks (Swisher had a 13.7% walk rate from ages 25-31), so their on-base percentages may be similar, though they'll get there in different ways. I know Swisher got on some people's nerves, but he was a really good hitter for a seven-year stretch there. Swisher 2.0 would be a great outcome for Frazier. (Don't forget Swisher was a switch-hitter. Always having the platoon advantage is a nice luxury.)
Brent asks: Who is the most important player for the rebuild to be successful.
Good question! I'm not sure there's a correct answer. Sanchez seems like an obvious choice because having a great catcher is such a huge advantage. Maybe it's James Kaprielian? The Yankees need arms going forward and he offers the best combination of present stuff and MLB readiness in the system. What about Gleyber Torres? A star up-the-middle player is crucial too. Then again, the Yankees have so many bats in the farm system that maybe they don't need Sanchez or Torres or Judge to hit. They have enough offensive depth to cover. I'm going to go with Sanchez. Look at pretty much any team that has sustained success over several years and chances are they had a high-end catcher on the roster.
Bob asks: I noticed that Luis Torrens is only the 23rd ranked prospect with the Padres. How can he possibly stick with the ML team all year? Are the Padres that stacked? Where do you think he would rank with the Yankees now?
Torrens did not make San Diego's top 30 in Baseball America's shiny new 2017 Prospect Handbook, and Keith Law (subs. req'd) said Torrens "at one point was a serious prospect behind the plate, but after shoulder surgery his arm really hasn't come back" in his recent Padres top ten list. Law ranked 22 prospects and Torrens was outside the top 22. MLB.com has Torrens ranked 23rd on their end-of-season 2016 list. When they release their 2017 rankings in the coming weeks, he'll probably rank lower.
The Padres have a phenomenal farm system right now, on par with the Yankees and Braves. (Law had San Diego third behind the Braves and Yankees in his recent farm system rankings.) I have a really hard time thinking Torrens can stick in the big leagues all year. So very few Rule 5 Draft catchers stick, even the veteran-ish guys who have Triple-A time. Torrens is going to be making the jump from Low-A. Yikes. The Padres are going to be so bad that maybe they just don't care and will keep him all season anyway. Hopefully not, but we'll see.
As for where Torrens would rank with the Yankees right now, you're just going to have to wait until I post my annual Top 30 Prospects List later today. I answered that question within the post. Intrigue!