I've got 13 questions in the mailbag this week, the first of Spring Training. Just think, when next week's mailbag is posted, we'll be only a few hours away from the Yankees playing their first Grapefruit League game. Good times. Anyway, RABmailbag (at) gmail (dot) com is the mailbag email address.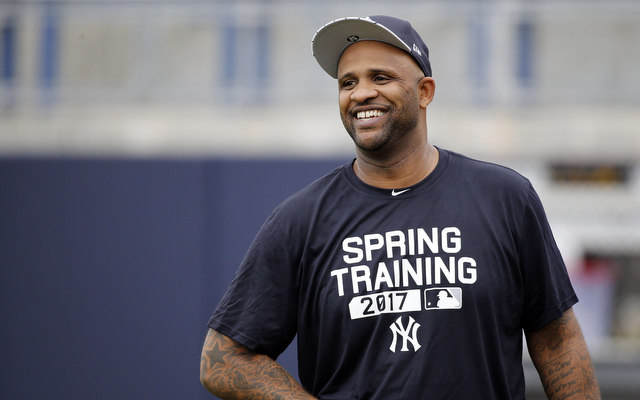 Christian asks (short version): Girardi named Tanaka as the starting pitcher on Opening Day, which is an honor. The home opener is Game No. 7 this year. Do the Yankees consider that when lining up their rotation?
I'm not sure, honestly. The home opener is the seventh game of the season this year, though the Yankees have two off-days in the first week. They could, conceivably, line up their rotation in such a way that Masahiro Tanaka starts both Opening Day and the home opener. The off-days give them a lot of flexibility early on. I'm not sure how much of a consideration this is, however.
Here are the Opening Day and home opener starters during each year of the Joe Girardi era (an asterisk indicates the Yankees opened at home that year):
| | Opening Day | Home Opener |
| --- | --- | --- |
| 2008 | Chien-Ming Wang | Chien-Ming Wang* |
| 2009 | CC Sabathia | CC Sabathia |
| 2010 | CC Sabathia | Andy Pettitte |
| 2011 | CC Sabathia | CC Sabathia* |
| 2012 | CC Sabathia | Hiroki Kuroda |
| 2013 | CC Sabathia | CC Sabathia* |
| 2014 | CC Sabathia | Hiroki Kuroda |
| 2015 | Masahiro Tanaka | Masahiro Tanaka* |
| 2016 | Masahiro Tanaka | Masahiro Tanaka* |
In 2010, 2012, and 2014, the Yankees did not do anything fancy with their rotation. They opened on the road those years and used five starters right out of the gate, so the home opener start went to whoever happened to line up that day. In 2009, the Yankees opened the season with a nine-game road trip. They use an off-day to skip their fifth starter the first time around, then stayed on turn. That allowed Sabathia to start Opening Day and the home opener, which was the tenth game of the season.
These days the Yankees are pretty obsessive about giving their starters extra rest whenever possible, so while those two off-days in the first week give them a chance to do something creative, I think they'll stay on turn and use all five starters right away. That means Tanaka on Opening Day and the No. 2 starter for the home opener. I'd put money on Sabathia being that guy, not Michael Pineda.
Matt asks: When it's all said and done, does Cashman get a plaque in Monument Park?
That's an interesting question. Brian Cashman was the general manager for the most recent Yankees dynasty, plus he built another championship team in 2009. Hopefully this rebuild leads to a few more titles as well. Right now there are 37 honorees in Monument Park, 28 of them players. The other nine include one broadcaster (Mel Allen), one general manager (Ed Barrow), one public address announcer (Bob Sheppard), two owners (Jacob Ruppert, George Steinbrenner), and four managers (Miller Huggins, Joe McCarthy, Casey Stengel, Joe Torre).
If Cashman retired today, I'd say he belongs in Monument Park. And you know what? I think he'll get a plaque eventually as well. Maybe not right away, especially if he leaves to join another team, but down the line. Remember, Cashman has been with the Yankees since the 1980s. He was based in Tampa and worked in player development when the Yankees drafted and developed guys like Pettitte, Bernie Williams, Derek Jeter, Mariano Rivera, and Jorge Posada. That should count for something.
Dan asks: Seeing as how Didi almost definitely won't start at SS for the Netherlands, what defensive position would it be better for the Yanks if he played (and learned)? I think third base. The yanks have a ton of MI depth, but could really benefit if Didi shows he can be an option there at all.
Probably third base. Didi Gregorius has a little second base experience in both the minors (349.1 innings) and majors (79.2 innings), and basically none at third (ten innings total). That said, we're only talking about a handful of World Baseball Classic games here. The Netherlands should be able to make it out of the first round — they're in a pool with South Korea, Chinese Taipei, and Israel — but getting out of the second round is a tall order. They'll play maybe six or seven games total. That's not enough time to learn a new position, is it? I don't think so. Gregorius is a very good defender at short and he should remain there. I have a hard time envisioning a scenario in which it makes sense for the Yankees to move him around.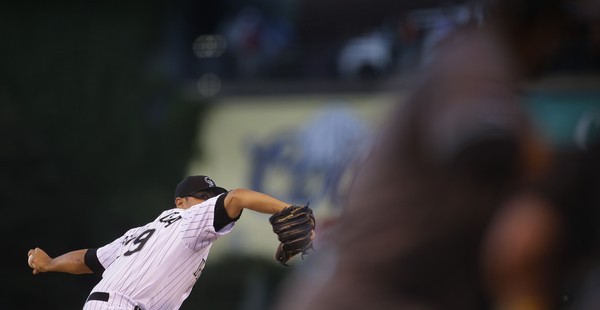 Joseph asks: I was looking for your take on Jorge de la Rosa. I feel he would be a good fit for the multi-inning swingman out of the bullpen role. The Yankees will be needing some innings out of their bullpen with the likes of Pineda, the #4 starter and the #5 starter. de la Rosa pitched well in relief, albeit in a limited 8 innings last year, so could be worth a flyer. Helps that he is a lefty as well, not having too much depth in that department.
I wouldn't mind him. The Yankees have been connected to De La Rosa a few times over the years, both when he was a free agent and on the trade block. He had a rough 2016 season overall (5.51 ERA and 5.36 FIP), which was spent mostly as a starter. De La Rosa made three relief appearances, threw eight total innings, and allowed one run on a solo homer. He struck out ten, walked none, and allowed three hits. I'm not sure whether the information is useful in any way.
If the Yankees can bring De La Rosa, who will turn 36 in April, to camp as a non-roster player, then by all means, go for it. There's no such thing as too many pitchers. Keep in mind De La Rosa is on Mexico's WBC roster though, so he's going to be gone for a few weeks. (Mexico has a solid team and could advance pretty deep in the tournament.) De La Rosa is a lefty with a history of missing bats, and he's spent the last nine years pitching for the Rockies in Coors Field. He's used to pitching in tough environments. That's a plus to me.
John asks: If Gary Sanchez keeps putting up David Ortiz, Miggy type numbers, our best offense weapon is one foul tip away from a DL trip. The wear and tear of a long season also slows catchers down in the second half. A 2019 move to LF or 3b have to be considered?
This is a definite concern. Several teams have moved their top young hitters out from behind the plate in recent years to avoid injuries and general wear and tear. The Nationals and Bryce Harper are the best example. Wil Myers was also a catcher before moving to the outfield. Harper and Myers didn't move for defensive reasons. They moved because their teams deemed their bats too special to put them at such a demanding position.
Sanchez is not nearly as athletic as Harper and Myers, which presents a problem. If he changes positions, he's going to first base, not the outfield or third base. He doesn't have the mobility for those positions. I wrote a post about the possibility of moving Sanchez out from behind the plate to protect his bat last September, and I came to the conclusion the Yankees are best off leaving him at catcher. His arm makes him an asset defensively, and having a top hitting catcher is such a huge advantage. Enough of an advantage that I think it outweighs the risk.
Nico asks: I was watching the Carter highlight reel you posted the other day (love his nice & easy swing!), I noticed that it seemed like a lot of his bombs were on offspeed stuff. Of course I didn't keep a tally or anything, but is that true? More broadly, what's Carter's power profile? (eg types of pitches he hits out, areas of the zone he likes, fields he likes to hit to, etc)
Chris Carter hit 41 home runs last season, and here is the pitch type breakdown, via Baseball Savant:
Fastballs: 26 (16 four-seamers, seven two-seamers, two sinkers, one cutter)
Sliders: nine
Curveballs: four
Changeups: two
Twenty-six of the 41 came on some kind of fastball, or 63%, which seems normal since last year 61% of all pitches were fastballs. Carter pulled 16 of his 41 homers last year. The rest were to center and right fields. Similar to what I did with the rest of the Yankees a few weeks ago, here is a strike zone plot of Carter's 100+ mph line drives and fly balls: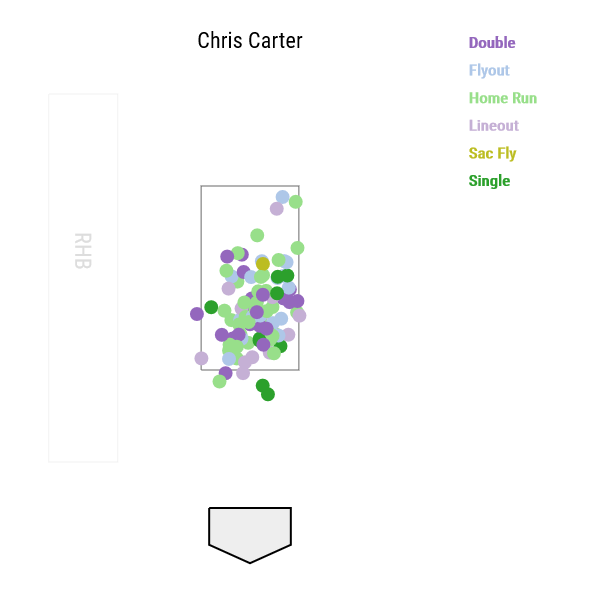 Carter's best contact, meaning a well-struck ball in the air, tends to come on pitches in the bottom half of the strike zone. Below the belt, basically. So, generally speaking, Carter hit home runs against all types of pitches last year, pulled fewer than half of them, and did the most damage on pitches over the middle plate and in the lower half of the strike zone. That's his power profile, I guess you could call it.
Nic asks: Kyle Higashioka — I feel like he's been lost in the shuffle a little bit. Obviously, he's outside your top 30, but where would he have fallen? Also, any possibility he overtakes Romine for the backup C roster spot?
Higashioka wasn't a serious top 30 consideration. He's going to turn 27 shortly after Opening Day, he has an ugly injury history, and he has only one season performing at this level. In this farm system, that guy isn't particularly close to a top 30 prospect. I mentioned I had about 15 players I was seriously considering the final few spots of the top 30, and Higashioka was not one of them. He was outside the top 50.
As for winning the backup catcher's job, it's always possible, but I think it's very unlikely. Beating out Austin Romine means Romine is out of the organization — he's out of minor league options and would almost certainly elect free agency before accepting an outright assignment — and your third catcher in Triple-A is, uh, Wilkin Castillo? Yikes. The only way I see Sanchez and Romine not being the Opening Day catching tandem is injury.
Stephen asks: Is there some way to calculate maximum value when balancing positional scarcity vs. defensive quality? Specifically in a case like Jorge Mateo's, where we know he can handle the toughest position of shortstop – how many more runs would he need to save as a centerfielder to justify the move down the defensive ladder?
The positional adjustments used in the various versions of WAR can help us here. A league average hitting (100 wRC+) and fielding (0.0 runs saved) shortstop is more valuable than a league average hitting and fielding first baseman because of position scarcity, right? Right. The positional adjustments account for that. Each version of WAR uses different positional adjustments. Here are a few:
| | bWAR | fWAR | Zimm 2015 Update | Average |
| --- | --- | --- | --- | --- |
| C | +9.0 | +12.5 | +7.75 | +9.8 |
| 1B | -9.5 | -12.5 | -9.25 | -10.4 |
| 2B | +3.0 | +2.5 | +1.75 | +2.4 |
| SS | +7.0 | +7.5 | +4.75 | +6.4 |
| 3B | +2.0 | +2.5 | +1.75 | +2.1 |
| LF | -7.0 | -7.5 | -4.25 | -6.3 |
| CF | +2.5 | +2.5 | +1.75 | +2.3 |
| RF | -7.0 | -7.5 | -4.25 | -6.3 |
| DH | -15 | -17.5 | -9.25 | -13.9 |
So, based on the average positional adjustments, the gap between the most valuable position (catcher at +9.8) and least valuable position (DH at -13.9) is a whopping 23.7 runs. That's a difference of more than +2 WAR just based on position scarcity. (Roughly ten runs equals one win.)
Using the average values, the positional adjustments tell us a shortstop is worth 4.1 more runs than a center fielder (+6.4 minus +2.3). Mateo would have to save four more runs as a center fielder than he would has a shortstop just to break even, essentially. He very well might be able to do that! It's definitely doable. His speed in center field could be a real weapon. We've seen other track stars like Billy Hamilton move to center and put up insane defensive numbers. (Whether those numbers reflect reality is another matter.)
Bob asks: The Yankees worked out Jorge Mateo in CF, and you are a fan, but isn't his hit tool a little weak for CF? His bat would seem to work better at SS or 2B. Your thoughts please.
That's the big question. Mateo's ultimate position isn't going to matter much if he doesn't hit. He can be a bit of a hacker and it leads to a lot of soft contact, and as fast as he is, he's not going to beat out that many infield singles. Mateo needs to be a bit more disciplined and also get a little stronger so he can drive the ball more consistently. He's still only 21, remember. The kid is far from a finished product.
As for the question, here are the league averages at the various up-the-middle positions in 2016:
Second Base: .270/.329/.425 (101 wRC+)
Shortstop: .262/.319/.407 (92 wRC+)
Center Field: .259/.324/.407 (96 wRC+)
Second basemen are providing more offense than ever before right now. Short and center are still glove over bat positions, and based on last season, the offensive bar is basically the same. Maybe Mateo will be so much more comfortable in center that his offense will blossom. That'd be cool. Relative to the positional standards, Mateo's bat will play the same at short and center. The question is whether a move to center allows him to save more runs with the glove.
P.J. asks: Just saw where the Yankees invited James Reeves to ST as a NRI. Looking at his numbers why haven't were heard more about this kid? Am I missing something, here.
Reeves, 23, was a senior sign as New York's tenth round pick in 2015. They gave him a well-below-slot $50,000 bonus and used the pool savings elsewhere. Since signing, Reeves has thrown 124.2 minor league innings with a 2.60 ERA (2.89 FIP) and good strikeout (29.1%) and okay walk (8.5%) numbers. Most of those innings have come in relief and at High-A. Reeves did make a short late-season cameo at Double-A last summer.
Long-term, Reeves has some sleeper potential as a future left-on-left matchup reliever. He throws from a true sidearm angle (here's some not great video) with an upper-80s fastball and a big sweepy slider. The Yankees like Reeves enough that they added him to their non-roster list earlier this week, and he figures to start this season at Double-A, so he's getting close. Reeves wasn't close to making my top 30 prospects list and I like Tyler Webb more because he has more fastball and better control. That said, as a funky lefty with a bat-missing slider, Reeves could be a big league option at some point, even if he's only an up-and-down guy.
Tamir asks: Has a player ever qualified in a season with a higher AVG than OBP?
Nope, never. You can have a higher AVG than OBP due to sac flies. Go 2-for-3 with a sac fly and you're hitting .667 with a .500 OBP, for example. We see players with a higher AVG than OBP for the first few weeks of the regular season, but it never lasts. As best I can tell, the closest anyone with enough plate appearances to qualify for the batting title has come finishing a season with a higher AVG than OBP is Ozzie Guillen, who hit .263 with a .273 OBP in 528 plate appearances in 1996. That's what drawing ten walks and hitting seven sac flies in a single season with do for you.
John asks: I am wondering if there are any updates on Henderson Alvarez. He showed a lot of promise when on the Marlins even making an all star game before having arm trouble. Last I saw he got shoulder surgery in September and was released by Oakland. He seems to be someone worth taking a shot on to see how his rehab goes since he isn't even 27 yet.
Alvarez missed a bunch of time with shoulder trouble in 2015 and eventually had surgery that July. He rehabbed last year, it didn't go well, and he needed another surgery on both his shoulder and biceps in September. The last update I can find on Alvarez came from Jon Heyman on January 29th. Heyman says Big Hendo should be game ready by May and that teams are reviewing his medicals. Game ready by May seems optimistic, but we'll see.
When he was healthy with the Marlins from 2013-14, Alvarez was really good, throwing 289.2 innings with a 2.98 ERA (3.44 FIP). He's a fun player too and I am pro-fun. Alvarez has a novelty windup he uses for the first pitch of each start …
… and he uses a wide array of offspeed stuff, including a 60-something mile an hour curveball, and it's just very entertaining to watch. Alvarez had shoulder problems earlier in his career, so this is a recurring thing and that's kinda scary. But, if he'll take a minor league deal, sure, bring him aboard. You can't guarantee him anything after two shoulder surgeries though. The A's paid Alvarez $4.25M last year and all they got out of it was more medical bills.
Danny asks: Assuming they have similar seasons this year as last (performance and health), which of Tanaka and Sabathia is more likely to be on the team next year?
Hmmm, I'd say Sabathia. Tanaka would put himself in position for a pretty large contract with another strong season, and the Yankees might not want to go that far given a) the elbow, and b) their commitment to getting under the luxury tax threshold. Sabathia, if he comes back, figures to do so on a one-year deal with a much smaller base salary than what he's making right now. Obviously Tanaka is the better pitcher and the Yankees would be dealt a major blow if he leaves. Sabathia's terms figure to be so much more friendly that I think a reunion is inevitable as long as he stays healthy. I think there's a better chance Tanaka leaves than Sabathia, basically.