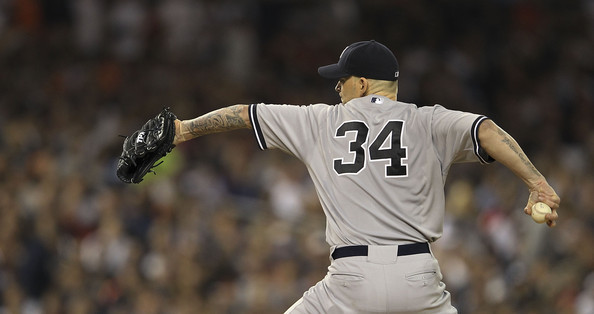 Now that the calendar has flipped to February and Spring Training is creeping closer and closer, it's time for another trip through the MLB Trade Rumors archive. February can be a sneaky busy month for rumors and transactions. Teams are looking for last minute roster fillers and free agents rush to take whatever jobs they can find. Lots of small moves happen in February.
The Yankees addressed their rotation in one fell swoop in January 2012, when they acquired Michael Pineda and Hiroki Kuroda on the same day. They then spent much of February shopping A.J. Burnett, who they no longer needed, and making minor signings for the bench and Triple-A depth. Time to look back at the surprisingly busy month that was February 2012.
February 2nd, 2012: AL West Notes: Rangers, Trumbo, Morales, Mariners
The Mariners inquired about Yankees prospect Mason Williams during the Michael Pineda trade talks, reports Jon Heyman of CBSSports.com (via Twitter).

At the time, Williams was 20 years old and coming off a .349/.395/.468 (148 wRC+) batting line with three homers and 28 steals in 68 games with Short Season Staten Island. Baseball America ranked him the 85th best prospect in the game right around the time this rumor came out, four spots ahead of Chris Archer. That wasn't Mason's peak as a prospect — that came the following year — but he was someone on the rise.
I would have traded Williams for Pineda instead of Montero a hundred times out of a hundred back then. Williams was a super tooled up and interesting young player. Montero was an elite prospect who raked during his September cameo in 2011. I was ready for Montero to go all Miggy Cabrera on the AL East when they traded him for Pineda. Alas. By the way, Williams has Montero beat in career fWAR (+0.5 to -0.8) and bWAR (0.0 to -0.1).
February 7th, 2012: Yankees Sign Bill Hall
The Yankees have signed utility infielder Bill Hall, based on his tweet, "IT'S OFFICIAL IM A YANKEE!!!!!!!! #IwannaRing!!!!"  He signed a minor league deal, tweets Erik Boland of Newsday.  Hall is a client of Gaylord Sports Management.
I have nothing to add to this. I just thought the "IT'S OFFICIAL IM A YANKEE!!!!!!!! #IwannaRing!!!!" stuff was pretty funny. Hall was very excited to be a Yankee … then he got released at the end of Spring Training and spent the season in Triple-A with the Orioles. Life comes at you fast.
February 8th, 2012: Yankees Sign Russell Branyan
The Yankees signed first baseman Russell Branyan to a minor league deal with a spring training invite, reports Dan Martin of the New York Post.
Oh man, I completely forgot the Yankees had Branyan. They were looking for a cheap left-handed designated hitter at the time and Branyan was as good a candidate as anyone. He split 2011 between the Diamondbacks and Angels, hitting .197/.295/.370 (84 wRC+) with five homers in 146 plate appearances. Still, Big Russ could do this:
Branyan, who was 36 at the time, never did play for the big league Yankees. He was hurt and played only 33 games with Triple-A Scranton in 2012, during which he hit .309/.438/.655 (199 wRC+) with eleven homers. Branyan didn't play at all in 2013, resurfaced in the Mexican League in 2014, and has been out of baseball since.
February 9th, 2012: East Links: Yankees, Jones, Cespedes, Rays, O's
The Yankees want Garrett Jones from the Pirates in any trade involving A.J. Burnett reports ESPN's Buster Olney, but Pittsburgh isn't interested in moving him and talks haven't progressed (Twitter links). Yesterday we learned that the Pirates are not on Burnett's no-trade list.
The Yankees were after Jones a long time before finally getting him as part of the Martin Prado-Nathan Eovaldi trade. They tried to get him from Pittsburgh a few times and tried to sign him as a free agent during the 2014-15 offseason. You'll notice a trend in this post. The Yankees tried to trade Burnett for a bunch players who ended up wearing pinstripes at one point anyway.
February 13th, 2012: AL East Links: Vlad, Theo, Red Sox
"Vladimir Guerrero has made it known to the Yankees that he wants their DH spot," tweets ESPN's Buster Olney, but Raul Ibanez remains the frontrunner.
The Yankees never did sign Vlad — he hooked on with the Blue Jays, played a handful of minor league games in 2012, then retired — but this rumor reminded me just how badly I wanted them to sign Guerrero back during the 2003-04 offseason. He had just turned 29 and had hit a) .330/.426/.586 (152 wRC+) with 25 homers in 2003, and b) .324/.405/.581 (145 wRC+) with 98 homers from 2001-03. George Steinbrenner wanted Gary Sheffield though, so the Yankees signed Sheffield and Vlad went to the Angels. Bah. I mean, Sheffield was pretty great, but he was no Vlad.
February 14th, 2012: A.J. Burnett Rumors: Tuesday
The Hafner for Burnett deal is no longer on the table, MLB.com's Bryan Hoch tweets.
Like I said, the Yankees tried to trade Burnett for a bunch of guys who ended up being Yankees at some point anyway. Travis Hafner was entering the final year of his contract and had just hit .228/.346/.438 (118 wRC+) with 12 homers in 66 games around injuries in 2011. He would have slotted in as the team's left-handed hitting designated hitter in 2012. Instead, Hafner had to wait until 2013 to get that job.
February 15th, 2012: Latest on Jorge Soler
TUESDAY, 2:18pm: The Yankees have serious interest in Soler, ESPN.com's Buster Olney tweets.

12:33pm: Many teams remain involved in the bidding for 19-year-old Cuban prospect Jorge Soler, according to Jon Heyman of CBSSports.com (on Twitter). The Cubs have been extensively linked to the outfielder, but they're not the only club involved. 
Has it really only been five years since Soler was a free agent? Seems like it was much longer ago. Anyway, the Yankees did what they usually do with a big name Cuban free agent, which is bring him in for a workout and feign interest, but ultimately don't come particularly close to signing him. The Cubs gave Soler a nine-year deal worth $30M, and while he would go on to develop into a top prospect, he's yet to put it together at the MLB level. Chicago traded him straight up for Wade Davis this winter, which still blows my mind. Somehow the Yankees got much more for a half-season of Aroldis Chapman than the Royals did for a full season of Davis.
February 15th, 2012: A.J. Burnett Rumors: Wednesday
The Yankees tried to convince the Angels that Burnett could be their fifth starter, according to Wallace Matthews of ESPNNewYork.com.  The Yankees would have obtained Bobby Abreu in the proposed trade, but Burnett rejected the deal because he'd prefer to play on the East Coast.
Abreu played for the Yankees before the Burnett trade, but I'm still counting this. The Yankees tried to trade Burnett for a bunch of dudes who played for them at one point or another. Abreu, who was about to turn 38 at the time, had lost all his power by this point — he hit .242/.350/.342 (96 wRC+) with eight homers in 2011 — and he was so bad in 2012 that the Halos released him before the end of April. The Yankees and Angels had a deal though. Burnett for Abreu. Burnett said no because he and his wife preferred the East Coast though. That was his right.
February 18th, 2012: Yankees Sign Clay Rapada

The Yankees have signed lefty reliever Clay Rapada to a minor league contract with an invitation to Spring Training, reports David Waldstein of The New York Times (Twitter links). MLB.com's Zack Meisel first reported that the two sides were nearing a deal. The Meister Sports Management client was released by the Orioles a few days ago.
The Yankees are said to be looking for a cheap lefty reliever these days, and five years ago, they were in the exact same position when Rapada fell into their laps. He was nails in 2012, throwing 38.1 innings in 70 appearances (lol) with a 2.82 ERA (3.20 FIP). Lefties hit .183/.263/.255 (.238 wOBA) with 28.7% strikeouts and 44.9% ground balls against him. Pretty awesome for a scrap heap pickup. Rapada hurt his shoulder in Spring Training 2013 and spent the next few seasons bouncing around the minors. He retired following the 2015 season.
February 19th, 2012: Pirates Acquire Burnett From Yankees
After more than a week of back-and-forth discussion, the Yankees and Pirates formally announced the deal that will send A.J. Burnett to Pittsburgh.  The trade allows the Bombers to unload $13MM of the $33MM still owed to the veteran pitcher over the next two years.  Aside from shedding payroll, the Yanks also receive outfielder Exicardo Cayones and right-hander Diego Moreno in the trade.
And there it is. Most trades involving the Yankees these days come together quickly. We'll hear a rumor or two, then bam, the deal is done. Some come out of nowhere, like the John Ryan Murphy-Aaron Hicks swap. A press release just showed up in everyone's inbox when that trade was made. The deal was done. No rumors at all.
The Burnett trade was not like that. This one dragged on for a little while. Burnett went on to have two good years with the Pirates, throwing 393.1 innings of 3.41 ERA (3.17 FIP) ball from 2012-13, while the Yankees received little more than salary relief from this trade. Moreno hung around the system for a few years and did reach the big leagues in 2015. You may remember his 5.1 innings of no-hit relief against the Rangers:
The Yankees release Moreno last summer and he's since hooked on with the Rays. Cayones was one of the two players the Yankees sent to the Angels for Vernon Wells in 2013. The Halos released Cayones after the 2015 season and as far as I can tell he hasn't played anywhere since. (The other player the Yankees traded for Wells, lefty Kramer Sneed, spent last year in indy ball and the Mexican League.)
February 20th, 2012: Yankees Notes: Chavez, Martin, Rivera
Catcher Russell Martin told Daniel Barbarisi of the Wall Street Journal he talked this winter about a three-year deal with the Yankees, but the discussion never progressed beyond the initial stages.  Martin avoided arbitration with a $7.5MM contract for 2012.
At this point the "no extensions" policy was in full effect, though the Yankees were willing to make an exception for Martin. Quality catchers are hard to find. The two sides never did reach a deal and Martin left as a free agent following the 2012 season. We were then subjected to a year of Chris Stewart and Francisco Cervelli before Brian McCann arrived.
I wonder how the long-term catching situation would have shaken out had the Yankees and Martin agreed to a three-year deal. It would have meant no Stewvelli in 2013, first and foremost, but also no McCann. It could have played out like this:
2012: Martin and Stewart
2013: Martin and Cervelli
2014: Martin and Cervelli
2015: Murphy and Austin Romine
2016: Murphy and Romine
2017: Gary Sanchez and Murphy
Eh, who knows. Fun to think about it. I'm glad the Yankees have Sanchez now and we didn't have to sit through any more Stewvelli than we had to.
February 21st, 2012: Yankees Sign Raul Ibanez
The Yankees have found their new designated hitter, officially announcing an agreement with Raul Ibanez that was first tweeted by ESPN's Buster Olney yesterday.  The framework for a deal was done weeks ago with the ACES client, tweets Joel Sherman of the New York Post, who pegs the value at $1.1MM.  Plate appearance incentives can bring the total to $4MM, tweets Ken Rosenthal of FOX Sports.
After being unable to trade Burnett for a lefty hitting designated hitter, the Yankees signed Ibanez. And you know what? He kinda stunk for most of the season. Ibanez was hitting .235/.303/.437 (95 wRC+) on August 31st, which, when combined with his terrible defense (Brett Gardner missed most of 2012 with an elbow injury, forcing Ibanez to play the outfield fairly regularly), meant he was sub-replacement level. Then Raul started smacking clutch dingers left and right in September and October. That was pretty cool. He made everyone forget about those rough few months in a hurry.
February 22nd, 2012: Yankees Notes: Rivera, Betances, Rodriguez
Joel Sherman of the New York Post doubts the Yankees will spend on the best free agent closer available, though it's a strategy they might have chosen in the recent past. Brian Cashman believes it's unwise to sign relievers other than Rivera to significant contracts, and the GM aims to keep payroll under $189MM by 2014.
How times have changed, eh? Then again, you could argue Chapman is the closest thing we've seen to Rivera in terms of year in, year out dominance. Also, the game has changed a lot these last five years. Teams lean on their bullpens much more heavily now than they did in 2012. For example, relievers threw 34.0% of all innings back in 2012. Last season it was 36.7%. It doesn't sound like a huge difference, but that number is only trending up.
February 22nd 2012: Yankees Sign David Aardsma
11:21am: The Yankees have signed 30-year-old right-hander David Aardsma, the team announced. It's a Major League deal worth $500K that includes a club option for 2013. The deal includes $500K in incentives and the 2012 option is worth $500K, Geoff Baker of the Seattle Times tweets. Aardsma underwent Tommy John surgery last July and won't be ready to contribute until midway through the 2012 campaign.
I, like many others, was irrationally excited about the Aardsma signing. He had a few nice years with the Mariners, then blew out his elbow. The Yankees picked him up and rehabbed him, and were rewarded with one whole inning in 2012. And he gave up a homer to J.P. Arencibia in that one inning too. It was worth a shot, but it didn't work out. Aardsma has bounced around the last few years and is currently unsigned.
February 27th, 2012: Yankees Sign Eric Chavez
Eric Chavez is returning to the Yankees for 2012, officially signing a one-year, $900K deal with incentives.  Chavez, 35, will reprise his role as a backup corner infielder and DH for the Yanks. The left-handed hitter posted a .263/.320/.356 line with two homers in 175 plate appearances in the Bronx in 2011, his first season in New York after spending 13 in Oakland.
Chavez's second season with the Yankees was far better than the first. He hit .263/.320/.356 (80 wRC+) with two homers in 2011, which obviously isn't great. Chavez then managed a .281/.348/.496 (126 wRC+) line with 16 homers in 313 plate appearances in 2012. Hell yeah. He played a fair amount of third base too while Alex Rodriguez nursed various injuries. Chavez played two years with the Diamondbacks after that before joining the Yankees as a scout. Billy Eppler poached him and now Chavez is an assistant general manager with the Angels.
February 27th, 2012: AL East Notes: Johnson, Pettitte, Blue Jays
Andy Pettitte visited Yankees camp and told reporters, including MLB.com's Bryan Hoch, that he doesn't plan on making a comeback. Pettitte said he's "loving life" away from the ballpark and enjoying time with his family.
Good times. Good times. Pettitte un-retired 18 days after this report. He said he got the itch to continue playing after coming to Spring Training as an instructor, and the rest is history. That was pretty cool. I remember Joe and I were recording an episode of the RAB podcast (RIP) when news of the Pettitte signing broke, and we were both just kinda speechless. I'm pretty sure we scrapped that podcast all together so we could write about Andy's return. That was fun.