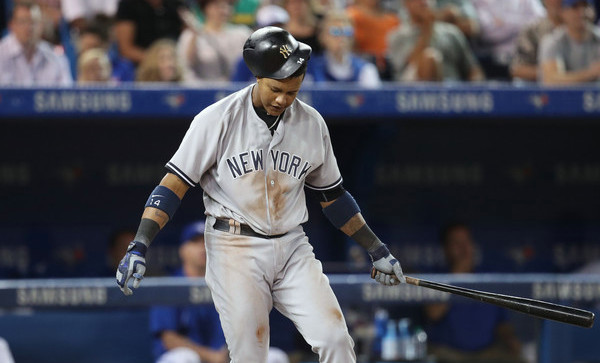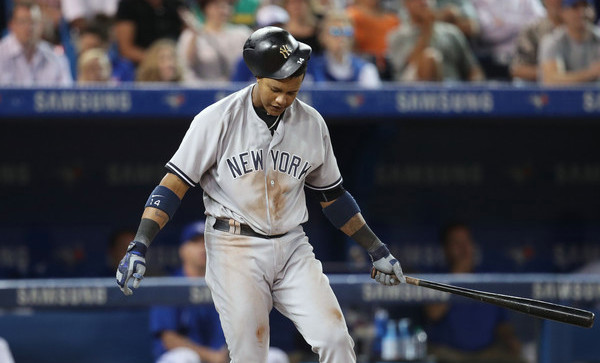 According to Joel Sherman, the Yankees have "let some clubs know" second baseman Starlin Castro is available in trade talks. This was apparently part of their efforts to trade Brett Gardner and Chase Headley earlier this winter. Seems they made any veteran making decent money available.
Castro, who will turn 27 next month, managed a .270/.300/.433 (94 wRC+) batting line with a career high 21 home runs last year, his first as a Yankee and his first as a full-time second baseman. Starlin is owed $30M from 2017-19 with a $16M club option ($1M buyout) for 2020, so he's making decent money. I have some thoughts on this.
1. Of course the Yankees made Castro available. At this point, there is absolutely no one on the roster the Yankees should make off-limits in trade talks. Gary Sanchez is the closest thing to an untouchable, and even then it makes sense to listen. It never hurts to listen. What if the Angels come calling and say Mike Trout is up for grabs, but only if Sanchez is in the package? Exactly.
Anyway, the best way to describe Castro is … adequate. He offers promise because he's still young and his raw talent is obvious, though his lack of plate discipline holds him back, and we haven't seen any improvement in that department. His 3.9% walk rate last year was the second lowest of his career. His career low is 3.6% in 2015, so he's more of a free-swinger than ever before right now.
We're getting to the point where Starlin is what he is. This is a guy with nearly 4,400 big league plate appearances to his credit already. If he was going to improve his plate discipline, we'd probably be seeing it by now, right? At the same time, you'd hate to give up on Castro and have him blossom elsewhere. That's not enough of a reason not to trade him though. By all means, make him available.
2. Which teams need a second baseman? Sherman's report says the Yankees made "some clubs" aware Castro was available, which seems to indicate they phoned around and let teams with a middle infield opening know they were willing to part with Starlin. This wasn't a mass "hey Castro is available make me an offer" text situation. It was a "hey, I noticed you need a second baseman, we're willing to talk Castro" thing. Maybe I'm reading too much into it.
The Dodgers had, by far, the biggest need at second base this offseason. They were connected to Brian Dozier for weeks and weeks before completing the Logan Forsythe trade. Looking around the league, only the Braves, Royals, Padres, and Diamondbacks appear to have middle infield openings. The Braves have top prospect Ozzie Albies coming soon and the Padres are in tank mode, so forget them.
Point is, the market for a middle infielder is fairly limited at this point, which is unusual. So many clubs are rebuilding right now that they prefer to stick with their young internal options at second (or short) rather than scoop up a guy like Castro. I don't think Starlin has much trade value — remember, the Yankees got him for Adam Warren, not some top prospect — but still, not many teams are desperate for middle infield help.
3. Who would play second for the Yankees? Okay, so let's say the Yankees find a taker for Castro. Who would they then play at second base? I'll tell you the answer right now: Chase Utley. Sorry, Rob Refsnyder fans. The Yankees very clearly do not believe in his defense at second. Ronald Torreyes, Ruben Tejada, and Donovan Solano are also internal candidates, but c'mon, a cheap one-year deal for Utley would be inevitable. Maybe he and Refsnyder would platoon.
The real question is who would play second base long-term? I'm not even sure Castro is the answer himself. The Yankees have a ton of shortstop prospects on the way. Tyler Wade is going to open the season at Triple-A and many believe he's best suited for second because of his arm. Gleyber Torres isn't far away either. Stopgap free agents like Neil Walker and (ew) Brett Lawrie, both of whom will hit the market next winter, are always options in the interim.
The best case scenario is Starlin figures out some semblance of plate discipline and become a reliably above-average hitter going forward, as he enters what should be the best seasons of his career. That would force the Yankees to make tough decisions with Wade and Torres, among others. That's a good thing. Too many options is a luxury. For now, Starlin simply isn't good enough to be considered a long-term core player, and that's exactly the kind of player you put on the trade market.