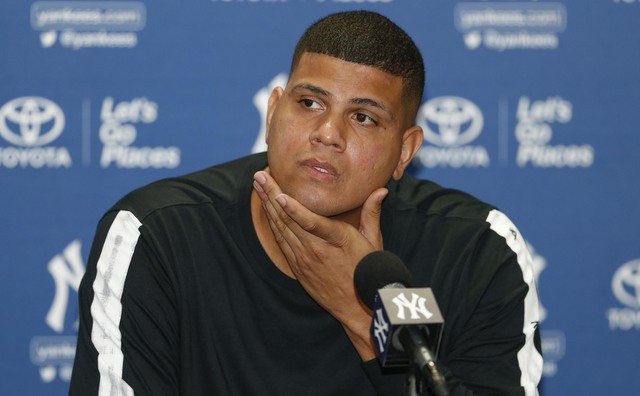 Over the weekend the Yankees beat Dellin Betances in arbitration and will pay him $3M this season instead of the $5M he was seeking. That $3M represents a record salary for a setup man in his first year of arbitration. No other setup man received even $2M as far as I can tell. That $5M Betances and his camp were requested is closer money.
The arbitration system, which has been around since 1974, is pretty old-fashioned. From what I understand there are a list of approved statistics each side can use to state their case, and for relievers like Betances, there is no more valuable stat than saves. Dellin has spent the first three years of his career as an incredibly valuable multi-inning setup man, which is why he went to arbitration with only 22 saves. That cost him.
Bullpen usage is changing around baseball and has been for a few years now. Starters are throwing fewer and fewer innings with each passing season, putting that much more emphasis on the bullpen. High-end relievers like Betances are in very high demand, which is why the Yankees were able to get such great prospect packages for Aroldis Chapman and Andrew Miller at the deadline last year. Great relievers are more valuable than ever.
Following the arbitration ruling Saturday, Yankees president Randy Levine called a wholly unnecessary conference call to rip Betances and his agent Jim Murray. It was pretty ridiculous, though I've said all I have to say about that. What Levine did do — aside from upset Betances, of course — is draw attention to the outdated absurdity of the arbitration system as it pertains to relievers. Ken Rosenthal put it best:
Saves? Really? Somewhere in the baseball universe there is a place where saves are still viewed as a primary measure of a reliever's performance? A place, no less, where it is determined how a reliever gets paid?
The Betances arbitration ruling, which likely would have blown over and been a one-day story had Levine not opened his mouth, is the kind of high-profile case that could spur the MLBPA into action. They could seek an update to the arbitration rules, making them more fair to relievers given their increased importance. After all, in real world value, Betances is a heck of a lot closer to a $5M a year reliever than a $3M a year reliever. (He's more like a $17M a year reliever, but I digress.)
There are two issues with updating the arbitration system. For starters, the new Collective Bargaining Agreement just took effect, which means we're still five years away from MLB and MLBPA being able to rewrite the rules. This isn't something that can happen right away. Arbitration is collectively bargained and the owners have no reason to open the new CBA and change arbitration mid-term. Any changes will have to wait.
Secondly, how do you go about properly valuing relievers in arbitration? Looking at WAR is only slightly better than looking at saves in my opinion, mostly because I think WAR undervalues relievers in general, and especially high-leverage monsters like Betances. Here are three stats I'd like to see incorporated into arbitration for relievers:
Leverage Index: Leverage Index tells us how important the situation is based on game state. Entering the eighth inning with a one-run lead and a man on second with no outs is a heck of a lot different than starting the eighth with a four-run lead, even though it's still the eighth inning. Here is the 2016 Leverage Index leaderboard.
Strikeout Rate: Pretty straight forward. The single best thing a pitcher can do is strike the hitter out, because it takes the defense right out of the equation. When you're pitching in the late innings, not letting the other team put the ball in play is a pretty great recipe for success.
Inherited Runners Stranded: This is a tricky one because the closers who start the ninth inning with a clean slate don't inherit many runners. Middle relievers and setup men usually get the call in the middle of an inning. Clearly though, stranding inherited runners is important.
I'm not sure how you can best evaluate relievers in arbitration. I do know saves, a terrible stat that influences managerial decisions (!), isn't the best way to go. Betances is clearly one of the best relievers in baseball and he should be compensated like one, which means closer money. The same way Miller was paid like a top reliever when he hit free agency with one career save.
The Betances-Levine stuff never should have happened Saturday. The arbitration process causes enough grief as it is. Levine piled on top of it and created more bad blood. If there's anything good that can come out of it — good for the players, that is, not teams — it's that maybe it created such a stir that the union will push to change how relievers are judged through arbitration. It's a little too late for Betances to benefit from any changes, though at least this entire mess won't go for naught.