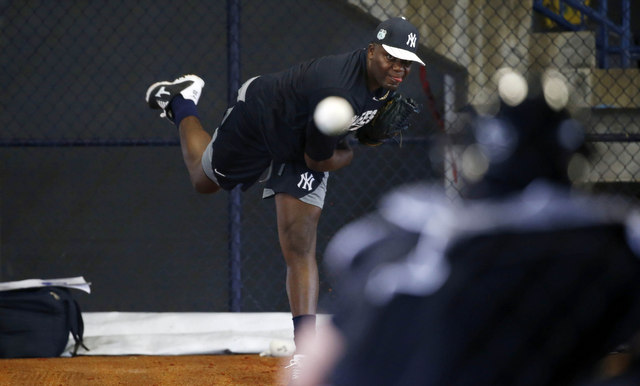 Aside from Dellin Betances, arguably no pitcher in the Yankees organization has better raw stuff than Michael Pineda. He sits in the mid-90s with his cutter even after shoulder surgery, and his slider is allergic to bats. Pineda ranked seventh among the 73 qualified starters with a 27.4% strikeout rate last season. He was fifth with a 10.61 K/9. That speaks to the sheer quality of his stuff.
And that's a big reason why Pineda is so frustrating. His cutter/slider combination is so obviously excellent, yet the results don't match. He's more hittable than his stuff would lead you to believe. Shaky command definitely explains some of the disconnect between his stuff and results. A nasty slider is no good when you hang it right out over the plate, something Pineda did far too often last season.
There is also a mental component to pitching, and while I hate focusing on it — bad results means he's stupid, right? (as if a clubhouse can be confused for a Mensa meeting) — it is definitely part of the game. Focus is important, especially for a pitcher when things start to go south. Pineda had some big time problems with two strikes and two outs last year, and at one point pitching coach Larry Rothschild said it was a matter of focus.
"I need to have better focus when I'm pitching. I need to finish after I get two outs. When I get two outs or two strikes, I need to finish," said Pineda to George King earlier this week. "(Rothschild) always tells me, 'You have a good fastball, a good slider and good changeup. You need to focus, especially with two outs.'"
Looking at Pineda's career overall, his issues with two strikes and two outs are limited to last season. He had no such trouble in those situations in his previous big league seasons. Here are the numbers (Pineda didn't pitch in MLB in 2012 or 2013 due to his shoulder surgery):
| | Two Strikes | Two Outs |
| --- | --- | --- |
| 2011 | .136/.203/.210 (59 OPS+) | .233/.298/.316 (77 OPS+) |
| 2014 | .176/.200/.239 (73 OPS+) | .176/.186/.318 (48 OPS+) |
| 2015 | .202/.244/.349 (86 OPS+) | .227/.263/.362 (76 OPS+) |
| 2016 | .187/.246/.286 (104 OPS+) | .325/.383/.598 (172 OPS+) |
| MLB AVG | .176/.246/.276 (100 OPS+) | .241/.319/.395 (100 OPS+) |
OPS+ provides important context. Pineda held hitters to a .187/.246/.286 batting line with two strikes last year and wow that sounds great, except the league average was .176/.246/.276. A guy with Pineda's slider should not be league average in two-strike counts. He should perform like, well, the 2011-15 versions of Pineda. That guy had no trouble with two strikes or two outs.
Now just because Pineda had no trouble with two strikes and two outs in the past does not necessarily mean last year's issues were a fluke. Confidence is important, and if his confidence took a hit last season, it could still need to be rebuilt this year. Something like this could snowball pretty easily. Get two quick outs, then a bloop falls in, and all of a sudden it's "here we go again."
"It's hard to look at the (stats) with the stuff he has. We continue to remind him to finish innings. Two-out runs seem harder to recover from than solo homers (earlier in the inning)," said Joe Girardi to King. Rothschild added Pineda "tried harder to do more" to close out innings.
I can definitely buy that. There were times last season when Pineda seemed to try so hard to execute a perfect two-strike pitch — rather than just focusing on making a quality pitch — that he messed up and hung it out over the plate. Not every pitch needs to be perfect, especially when the hitter is on the defensive with two strikes. How do you get Pineda out of that mode? Damned if I know. That's up to Girardi, Rothschild, and Pineda to figure out.
Last season Pineda allowed 52 of his 98 runs with two outs, or 53%. That is completely and totally bonkers. The league average is 36%. Pineda with a league average number of two-outs runs allowed would have had a 3.99 ERA in 2016, not a 4.82 ERA. That's a huge difference! We're talking about getting that one last out here. Get the out and the threat is over. Its impact can be enormous.
Because Pineda's problems with two outs and two strikes were limited to last season, I'm hopeful he can get over them going forward. That doesn't mean there isn't work to be done on the mental side. Of course there is. This problem won't fix itself. Getting over the hump is a win-win. The Yankees will get a more effective Pineda in 2017 and Pineda will put himself in a good position heading into free agency after the season.