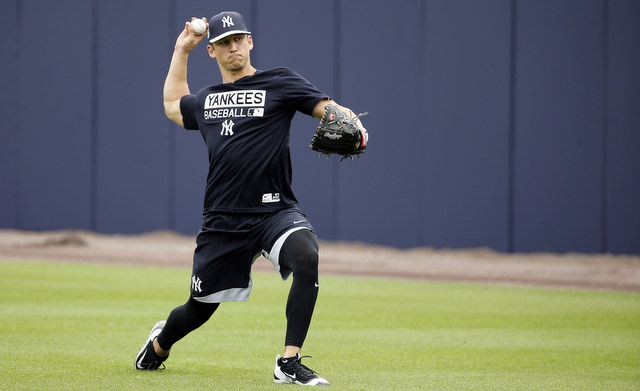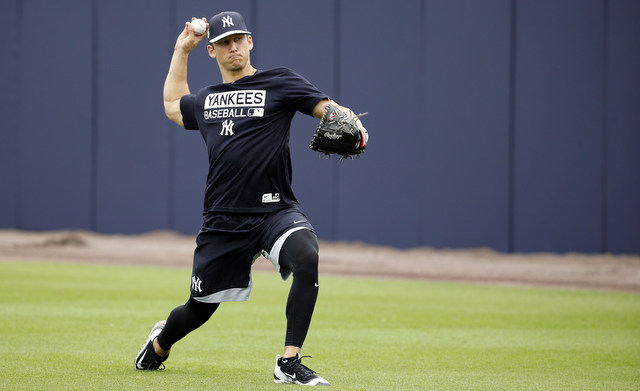 Luis Severino and James Kaprielian, two of the best young pitchers in the Yankees organization, are looking to rebuild value this season. Severino had big league success in 2015 before struggling big time as a starter in 2016. Kaprielian, meanwhile, was sidelined for most of the 2016 regular season by a pretty significant elbow issue. Both are talented and looking to rebound this summer.
When the Yankees selected Kaprielian with their first round pick two years ago, he was billed as a quick moving college starter who could possibly reach the big leagues late in 2016. It didn't happen because of the elbow injury, but the Yankees brought him to Spring Training as a non-roster player last year, which was the first time in at least a decade they brought their first round pick to big league camp for his first pro season. They were eager to see him.
Severino, on the other hand, was the rare fast moving international amateur free agent. He went from the rookie Gulf Coast League to the big leagues in two calendar years. That's pretty incredible. Were the Yankees perhaps overly aggressive with him? Yeah, I think that's possible, but when Severino was blowing hitters away as thoroughly as he was, it's tough to hold him back. And after he was called up in 2015, it sure looked like a smart move.
There is again talk Kaprielian, despite the injury, could reach MLB later this year. Obviously staying healthy is the primary goal. If he only makes it to Triple-A this year, so be it. That'll put him in position to help in 2018 and that's perfectly fine. Staying healthy is priority No. 1 here. If Kaprielian does that, it'll be a successful season regardless of whether he actually makes it to the Bronx at some point.
The Yankees surely are at least planning for the possibility of Kaprielian reaching MLB this year though, right? Of course they are. They consider just about everything, just like they did two years ago, when Severino was a potential  second half call-up candidate. The team put together a plan to make that happen, and if it came to fruition, great! If not, they'll adjust. Thankfully it worked it out.
The 2015 Severino plan could apply to 2017 Kaprielian. What plan is that, you ask? As a young pitcher with a workload limit, the Yankees conserved Severino's innings early in the season so they could turn him loose in the second half. Brian Cashman admitted that was the plan and I wrote an entire post about it. Here is Severino's workload by level in 2015:
| | IP per Start | Pitches per Start |
| --- | --- | --- |
| Double-A | 4.8 | 75.5 |
| Triple-A | 5.6 | 88.3 |
| MLB | 5.7 | 93.1 |
Severino had one disaster start in the big leagues (2.1 IP, 6 R) that is skewing the results a bit. Remove that start and he averaged six innings and 95.3 pitches per start in MLB in 2015. Point is, the Yankees started Severino slow and gradually increased his workload as the season progressed. That way he didn't hit his workload limit in, say, early-September.
The Yankees could follow the same blueprint with Kaprielian this year. In fact, earlier this week Kaprielian told Jack Curry he anticipates being on an innings limit early in this season, though the team hasn't told him their plans yet. Chances are they haven't made a final decision. There are two benefits to this:
Conserving innings so Kaprielian won't hit his workload limit at an inopportune time later in the season, which we just discussed.
Easing Kaprielian back into things after the elbow issue. He was healthy enough to pitch in the Arizona Fall League and that's great, but he Yankees don't want to push him too much, too soon.
We've seen plenty of clubs run into problems with their young starters in recent years. There's the infamous Stephen Strasburg shutdown in 2012. Others have had starts skipped or been moved to the bullpen in September. That sort of thing. There really is no easy way to control workloads. It's a headache. A necessary evil.
Conserving innings in the minors like the Yankees did with Severino in 2015 and could do again with Kaprielian in 2017 works because it happens in the minors. Limiting a starter to, say, five innings and 75 pitches each time out for two months doesn't really work at the big league level. Not when you're trying to win games. In Double-A though? Who cares. It's about development.
The key difference between Severino then and Kaprielian now is the fact Severino opened the 2015 season at Double-A. Kaprielian will likely begin this coming season at High-A. I don't think that's a huge deal though. Maybe that means Kaprielian won't make his MLB debut in August like Severino in 2015. The plan still works though. Limit his innings early — Kaprielian should carve up High-A ball, he might be there long — and turn him loose later.
Now that I think about it, it's entirely possible the Yankees will use the 2015 Severino plan with several minor leaguers in 2017. I thought of Kaprielian first because he's the organization's top pitching prospect. But what about Chance Adams and Jordan Montgomery? They'll be on some sort of workload limit this year too. Limiting their Triple-A innings in April and May potentially buys them more big league time in August and September.
Like it or not, workload limits are part of baseball now. Teams spend a lot of money on these kids — the Yankees gave Kaprielian a $2.65M bonus two years ago — and they want to protect their investments, and make sure they get as much out of them as possible. Keeping Kaprielian healthy this year is the top priority, but it is possible he will reach the big leagues, and if he does, the Yankees want to be ready. They don't want to have to shut him down early.