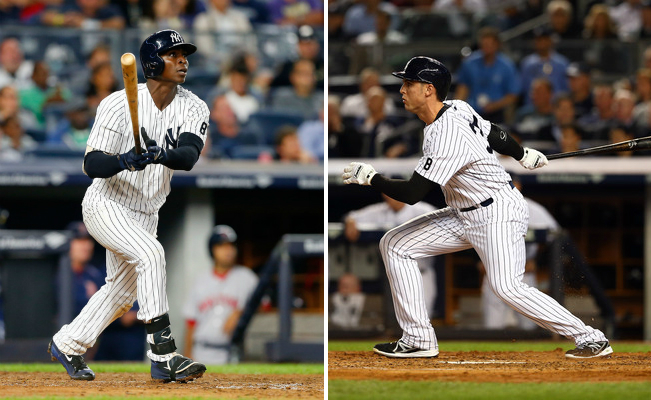 The Yankees lost a lot of veterans over the last year, whether to trade, retirement or release. While it has enabled the team to undergo a much-needed youth movement, it also signifies a significant loss in left-handed power. Lefty power isn't a be-all, end-all. Just look at the 2015-16 Blue Jays and the success they had with Josh Donaldson, Jose Bautista and Edwin Encarnacion.
Yet nearly all of the Yankees' teams since Babe Ruth have been built around powerful lefty (or switch) hitters and they have a home stadium built to match. After all, lefties have the platoon advantage most of the time and strong lefty pull hitters can make mince meat of Yankee Stadium. Therefore, it's worth looking into whether the Yankees can maintain that or if it will even matter with the team's new additions.
What they've lost
In 2016, the lineup had Mark Teixeira, Carlos Beltran, Brian McCann and Didi Gregorius, all lefties or switch-hitters, all hit 20+ home runs in pinstripes. Now, the first three names on that list are either retired or playing for the Astros. That leaves a major hole in the middle of the Yankees' lineup without similar players to fill it.
And those weren't the only lefties in the lineup. Brett Gardner and Jacoby Ellsbury combined for just 16 home runs after 33 between the pair as recently as 2014. Chase Headley, despite going without an extra-base hit until mid-May, still hit 11 homers from the left side. In total, thanks to the contributions of those above and a few others, 101 of the team's 183 homers came from lefty batters, many taking advantage of the short porch in right field.
Sir Didi and Bird
If all went according to plan in 2017, Gregorius and Greg Bird would cement themselves as Yankees regulars for the foreseeable future. Headley, Ellsbury and Gardner will all be 33 for most of the upcoming season, so it's tougher to see them rebound and provide a strong power surge. So we look to the youthful duo.
It's worth questioning whether Gregorius, who had only 22 career dingers before last year, can sustain his power surge. He improved on pitches located essentially anywhere, but where he really improved was his power on inside pitches. It's spelled out through his isolated power in 2015 vs. 2016, via Baseball Savant.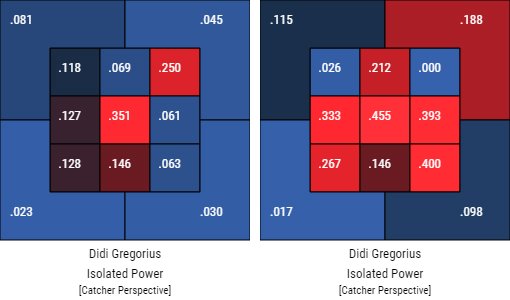 While he began the spring with a home run, he's still not exactly a home run hitter. Some of those home runs last year were line drives that snuck out and he pulled all 20 of his dingers, benefiting from the short porch. Craig Goldstein broke down Gregorius' 2016 power surge at Baseball Prospectus (subs. required) and says it very well could be a one-year blip.  For what it's worth, the Yankees believe he can maintain his power, even if the home runs don't necessarily come, and he did also post a career-high in doubles last season.
As for Bird, the 24-year-old first baseman has the task of replacing Teixeira in the middle of the Yankees' order. First base is the one spot where the Yankees could find improved power for a LHB, but there is also reason to fret that may not happen. Greg Bird hit 11 homers with a .268 ISO in 178 plate appearances in 2015, but now he's working his way back from shoulder surgery. Did the surgery sap some of his power? Time will tell and his spring will be important to knocking off some of the inevitable rust (his two doubles on Monday are a good sign).
Righties in the middle
Beyond Bird, there were no lefty hitters added to the Yankees lineup. Maybe Gardner or Ellsbury could bounce back and hit double-digit home runs again. It's certainly possible that, with extended playing time, this is the year Aaron Hicks puts it together and fulfills his potential.
However, it's more than likely any uptick in slugging would come from righty Bombers, of which there are plenty candidates. Namely Chris Carter, Matt Holliday, Gary Sanchez and Aaron Judge.
Carter mashes lefties more than righties, making him an obvious platoon candidate with Bird, but he still hit 29 homers and posted a more than respectable .487 slugging percentage against RHPs in 2016. Furthermore, he used the opposite field more against RHPs while pulled the ball against LHPs, a sign Carter can utilize the short porch more than one might expect. Here's his spray heatmap vs. RHPs via Baseball Savant (and here's the link to the same vs. LHPs).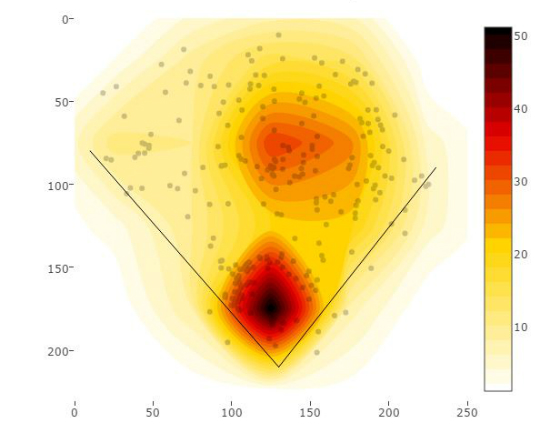 Matt Holliday, the team's new everyday DH, has hit — with the exception of 2015 — 20 home runs every season since 2005. Like Carter, he hit for more power against lefties but was still above league average against same-sided pitchers.
Sanchez and Judge are tougher enigmas to crack. Sanchez's slump to end 2016 indicates he won't put up nearly the same numbers as he did in August last year. Then again, how exactly was he supposed to replicate that anyway? For what it's worth, Sanchez hit righties much better than lefties, making up for the lack of platoon advantage McCann provided vs. RHPs. Judge, meanwhile, has more than enough power regardless of opponent but needs to cut down on strikeouts to stay in the lineup.
Does it matter?
Surely the Yankees will hit fewer homers from the left side. But their addition of right-handed power, particularly batters who can use the opposite field, will help make up for that. This will help correct the team's issues against southpaws that plagued them last season (.253/.317/.391 vs. LHP as compared to .256/.323/.414 league average). With a division littered with lefty starters (eight, including potentially four on the Red Sox alone), the Yankees may be able to turn a 2016 weakness into a strength. As mentioned above, you can be right-handed heavy like the Blue Jays recently were and still be able to rack up extra bases.
Still, it's worth wondering if the team has traded struggles vs. southpaws for something worse, a lack of power vs. RHPs, who make up the majority of what the team will face. The team as a whole was just 12th in the AL in slugging last season. Therefore, it's reliant on young players like Bird and Gregorius as well as the team's RHBs to fill in the power gap or else the Yankees won't be able to live up to the Bronx Bomber nickname in this transitional season.